Courier Services Vs Postal Services: Which is Better for eCommerce?
The establishment of postal services in India dates back to 1774. Warren Hastings, the then Governor-General of British India, introduced the first postal service for the general public.
It came as a relief for the poor pigeons who took days and months to deliver letters. Postal services made quick deliveries a reality. However, they were not that good then for international shipping.
DHL made a grand entry in 1969 as the first international courier company, and many others followed. The idea was to provide convenient delivery services without delay.
As of 2020, Blue Dart is the leading courier company in India. According to data, the Mumbai-based company made sales of over 31 billion Indian rupees last year.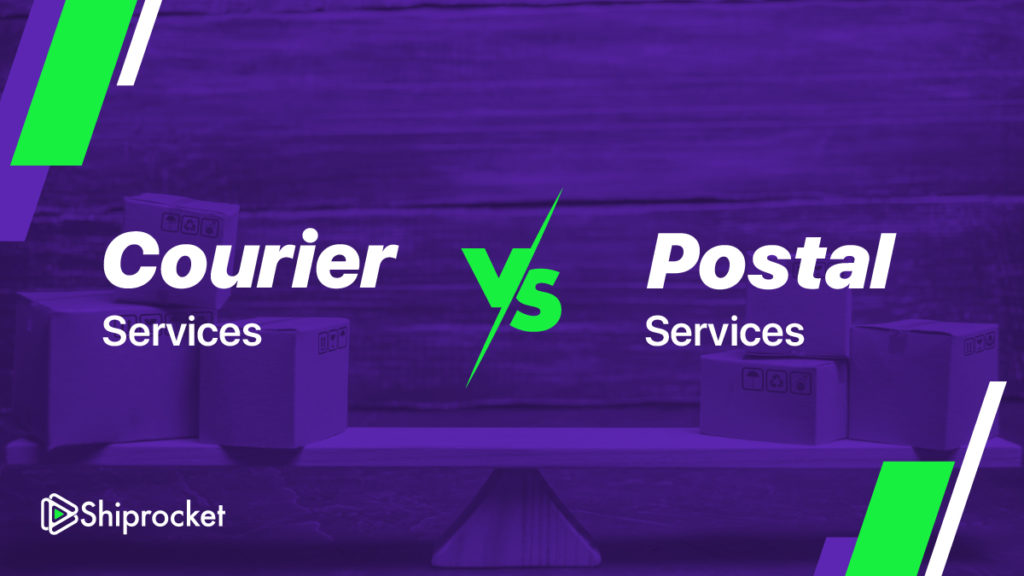 With the advancement of technology, the delivery of goods has become faster and faster. While the courier services have upgraded over time, people still trust postal services to send essential documents.
Before activating the comparison mode, let's quickly understand what courier services and postal services are.
What are Courier Services?
A courier service is an express service that enables quick and safe shipping along with added features. Generally, a private firm provides it.
DHL, BlueDart, FedEx, and Delhivery are some of the examples..
Courier services specialize in different areas. Some of them operate in a particular region, while others ship worldwide. Also, there are time-based services that deliver, let's say, on the same day.
What are Postal Services?
Postal services are usually provided by national governments for delivery of parcels and important documents at a reasonable price.
For example, Speed post is a high-speed postal service offered by India's postal department to enable quick delivery of letters, parcels, and important documents.
Here's an interesting fact. The highest post office of India Post lies at an altitude of 15500 feet above sea level. Guess what, it is situated in a village named Hikkim in India.
By now you must have understood what courier services and postal services are. Now, let's deep dive into how the two are different from each other.
Courier Services Vs Postal Services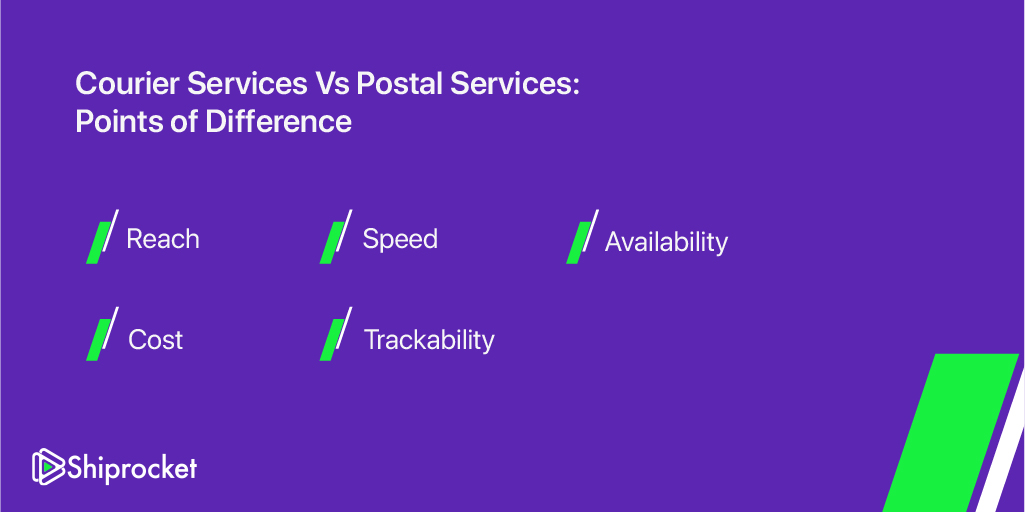 Reach
When it comes to reaching, Postal services win the courier services vs postal services battle. Courier services provide a relatively limited reach.
For instance, Speed Post by India Post has worldwide network coverage. On the other hand, the range of courier services depends on the courier company you choose.
Speed
In terms of speed, it's less of courier services vs postal services and more of a collaboration between the two.
While courier services provide quick inter-city and international delivery, people trust postal services for local deliveries.
Availability
When we talk about courier services vs postal services, availability is a crucial factor for you to consider.
You can book postal services 24×7 in all major cities of India. In some cities, you can avail of these services on all business days.
However, courier services are available on all weekdays, including Sundays and holidays.
Cost
Shipping cost is one of the key deciding factors of the courier services vs postal services comparison.
Postal services generally have a single rate across the country, as per the weight and distance. On the contrary, the courier services are chargeable differently from company to company.
Trackability
Trackability is another significant factor to take into account while putting courier services vs postal services.
Speed post provides an order tracking system. However, not all courier companies provide this facility. Some courier companies do provide real-time tracking, though.
Challenges Ahead
As we conclude this courier services vs postal services comparison, you must be aware of two things.
Firstly, both kinds of services complement each other by reducing the time of delivery. Secondly, both are different in terms of network coverage, availability, shipping costs, and tracking facility.
As an eCommerce seller, it is no less than a challenge to decide which one is better suited for your business. While you'd want to deliver as fast as possible, you'd also need to keep your shipping costs on the lower side.
No worries, we hear you.
An All-in-One Solution
Shiprocket is India's #1 Courier Aggregator that empowers you to choose from over 17 leading courier partners like FedEx, Delhivery, BlueDart, Ecom Express, DHL, and more.
Using our shipping solution, you can reach more than 29000 pincodes in India and over 220 other countries. As a result, you can start shipping anywhere using the best courier company at the lowest rates starting at ₹19/0.5 Kg.
Reap the benefits of a diverse dashboard, a real-time order tracking system, auto-integrated sales channels, and an AI-powered Courier Recommendation Engine.
End the courier services vs postal services debate right away. Start shipping with Shiprocket now!
Calculate Your Shipping Costs Now