How Multiple Courier Partners Can Help You Ship Efficiently in the Time of Corona Virus
The COVID-19 outbreak has caused the entire country to come to a long pause. Due to this, the smooth running of eCommerce businesses, grocery shopping, food deliveries, etc., has come to a standstill. Now, only essential items are allowed to be shipped. The government of India is taking various initiatives to make sure these items reach the correct people. Also, these deliveries now need to be carried out with utmost care and the right safety measures.
As an eCommerce seller, you would know how badly these regulations have impacted sales. If you ship essential items with one courier partner, you will be facing the wrath of delayed delivery and multiple other problems. To make this process easier for you, we have a solution – multiple courier partners!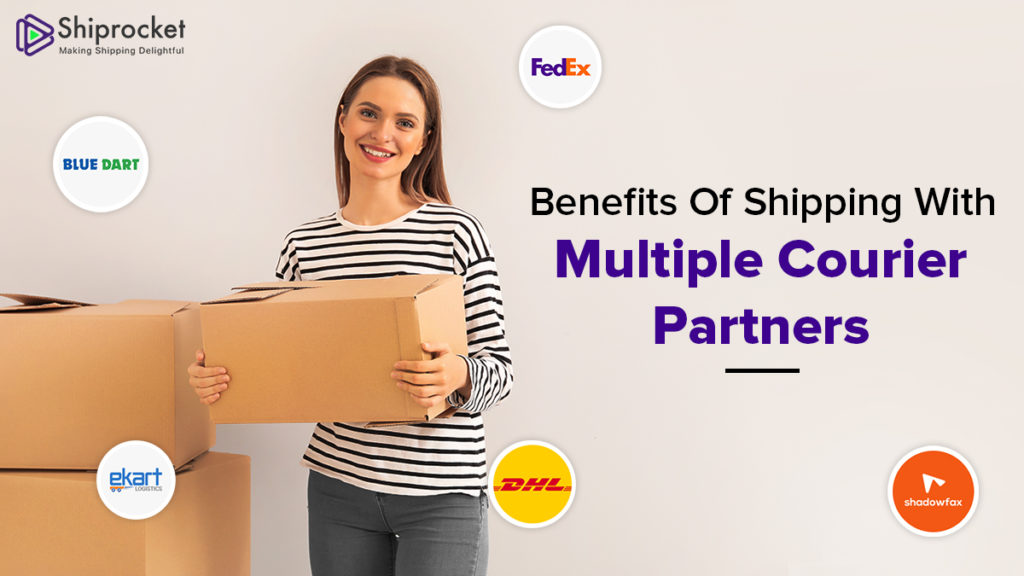 Multiple courier partners can be an advantage to your entire business framework, and they pose many benefits. Let's find out how you can get access to a number of courier services under one platform and how they can be a deal-breaker for your business.
Getting Access to Multiple Courier Partners
Do you think, to have access to multiple courier partners, you will need to contact each one individually? If yes, then you are wrong. You can get access to as many as 3 courier partners in the time of strict lockdown, under one single platform with shipping solutions. Yes! With shipping solutions, you can quickly get access to a powerful dashboard, a plethora of features, and a wide range of courier services. Now let us talk about the benefits of this arrangement.
Benefits of Shipping With Multiple courier partners
Increased Reach
Shipping with multiple courier partners gives you the flexibility to ship to a number of pin codes. This enables you to deliver to every household in the country. As the lockdown comes with many restrictions, multiple courier partners can give you an extended reach in various cities.
Reliable backup options
In such trying times, there is no clarity around the serviceability of all carriers. Hence if you cannot ship with one courier partner, you will always have the option to ship with others. This is also useful if there are any last-minute pickup cancellations.
Faster deliveries
Since the number of options of courier partners is more and the delivery fleet is extended, you can deliver faster to your customers. As the courier companies have their fulfillment centers in various parts of the country, you can expect them to function with full efficiency and deliver orders sooner than a single courier partner.
Quicker Pickups
With multiple courier partners, you can expect more immediate pickups as you can process them faster with a powerful dashboard of the shipping solution you are using. Moreover, owing to their fast operating fulfillment centers, the speed at which they operate is quicker.
Best Rates
Lastly, you can expect to get the best rates with multiple courier partners as shipping solutions can offer you a discounted price. If you approach courier companies individually on your own, there are high chances you may not get the best prices. Shipping solutions have the benefit to negotiate rates, as they deal with a number of carriers at once. You can compare courier partners and choose the best one for delivery to the desired pin code.
The Best Solution for Your Business
To help you deliver on time and provide the best rates for all shipments, we have just the perfect solution for you – Shiprocket. With Shiprocket, you can ship essential items across 5000+ pin codes with two major industry players.
Furthermore, you get access to a robust platform that you can use to schedule pickups, generate labels, and track deliveries. You can give your buyer customized tracking pages that contain tracking details and other information such as your company's logo, support details, etc.
How is Shiprocket Equipped?
Shiprocket is closely working with its courier partners to make sure we can deliver maximum products to buyers across the country. We understand the necessity of making essential items available to the people in need, hence we are constantly working to help our sellers ship such items.
Currently, we are shipping with Shadowfax essentials and Delhivery essentials. These courier partners are helping us carry out hyperlocal deliveries.
You can also carry out hyperlocal deliveries with our newest arm – Shiprocket Local. Deliver within an 8 km radius and deliver seamlessly.
Presently, we are delivering to over 12000+ Pin Codes and conducting pickups from over 2000 pin codes. Other than than, our hyperlocal delivery is active in 12 cities.
Also, all our account managers and support teams are working from home continuously to ensure that the movement of these goods is smooth, and the shipments reach the buyers without any hassle.
To begin shipping essential items such as masks, sanitizers, grocery items, etc. all you need are the following documents :
GST compliance
Valid invoice
Company Authorized Letter
Authorization letter from FSSAI (Optional)
Copy of Drug License (Optional)
Name, Number, and Pickup Location
Want to ship essential items? Click here or call 011- 41187606.
Conclusion
Shipping with multiple courier partners can be an absolute boon for your business if you are looking to maintain business continuity in this scenario. These are a few benefits that might motivate you to get on with shipping solutions and start shipping essential items immediately.

Calculate Your Shipping Costs Now