Dropshipping Clothes: Ultimate Guide to Building Your Fashion Business
Introduction
Are you a budding fashion enthusiast who dreams of building a successful clothing business? If so, dropshipping might just be the perfect business model for you. A dropshipping clothes business is a retail model where the owner doesn't keep clothing inventory in stock. Instead, when a customer orders clothes online, the seller purchases the clothing items from a third-party supplier, such as a wholesaler or manufacturer, who then orders the clothes directly to the customer.
The drop shipper, the middleman, doesn't handle the products physically. It eliminates the need for upfront inventory investment and allows entrepreneurs to start an online clothing store with minimal capital. It also provides flexibility in product offerings and scalability, making it an attractive option for aspiring eCommerce entrepreneurs.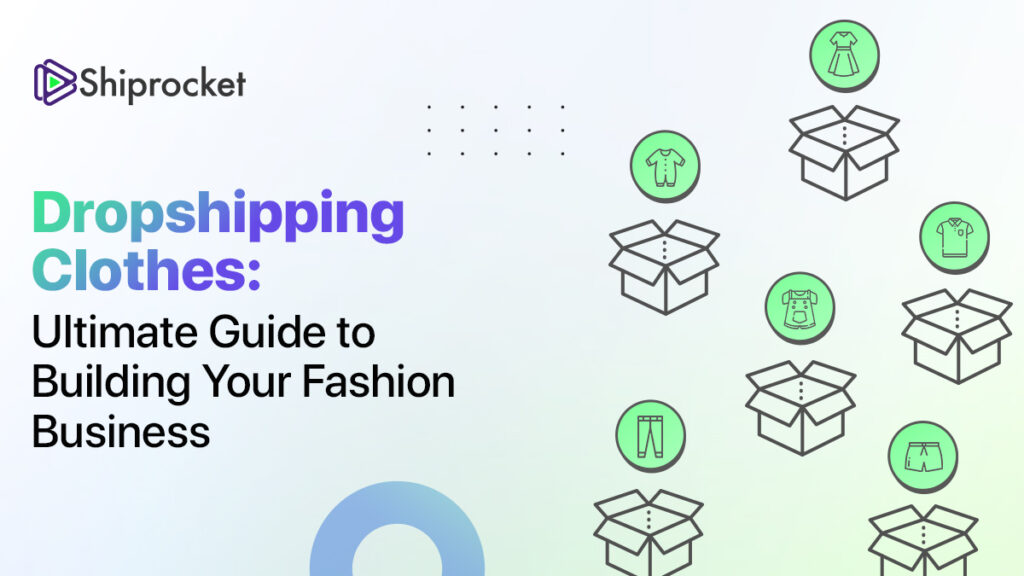 Let's explore the practical steps to kickstart your fashion empire and discover how you can turn your passion for fashion into a thriving online venture.
Is the Business of Dropshipping Clothes Profitable?
The business of dropshipping clothes can be a profitable venture if you approach it strategically and overcome certain challenges. With the rapid expansion of the eCommerce market, the rise of social media and online influencers, and the impact of the COVID-19 pandemic, drop shipping has become an attractive option for many businesses. However, it's important to consider several key factors before diving into this industry.
Dropshipping clothing online offers several advantages. Firstly, the global apparel and clothing market is projected to reach $2.25 trillion by 2025, with online fashion sales expected to grow by 20% or more in 2021. Secondly, the rise of fast fashion and the convenience of digital adoption during the COVID-19 pandemic has increased the demand for online fashion sales. Additionally, technological advancements enable customers to try on and purchase clothing from the comfort of their homes, enhancing the potential for eCommerce transactions.
One of the critical aspects of dropshipping is securing a good supplier. Around 84% of eCommerce retailers cite finding a reliable supplier as the biggest barrier to starting their dropshipping business. Thoroughly researching potential suppliers is essential to ensure they can handle orders of all sizes and provide products at a reasonable cost.
While the dropshipping market may seem crowded, statistics show that only a small percentage of eCommerce stores generate substantial revenue. It indicates that success depends on running your dropshipping store efficiently and standing out. Providing exceptional service, being diligent, and offering innovative solutions can help you overcome challenges and succeed in this competitive landscape.
Consider using urgency, bonus offers, and scarcity techniques in your dropshipping store to boost conversions. These strategies can increase your conversion rates and encourage customers to make purchases.
Best Products for Your Dropshipping Clothes Business
To ensure you make profitable sales and attract customers, here are some top product recommendations:
Statement slogan tees: T-shirts with catchy slogans or unique designs are popular and versatile items that can appeal to a wide range of customers.
Athleisure wear: Athleisure products, such as tank tops, track pants, and leggings, continue to be in high demand. They offer comfort and style, catering to active individuals and those seeking comfortable loungewear.
Hats: From baseball caps to floppy beach hats, hats are accessories that never go out of style. Consider the seasonality and target market when choosing hat styles, ensuring they meet your customers' needs.
Here are some factors to consider for choosing the right products to sell for your dropshipping business.
Identify products with sufficient demand: Ensure the clothing items you choose have a significant demand in the market. Selling products in high demand increases your chances of making sales at scale. You can leverage tools like Google Trends to understand popular items and analyse competitor research to identify bestsellers.
Consider sales trends and popularity: Look for clothing items that align with current fashion trends and have a consistent history of popularity. Avoid items that may lose demand quickly if they go out of trend. Research sales trend statistics and popular dropshipping stores to identify the right clothing products.
Evaluate profitability: Assess the profit margin of the clothing items you plan to dropship. Ensure the products offer a good profit margin while considering factors like manufacturing costs, shipping fees, and marketplace competition. Analyse case studies of successful dropshipping brands to gain insights into potential revenue and profit opportunities.
Diversify your product offerings: Consider offering various clothing options to cater to customer preferences. You can specialise in a particular clothing niche, such as infant clothing, or provide a wide range of clothing choices. Analyse market demand and profitability to determine the right mix of products for your dropshipping store.
A Step-by-Step Guide on How to Dropship Clothes
Here's a step-by-step guide to starting your dropshipping clothes business:
Step 1: Find a lucrative dropshipping niche
To stand out in a crowded marketplace, finding a lucrative dropshipping niche is important. A niche market is a larger market segment with unique needs, preferences, or interests. You can reduce competition and attract more customers by narrowing down your target audience. Use tools like Facebook Audience Insights and Google Keyword Planner to validate your product idea and ensure an audience.
Step 2: Define your target audience
Once you've identified your niche, define your target audience. Understand your target audience's demographics, interests, and preferences. It will help you tailor your marketing efforts and product selection to meet their needs.
Step 3: Look for dropshipping suppliers
Finding reliable dropshipping suppliers is crucial for the success of your business. Look for suppliers that offer quality products, competitive prices, and reliable shipping services. Research and compare different suppliers to ensure they meet your requirements.
Step 4: Build your eCommerce store
Create an attractive and user-friendly eCommerce store to showcase your clothing products. Choose a reliable platform that offers customisable templates and easy-to-use tools. Optimise your product pages with high-quality images, detailed descriptions, and clear pricing information. Make sure your store has secure payment options and a seamless checkout process.
Step 5: Market your dropshipping store
Implement effective marketing strategies to promote your dropshipping store and drive traffic. Use social media platforms, content marketing, influencer collaborations, and search engine optimisation (SEO) strategies to increase your online visibility. Engage with your target audience through engaging content and provide exceptional customer service to build trust and loyalty.
Step 6: Price your clothing products
Set competitive prices for your clothing products that offer value to your customers while ensuring profitability for your business. Consider factors such as product cost, shipping fees, and market demand. Regularly monitor and adjust your prices based on market trends and customer feedback.
Step 7: Monitor and adjust
Regularly monitor your store's performance, track sales, and analyse customer behaviour. Identify trends, popular products, and areas for improvement. Make data-driven decisions to optimise your dropshipping business and stay ahead of the competition.
Conclusion
Dropshipping clothes presents a profitable opportunity to build your fashion business. With drop shipping, you can minimise risk and maximise profits by leveraging the low-risk, high-reward nature of the business model. To excel in this competitive market, it's essential to identify the top-selling products for your dropshipping clothes business. Additionally, focusing on finding a lucrative dropshipping niche, defining your target audience, establishing relationships with reliable suppliers, building an impressive online store, and implementing effective marketing strategies are key steps to succeed in the dropshipping business.
Frequently Asked Questions (FAQs)
How can I scale my clothing dropshipping business?
To scale your clothing dropshipping business, consider strategies such as improving website design, expanding product lines, partnering with more suppliers, optimising marketing efforts, building a strong brand, and providing excellent customer service.
Should I focus on dropshipping men's or women's clothing?
The choice between men's and women's clothing depends on your target audience and market research. Consider factors like demand, profitability, and availability of suppliers. Both segments have potential, so choose the one that aligns with your business goals and target market.
Do I need a lot of money to start dropshipping clothes?
No, you don't need a lot of money to start dropshipping clothes. One of the advantages of dropshipping is that you don't have to worry about inventory costs. However, you may need funds to set up your online store, marketing, and other business expenses.
Calculate Your Shipping Costs Now