TDC Vs Blue Dart: Your Guide To Choosing The Right eCommerce Shipping Partner
The growth of eCommerce has brought about new challenges for online sellers like you. It's crucial to ensure your orders are delivered on time, but trying to handle shipping on your own can be tough and inefficient for various reasons.
The B2C eCommerce industry is booming in India. With projected daily shipments to reach a whopping 12 million by 2024, shipping plays a pivotal role. Among the top players, DTDC and Blue Dart are prominent shipping companies. In this guide, we'll compare these two options and explore alternatives for your eCommerce solutions.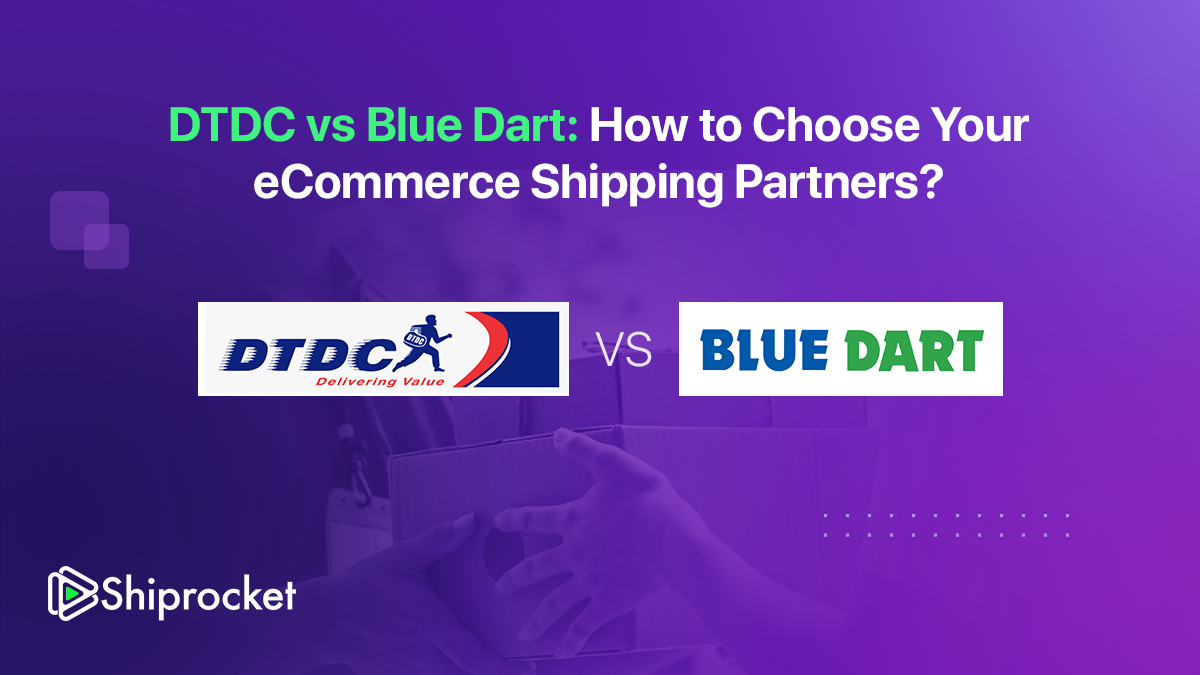 Why You Need Shipping Partners
eCommerce works as a virtual business, and your goal is to make sure your customers receive their orders promptly and in excellent condition. Without reliable shipping partners, it can be challenging to fulfill orders efficiently, which may lead to customer dissatisfaction and lost sales.
Here are the key reasons why you need shipping partners:
Bulk Rates: Partnering with shipping companies allows you to save money by accessing bulk rates for your shipping services. This is especially beneficial for smaller businesses starting out, as they may not have the high volumes needed for discounted shipping rates.
Quicker Delivery: Shipping partners have established networks in place, so you can offer faster deliveries to your customers.
Enhanced Customer Experience: Reliable shipping partners can ensure timely deliveries, leading to customer satisfaction and long-term brand loyalty.
Add-on Services: Many shipping partners offer extra services like order tracking and insurance, helping you meet your customers' diverse needs.
Comparing Blue Dart and DTDC
Let's compare DTDC and Blue Dart based on some key factors:
| | | |
| --- | --- | --- |
| Factor | DTDC | Blue Dart |
| Reach | 10500+ pin codes | 17000+ pin codes |
| Shipping Speed | Typically delivers in 2-3 days | Offers same-day and next-day delivery options |
| Service Offerings | Basic services with fewer additional offerings | Wide range of services, including cash on delivery |
| Customer Support | Offers good customer support, but may not be as responsive as Blue Dart | Known for excellent customer service and support |
| Cost | More affordable, but may lack some premium services and could have longer delivery times | Higher cost, potentially justified by faster delivery and additional services |
| Additional Services | Offers international shipping but may have fewer additional services | Offers cash on delivery, reverse logistics, and international shipping |
| Order Tracking | Offers real-time tracking for shipments | Offers real-time tracking for shipments |
| Insurance | Offers insurance services to protect packages during shipping | Offers insurance services to protect packages during shipping |
It is very important to understand that the above comparison is based on the general factors that are considered important for eCommerce services. Every online business has its own shipping needs that depend on the products being sold. Therefore, businesses should base their needs on evaluating the services of both service providers and choose their partners accordingly.
DTDC Vs Blue Dart: Which Is The Better Option?
When choosing between DTDC and Blue Dart, consider several factors. While the comparison suggests that Blue Dart is a strong performer in the eCommerce shipping market, remember that these factors are indicative and not all-encompassing. DTDC might excel in areas not directly related to eCommerce deliveries. Therefore, make your choice based on the real-time needs of your customers.
How Shiprocket Can Assist Your eCommerce Business With Shipping
For eCommerce businesses seeking the best of both worlds from the DTDC and Blue Dart comparison, Shiprocket is the solution. Shiprocket offers multiple shipping options through its network of partners, including DTDC and Blue Dart.
Shiprocket provides high visibility in delivery management, shipment tracking, and label generation. It also offers services like cash-on-delivery, international shipping, and reverse logistics. Shiprocket's competitive pricing helps you save money, and its reliable, on-time delivery contributes to the overall success of your business.
Summing It Up
Shipping services play a vital role in the success of your eCommerce business. Outsourcing or partnering with shipping companies has become a valuable practice. While the comparison suggests that Blue Dart is a strong contender, it's essential to consider your customers' preferences and the option that offers a better return on investment.
You can also explore alternatives like Shiprocket, which utilises advanced logistics software and efficient processes to ensure accurate, on-time deliveries, enhancing customer satisfaction. To learn more about Shiprocket's shipping and growth solutions, click here.
Frequently Asked Questions(FAQs)
What if I use both DTDC and Blue Dart for my online business?
Although it is not wrong to use more than one shipping partner to deliver your online orders, it could get complicated and time-consuming to manage many partners. Identify and evaluate your logistics and shipping needs before deciding on who should be your shipping partner.
How quickly can Blue Dart and DTDC deliver my eCommerce orders?
The timeline to deliver eCommerce orders depends on your location, the shipping method you opt for, and the weight of the parcel. But by industry standards, Blue Dart delivers ahead of DTDC, which could take an additional day to deliver.
What to do if my parcels are damaged or lost during the shipping process?
If your parcel is lost or damaged during the shipping process, you have to file a claim with the shipping company you had contracted to deliver. Blue Dart and DTDC have insurance coverage for their shipping parcels, and your claims are settled at the earliest.
Calculate Your Shipping Costs Now