Courier Partners
DTDC vs Blue Dart: A Seller's Guide for Choosing eCommerce Shipping Partner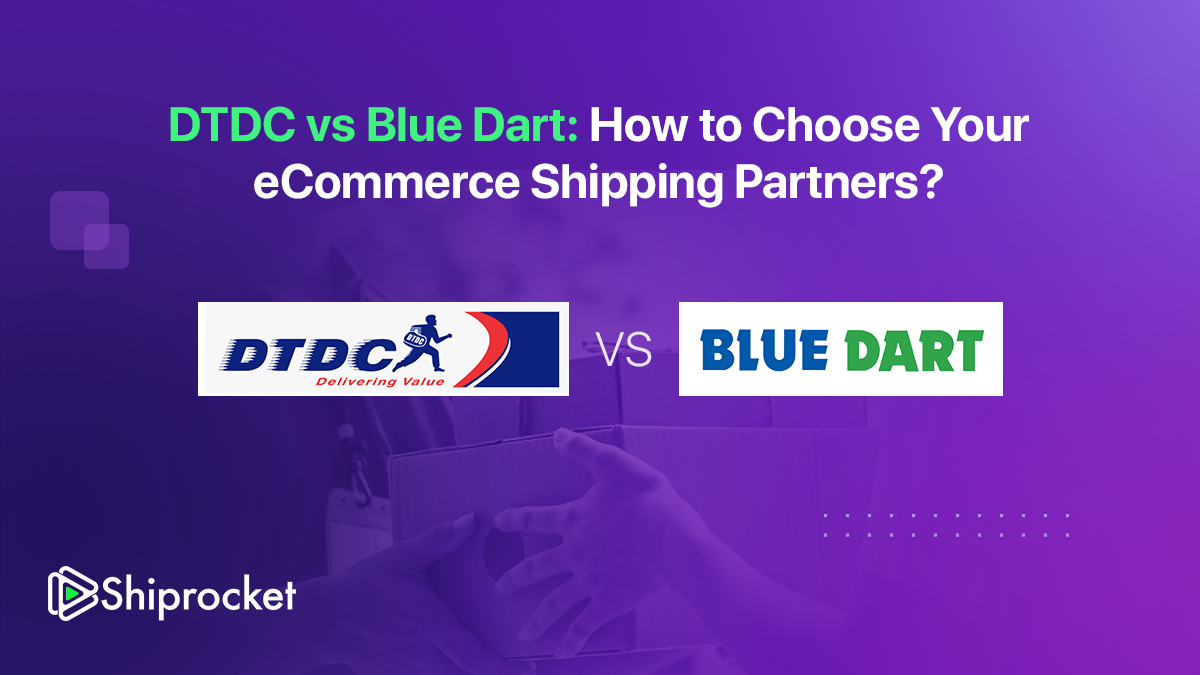 The growth of eCommerce has also given rise to a number of new challenges. Online sellers need to ensure that the orders are delivered as per the timelines stated on their website. Striking out on their own would not only be very difficult but inefficient as well for a number of reasons. Many sellers do not have the volumes for cost-effective shipping. Therefore, they need shipping solutions that satisfy their needs.
Shipping is a global practice that is prevalent in India, too, with eCommerce becoming a mainstream lifestyle choice. The dominant shipping players in India are DTDC and Blue Dart. In this guide, we compare these two shipping companies, their services, and alternative options to these players in solving eCommerce solutions.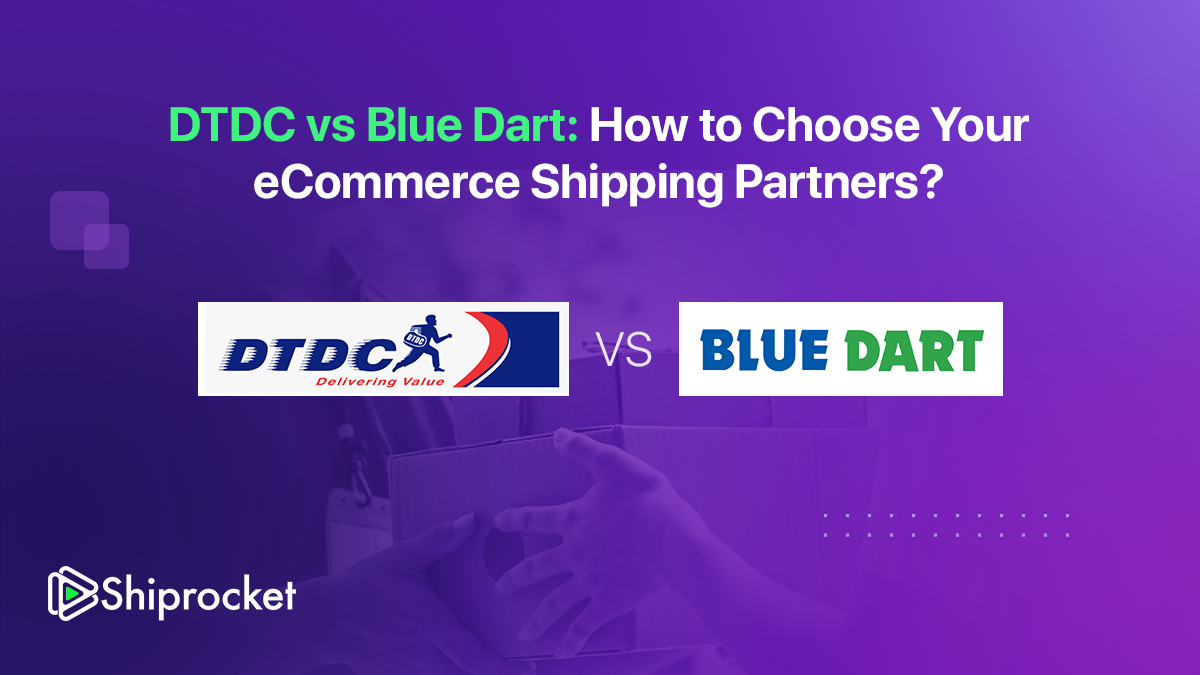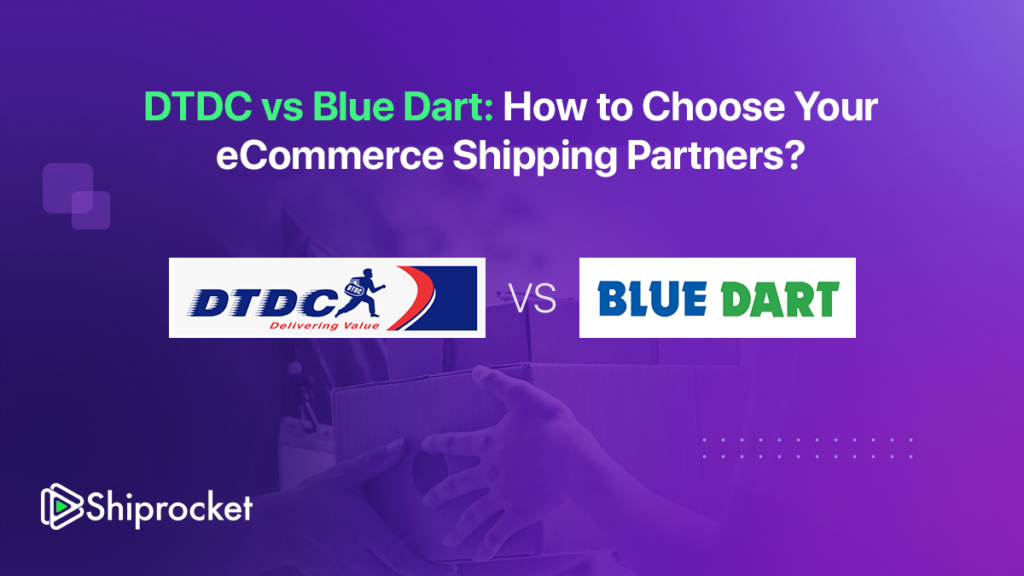 Why Do Sellers Need Shipping Partners?
eCommerce operates as a virtualized business model, and online sellers need to ensure customers receive their orders on time and in the best condition. In the absence of a reliable shipping partner, businesses can struggle to fulfill orders efficiently. Customers could be dissatisfied, which may lead to a loss of sales. The following are the reasons online sellers need shipping partners:
Bulk Rates: The advantage of partnering with shipping companies is that businesses can save money by arriving at bulk rates for their shipping services. Such rates would be very useful for companies just starting out in this business since they do not have the high volumes for discounted shipping rates.
Quicker Delivery: Businesses can also ensure their deliveries are faster since shipping partners have established networks in place.
Enhanced Customer Experience: Shipping partners can deliver orders faster, at reliable rates resulting in customer satisfaction. In the long term, this leads to brand loyalty.
Add-on Services: There are a number of shipping partners that can offer additional services. The common add-on services that shipping partners offer, like order tracking and insurance, help businesses meet the needs of their customers.
Comparing Blue Dart and DTDC
Here is a comparison of Blue Dart and DTDC for the following key factors:
| | | |
| --- | --- | --- |
| Factor | Blue Dart | DTDC |
| Shipping Speed | Generally faster, with same-day and next-day delivery options | Slightly slower, with 2-3 day delivery options |
| Service Offerings | Wide range of services, including cash on delivery | More basic services with fewer additional offerings |
| Customer Support | Known for excellent customer service and support | Good customer support, but may not be as responsive as Blue Dart |
| Cost | Higher cost, but may be worth it for faster delivery and additional services | More affordable but may lack some premium services and may take longer for delivery |
| Additional Services | Offers cash on delivery, reverse logistics, and international shipping | Offers international shipping, but may have fewer additional services |
| Order Tracking | Offers real-time tracking for shipments | Offers real-time tracking for shipments |
| Insurance | Offers insurance services to protect packages during shipping | Offers insurance services to protect packages during shipping |
It is very important to understand that the above comparison is based on the general factors that are considered important for eCommerce services. Every online business has its own shipping needs that depend on the products being sold. Therefore, businesses should base their needs on evaluating the services of both service providers and choose their partners accordingly.
Blue Dart vs DTDC: Which is the Better Option?
When it comes to choosing between Blue Dart and DTDC, there are several factors that eCommerce businesses should consider. We have discussed some of the key differences between the two shipping partners in the previous section of this article.
The above factors suggest that Blue Dart has better performance in the eCommerce shipping market segment. While these factors are indicative of performance for the sake of comparison, there are no all-conclusive results. There may be factors where DTDC offers better services but are not a parameter for eCommerce deliveries. Therefore, you should continue to consider the real-time needs of your clients before you choose to partner with either shipping company.
How Shiprocket Can Help eCommerce Businesses with Shipping
For eCommerce businesses that want the best of both the shipping companies in comparison here Shiprocket is the solution. Shiprocket offers multiple shipping options as it has various partners across regions to handle every type of shipping need, including Blue Dart and DTDC.
Shiprocket offers high visibility of delivery management, and shipment tracking and assists with label generation. Some of the other services it offers include –
Cash-on-delivery
International shipping
Reverse logistics
Shiprocket offers its clients price-advantage due to the competitive pricing of its own services. It helps partners save money, and with its reliable, on-time delivery, it drives the overall success of its partner clients.
Conclusion
The final step that leads an eCommerce business to success, is its shipping service. Online businesses are finding great value in outsourcing or working with shipping partners. The above comparison between Blue Dart services and DTDC clearly shows Blue Dart has an edge. It delivers faster, has more services to offer backed by customer-first services. But despite the verdict, it is necessary that you consider your customers' preferences and which of the two gives you a better ROI. Lately, there are alternate shipping solutions to consider like Shiprocket. Using the latest logistics software and AI-driven processes, Shiprocket ensures deliveries are accurate on time, driving customer satisfaction. Click here to sign up for Shiprocket's one-on-one shipping solutions!
Frequently Asked Questions(FAQs)
What if I use both DTDC and Blue Dart for my online business?
Although it is not wrong to use more than one shipping partner to deliver your online orders, it could get complicated and time-consuming to manage many partners. Identify and evaluate your logistics and shipping needs before deciding on who should be your shipping partner.
How quickly can Blue Dart and DTDC deliver my eCommerce orders?
The timeline to deliver eCommerce orders depends on your location, the shipping method you opt for, and the weight of the parcel. But by industry standards, Blue Dart delivers ahead of DTDC, which could take an additional day to deliver.
What to do if my parcels are damaged or lost during the shipping process?
If your parcel is lost or damaged during the shipping process, you have to file a claim with the shipping company you had contracted to deliver. Blue Dart and DTDC have insurance coverage for their shipping parcels, and your claims are settled at the earliest.
Calculate Your Shipping Costs Now