2-Day Delivery in eCommerce: Strategies and Benefits
One of the reasons eCommerce has become the new-age business model is the emphasis on quick fulfillment. When Amazon began its eCommerce services, quick fulfillment became its promise to attract buyers to use the platform. Now, almost 27% of online buyers are likely to change retailers if they find better delivery options. As a result, nearly every online retailer is promising delivery in less than 2-days. So, having a 2-day delivery commitment is a priority for eCommerce businesses to remain competitive. Here are some strategies to help you move to 2-day delivery and balance it with minimal operational overheads.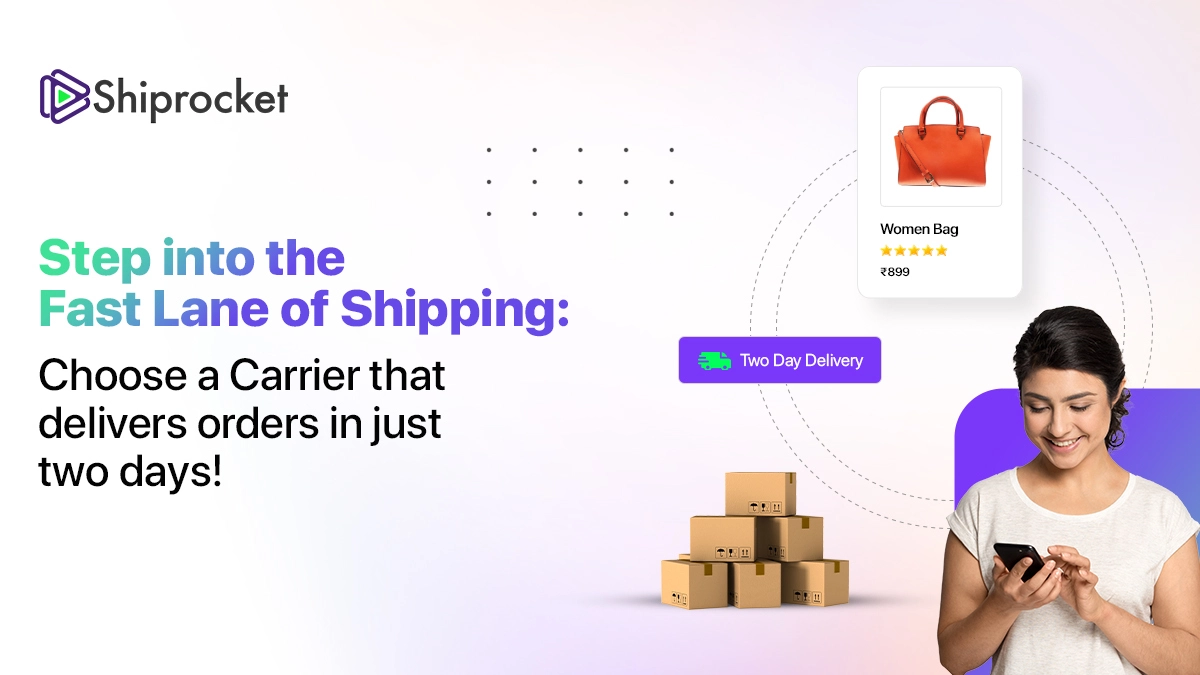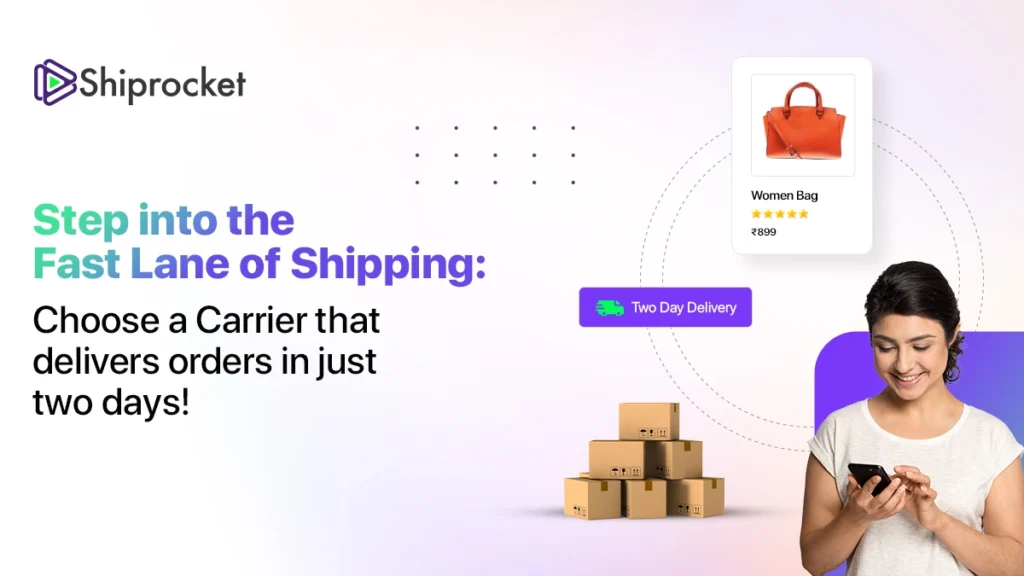 Understanding Customer Shipping Expectations
Technology overreach has also led to customers seeking instant gratification. With services that offer same-day grocery deliveries and instant entertainment, consumers do not have the patience to wait days for physical deliveries.
eCommerce digital shopping behaviour studies unveiled fascinating statistics:
These statistics underscore the fact that swift deliveries are a necessity for businesses looking to attract and retain customers. Apart from speed, customers also expect text alerts and updates/notifying shipping status. While these statistics are great for buyers, they are also daunting expectations that sellers will have to fulfill.
The Power of 2-Day Delivery: Meeting Customer Demands
2-day delivery is more than just the convenience of shopping online. It becomes an extension of the retailer's brand, reliability, and commitment to meeting customer expectations. As time is a precious commodity, customers appreciate the prompt certainty of their deliveries. It holds particularly true for time-sensitive purchases like birthday gifts or anniversary gifts.
By consistently meeting the 2-day delivery expectation, eCommerce businesses can foster the following:
Customer loyalty
Stimulate repeat purchases
Cultivate positive online reviews
These characteristics will ensure the brand's reputation and profitability.
Unravelling the 2-Day Delivery Process: Behind the Scenes Insights
Every successful 2-day delivery is a result of detailed planning and suitable use of shipping and logistics resources. From the moment an order is placed, a series of operations come into play:
Inventory management systems: Finely tuned to avoid stockouts and overstock.
Real-time order processing: For swift picking, packing and dispatching
Collaboration with shipping partners: This is the most critical phase of the 2-Day delivery process. The location of warehouses has to be convenient for easy movement and in urban centers for swift group shipping.
Predictive analytics: This feature lays the foundation to streamline the entire shipping window, helping businesses to anticipate demand fluctuations and minimise shipping bottlenecks.
To ride the 2-day delivery commitment, use Shiprocket eCommerce services. Save significantly from effective ground shipping and quick fulfillment.
The Importance of Offering 2-Day Delivery on Your Store
Embracing the 2-day delivery model ensures you sustain the competition. With online retailers increasing daily, eCommerce businesses find it difficult to increase sales, attract and retain their customers with usual services. 2-day delivery and quick fulfillment will help your business to:
Reduce cart abandonment: With 2-day delivery, customers stalled by slow delivery speeds will complete their purchases instead of keeping shopping carts at checkout.
Enhance customer satisfaction: With a 2-day delivery window, customers will continue to have an outstanding customer experience. They are also sure that the company delivers on its commitment and is a reliable service provider.
Win reviews and expand marketing: Word-of-mouth is the best marketing that can happen to any business. Dependable services and a 2-day delivery experience will ensure great reviews. Businesses should include quick shipping capabilities in shipping banners, emails, tags, and websites to ensure media posts that draw more customers.
Failing to adopt the 2-day delivery trend could result in losing customers to businesses that can fulfill orders faster.
Optimising Efficiency: Strategies for Keeping 2-Day Delivery Costs Low
Although businesses gain significantly with 2-day delivery services, it should not imbalance overhead costs or impact profitability. Whether it's expedited shipping, warehousing services, streamlined delivery or quick dispatch, all operations come at a price. Businesses need to counterbalance these expenses by using these strategies.
The 2-day delivery offer should be exclusively available for specific eligible orders. For example, only orders above the cart value of Rs 999/- get the option for 2-day delivery.
Negotiate with shipping carriers for bulk shipping discounts and save costs. Go here for discounted shipping.
Optimised packaging practices to minimise excess space and reduce shipping costs.
Leverage data analytics to identify zip-code areas for cost reduction while maintaining service quality.
Implementing 2-Day Shipping: Three Effective Approaches
To effectively implement the 2-day delivery commitment, retailers must balance costs against capacity and ensure orders are delivered on time throughout the year. Businesses can have in-house logistics, third-party fulfillment, and hybrid models like Shiprocket to achieve this capacity.
1. In-House Logistics: This is the perfect approach for eCommerce businesses that have a nationwide footfall. But they will have to make substantial upfront investments to run an effective logistic service. While there are several advantages to in-house logistics, it grants complete control over every aspect of the shipping process. This control can lead to better cost management and superior customer experiences. However, it requires significant resources and expertise in logistics management.
2. Third-Party (3PL) Fulfillment: An eCommerce business that is poised for growth should outsource its quick fulfillment needs to third-party fulfillment centers. These providers specialise in order processing, packaging, and shipping and meet delivery needs. Businesses do have to invest in building and managing such shipping infrastructure. This approach is particularly advantageous for small businesses seeking cost-effective solutions.
3. Hybrid Model: The hybrid model is the ideal solution when businesses have the resources but do not want to over-diversify. It will combine elements of both in-house logistics and third-party fulfillment. Businesses have twin advantages here: maintain control over critical aspects, such as quality control and inventory management. This is a win-win situation since it will allow businesses to outsource non-core functions to specialised partners. This approach strikes a balance between control and cost-effectiveness.
Conclusion
A 2-day delivery service is the golden key for eCommerce stores. Swift shipping helps businesses to meet customer expectations and win positive reviews as a dependable and reliable retailer. Businesses need to customise strategies and streamline processes to benefit from 2-day deliveries. Enhancing customer satisfaction with 2-day shipping results in sustained growth and a solid brand reputation. Shiprocket provides fast and affordable ground shipping for your eCommerce stores, helping you to boost sales.
Speak to our experts for customised prices and bulk discounts!
How can I offer 2-day delivery within my budget?
You can save substantially with strategies like bulk shipping discounts, streamlined packaging practices, and partnering with third-party fulfillment centers. These will ensure your costs are balanced.
What if I can't consistently meet the 2-day delivery window?
If you can't meet the timeline, ensure that you timely notify your customers. Setting clear expectations and providing accurate delivery estimates can help manage customer satisfaction even with slight delays.
Can smaller businesses benefit from 2-day delivery too?
Yes. Smaller companies can offer delivery without extensive infrastructure investment. One way to do this is by using a hybrid model or collaborating with fulfillment experts.
Calculate Your Shipping Costs Now