30 eCommerce Conversion Optimization Tips [For 2023]
In an eCommerce business, the right conversion rate plays a major role to maximise your revenue. With the right conversion rate, you can boost your sales and add to your profits. So what exactly is the concept of conversion rate?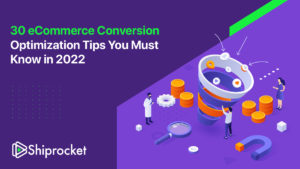 In simple terms, it denotes the percentage at which your product can be converted to an actual saleable item. In most cases, a good online business will have a conversion rate of around 1% – 2%. With this healthy conversion rate, you can win perspective customers and can enjoy great reach and reception.
Tips to Improve your eCommerce Conversion Rate
Tip #1 Work on Business Strategies
Have more information about conversion rates in order to know that right rate that is ideal for your business needs. Accordingly, work on the business strategies to win customers and boost your sales.
Tip #2 Conversion Analytics Tools
Use some advanced conversion analysis tools, such as Inspectlet, Mixpanel, and CrazyEgg and so on. These tools analyze your business information and come up with the most appropriate conversion rate that you need to go for.
Tip #3 Use Google Analytics
You can make use of Google Analytics and webmaster tools to know more about the extent of time customers stay at your site, the location of the visitors, the browsing medium used and lots more. All these information can be handy inputs to come up with the conversion rate.
Tip #4 Add High-Quality Images of Products
You can use high-quality images of products. This makes the products more attractive and adds to their conversion rates.
Tip #5 Provide Free Shipping and COD
In order to lure more customers and improve your conversion rates, you can provide customers with services like free shipping, cash on delivery and so on.
Tip #6 Use Dicount Coupons
Make use of coupon codes that customers can use to get discounts on the price. This increases sales and conversion rates.
Tip #7 Work on Product Pricing
Adjust the price of the product according to the demand. While some products may have seasonal demands, some may have constant demands. Accordingly, adjust the pricing to boost sales.
Tip #8 Simplify the Checkout Process
Try to simplify the checkout process as that will lure more customers to your site. A site with a complicated checkout process doesn't attract customers.
Tip #9 Improve Cart Abandonment Rate
A good way to boost sales is to use cart abandonment software. In this case, the software will send reminder emails to customers who have added products to the cart and then left.
Tip #10 Have a Good Customer Support
Have a good customer support process. In case a customer gets stuck, the customer support should help. This creates goodwill and in turn increases sales and conversion rates.
Tip #11 Ensure Security of Your Website
Make your eCommerce site safe and secure the financial transactions by having an advanced encryption channel.
Tip #12 Provide Multiple Payment Options
Provide the customer with a range of payment options, like card payments, net banking, mobile wallet, or COD.
Tip #13 Improve Site Navigation
Improve the navigation of your eCommerce site so that customers can easily find what they are looking for.
Tip #14 No Hidden Costs
Try to be transparent as far as possible and do not include hidden costs. If there are additional charges, clearly mention in the shopping cart.
Tip #15 Make It Optional to Register on Your Site
Make it optional to register at your site. Not all customers like that. Allow them to buy your products by logging in as guests.
Tip #16 Add Product Information
Provide information about the products to the best extent possible. This will help the customer to have that trust factor on your site.
Tip #17 Add Genuine Product Reviews
Provide candid and genuine reviews of the products. If there are user reviews, publish them as they are.
Tip #18 Have Product Testimonials
A good way to increase sales and lure customers is to have product testimonials. This helps bring out the USP of the product.
Tip #19 Maintain a Good Delivery Process
Have a good delivery and shipping process so that the products reach the customers within the promised time.
Tip #20 Design a Mobile-Friendly Site
Try to have a mobile-friendly site. If possible, have an app that can be installed on the mobile phone.
Tip #21 Good Packaging is Essential
Have a good packaging that brings out your brand value and brand image as much as possible.
Tip #22 Keep Track of Conversion Rate
Keep track of the conversion rates and analyze them on a periodic basis to have an idea of the trend.
Tip #23 Offer Attractive Welcome Coupons
Try to lure new customers by providing attractive offers like welcome discounts and coupons. This way you can build a good customer base.
Tip #24 Make Use of SEO Techniques
Make a good search engine optimization process in place so that your site is visible on the premier search engines.
Tip #25 Add New Products
Try to add to your product base on a periodic basis. This will increase interest among buyers.
Tip #26 Offer EMI Scheme
Offer an EMI scheme to customers in case of high priced products.
Tip #27 Promote Your Site
Try to promote your site through press releases and advertising channels.
Tip #28 Affiliate Marketing
Try to make use of affiliate marketing programs to improve your conversion rates. Adsense is a good option.
Tip #29 Update Your Marketing Strategies
Adjust your sales and marketing strategies according to the changing market situations.
Tip #30 Take Care of Online Fraudulent Activities
Last but not the least; stay away from fraudulent activities and be compliant with all legal requirements.
Conclusion
To grow your eCommerce brand in today's eCommerce landscape, you'll need to optimize your site and provide your customers with the best online shopping experience possible.
E-commerce conversion
optimization tips helps you connect with your customers to the products that they want and appreciate.
The 30 tips mentioned here will help you improve your eCommerce conversion rate and keep that connection going for years to come.
Calculate Your Shipping Costs Now