Top 10 eCommerce Myths – How to Breakthrough your eCommerce Store
eCommerce has come a long way since its inception. Now, every day, a lot of sellers are starting with their eCommerce venture and expecting results in an instant.
Of course, with more competition, expectations also increase. But, the initial research must be stable before you begin any business.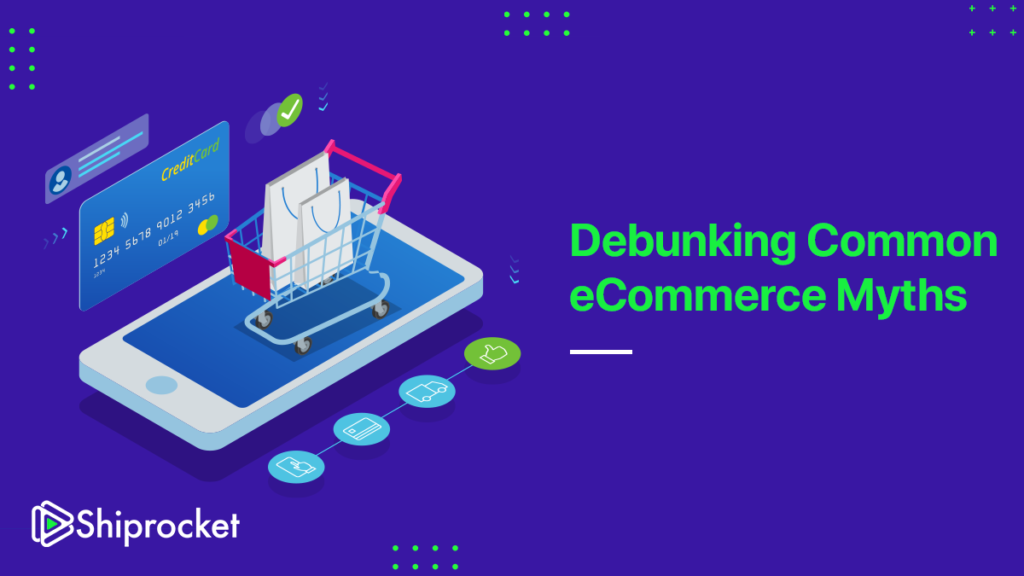 A lot of people believe that there are written rules and hacks for eCommerce. But usually, the path is too subjective. There are no documented hacks that can help you succeed.
Many believe that eCommerce is a tough nut to crack, but that is also not entirely true. As a concept grows more prominent and more innovations are added to it, many myths and misconceptions even begin surrounding it. Hence, you need a wake-up call now and then to remind you that these are just illusions that prevent you from achieving success for your store and eCommerce brand.
With this article, we will try to bust a few eCommerce myths that might be pulling down your eCommerce dream.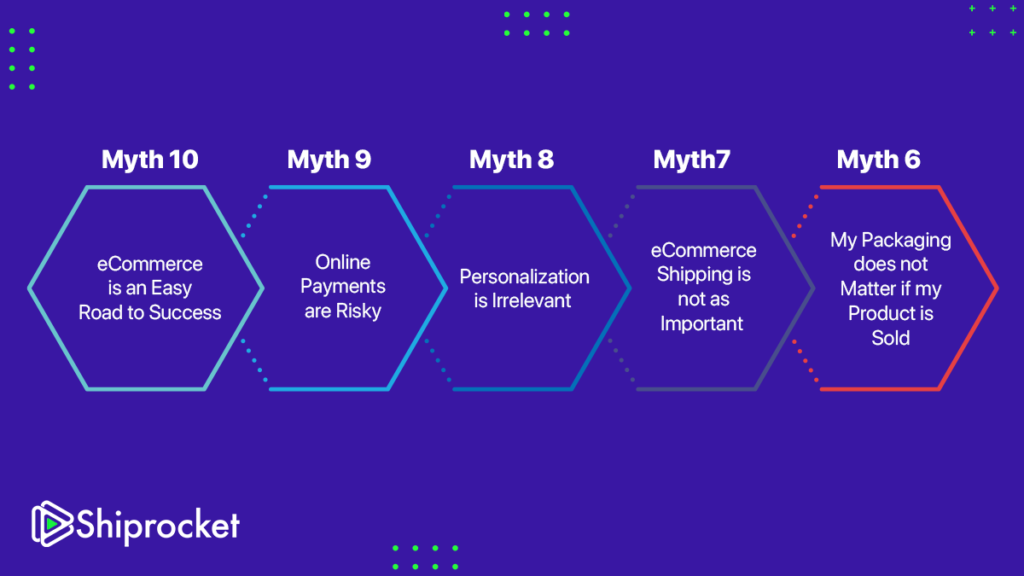 Myth 10 – eCommerce is an Easy Road to Success.
Do you ever come across clickbait articles or ads online that talk about earning lakhs in a few months? Or the ones talking about a work from home opportunity that can help you gain a certain amount every month? Well, we all know they're just clickbait and not correct. Why? Because we've usually seen and done the hard work required for earning money.
Similarly, eCommerce is projected as an easy technique to reach out to buyers and sell products sitting at home. It might also seem convincing since you do not have to run a physical shop, visit it every day, and interact with buyers.
If you believe working from the comfort of your home does not include working hard or facing any roadblocks, you're wrong. eCommerce is as challenging as any other entrepreneurial venture. The path might be different, but it has its own set of challenges and hard work that you need to deal with, such as dealing with customers and their queries over calls and emails, handling returns, and dealing with multiple stakeholders for procurement and processing delivery, etc.
If you begin an online business thinking it is a piece of cake, you will not adapt to changing dynamics and eventually lose.
Hence, we would like to debunk this myth by saying – eCommerce requires equal persistence and resilience like any other business. It might be easier comparatively but also has its own set of challenges.
Myth 9 – Online Payments are Risky
Gone are the days when online payments were taboo, and people were skeptical about sharing their details online. We do not mean that online fraud is entirely off the charts today. Fraud is still prevalent, but the measures to counter it have increased by a large margin. Even though hackers and fraudsters love eCommerce as much as you do, you can take various steps to ensure your store's safety.
Some of these eCommerce security measures include SSL Certificates, Web App Firewalls, Bot Blockers, Address verification systems, etc.
Myth 8 – Personalization is Irrelevant
What would your sellers prefer? Are they coming to your website and scrolling through 10 different pages to find their product or get recommendations based on past purchases?
The answer is distinct – getting recommendations about their products. Moreover, they will also prefer bringing recommendations for products that will complement their current selections. Therefore, personalization is your hack to enhance the user experience of your eCommerce website.
According to a report by instapage, personalized homepage promotions influenced 85% of consumers to buy while customized shopping cart recommendations influenced 92% of shoppers online.
Hence, if you feel eCommerce personalization will not benefit your business? Think again. Personalized shopping is the future, and you must engage with your customers with techniques like conversational shopping & relationship marketing using means like customized emails, chatbots, etc.
Myth 7 – eCommerce Shipping is not as Important.
The strategy for successful eCommerce is customer-first. This means that whatever you do must impact the customer experience positively. With eCommerce shipping, you deliver products to the customers' doorstep.
This delivery experience can make or break your business. Because at the end of the day, the customer decides their judgment based on the final product.
Therefore, eCommerce shipping is of the utmost importance. If you do not have your shipping in order, your product will be delivered late, tempered; you might just end up losing your profits if it is too expensive.
According to a GEODIS report, 40% of companies use delivery performance as a key performance indicator when monitoring their supply chain.
Use shipping solutions like Shiprocket to optimize your supply chain and delivery. With Shiprocket, you can ship with 17+ courier partners and offer coverage of 29000+ pin codes. This means you get the best delivery agents and a plethora of other services to speed up your delivery process.
Myth 6 – I don't need to Waste time on Customer Retention
As per a report by review42, 65% of a company's business comes from previous customers. This proves how important it is to invest time & resources to retain customers for an extended period.
Your target audience is only limited to a certain number of people. Eventually, this audience will get saturated, and you will have minimal new customers to acquire.
Hence, the customers who repurchase from your website will be the ones who will bring in the real revenue for your business.
Therefore, you have to work in tandem with your acquisition and retention strategies so that there is a balance between the two.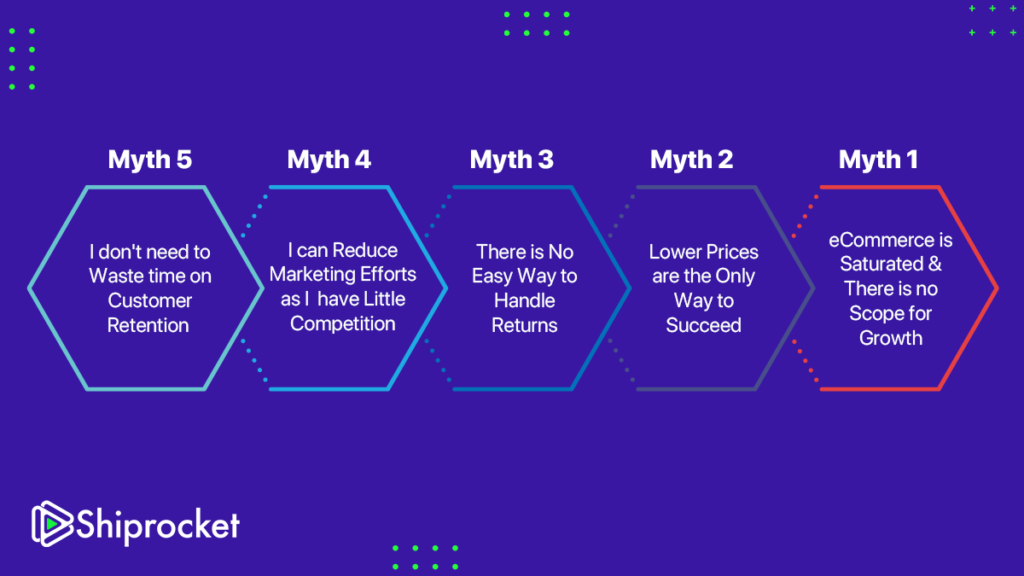 Myth 5 – My Packaging does not Matter if my Product is Sold.
A report by the paper and packaging board says that 72% of consumers agree that packaging design can influence their purchasing decision. Do we say more? If more than 50% of people believe that packaging affects their purchase decision, you need to focus on it.
If you want to have loyal relationships with customers, then you need to go beyond just your product—the product packaging speaks volumes about your brand. Therefore, take out time to optimize your product packaging and incorporate details to enhance the delivery experience.
Customers are much impressed with carefully done packaging. It helps retain customers for return visits and helps you build loyal customers.
Enhance your packaging with the right colors and design, and highlight your brand in this packaging.
Ensure that the packaging is secure and tamper-proof so that when your customer receives the product, it leaves a positive and lasting impression.
Myth 4 – I can Reduce Marketing Efforts as I have Little Competition
Your marketing helps you establish your place in the market. If you do not market actively, you will be out of sight sooner or later, and your customers will forget you.
Also, competition is dynamic. If you don't have a game today, that doesn't mean you will never have competition.
If you actively market your product when you don't have competition, you will have already set up your brand as the market leader. According to a report by Avionos, 55% of online shoppers brought a product through a brand's social post.
Therefore, whenever you face any competition in the field, your customers will reach out to you as you are in the business for a long time and have seen your brand closely through your marketing campaigns.
Moreover, with marketing and top-level customer service, you will turn your buyers into brand advocates.
Myth 3 – There is No Easy Way to Handle Returns
Returns and undelivered orders are indeed a menace for your store. They require extra effort and take up a lot of bandwidth for sellers.
57% of retailers said that dealing with returns harms the day-to-day running of their business.
But with time, there have been various efforts to handle return orders effectively. You can sign up with solutions like Shiprocket that offer you an advanced platform to automate your NDR, undelivery, and return order process to make sure your customers do not face any difficulty.
If you handle your returns efficiently, you can reduce RTO by 2-5%
Myth 2 – Lower Prices are the Only Way to Succeed
Incorrect. To succeed in today's competitive eCommerce market, you need to be innovative. Lower pricing was a sure shot strategy when eCommerce had just begun in India. Now, it has become a way of shopping for a large chunk of people. Thus if you want to succeed, you will have to improve your pricing, services, and customer support. Pre-sales and post-sales support offered to your customers is a significant influencer for their purchases.
Furthermore, you will need to incorporate techniques like personalization, conversational eCommerce, and relationship marketing to ensure that your customers are attracted to your brand and return to it for their purchases. If customers like a brand and the experience of shopping with it, they will invest even if it is slightly expensive. Apple and One Plus are great examples of it.
Myth 1 – eCommerce is Saturated & There is no Scope for Growth.
According to a report by Investindia, India's eCommerce market is set to grow at a CAGR of 30% for gross merchandise value worth $200 bn by 2026.
India's retail sector is mainly unorganized, and the market penetration rate is only 12% today. With online sales accounting for only 1.6% of total retail sales, India has a great way to go to eCommerce. The metropolitan and cosmopolitan markets' markets might be saturated, but tier two and tier three cities are still experiencing an enormous jump into digitization. You have a broad audience to target.
Even though there are challenges, these can be easily overcome with the right training and educational approach. Hence, if you feel your market has hit a dead end, you need to revamp your eCommerce strategy and mold it to reach individuals who are new to eCommerce.
Final Thoughts
eCommerce is constantly changing in India. Since it has only been 13 years since it started, many misconceptions are surrounding it. Educate yourself to understand your customers and the business carefully. This will give you ample opportunity to grow your business and stay safe from any adversities.
Calculate Your Shipping Costs Now