Strategizing eCommerce Shipping and Delivery With Innovative Solutions
The rise of eCommerce has brought about a significant shift in how people shop. As an increasing number of people prioritise convenience, affordability, and accessibility, the traditional experience of browsing through stores in search of the perfect product has become a thing of the past. Online shopping has made it possible for consumers to purchase products from anywhere in the world with just a simple click and have them delivered right to their doorstep.
As a result, eCommerce shipping has become a crucial part of the online shopping experience, with customers demanding faster, more reliable, and cost-effective shipping options.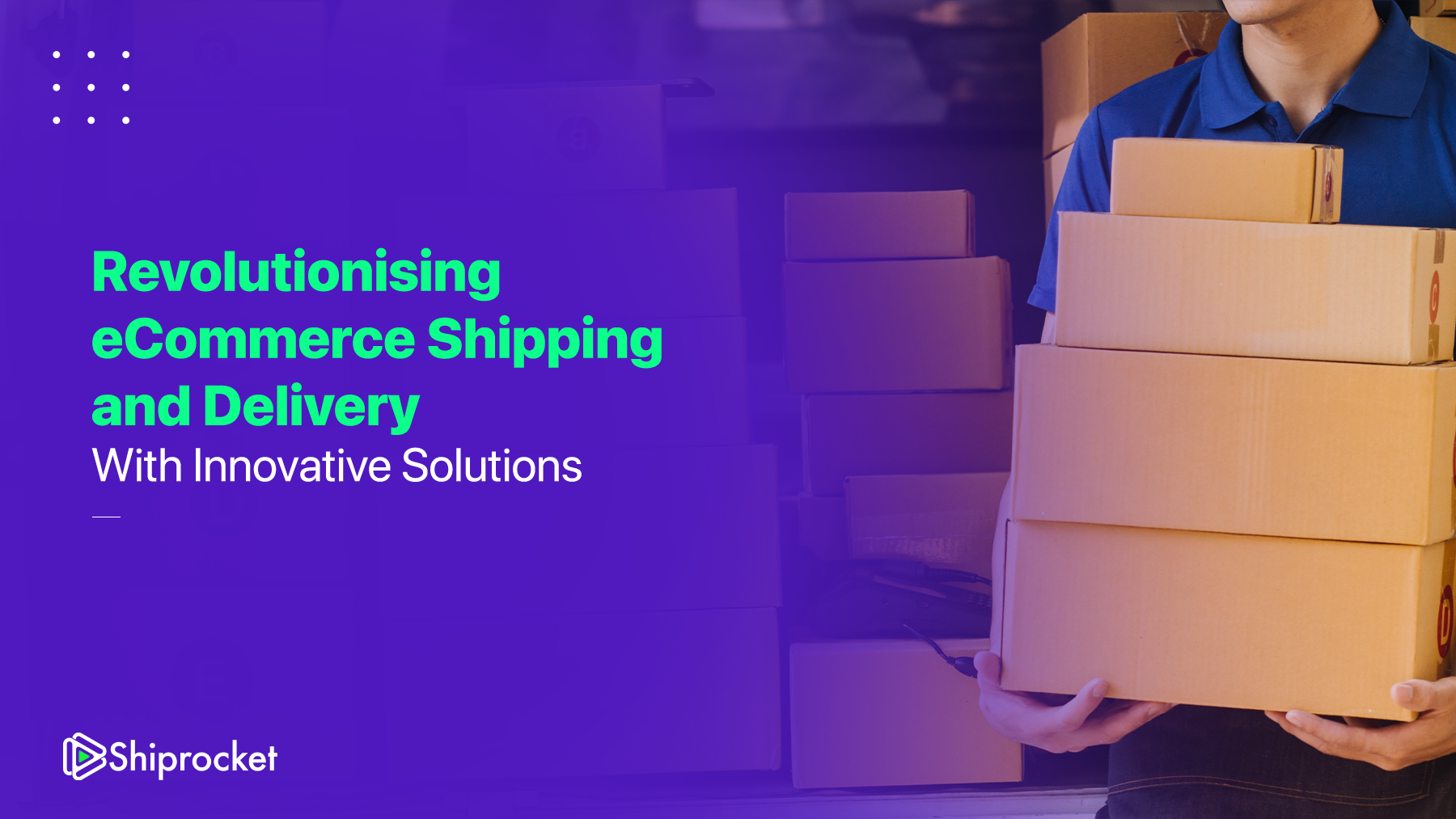 The success of an eCommerce business depends heavily on its ability to deliver products quickly, efficiently, and securely. The right shipping strategy can make all the difference in the competitive eCommerce landscape. Customers have high expectations and quickly switch to competitors if their shipping needs are not met. In this article, we will explore the various aspects of eCommerce shipping, including shipping options, costs, and recent innovations, and discuss how partnering with the right shipping provider can help businesses thrive in the world of eCommerce.
eCommerce Shipping: What Is It?
eCommerce shipping refers to transporting products from the seller's location to the customer's doorstep. It involves the logistics of packaging, order handling, inventory management, and delivery. It plays a critical role in customer satisfaction as it determines the delivery time and condition of the product. Traditionally, companies have opted for tried-and-test methods to optimise their shipping processes. New strategies have emerged with the availability of eCommerce shipping and delivery platforms.
eCommerce Shipping Options
eCommerce shipping options are an essential aspect of the online shopping experience. Customers expect quick and efficient delivery of their orders, and eCommerce sellers must provide various shipping options to cater to these expectations. Here are some of the most popular eCommerce shipping options:
Standard Shipping
Standard shipping is the most commonly used shipping option in eCommerce. It is the most affordable and usually takes 5-7 business days for delivery. This option is ideal for customers who do not require urgent delivery of their products and are willing to wait for a few days.
Expedited Shipping
Expedited shipping is a premium service that guarantees faster delivery times than standard shipping. The delivery time for expedited shipping is usually between 2-3 business days. This option is ideal for customers who require their products quickly but want to avoid paying for same-day or next-day delivery.
Same-Day Delivery
Same-day delivery is a popular option for customers who require their products urgently. This option guarantees product delivery on the same day the order is placed. Same-day delivery is usually available for orders placed before a specific time in the day, and the cost of this option is significantly higher than standard or expedited shipping.
Next-Day Delivery
Next-day delivery is another popular option for customers who require their products quickly. This option guarantees product delivery on the next business day after placing the order. Next-day delivery is usually available for orders placed before a specific time in the day, and the cost of this option is higher than standard shipping.
International Shipping
International shipping is an essential option for eCommerce sellers who sell their products globally. This option requires the seller to comply with the destination country's customs regulations and provides customers with an estimated delivery time. The cost of international shipping depends on the destination country, the weight and size of the package, and the shipping method selected.
Shipping Strategies to Help You Gain Competitive Advantage
Recent innovations in eCommerce shipping have revolutionised how products are handled, packed, shipped, and delivered. With the rise of online shopping, eCommerce businesses have had to continuously innovate their shipping strategies to remain competitive and meet customer expectations.
Smart packaging is an innovative strategy that helps reduce the environmental impact of packaging and improve customer experience. It involves using intelligent sensors, RFID tags, and QR codes to monitor and track packages in real-time. This technology enables businesses to optimise their shipping operations, reduce waste, and enhance the customer experience by providing real-time updates on the status of their packages.
Automated order handling is an innovative technology that automates the processing of orders from the moment they are received until they are shipped. This technology uses software that can integrate with eCommerce platforms and warehouse management systems to automate the order fulfillment process. Automated order handling helps to improve efficiency, reduce errors, and lower costs.
Inventory management is essential to eCommerce shipping, and recent innovations have made it more efficient and accurate. New technologies, such as RFID tagging and barcoding, enable businesses to track inventory in real-time, reducing the risk of overselling or underselling. Automated inventory management systems also help businesses to optimise their inventory levels, reducing waste and improving profitability.
Warehouse management is another critical aspect of eCommerce shipping. Innovations in warehouse management have made it more efficient, reducing processing times and costs. Warehouse management systems (WMS) use software and hardware to automate and optimise warehouse operations, such as receiving, storing, and picking products for shipment. WMS helps businesses improve their order fulfillment times, reduce errors, and enhance customer experience.
Inclusion and Accessibility
Inclusion and accessibility are essential aspects of eCommerce shipping, and recent innovations have focused on improving these areas. Innovations such as flexible packaging and accessible delivery options help to ensure that all customers, regardless of their abilities, can receive their orders comfortably and safely. Inclusion and accessibility improvements also extend to the design of eCommerce websites and apps, making them more accessible to customers with disabilities.
Artificial intelligence (AI) is an emerging technology transforming the eCommerce shipping industry. AI-powered systems can help businesses optimise shipping routes, reduce delivery times, and improve customer service. AI also helps businesses to analyse data and identify patterns, allowing them to make data-driven decisions that enhance their shipping operations.
Conclusion
Choosing the right eCommerce shipping partner is crucial for a business's success. A reliable shipping partner ensures the timely delivery of products in good condition. Shiprocket is a leading eCommerce shipping aggregator that provides a wide range of shipping services, including 1-day shipping, 2-day shipping, and expedited shipping. They offer competitive rates, easy integration with eCommerce platforms, and real-time tracking of shipments. Shiprocket is a technology-driven logistics company with various innovative features, such as automated order processing, AI-powered inventory management, and more. By choosing the right shipping partner like Shiprocket, businesses can ensure customer satisfaction and increase their sales.
Frequently Asked Questions(FAQs)
How Can Businesses Improve Their eCommerce Shipping and Delivery Processes?
Some ways in which businesses can improve their ecommerce shipping and delivery processes:
– Choose suitable carriers based on delivery options, pricing, and service levels.
– Use shipping software to automate shipping processes and optimise packaging to reduce shipping costs.
– Implement real-time tracking of shipments and provide accurate and timely updates to customers.
How can businesses track their eCommerce shipments?
Businesses can track their ecommerce shipments using shipping software or carrier tracking tools. Most shipping software providers offer real-time tracking, allowing enterprises to monitor the status of their shipments at every stage of the delivery process. Additionally, carrier tracking tools provide updates on each package's location and estimated delivery time.
What are the best practices for ecommerce packaging?
The best practices for ecommerce packaging include using sturdy and protective packaging materials, optimising the size and weight of each package, and including branding and marketing materials. By using high-quality packaging materials, businesses can reduce the risk of damage during shipping while optimising package size and weight can lower shipping costs. Including branding and marketing materials can help companies to promote their brand and create a better customer experience.
How can businesses improve their eCommerce delivery experience for customers?
Businesses can improve their eCommerce delivery experience for customers by offering multiple delivery options, providing real-time tracking information, and ensuring timely and reliable delivery. Additionally, companies can provide customer support through various channels, such as email, phone, and chat, to address any issues or concerns that customers may have.
Calculate Your Shipping Costs Now