How to Increase Website & Blog Traffic with Google Search Console
Google Search Console is a free and powerful tool that helps eCommerce business owners make their website search engine friendly. The tool helps in monitoring and maintaining the website's presence in the search engine Google. It alerts you about security issues, errors, indexing, and all other problems that may harm a website's health.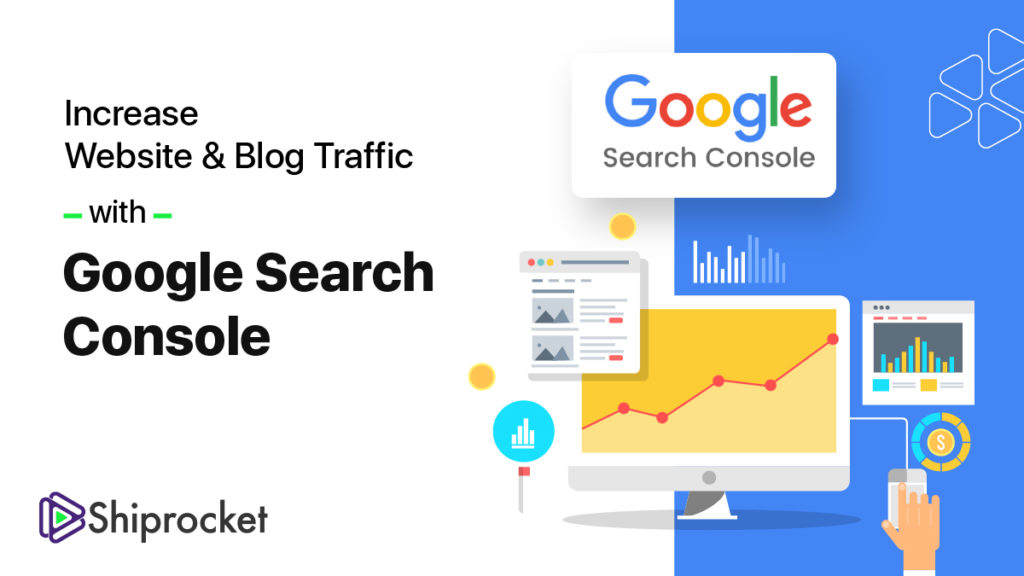 Google Search Console helps in getting SEO information related to the website directly from Google. However, you need to know how to use this tool effectively for the benefit of your business. To help you in this, we are listing down a few vital elements of this SEO tool.
What is Google Search Console?
Google Search Console is one of the best SEO tools available online. It is impossible to overlook this tool. Previously known as Webmaster Tools, Search Console is a collection of few SEO tools to ensure that your website's health is always maintained, and your website is always Google friendly. But this tool can do so much than just this.
This can help in diagnosing technical SEO issues as well as help understand your popular pages and check their ranking. With this tool's help, you can also increase the organic traffic of your website.
Google Search Console is a free-to-use website tool and any website build on any platform can use it.
How to Start with Google Search Console?
Google Search Console includes a collection of free-to-use tools that allow eCommerce sellers to monitor their website's presence and manage it for Google Search results.
To start a new search on the Console, the following are the steps:
Sign in to your Gmail account.
Next, to open Google Search Console, visit https://search.google.com/search-console/
Add your website as a property on Google Search Console.
Lastly, verify your account using HTML tag, HTML file, Google Analytics, and Google Tag Manager.
How to Get Started with Google Search Console?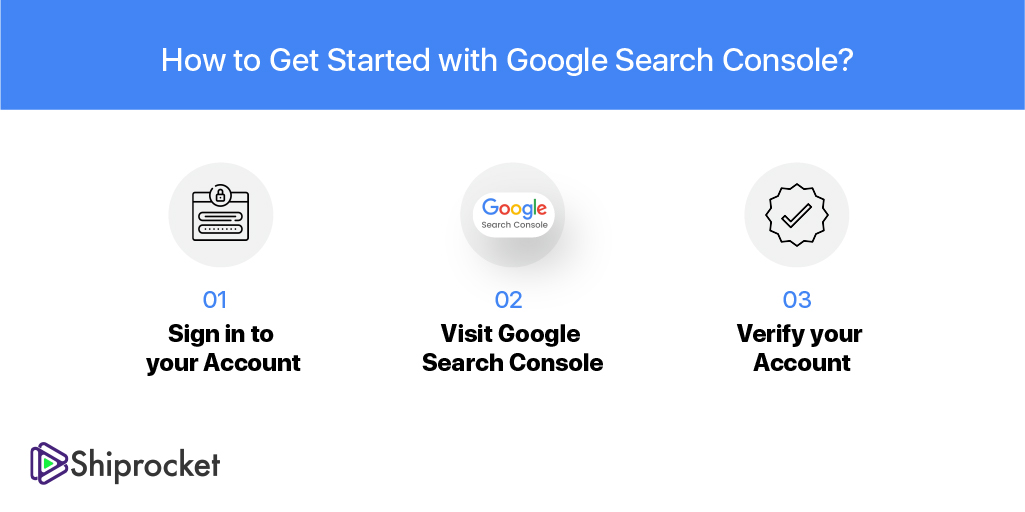 You can set up Google Search Console by following the below-mentioned steps:
Step 1: Sign in to your Account
The first step is to sign in to your Google account. In case you have two separate accounts each for personal and professional use, ensure you sign in through your professional account only which is associated with the website.
Step 2: Visit Google Search Console
Next, visit Google Search Console to start the process. To add your website, click 'Add Property' from the dropdown. Write the domain name and enter the URL of the website. Ensure that you only enter the correct URL.
Step 3: Verify your Account
The last step is to verify your website. To verify the domain ownership, copy the tokenized DNS TXT provide by Google Search Console and add it to the domain name provider.
Features of Google Search Console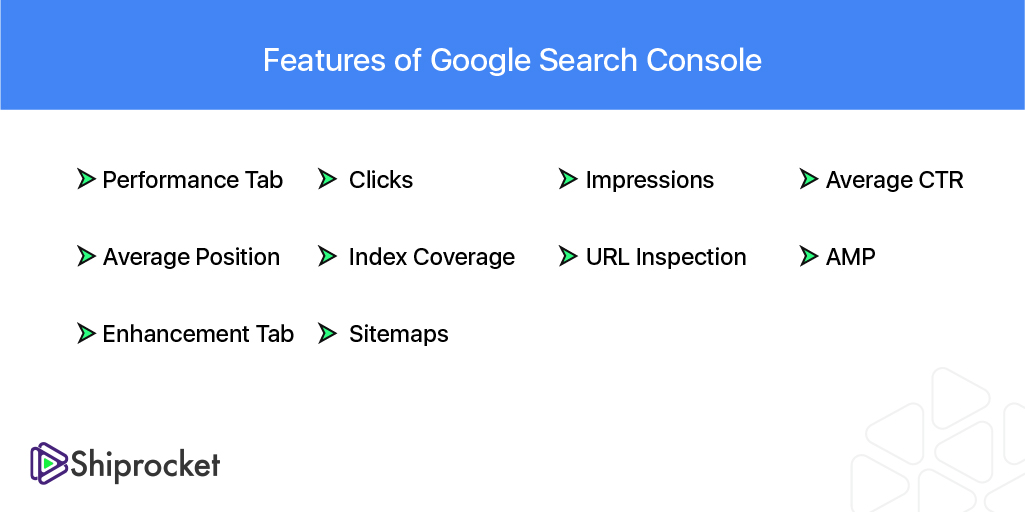 Now that you have set up an account on Google Search Console, what next? Let's now learn what all you can explore on this SEO tool:
Performance Tab
In the Performance tab, you can check which pages and keywords are ranking on Google. You can check the data for up to 16 months. The data is available from the moment you set up an account. You can also sort the sections by clicks, impressions, average CTR, and average position.
Clicks
The number of clicks tells how many users click on your website in Google. This data talks about the performance of meta titles and descriptions. If you get few clicks only, you might not stand out in the search results. You can see other results displayed to optimize your snippets.
The search results' position also impacts the number of clicks you get. If your page appears on the first page, preferably in the top 3 of the Google search results, it will automatically get higher clicks as compared to other pages.
Impressions
Impressions are how many times your page is shown in the search results. For example, you sell shoes, and your website ranks for the keyword 'snowboard shoes'. The number of impressions for this keyword will show how often your website is shown against this keyword in the Google search results. However, you don't know which page ranks for the keyword.
Average CTR
Click-through-rate – CTR is the percentage of the users that clicked on your website after seeing it in the search results. Higher ranking leads to higher CTR. The things that you can do to increase CTR include rewriting meta descriptions and page titles.
Average Position
Average position is the average ranking of a page or keyword for a selected time period. Although the average position is not always reliable since Google gives different results to different users that fit best for them. However, this indicator can still give an idea of the clicks, impressions, and CTR.
Index Coverage
Index coverage is a bit technical but valuable in Google Search Console. This section talks about the number of pages that are indexed in Google since the last update. It also tells about the number of pages that are indexed and what errors and warnings are preventing them from getting indexed.
It is recommended that you check this tab regularly to see the errors and warnings that are preventing your website pages to appear on Google. However, Google Search Console also gives new notifications when it finds any error. The error can be redirecting not working properly, error in page themes, or Google finding a broken code.
URL Inspection
With the URL inspection tool, you can analyze URLs. You can compare the pages retrieved from Google's index with the ones that have just gone live. You also get access to technical information like when and how Google indexed the page and how the page looked when it was indexed.
AMP
One tab is for AMP – Accelerated Mobile Pages which means lightning-fast mobile pages. If your website has AMP, you can conveniently check errors in Google Search Console.
Enhancement Tab
The enhancement tab helps in improving the site performance. It provides insight into the website speed, AMP usage, mobility usability, and structured data enhancement.
Sitemaps
An XML sitemap is a roadmap to all pages and posts on a website. A sitemap is important to ensure Google can find the important posts and pages on your website easily. It is recommended for everyone to enter the XMP sitemap URL into Google Search Console to let Google find it easily. In addition, you can also get to see errors if some pages are not indexed. So, check this regularly if Google can see and read the XML sitemap.
The Final Words
No matter what your online store's size is and what you sell, you must have an account on Google Search Console. It is a free tool created by Google to help you maximize your website's traffic. But remember that Google Search Console won't do anything by itself. You need to know what all the SEO tools can be used for. Like any other tool, spend some time learning it to use it for the benefit of your website.
Calculate Your Shipping Costs Now