Best Free SEO Tools for eCommerce Businesses to Drive Traffic & Clicks
As an eCommerce business, you must already know the importance of SEO (Search Engine Optimization) in the success of your business. As per a post by Hubspot, around 64% of marketers invest time in SEO. And why not, SEO undoubtedly plays a significant role in the success of an online business.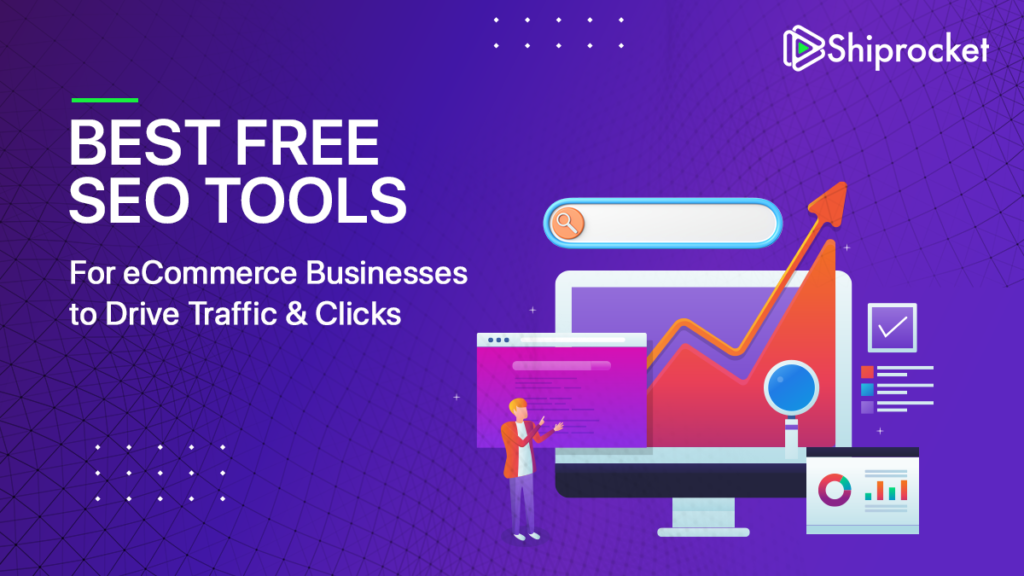 Contrary to what many people may think, SEO is not something very technical that only geniuses and experts can do. With the help of many online resources and SEO tools, anyone with some knowledge of SEO can do it. In fact, most digitally challenged can also master the basic SEO.
What is SEO?
Search Engine Optimization (SEO) is basically a practice of increasing traffic and organic searches of the webpage or website. It is designed to improve the quantity and quality of web traffic coming on a webpage, using organic or non-paid methods. The fundamental parts of SEO include keyword research, optimizing product pages, descriptions and listings, performing website audits, and fixing website issues. Before starting on working on SEO, there is a need for a well-planned SEO strategy.
Most people often overlook the importance of SEO strategy. But without it, all your efforts might go in vain. In your SEO strategy, make sure you outline the goals and objectives you wish to reach with the help of SEO. They can be increasing website traffic, improving website ranking, or selling more products. The simplest and best way to do this is by defining keywords that must be used in website content, the home page, product pages, blog posts, and FAQs. This rule will help improve your website ranking.
The better the website's ranks, the more it will appear on the top on search engines like Google, Yahoo, and Bing. This will significantly increase the chances of your customers finding your online store. However, if you use several SEO tools, the process will become much easier for you.
We have seen many online business owners looking for support with SEO. So, in order to help them, we are creating a list of free SEO tools that they can use to sort out their SEO strategies. You can use these tools to search keywords and measure their search volume. The ultimate goal of every online seller is to get their website to appear first in the search result.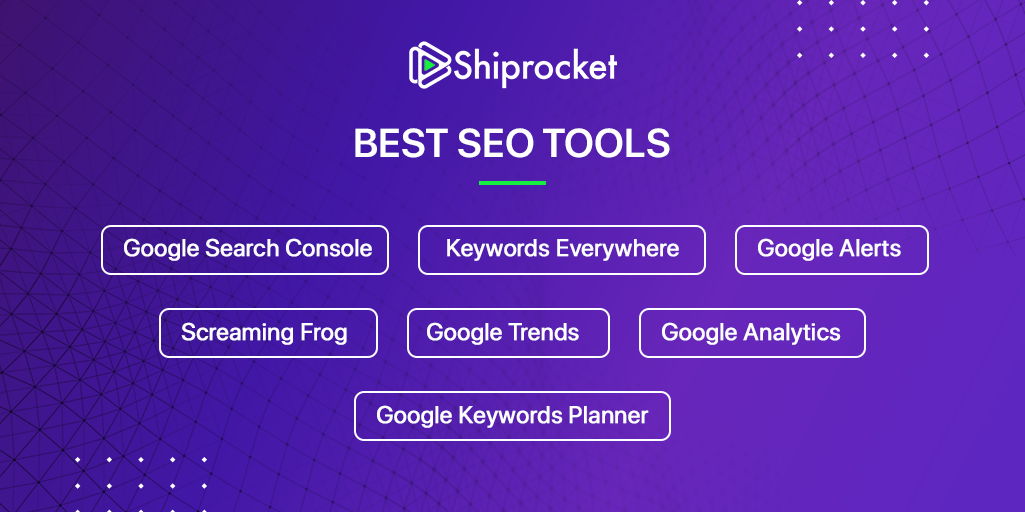 Google Search Console
Google is well aware of the problems that most online sellers face. That is why it offers a few SEO tools to help them. One such tool is Google Search Console. It is an especially designed tool to help online sellers track their website performance, analyze user engagement, and pinpoint errors in the website if any.
With this tool, you can also choose the web pages you want the search engine (Google) to pick up and the ones you want to exclude. This ultimately gives you the power to optimize your website completely for the best results and traffic.
Keywords Everywhere
Keyword everywhere is your go-to-go tool to look for what people search online. It is a simple-to-use tool with a free add-on. You can install it on Google Chrome or Firefox browser. The Keywords Everywhere tool can provide you updated information on the search volume of keywords, CPC (Cost-per-click), and search competition. With this tool, you also get access to search data on sites like Google, Amazon, YouTube, and Bing. With this one platform, you save a lot of time in researching keywords across different platforms.
Google Alerts
Though Google Alerts is not a keyword research tool, it can be really helpful for your business in branding. It is imperative to know where your brand or products are mentioned over the internet to ensure positive branding. And this is where Google Alerts come into the picture.
With Google Alerts, you can track content on the internet. It is a free-to-use tool where you can search any word, keyword, query, person, trend, or news. When you get a Google Alert for a particular keyword or topic, you receive an email with the link to the webpage whenever it is mentioned on the internet.
As per your requirements, you can set multiple alerts related to different topics.
Screaming Frog
Screaming Frog is an SEO tool that helps search broken 404 links. It helps in identifying server errors that might harm the website ranking. It is a website crawler that helps in fixing broken links and resolve duplicate pages. With this tool, you can get a free audit of your website – what needs to be optimized for search engines.
Besides, you can also integrate Screaming Frog with Google Analytics. You can integrate this tool with Google Analytics API to fetch free user data of up to 500 URLs.
Google Trends
Google Trends is a handy tool to monitor the keywords trends online daily, weekly, or seasonally. It was launched in 2006 and its recent version was launched in 2018. With Google Trends, you can search the popularity of the keywords or a search term. It provides keyword search data and graphs for Google and YouTube. With this tool, you can check the rise and decline of a keyword trend and also the related queries and topics.
This tool is pretty straightforward to use. You just need to enter the keyword and the region where you want to check its trend. The tool will show its popularity over different locations. However, remember these graph numbers are not the search volume of a keyword. Keyword popularity and search volume are different.
Google Analytics
Google Analytics is the best SEO tool to measure the traffic on a website. Not just traffic, you can also know:
If your website is mobile-friendly?
Where do most of the users go – which page?
What is the source of the traffic?
What is the conversion rate?
How many leads were converted into customers?
From where did the converting visitors come?
What pages get the maximum traffic?
How can the website's speed be improved?
What is the traffic, page views, session/page, and bounce rate of the blog content?
What is the result of the marketing tactics?
For a Google Analytics account, you need to have a Gmail account. You can give Google Analytics access to other users as well.
Google Keywords Planner
Google Keyword Planner is an SEO tool that helps research keywords for search campaigns. It is a free-to-use tool that helps in discovering new keywords and checking the estimated search they have.
The following are the benefits of this SEO tool:
Discover new keywords and get suggestions.
Check monthly searches on a number of keywords.
Determine the average cost of Google Ad on a particular keyword.
Create new campaigns as per the in-depth keyword research.
With Google Keywords Planner, you can get insights into keyword targeting. However, campaign performance depends on a number of factors, such as budget, bid, product, and customer behavior.
SEO is not that complicated. While some of its aspects might be complicated, with the help of the aforementioned few free SEO tools, you can make a significant difference to your website's traffic and search results. However, before you zero in on a plan of action, first determine the root cause of the problem. Make a tactical strategy to renovate the website's SEO and ensure that there are no unnecessary broken links.
Calculate Your Shipping Costs Now