How to use Google Analytics for eCommerce Tracking?
Venturing into the world of eCommerce unlocks your door to unprecedented profits. It also gives you a large customer base and, more importantly, a reputation you can bank upon. But eCommerce is also a tidbit of nuanced tasks, which contributes to your brand's overall growth.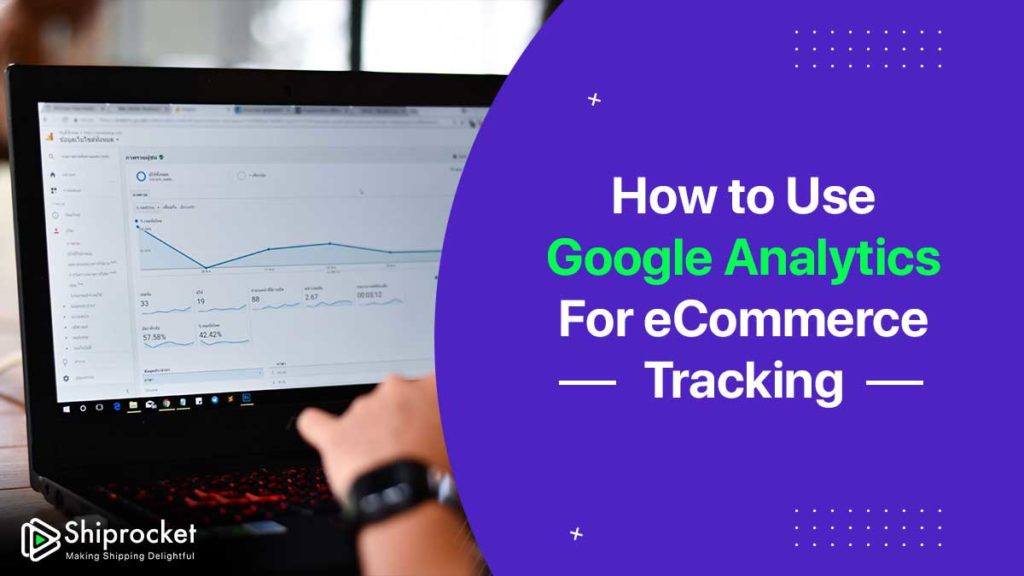 The trick to acing eCommerce is keeping an eye on different departments and realizing methods that work for you. Especially as a marketer, you might be working on multiple things such as improving your website design, running ads, creating content, among others. The question is, how will you discover the methods and campaigns that have worked the best for your brand? The answer is analytics!
Analytics gives you an insight into your business and every campaign that you've run. By diving into this, you know your business's exact position and what you can do to improve it. While there are several analytics platforms that you can use to track your business, Google Analytics stands as one of the best.
Google Analytics is a powerful tool that cna be leveraged in more than a few ways. It can help your business grow and understand where most of your traffic is coming from. Additionally, it also gives you an insight into how your users are interacting with your business.
Marketers often use Google analytics to diagnose a particular problem, such as the factors responsible for your website visitors leaving early, high bounce rate, etc. But, there is more to what is required for the efficient functioning of an eCommerce organization. Unless you know how to use analytics, you will not make the most of the data for your organization.
But, there's nothing to worry about. We've gone ahead and compiled all the information you need to start using analytics for your business-
Setting up Google Analytics
Before you start analyzing your data, you need to set up Google Analytics for your eCommerce website. This is the first step you have to go through before you can start leveraging all the data for unprecedented profits and more. It's easy and fast. This means you don't have to spend much time getting on board with it.
Start by signing up for Google Analytics' website. You can do that by simply registering here. When registering, you are asked about some necessary information about you and your website.
Once you fill in the information, you will be given an individual, unique tracking code. Often known as a tracking pixel, you must integrate it with your website to start using analytics.

Once you see the tracking pixel appear on your screen, copy it from here. The next thing to do is paste it on your website. You can use and header or footer plugin for your WordPress account and paste the code there. This would enable tracking on all pages on the website.
In case you have a store on platforms like Shopify, you can take the following steps-
Go to your Store' and navigate to 'Online Store.'
Click on the 'Preferences' section.
Paste the analytics code in the box the appears on the screen.
Congrats, you've completed the first step of setting up Google Analytics for your store. Now you have to enable Analytics to start using it.
Enabling Google Analytics for Your eCommerce Store
Once you've pasted the analytics code in your WordPress or website builder account, head back to Google Analytics. Locate the admin panel and 'All Website Data' under it.
Here you will find 'ecommerce settings.'Click on the 'On' option to turn it on and enable Google Analytics on your eCommerce website. You can also explore the additional settings for enhanced tracking and reporting options related to your website, products, etc.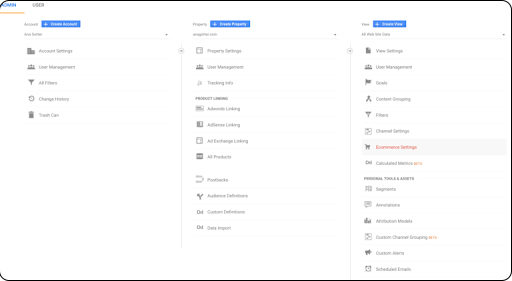 For all other websites, the world stops here. But, since you are setting up Google Analytics for your website for your eCOmmerce store, you need one more step to complete the task.
Once the analytics is enabled from the above step, you'll have to add another piece of the snippet to your analytics pixel in your wordpress account. This piece of code will ensure that you can track your cart, sales, and more.
This is the code you'll have to copy and replace with some critical elements related to your website.
ga('require,' 'ecommerce,' 'ecommerce.js');
In the above default code, replace it with the following.
ga('create,' 'UA-your id,' 'auto')
Voila! You've successfully set up and enabled Google Analytics for your website. Now you can go ahead and test it. In case you are using any other third-party platforms for your web store, you will have to set up cross-domain tracking.
Tracking Your Website Data with Analytics
To start tracking your website, you need to understand where to look for what information. For eCommerce, you can find the data related to it, including the transactional data under one column. For this-
Log in to your Google Analytics account.
Locate the 'Goals' tab on the left
Click on 'Ecommerce' under it.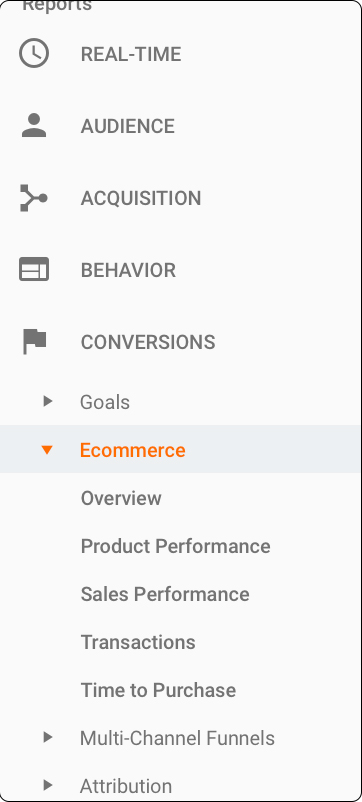 Under the 'Ecommerce' tab, you will find information about the product, overall sales, transactions, etc. This tab will also tell you about your customer's behavior and their average time is taken to purchase a product.
Overview Tab
In this tab on Google Analytics, you will get an overall look and feel at everything that is happening with your eCommerce store. For example, if you provide coupon codes to your customer, you can find their redemption details here in this tab.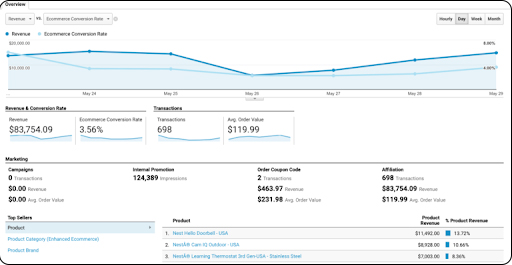 Shopping Behaviour Tab
This tab throws light on the users of your eCommerce store. For example, it will give you an insight into the new vs. returning user behavior. You can also find use this tab to find out where your customers are leaving their carts during the checkout process. This idea can help you improve your checkout process and optimize it for higher conversions.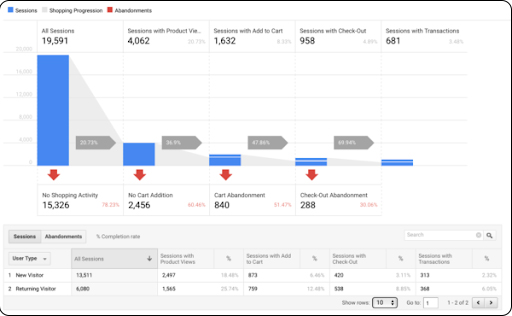 Product Performance Tab
This tab is one of the essential tabs for eCommerce businesses in Google Analytics. There is plenty of data that you can find in this tab related to your products. For example, if you want to find out about the revenue generated from each product, you can do it in this tab. Similarly, you can get to know about the unique purchases and return customers as well.
Sales and Product List
As the name suggests, the Sales tab gives you the information related to transactions about each product. It will also tell you the shipping costs incurred on your products. Similarly, the product list tab gives you a list of products and tells you how they perform conversions.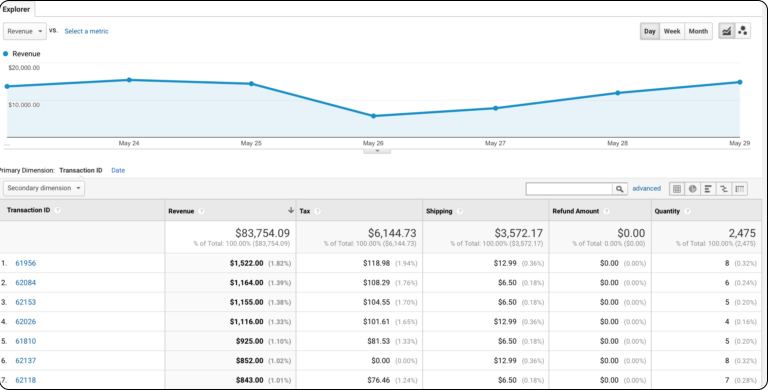 Now that you have all the information you need to set up and start using Google Analytics for your website, you can just get started within minutes! Dive down into analytics and understand why your customers are abandoning carts. Is your checkout process too long, or is it your shipping costs? Analytics can help you know all these easily. Then use the information to optimize your store and monitor your users' responses to the new changes.
Calculate Your Shipping Costs Now