Beginner's Guide to Google AdWords for eCommerce Marketing
In order to become a successful online seller, you must attract customers to your store. But in this over-competitive eCommerce market, how will you be able to do so? Today, various paid and organic marketing strategies can help you improve visibility online and increase conversions. Google Adwords is one of them. With this article, let's see what Google Adwords is and how you can utilize it for your business goals. Read on:
What are Google Ads?
Google Ads, as the name suggests, is Google's proprietary advertising service that offers various kinds of advertisements on the search engine. It gives you a chance to reach your buyer almost instantly.
These are advertisements on the internet that you would have interacted with while searching for something specific. To understand this better, type on Google 'buy shoes online' and look at the first few results.
You will notice something like this –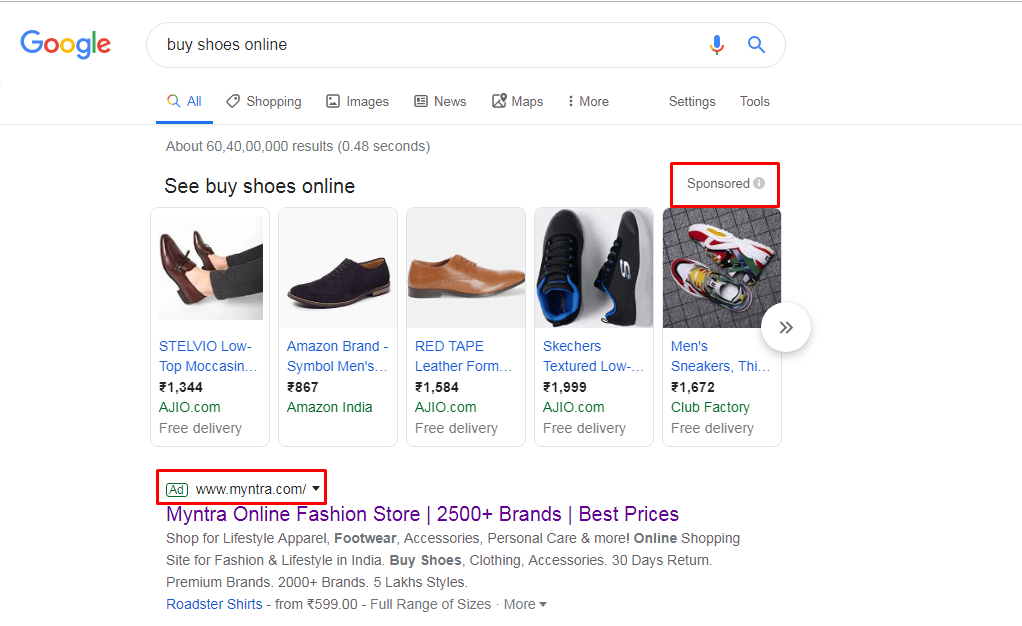 The first few results with the words' Ad' and 'Sponsored' are the ads we are talking about. Sellers are paying to use this space for advertising their products.
The Nitty-Gritty of Google Ads
Google AdWords works on a pay-per-click (PPC) campaign where advertisers bid on keywords and have to pay according to the number of clicks each ad gets. This is just a basic idea. In this section, we will discuss the types of ads offered by Google Adwords, their pricing model, and what is the mechanism around how Google runs these ads.
Types Of Ads Offered
Search Ads
These are the ads that appear on the top of your Google search result page. This is what they look like –

Call-Only Ads
These are mobile ads that let the consumer place a call directly. Therefore, instead of redirecting them to your website or landing page, you can cut short the process and interact with them on call.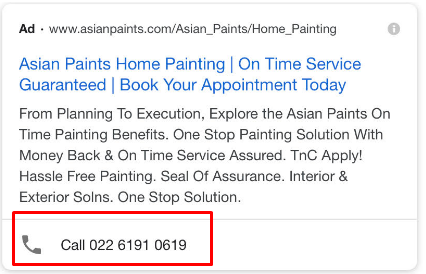 Dynamic Ads
Google's dynamic ads are very similar to search ads, and instead of keywords, they use your website's data to generate content for your ad. It is suitable for businesses with a large inventory and a well-established website. These ads help you fill the gaps that you may experience due to keyword inaccuracy.
Mobile App Promotion Ads
These are for promoting your store's mobile application. You can include prompts that require them to download the mobile application or take some action within the app.
Display Ads
We are quite sure you have seen these on multiple occasions while browsing through various websites. This is what they look like –

Seems familiar? These ads are displayed on various websites that have enabled advertising. These results don't need to be driven by the search done by you. They are displayed based on other factors like interaction with Google, interest, past keyword searches, etc.
Video Ads
In this ad format, you can run ads on Youtube and other google display networks. These are usually the 5s – 15s videos you see before any video on Youtube. They improve your targeting and give more insight to the customer. Also, they are more engaging.
Example – Book My Show's video for the Frozen 2 movie

Shopping Ads
These ads are apt for retailers like you who have their eCommerce website and are selling online. This is what they will look like –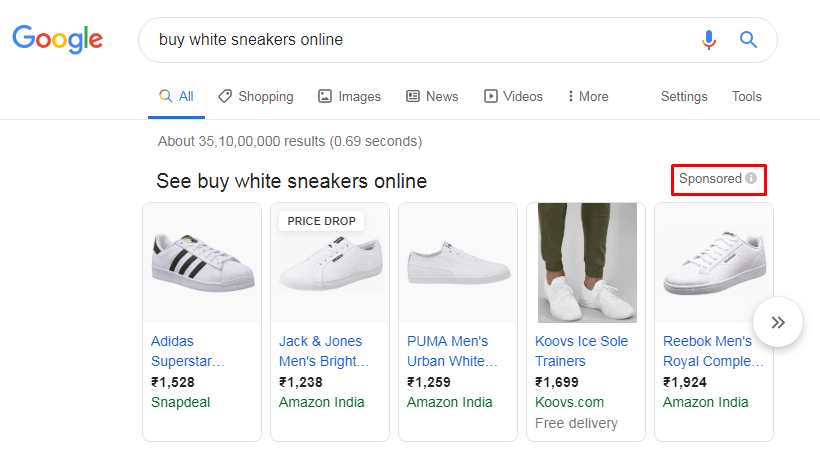 They have the link of products, and the buyer is redirected directly to the product page. These ads optimize the user journey and make it extremely crisp.
We will discuss how you can set up shopping ads in further sections.
Mobile App Install Ads
App install ads are useful if you have a mobile app and want to drive more traffic to it or increase downloads and awareness. Here is what they look like –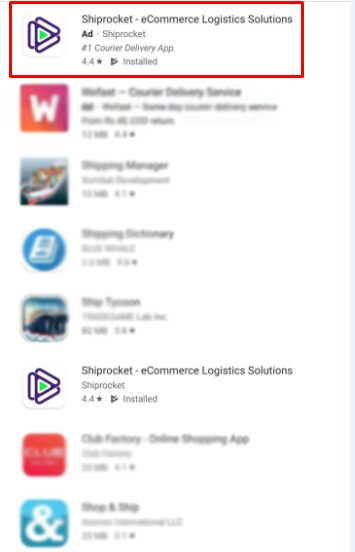 Just like search ads, they appear at the beginning of your app search in the play store.
Common AdWords Terminology
Quality Score
Quality Score is Google's Rating for your Keywords and Ads. It is dependent on various factors such as keyword relevance, click-through-rate (CTR), landing page quality, past ad performance, etc. No one factor is responsible for the quality score, and the proportion of each is not identified.
Also, the quality score determines your Ad Rank. Thus, you must work on improving your quality score at all times.
Bidding
Google charges you for every click that comes to your ads. Hence, you need to specify a budget for each campaign you set up and select a bid amount that you are willing to pay for every keyword and ad.
Google Adwords offers you both manual and automatic bid for your campaigns. If you select the automatic bid, Google chooses the bid amount from your budget and works to bring you maximum clicks. Whereas the manual campaign lets you select the maximum bid for a particular campaign, and you won't be charged more than that.
Ad Rank
Ad Rank refers to the position of the Ad in the search engine result page. A lot of factors such as the quality score, bid placed by the advertiser, keyword in the text, and landing pages determine it.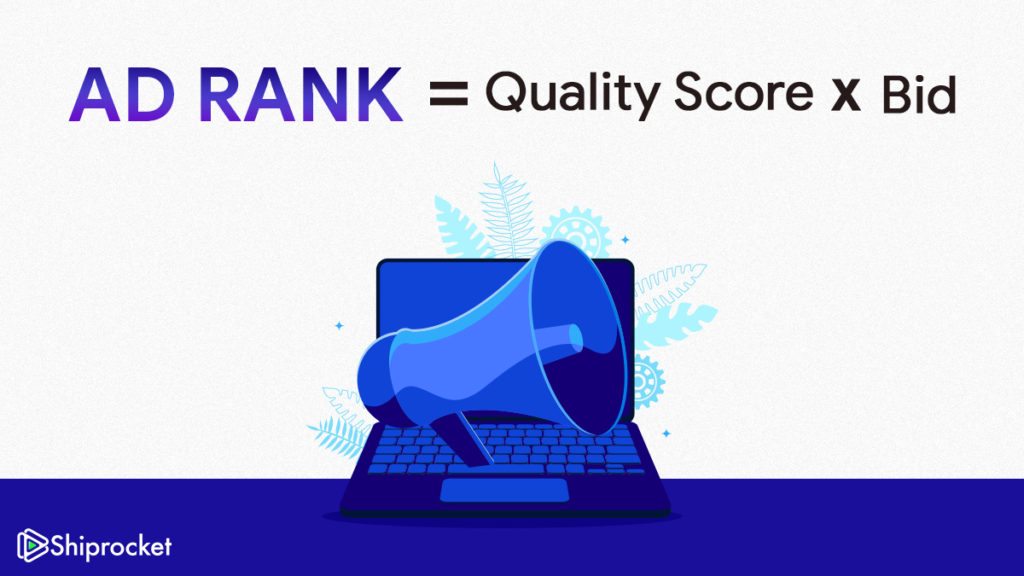 How Does Google AdWords Work?
There are two networks on which Google AdWords functions. These are –
Search Network – These include the ads displayed when you search for something on Google
Display Network – This consists of the display and video ads
Since 'search ads' are more popular and widely used, let's discuss working with them.
Step 1
You create an ad campaign with a few primary keywords. These could include one keyword or many. We will be discussing the process of creating campaigns in further sections.
Step 2
You bid on keywords and set your monthly budget
Step 3
When someone types a particular keyword in the Google search bar, Google runs an algorithm to identify the related keywords for the query from the keyword pool.
Step 4
It then finds the top 6 advertisers based on relevance, keyword quality score, and the bid placed by them.
Step 5
The visitor is shown 6 different advertisements, and if they click on the ad and go to the website, the advertiser is charged for the ad.
AdWords Pricing Explained
Google charges sellers on the Pay Per Click (PPC) model. Like we mentioned before, the PPC model requires you to bid on keywords, and your bid and quality score decide the Ad rank for your ad.
Thus, when you set up a campaign on Adwords, you set up a budget for it and decide the expenditure budget for each day. So Google charges you for the number of clicks your ads get.
Let's understand this better with an example:
You want to run ads on Google for selling shoes. So you set up your Ad campaign in the Adwords planner and set a per day or per month budget.
Let's assume you put a budget of ₹200/day. If your Quality Score and Ad Rank is high, your ad will be displayed in the search engine result page when somebody searches for the keyword 'buy shoes online'. Depending on the number of people who click your ad, if the daily budget is reached, the ad won't be displayed any further.
Cost per click is variable and depends upon your goals, competition, ad relevance, Ad Rank, Quality Score, and other related factors. Once you start running your campaigns, you can see the average CPC and the number of clicks accordingly.
To calculate the average cost per click, divide the daily budget by the number of clicks.
Average CPC = Daily budget/No. Of clicks
So if your daily budget was ₹200 and you received 50 clicks, your CPC will be ₹2.
So once you know the average CPC, you can estimate your daily budget for future campaigns. So if your CPC was ₹2 and you want to receive 500 clicks per day, your budget must be –
Average CPC * No. Of clicks (desired) = Daily budget
In this case,
2 * 500 = ₹1000
Just like this, there are various hacks and strategies that you can try to devise the bidding approach that works best for your business.
How To Get Started With Google Ads : A Step-by-Step Process
If you've just started with paid marketing campaigns, here is how you can begin with Google Ads and improve the reach of your campaigns.
Part 1 – Setting up your account
Step 1
Go to → https://ads.google.com/ and click on start now

Step 2
If you are signed in on Google with your existing account, you will see this screen next –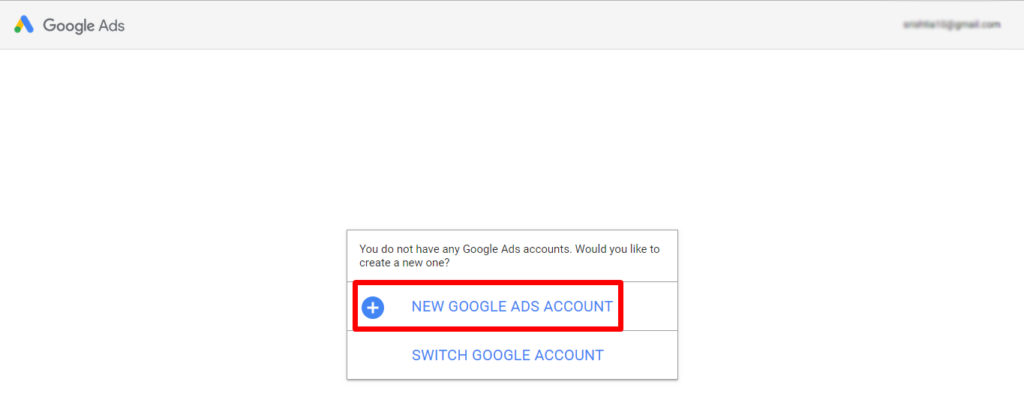 Out of the given options, select 'New Google Ads Account.' Google will automatically create a Google Ads account for your existing Google account.
Step 3
On the next screen, choose your advertising goal. What is the final conversion you want out of these campaigns?

Step 4
Following this, enter the details about your business and follow the steps to set up your campaigns.

Part 2 – Setting Up Ad Campaigns
Step 1
Moving forward, select your audience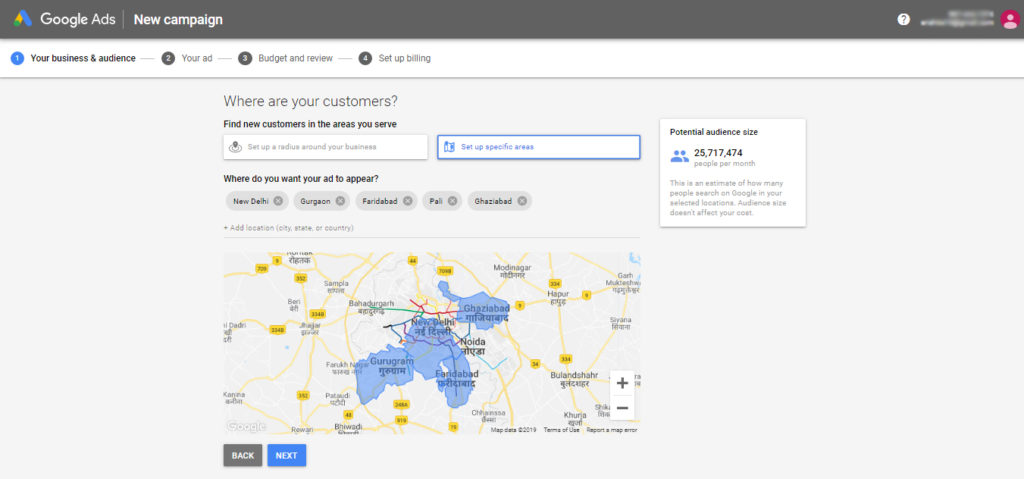 You can define your audience by location, a specific radius around your location, or by any particular area. Once you're done, click on next to move further.
Step 2
Select the searches you want to appear in. Add the relevant terms related to your product and services.

Step 3
Write an ad
Fill in all the details specified.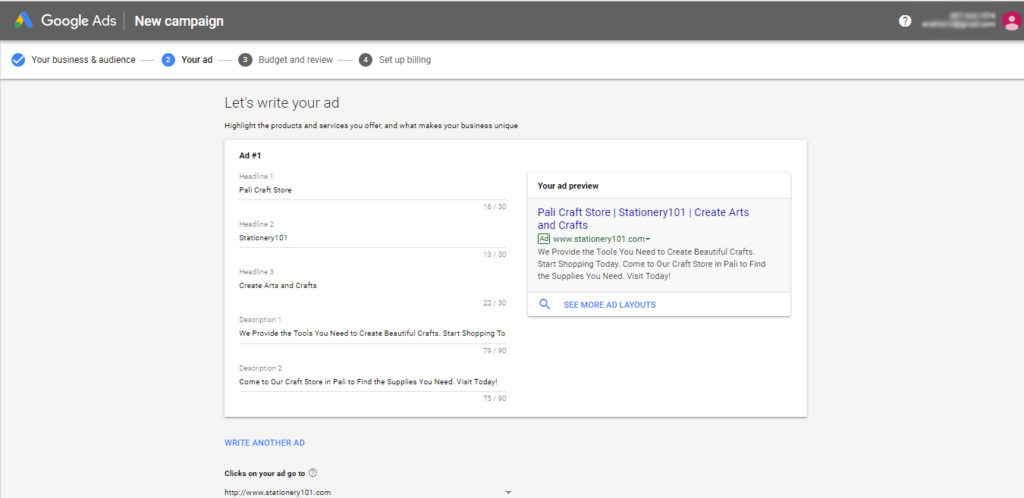 If you want to change your ad layout, click on 'See more ad layouts.'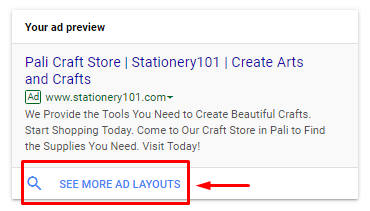 You select the type of ad you want from here and customize your ad accordingly.
Step 4
Set your budget. Google recommends you a few budgets that you can select from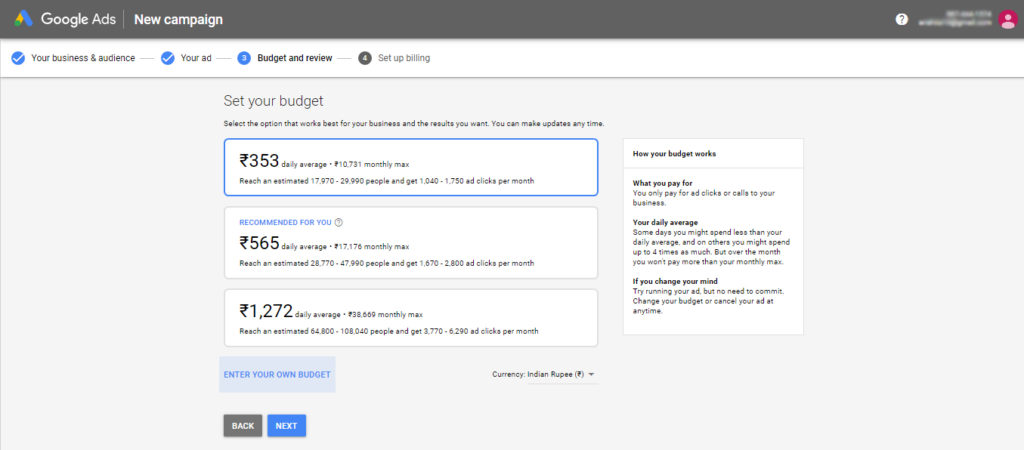 If you want to enter your budget, you can do so by clicking on 'enter your own budget' below the suggested budgets.

Upon clicking enter your budget, you will see a pop up with a sliding bar. Here you can set your desired budget for the campaign.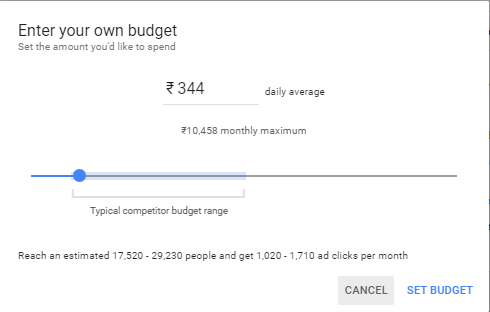 Add your budget and click on 'set budget' to get going!
Step 5
In the next screen, review your campaign and finalize all details. You can edit any aspect you wish to change.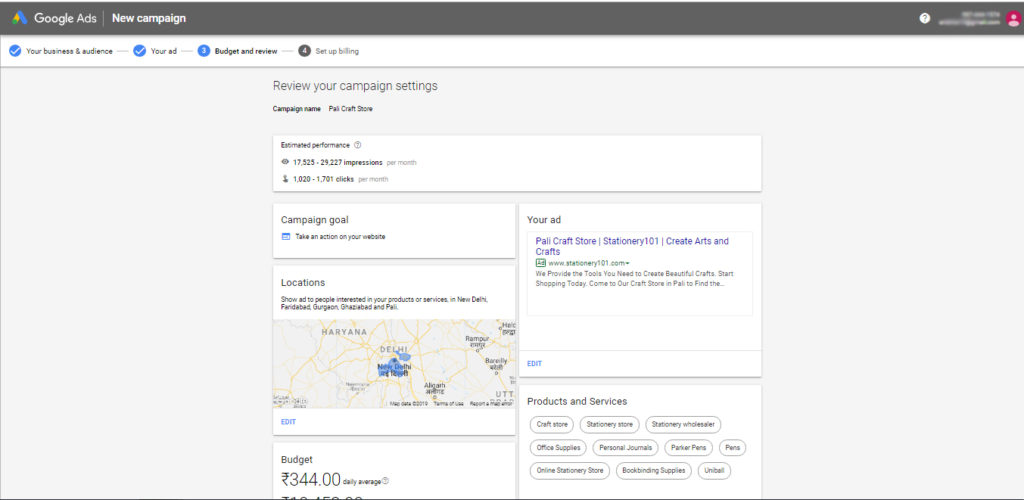 Step 6
Setup your payment, and your campaign is all set to go live!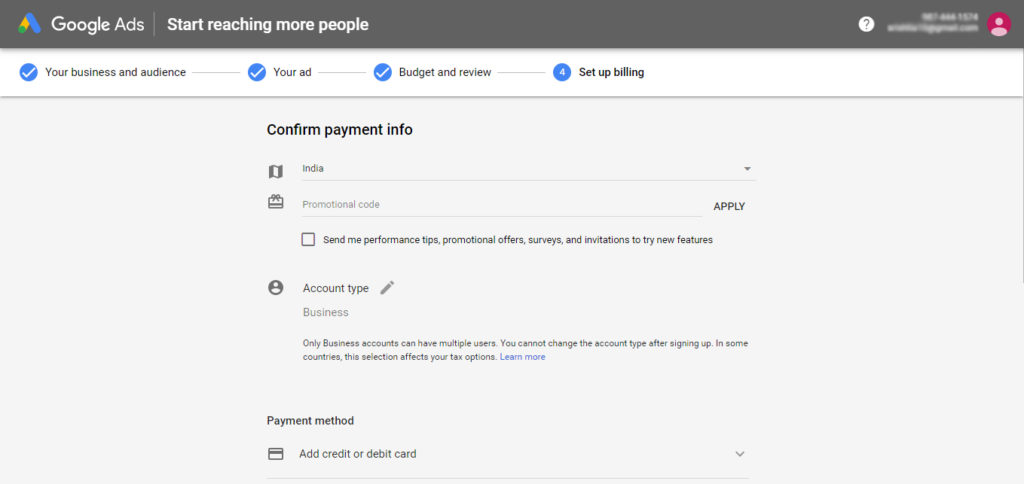 With these simple steps at your disposal, you can begin advertising efficiently on Google Ads!
KPIs For Tracking The Success Of Your Campaigns
Your campaigns cannot be improved if you don't track them adequately. There are various parameters you must consider while tracking the success of your Google Ads campaigns. A few KPIs that you can track are listed below:
Quality Score
Since the quality score decides your ad rank, you need to make sure that the rating is above a 5. Also, if your quality score is high, you have to pay less for your Google ads. This is so because you prove to Google that you are a reliable source, and the content you put out in the form of ads is useful for people using Google to find answers.
Click-Through Rate (CTR)
Click-through rate is the percentage of people who click on your ad and go to your website. It is an important KPI as it gives you a fair idea about the engagement of your Google ad and the people who are interacting with it. A high CTR indicates that your ad is performing well with the audience you are sharing it.
Here is how you can calculate the CTR of your ad –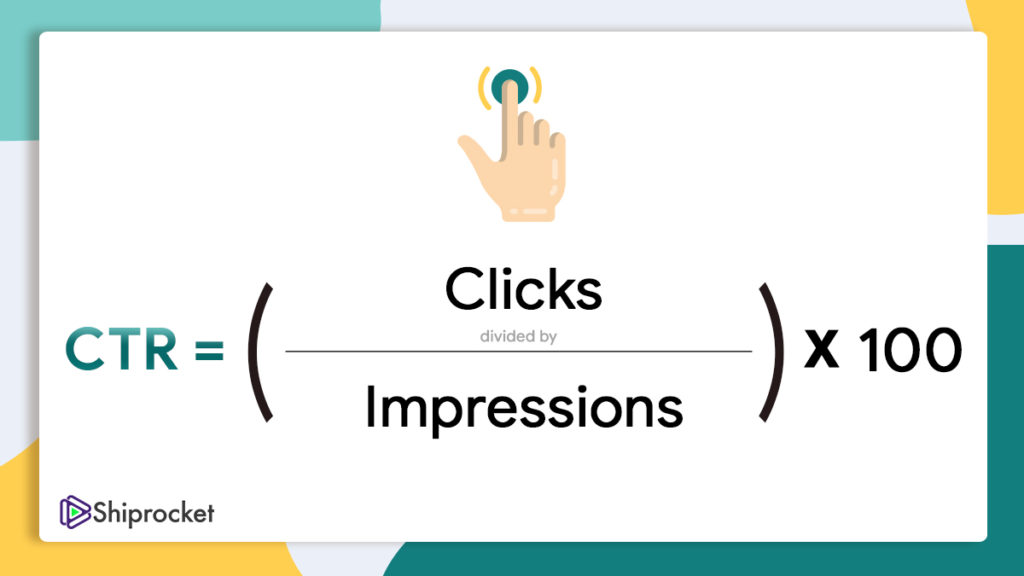 Conversion Rate
Conversion rate is a measure of the number of people who click the ad you share and eventually become customers. The conversion rate gives you an idea about the number of people who are buying from your website. It also tells you about your ROI and the amount you are generating through each ad.
Here is how you can calculate the conversion rate for your ads –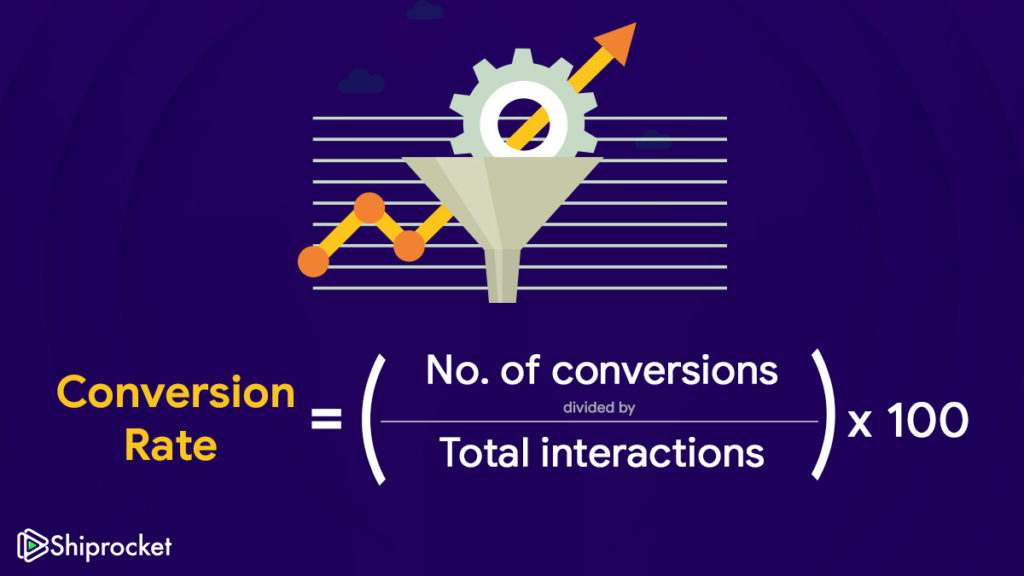 Impression Share
Impressions refer to the number of times your ad is shown to people. The impression share is defined as the number of impressions of your ad divided by the number of impressions that are achievable. This KPI is valuable for Google Display Networks. There could be various reasons for a low impression share. Some of them include a low budget or a low ad rank.
Here is how you can calculate the impression share for your Google Ads –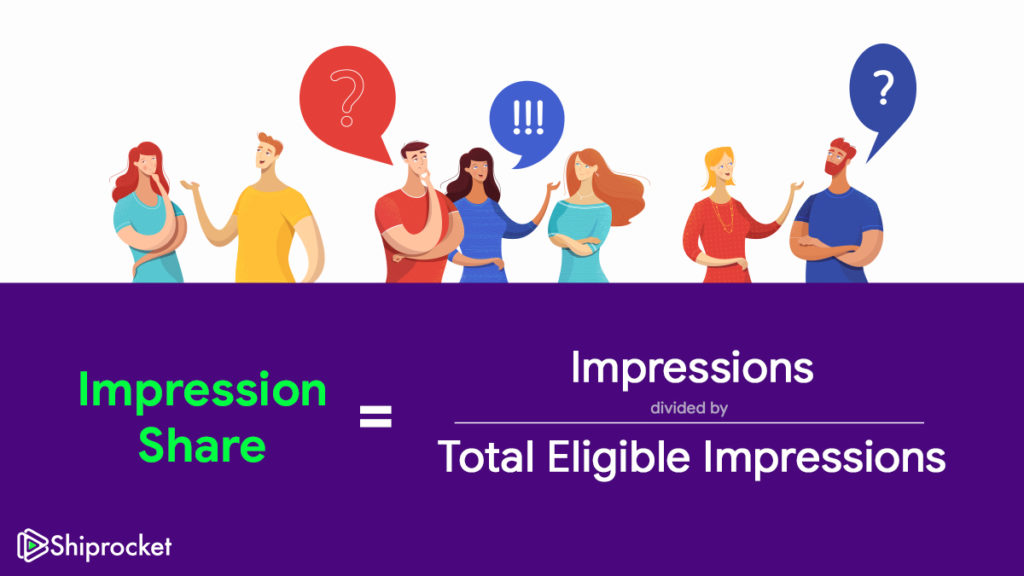 Cost per conversion
Cost per conversion is the amount of money spent on every conversion. This metric is critical as it tells you about the revenue you are generating with every customer who converts. Ideally, this number must be low. But, not everyone converts after viewing your ads. Hence, keep a close eye on the CPC and make changes to your campaigns whenever required.
Why Is Google AdWords Suitable For Your eCommerce Business?
Faster Results than SEO
One of the main benefits of using Google AdWords for your eCommerce business is its quick results. As compared to SEO, AdWords can help you reach customers much faster. Firstly, because your ad appears in the top 4 results of the search results, the chances of visitors interacting with that search result increase drastically. Second, Google AdWords allows you to target multiple keywords at once. Even though SEO helps you improve and maintain your ranking in the long run, to attain short-term spurge or growth in your results, Google AdWords works perfectly. A combination of AdWords and SEO can bring wonderful results for your website.
Brand Awareness
Once your brand's name appears time and again across the top results on Google, it is bound that the recall of your website's name will be strong. This gives your business an edge over other companies and also increases the chances of improving your SEO results. Ads allow your buyers to interact and engage with your website.
Re-engage with visitors from your website
The best aspect of AdWords is that you can retarget users who visited your website. You can do so with the help of display networks and RLSA campaigns.
With remarketing on display campaigns, you can present your banner on different websites that partner with Google and eventually target users that visited your site but did not engage with it.
RLSA stands for Remarketing Lists for Search Ads. This enables you to add keywords, based on which Google displays your ad whenever the user's search query matches the keyword mentioned.
The chances of conversion increase when your website visitors are shown your remarketing ads too.
Experiment and Explore
Here, we are referring to the results you get when you link your Google AdWords account with Google Analytics. Yes! Google AdWords provides you with rich data surrounding the ads and how they performed, but once you connect it with Google Analytics, you can know what the user did on the website or landing page you led them too. This can help you experiment with different content, tag lines, and CTAs to make sure the user that engages with the ad also converts in the store.
Keep Track of Performance
Google AdWords provides you with detailed data on how your ad performed. This gives you a detailed analysis of your ads, and you can make changes based on reliable results. This is not possible with other forms of advertisements such as print media, newspapers, billboards, etc.
Google AdWords provides you data around the following:
Who viewed your ad
How many people clicked on it
How much traffic you received on your website because of ads
How much does it cost you for every lead
Which keyword worked best
With such detailed insights, you can easily make informed decisions and also spend your money wisely.
Analyze Competition Better
To make sure your business succeeds and your ad initiatives work, it is imperative that you keep a close eye on your competition. With Google AdWords, you can see who is running what ads, and you can modify your ads accordingly. This helps you get a fair idea of your performance and also gives you some ideas around how you can improve your ads to rank better and improve your quality score.
Hacks For Performing Well on Google Ads
Improve Tracking
Tracking plays a significant role in your campaigns. Without tracking, you cannot ascertain what is working for your campaigns and what isn't. Moreover, if you can't track the performance of your campaigns, there is a good chance you will be wasting money on some of your campaigns.
According to a report by Disruptive Advertising, 42.3% of Google Ads account managers are not tracking their campaigns, and 57.8% have some level of tracking.
Whereas out of this 57.8 %, only 50.1% of accounts with conversion tracking are tracking something meaningful, and the remaining have an inferior setup that is equivalent to no tracking at all.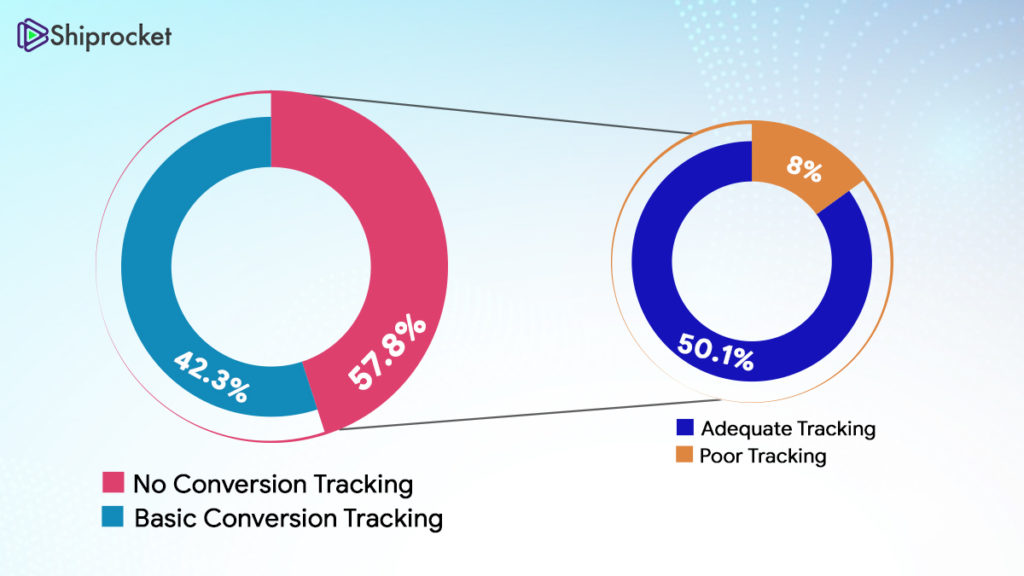 Tracking gives you an insight into what works well for the campaigns and what doesn't. It tells you what requires optimization and what is the path you should take for the same. Therefore, before jumping into the circle of optimization, improvement, and increasing your spends, ensure your tracking is in place, and you are getting all conversion numbers correctly.
Add More Extensions
Adding extensions can help you increase the chances of conversion. Extensions are additional snippets accompanying your ad. Here is an example –

They allow you to include more content and provide more actionable information in the ad. Hence, optimize content for extensions and put them to use wisely for maximum conversions. Google itself says that you can increase your CTR by 10-15% with extensions!
There are various types of extensions available such as affiliate locations, callout, call extensions, message extensions, site link extensions, etc. You can see which is most apt for your business and use it accordingly.
Remove Duplicate Keywords
It can be difficult finding a keyword that works beautifully for your campaign. But if you keep stuffing it in your ads, it can work against your campaign. Therefore, figure out which campaign is most relevant for the keyword instead of adding it in every campaign you might be running.
Increase Quality Scores with Branded Terms
Quality scores are a crucial element of your AdWords campaign. They decide the ranking of your ad and campaigns. Your quality score depends on various factors that include the relevancy and co-relation of your landing page with the keywords you have used. Hence, if you are redirecting the user to your website while you have not used any keyword containing the name of your brand in your ad, it can work against you. Thus, make sure you use your brand's name in advertisements to improve your quality score and improve your ad ranking.
Keep track of Keywords that Convert
When you create and run campaigns, you need to play around with a few keywords before you see which ones are working for your business and which aren't. Eventually, you do come across a few keywords that work well for your brand and help you get conversions. Eliminate the keywords that don't work and strategically use the ones that do. Also, keep an eye on your competitors and figure out what keywords have the maximum competition and are working well among people.
Conclusion
Google AdWords is an incredibly diverse platform that offers you various opportunities for your business. You can opt for different kinds of ads to ensure that your brand reaches the millions of users searching for their needs on Google. If worked on strategically, AdWords can help you engage with an audience that is beyond your reach otherwise. Hence, learn carefully about the various kinds of ads and get your hands on beginning your AdWords account. Once you start with advertising on Google, you can easily understand the tips and tricks to succeed! Let us know how you use your account to promote your business.
Calculate Your Shipping Costs Now