Here's How Shiprocket Helps Its Sellers Get Refunds on Lost & Damaged Shipments
A lost or damaged shipment can be very detrimental for a seller. It can be financially straining as the seller has to bear the cost of the lost or damaged shipment and its forward and return (in case of the damaged product) freight charges. Besides, it can also harm his reputation among the buyers as they might either receive a damaged product or no product at all.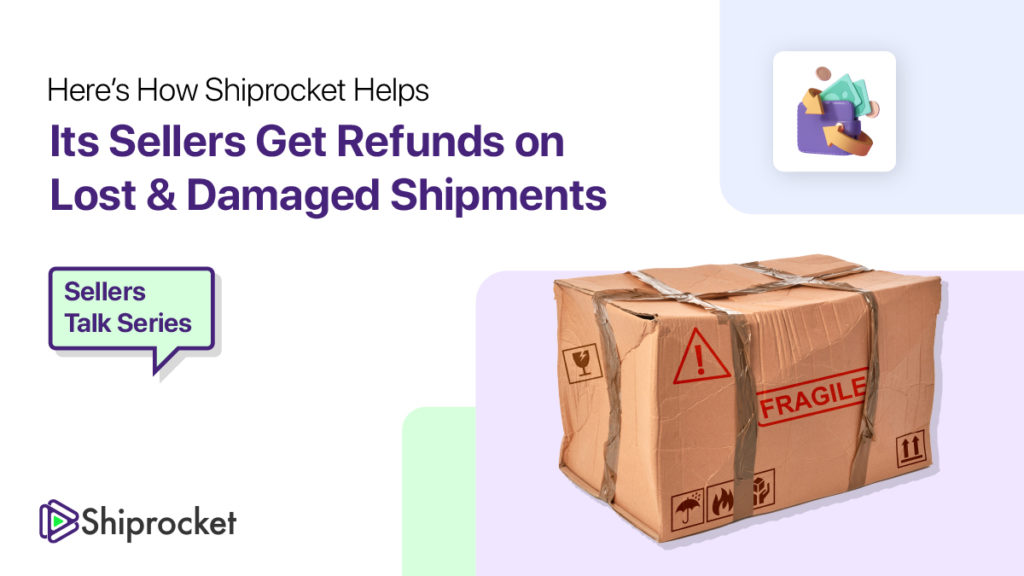 A damaged or lost shipment happens rarely, and it very much depends on the courier partner shipping the order. However, Shiprocket is always concerned for its sellers and their challenges.
Our one such seller, Kartika, faced a similar situation where her shipment was lost. Here's how Shiprocket came to her aid and helped her get refunds on the lost shipment.
Audio Transcript
SR Representative: Hi, welcome to Shiprocket. This is Abhimanyu. How can I help you?
Seller: Hi. I am Kartika from AR Electronics. I had shipped an order with Shiprocket jiski worth Rs. 9,500 thi. The courier partner marked it as a lost shipment on November 22, and mujhe lost shipment ka refund toh mil gaya par Rs. 5,000 hi credit hue.
SR Representative: Firstly I would like to apologize that your shipment was lost by the courier company. Ma'am, I would like to know if you have secured your shipment with Shiprocket?
Seller: No, I don't think I have secured the shipment. Can we secure our products?
SR Representative: Yes, ma'am. Unless the seller has secured the shipment with Shiprocket, our maximum coverage is Rs. 5,000, including the freight charges.
We have launched a new feature where you can secure your high-value shipments worth more than Rs. 5,000. In case of or lost shipment, we will refund the entire shipment value up to Rs. 25 lakhs along with freight charges.
Seller: But all my shipments are not above Rs. 5,000. Some orders are worth Rs. 1,000 or less.
SR Representative: Ma'am, you don't need to worry about that. In such rare scenarios of a lost shipment, if the shipment value is less than 5000 then you'll receive the shipment value along with the freight charges automatically.
Further for the shipments worth more than 5000, Ma'am, we have two types of coverages – selective cover and blanket cover. In the selective cover, you can secure selective orders, like just the orders above Rs. 5,000 value but less than Rs. 25 lakhs. In the blanket cover, all your shipments will be secured automatically.
Seller: Ohhh, this is great. This feature will certainly help me secure my high-value shipments and ship my orders without any worry. How can I opt for this feature?
SR Representative: Ma'am, you can opt for this feature from the Shiprocket panel. For the selective cover, you can go to process orders from the left menu and opt for this feature.
And for the blanket cover, go to settings from the left panel, and under the shipment features, you can select to secure your shipment.
Seller: This seems extremely helpful for sellers. I will surely opt for this feature.
SR Representative: Sure, ma'am. Shiprocket has been working tirelessly to solve all the hurdles that the sellers face. Is there anything else I can help you with?
Seller: Nothing as such. But I am very happy with this feature. Thank you so much.
SR Representative: You're welcome, ma'am. We are always there to help you. Have a good day ahead.
Conclusion
We understand that online sellers come across several hardships, and as a partner in their growth journey, Shiprocket works tirelessly in resolving all their difficulties. We are coming up with more such new products to help sellers ship their products seamlessly and without any hassle. We will be updating about more such products soon. So, stay tuned.
Calculate Your Shipping Costs Now