How Shiprocket's User-Friendly Technology is Empowering eCommerce Seller "Best Auto Service"?
One of the greatest hustlers of the world once said, "Where there is a will, there is a way". This precious saying changed the world into what it is today. In the zone of hustlers and one of Shiprocket's many sellers, Abhijit Das is an ideal example of a man who had a small beginning but made it big in his life. For this week's seller story, our marketing specialist, Nishta Chawla, interviewed Abhijit. Running an eCommerce business in West Bengal, read on to find out how Abhijit made it big and profited from Shiprocket.
Tell us about "Best Auto Service". How did you start it?
Abhijit: My father has always been my inspiration. He owned and managed an automobile workshop for 40 years with great dedication. It inspired me to work harder and carry on his legacy. I noticed a differentiating factor in the electric automobile industry. The Indian market is not much aware of this sector. I believed there was a lot for me in the store. To top it off, I am fairly educated about electric automobiles. I started online operations on IndiaMart, and later on, expanded to eBay and Amazon. Currently, my business is the most popular in IndiaMart.
How did you come across Shiprocket?
Abhijit: It was quite straightforward. I searched for "best courier services" on Google and Shiprocket's name came on the top. After researching what Shiprocket was all about, I decided to give it a try and registered my business. To this day, I remain amazed at how user-friendly the sign-up process was.
When did you start your business?
Abhijit: I started my business five years ago, knowing that petrol and diesel vehicles will gradually discontinue due to environmental reasons. I feel grateful for being one of the few to place my foot on this gold mine on time. I have plans to expand my product line and increase profitability through customer retention. Thanks to Shiprocket, I can provide efficient, timely shipping services to my customers.
How did you find Shiprocket's services since becoming a user?
Abhijit: I live in a small city that most people don't know. The local courier companies here don't provide COD services, something which my business sorely needed. And then one day, enter – Shiprocket. All of my shipping concerns were resolved. How could I not like this platform's services?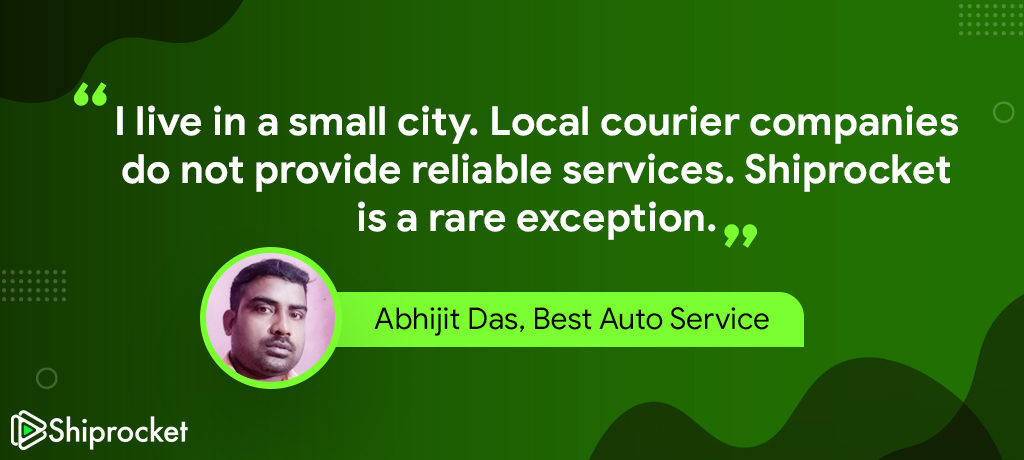 What do you like the most about Shiprocket's tech-enabled panel?
Abhijit: There are two things that I like the most about Shiprocket. First and foremost, Shiprocket has provided me with the ease of managing my business daily. The entire panel is extremely user-friendly for someone who has little to no knowledge about how the technology works. The real-time order tracking page is such an effortless feature – perpetually letting me in on the whereabouts of my shipments.
The second thing I am most fond of is the customer support team. You have hired some remarkably dedicated individuals. They have been providing me with quick resolutions, which I welcome a lot.
Have you witnessed an increase in efficiency?
Abhijit: Yes, I have. Every order I schedule is delivered in a timely and efficient manner. If and when there are surface issues of NDR and RTO, the feature of 'Escalation' on my panel helps me get those problems solved.
Will you recommend Shiprocket to others?
Abhijit: Small and medium businesses deserve to reap the benefits of end-to-end automation and low-cost shipping. So yes, I will recommend Shiprocket to everyone who is looking to enhance the customer experience as a tool to grow their business.
Week after week, it is a delight to hear positive stories from our sellers. At Shiprocket, we try to maintain providing world-class shipping services to our thousands of sellers. Get the best, cheapest, time-saving courier companies all in one place for maximum fulfilment of your end-customers. Register today and join the fleet of our happy sellers.
Calculate Your Shipping Costs Now