10 Ways To Improve Your Customer's Shipping Experience
Shipping is one of the most crucial aspects of your order fulfillment chain. It can make or break your impression on the client. Therefore, you need to be equipped with the best to make sure you can provide them with what they have purchased. When we speak about shipping, the process and technicalities of the logistics process involving courier partners, charges, etc. are one aspect of it. Another crucial element, which sellers ignore is the customer experience associated with the shipping of the product. According to research, nearly a quarter (24%) of online shoppers would abandon their order if no delivery date was provided. These statistics prove that small measures such as giving an estimated delivery date and other similar initiatives taken after shipping can be useful to provide a seamless shipping experience to customers. Read on to find out more about how you can provide your buyer with an ultimate shipping experience.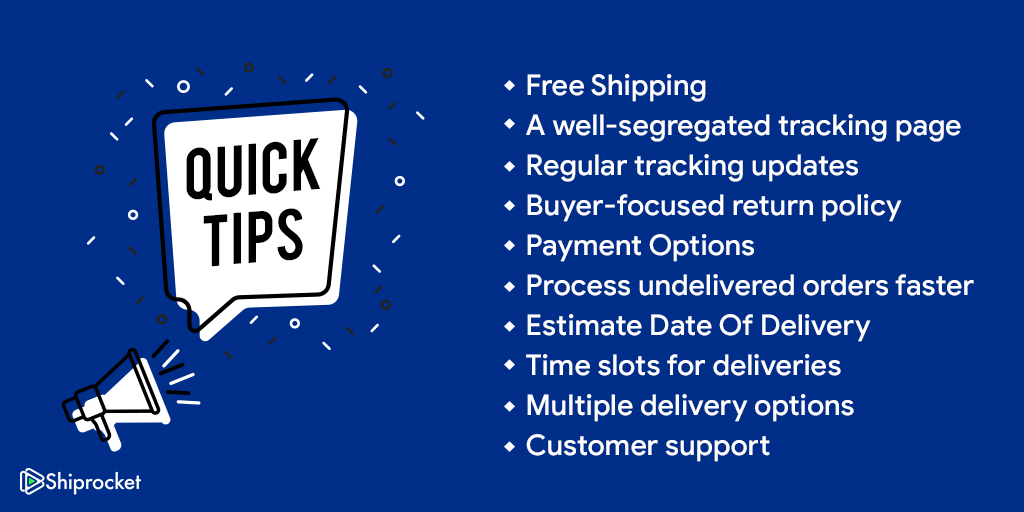 1) Free Shipping
Nothing kills the online shopping buzz faster than additional shipping or delivery charges. Thus, try to not ask the customer for delivery charges on their final orders. It is not possible for all sellers to provide free shipping easily. It requires investment, and constant budget management to provide a feature like such.
Thus, if you cannot provide free shipping directly, offer free shipping over a certain amount. For example, tell your customers if they purchase for Rs. 2000/- or above, their order would qualify for free shipping. This technique works with most customers. An easy way to do this is, calculate an average cost from all the products in your store and keep that value as the threshold. This option gives your business an edge and also provides your buyers with the satisfaction of free shipping.
2) A well-segregated tracking page
A tracking page is essential for the buyer. It is their only way to keep a check on the whereabouts of his order. Segregate your tracking page accordingly to provide them with the most minute details of their shipment. Also, include the contact details of your support team so that the buyer can contact them if they face any issue.
Pro tip: Include banners and links in your tracking page to attract your users towards more of your products. Also, include an NPS score to know what they feel about their experience.
3) Regular updates
All customers are eager to know when they will receive their package; therefore it is vital that they receive the correct tracking details. Moreover, if a product is delayed for some reason, they can decide when they want to accept it.
Provide your buyer with regular updates about the whereabouts of their package on different channels such as SMS, emails, and other applications such as Facebook Messenger and Whatsapp. Along with these updates, you must also give them a page or platform where they can easily track their products.
4) Buyer-focused return policy
The return policy you draft for your website should be under the reviews and suggestions you receive from your customers. Make sure you keep in mind the hesitation your buyer has when buying online and provide them a hassle-free return process.
This process should be such that they do not have to pay for returns and can quickly process returns by just handing over products to a courier executive or dropping it off to a nearby center. Align your return policy to optimize the buyer's experience. On your site, highlight the return policy at a place where it is visible to your customer.
5) Payment Options
With evolving trends, customers also expect to have more payment options when they are shopping. While some prefer paying through credit cards, some are comfortable with their debit cards, net banking; few like to opt for UPI payment and e-wallets while maximum individuals still prefer to pay on delivery once they receive their products. Thus, make sure you provide at least 3-5 payment options, pay or cash on delivery is one of them. Customers will abandon their cart if they don't find their chosen payment method.
6) Process undelivered orders faster
Often it happens that your orders are delayed or returned by the courier company because the buyer isn't present at the mentioned delivery address, he does not have the exact change or the delivery address specified is incorrect.
In such cases, the courier boy can reattempt delivery only once you approve and you can only approve if you have spoken to the buyer about their delivery preference. This whole process of seeking choices and approvals takes up time. Thus, if you can automate your NDR process and reduce the processing time by finding customer preference almost immediately, you can improve the customer experience by many folds.
7) Provide an 'Estimate Date Of Delivery'
The customer likes to be sure of when they will receive their order. This EDD provides them with confidence in your brand, and moreover, it gives them something to look forward to. So, get in touch with your courier partner and ask them to give you an estimated delivery date for each parcel. This EDD will help you secure confidence in the buyer's mind and undoubtedly prompt them to purchase again from your site.
8) Time slots for deliveries
There are incidents where the user is not available at his delivery address or maybe is available only for a limited period. If you can give the customer a choice for delivery slots, they can stay more prepared with the payment, receive the package in time. Also, this can help the courier partner plan their day more systematically. This issue of unavailability crops up in orders where the delivery address is that of an office or workspace. Furthermore, you can also reduce your undelivered orders with this small inclusion.
9) Delivery options
Most customers abandon their carts because they want to receive products faster. With a changing online scenario, there are many competitors for your store. Therefore, if you do not improve your shipping, the buyer will be forced to move someplace else. To overcome this scenario, try and provide your buyers with expedited delivery options where they can choose to receive their orders in one or days post order confirmation. This delivery method offers relief to many users, so much so that they are even ready to pay extra for it.
10) Customer support
Last but not least, always provide the buyer with all the help they need. You must provide support for at least nine to twelve hours a day. As the buyer receives the product maximum by 8 PM, your help should be equipped to accommodate requests late at night as well. If your customer support is not up to the mark, you cannot provide the customer with a seamless experience despite other efforts.
Bring these tips to action and provide your customer with a hassle-free delivery experience. A happy customer is a returning customer.
Calculate Your Shipping Costs Now