Why Expedited Delivery Is the Need of the Hour for eCommerce Sellers?
Gone are the days when customers were willing to wait for days or weeks for their order to be delivered. The exponential rise witnessed in the eCommerce industry is also pushing the logistics to work hard for delivering orders faster and more rapidly to their customers. And since all the big players in the market are offering expedited delivery to entice the customer, there is a significant burden on small businesses and entrepreneurs.
If you're interested in knowing all about expedited delivery and how you can combat the high customer expectations with smart tips, you're at the right place.
Why Expedited Delivery is the Need of the Hour for eCommerce Sellers?
What is Expedited Delivery?
Prioritizing an eCommerce order and improving its delivery speed over the others is quintessentially what expedited delivery accomplishes. However, with more and more brands hoping into the logistics space to capitalize on shipping, various alternative words for expedited shipping are being used.
Even if you've shopped online, you may have heard of terms like express shipping, same-day delivery, next day delivery etc. All of these are forms of expedited delivery, just specifically used differently by different eCommerce sellers.
Expedited delivery is becoming excessively popular among customers with more and more people turning to eCommerce stores for shopping.
Let's have a look at how expedited delivery is different from standard delivery.
How Is It Different From Standard Delivery?
Standard delivery of parcels usually ranges from 5-7 business days. However, people might not want to wait for this long to get their orders delivered.
And since a lot of people are shopping for gifts and presents online, they naturally look for options from where they can get their products delivered in the least amount of time with standard delivery. However, if eCommerce were limited only to standard delivery, the extent to which it would have grown would not have been possible.
I'm sure you must have guessed by now that one of the core areas where standard delivery differs from expedited delivery is the delivery time. Here are a few more factors-
Shipping Cost
Because expedited delivery requires putting in some extra efforts, shipping costs for it are relatively higher than standard delivery. It focuses on shipping products urgently for faster delivery of products. And this is the reason why other modes of transportation are used, leading to higher prices.
Standard delivery is usually carried on via road, which is why most courier companies offer flat rate surface shipping rates. However, when it comes to expedited shipping, parcels are shipped by the mode of air transport.
Dispatch From Warehouse
Urgent delivery calls for a faster dispatch of products from the warehouse. While it takes 2-5 days to dispatch products in standard delivery, products are dispatched the same day in expedited shipping.
You may have heard of same day delivery of perishable items such as bouquets and flowers. In such scenarios, the orders are dispatched at the instant it is received and handed over to delivery agents.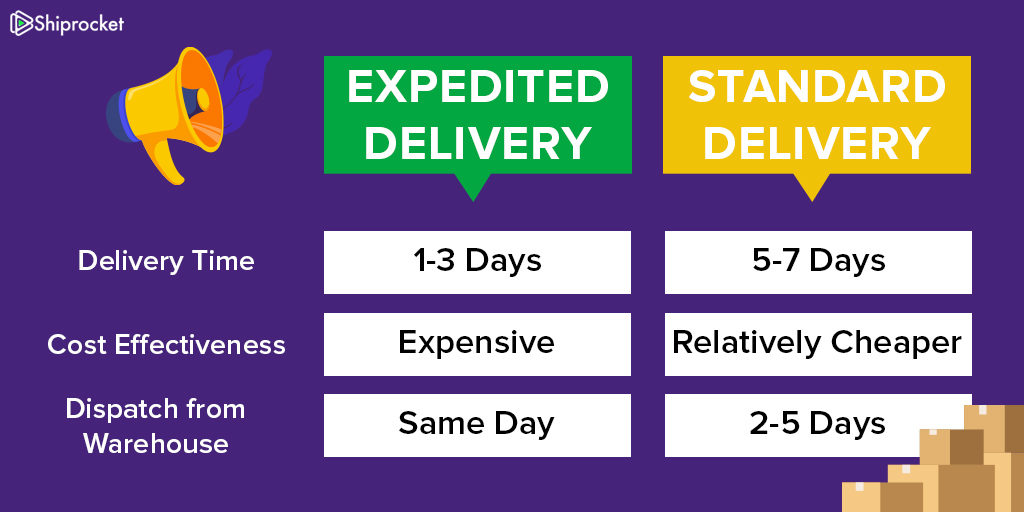 Reasons Why Expedited Delivery Is a Must for eCommerce Sellers
Even though expedited shipping might be putting an extra burden on your pockets, it is mandatory in the present scenario of the eCommerce industry.
1) Customer Expectations
Statistics suggest that nearly 53% of the customers found delivery speeds as an essential factor in evaluating their online purchases. Not meeting delivery expectations is no more an option now. If you don't offer them expedited delivery, they will look for it somewhere else.
Moreover, it will also leave a negative impact on your customer. And since nobody wants that for their business, offering expedited shipping is a must. This way you are meeting their expectations and providing a positive delivery experience.
2) Reduce Cart Abandonment
Unsatisfactory delivery options are also one of the main reasons why customers abandon carts. 26% of the shoppers cited slow delivery as one of the main reasons for abandoning carts.
Think from your customer's perspective, wouldn't offering a lower cost expedited delivery option prevent people from abandoning their carts? Exactly! It can be appealing to your customers and increase the profitability of your business.
3) Make Your Customers Come Back
Meeting the shipping expectations of the customer can be one of the most significant contributing factors for your return shoppers.
Alternatively, you can also use it as a marketing strategy and promote expedited delivery options in the market for customer retention.
The bottom line for the success of your shipping strategy is simple- faster and less expensive delivery. It's never been more critical to offer customers enticing shipping options like expedited delivery. And, if you're not doing it, you're in trouble!
Calculate Your Shipping Costs Now