Standard Shipping vs Express Shipping – What's the Difference?
Are you confused about how standard shipping and express shipping differ? Don't worry, we've got your back. Read on to find out the difference between the two.
Shipping plays a very crucial role in the eCommerce industry. If you're selling physical products, shipping is the only means through which your products reach your customer's doorstep. However, each customer wants their orders delivered at a pace that suits them.
Nearly 44% of the consumers have stated they were willing to wait for two days for orders delivered via fast shipping. This highlights the importance of express shipping in today's world.
While some of them might need items urgently, others may be satisfied with the speed that a product usually reaches them. Therefore, based on your customers' needs, you will need to provide different options for shipping, such as standard shipping and express shipping.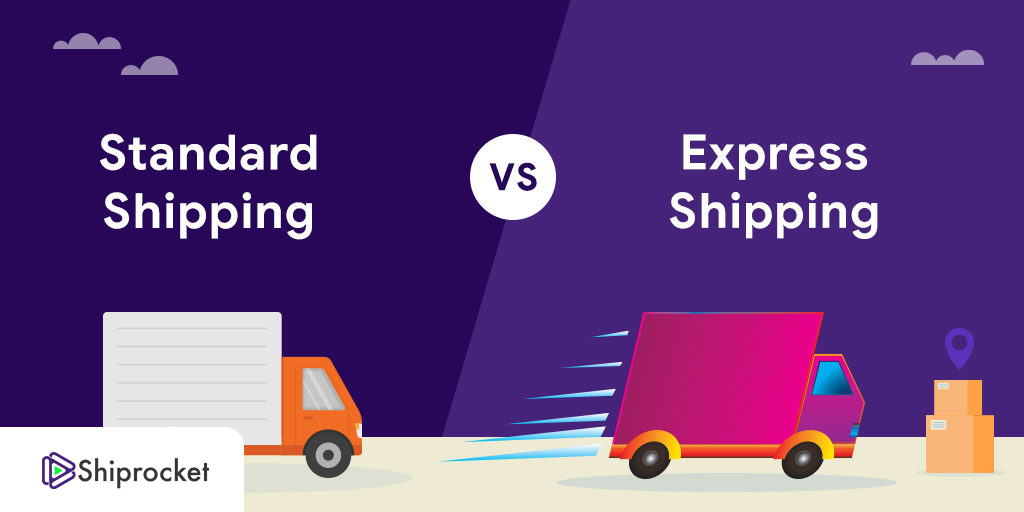 When we talk of shipping, standard and express are the two variants that are quite popular. In an eCommerce business, both of these may be required based on the type of shipment and the delivery time. Let us try and understand the differences between standard shipping and express delivery.
Standard Shipping
Standard shipping or delivery refers to regular shipping. It does not include shipping overnight or any special provisions to deliver products fast. Usually, standard shipping is cheaper and done via surface couriers.
Express Shipping
Express Shipping refers to expedited shipping. It is usually done by air couriers and provisions are made to make sure orders are delivered overnight or the next day.
Standard Shipping VS Express Shipping
Here are a few differences between the two:
Delivery Time
One of the main differences between standard and express shipping is the delivery time. In standard shipping, the regular delivery time ranges from two to eight days, while in express shipping, it is around one day as the product is shipped via air couriers. In some cases, the shipment may even reach the recipient on the same day. Express shipping is apt for urgent and quick deliveries. However, if you have extra timespan, standard shipping is a better choice.
Cost Effectiveness
Secondly, standard shipping is cheaper as compared to express shipping or delivery as the shipment is sent via road using surface couriers. As express shipping means urgent and faster delivery, the price and rates are also higher than other forms of transportation due to the use of air couriers. Based on the delivery timelines, you need to decide on the right shipping approach.
Dispatch from warehouse
In the case of standard delivery, the average time taken to leave the warehouse is around 2-8 days, whereas, in the case of express shipping, the time taken to leave the warehouse is about 1-3 days.
Shipping cost
For express delivery, the shipping cost is usually incurred along with the price of the product. However, in the case of standard shipping, the shipping can be provided free of charge to the customer. Sometimes customers are also provided with the option of choosing between express and standard shipping based on their urgency.
To have a seamless shipping and logistics service, eCommerce companies can tie up with renowned courier agencies. This way, you can be assured of good delivery within the prescribed time limit.
Another great option is to opt for courier aggregator platforms such as Shiprocket. This will help you ship using multiple courier partners and decide the most appropriate features you may need to express or standard ship your orders.
The following table summarises the major differences between standard delivery and express delivery and will definitely help you make informed decisions about shipping your products to your customers.
| | | |
| --- | --- | --- |
| Feature | Standard Shipping | Express shipping |
| Time | 2-8 days | 1-3 days |
| Cost | cheaper | extra cost incurred |
| Transport | Road | Air |
FAQs (Frequently Asked Questions)
How long does it take for order shipping via standard delivery?
Your orders are shipped within 5-7 days when you ship using standard delivery
Are all standard shipping orders delivered via ground transportation?
Yes. They are delivered via rail and road transportation.
Why is express shipping expensive?
Express shipping is expensive as the process is faster and resources used are more.
Calculate Your Shipping Costs Now