How Shiprocket's Automated Shipping is dramatically Enhancing the eCommerce Business 'Local Tijori'?
There is a saying that "just because something works doesn't mean it cannot be improved." This saying stands true for our thousands of sellers who decided to choose Shiprocket over other eCommerce shipping solution providers and saw the difference that makes us the best in the business. This week, we share the story of a Mumbai-based eCommerce seller, namely, Sethu Rahul – who was interviewed by one of our Marketing Specialists Nisththa Chawla. Read on to find out how Sethu's business leveraged from Shiprocket's automated shipping within a few months.
Tell us about Local Tijori. What made you start it?
Sethu: Local Tijori is the result of my passion for jewellery. When I was in school, I used to make beaded jewellery and sell it amongst my classmates and friends. I enjoyed doing that. Since working for a full-time job was never a thing for me – I wanted to create something of my own – something original – which could satisfy both my passion, as well as my stomach. So, I started selling oxidized jewellery through Facebook and Instagram.
How did you come across Shiprocket?
Sethu: One night, I was googling about courier partners. That is when I found Shiprocket. Previously, I used to go to the courier office to get my products shipped. It was an extremely exhausting regime. I was in dire need of a reliable shipping partner. That is where Shiprocket changed the scenario. Shipping has become easier now.
When did you start your Business?
Sethu: A year ago.
By far, how do you find the services of Shiprocket?
Sethu: Reliable. I never had an issue related to COD remittance. Plus – I appreciate the support team you have.
Have you noticed an increase in the Volume of Shipments?
Sethu: Yes. It has been a few months only but my shipments have increased by 80%.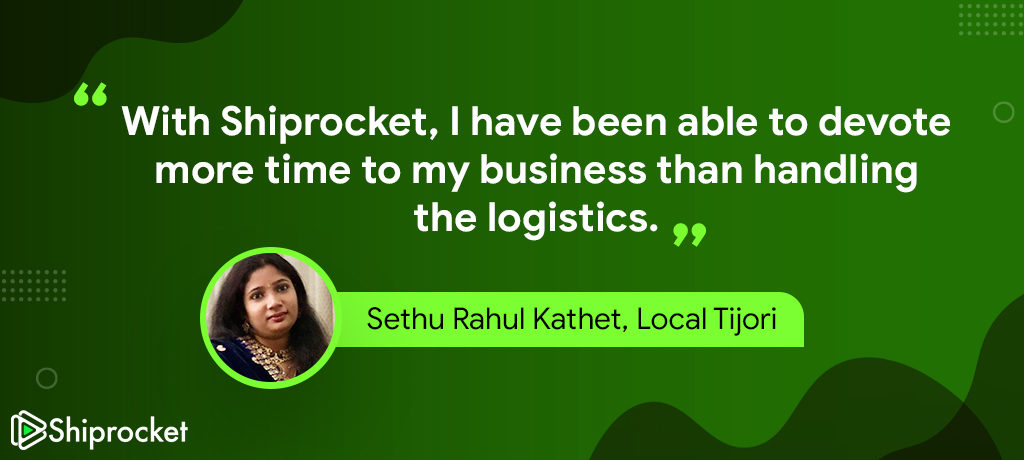 Out of all the services – what do you like the most about Shiprocket?
Sethu: The Courier Recommendation Engine. Besides ease of scheduling a pick-up and obviously, the discounted shipping rates – I adore the AI-technology you have used for ease in selecting the right courier partner. I never have to worry about choosing a courier partner. I have been able to devote more time to my primary business operations than stressing about logistics.
Do you use Shiprocket Post-Ship?
Sethu: I haven't used it yet, but I did examine the feature. It seems useful for enhancing the post-purchase experience of my customers.
Will you recommend Shiprocket to others?
Sethu: Absolutely! Shiprocket is the best thing I have come across since starting my business. It is effortless to use, and everything happens smoothly. It's a joy to have the best courier services under one roof.
It's a joy for us to see our sellers delighted to use Shiprocket. It is our never-ending impulse to improve our platform and provide a hassle-free experience. If you also want to grow your eCommerce business and get your story featured on our section – register now by clicking here.
Calculate Your Shipping Costs Now