How Shiprocket's Ethical Shipping is Winning the Heart of an eCommerce Seller in Mumbai?
Belonging to the city that never sleeps – Shiprocket interacted with one of its eCommerce sellers Hajra Siddiqui, a Mumbaikar endeavouring to expand her father's remedial business. In a relatively short conversation, our marketing specialist Nishtha asked her about her upright experience using Shiprocket. Read on to find out what Hajra had to say about the same and the impact of Shiprocket on her eCommerce business.
How did you come across Shiprocket?
Hajra: Google search. It was a year ago – I suppose when I was searching on the Internet for a reliable shipping partner. I found Shiprocket to be the most promising of all.
What made you choose Shiprocket? Why not the others?
Hajra: I am running an eCommerce store which was commenced by my father. Since it warrants safer and timely shipping of the medicines to the customers – I had no intention to compromise on any level. Besides, before I signed Shiprocket – I was registered with one of your competitors. I can't name them, but the service was somewhat disappointing. The order pickup and deliveries weren't timely. I felt compelled to switch to a reliable shipping partner. Fortunately – Shiprocket turned out to be fine to stick around.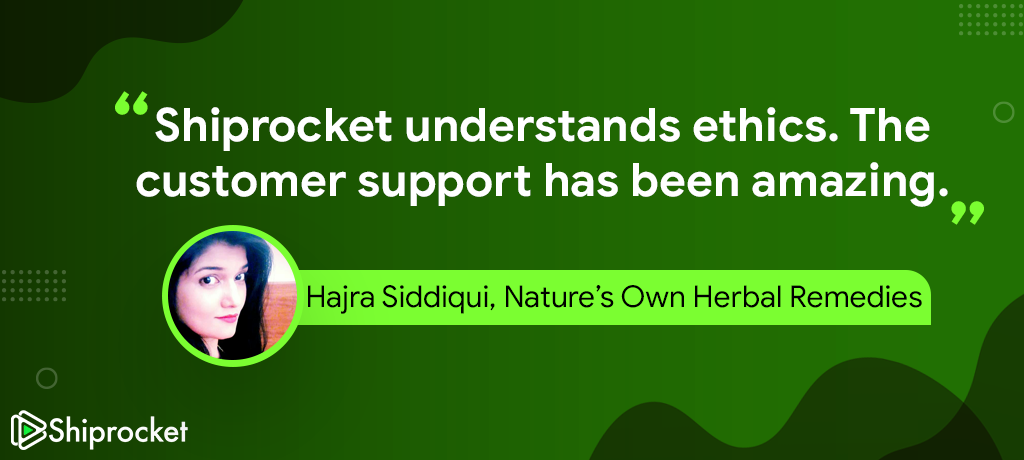 What drove you to continue your father's business?
Hajra: My father started this business 20 years ago. He wanted to cure my asthma. He travelled all over the world, studied diverse cultures and lifestyle to build a company that deals precisely in herbal medicines.
Is your asthma under control now?
Hajra: Yes, my asthma is cured; I haven't had an attack in a long time. As for me, I had an ad agency before this, but I believe that I inherited my father's spirit of curing people. As a matter of course, getting into this business meant a lot to me. Honestly, it seems worth it now, when I hear others telling me that our medicines have drastically enhanced their lives. It fills my heart with joy.
By far, what is your favorite thing about Shiprocket?
Hajra: You people understand ethics. Others don't. It was always a struggle to get resolutions before. Your customer support has been amazing.
Has Shiprocket resulted in any noticeable business growth?
Hajra: Post-GSTIN, there was a dip in the volume of shipments. With Shiprocket – I have been able to maintain the monthly shipments, if not drastically grow.
Any other takeaway of using Shiprocket?
Hajra: Well, there has been a substantial increase in the efficiency in the shipping process. But again – what hasn't been, were ethics. Shiprocket has brought ethical shipping into the picture. I appreciate it.
Will you recommend Shiprocket to others? Specifically – in Mumbai?
Hajra: As a growing eCommerce business – I am happy with how Shiprocket is helping my business reach all over the country. And I don't know about other cities, but ethical practices are a must everywhere. For this reason alone – I surely recommend Shiprocket to my friends in Mumbai.
From eco-friendly packaging practices to reliable support services, Shiprocket is transforming logistics by setting a benchmark for ethical shipping. If you also want to appease your end-customers with seamless shipping experience and grow your eCommerce business by leaps and bounds – register to India's #1 eCommerce Shipping Solution today!
Calculate Your Shipping Costs Now