5 Techniques For Shifting To Eco-Friendly Packaging
Climate change is progressing by the day, and we all have a role to play in its deterioration. As an ecommerce seller, you have a significant responsibility in ensuring that your business doesn't participate in the act of destroying the environment. Hence, you need to reduce waste, recycle material, and optimize your strategy to be more adaptive of the green standards and necessities. Here are a few things you can do at your end to ensure eco-friendly packaging and fulfillment.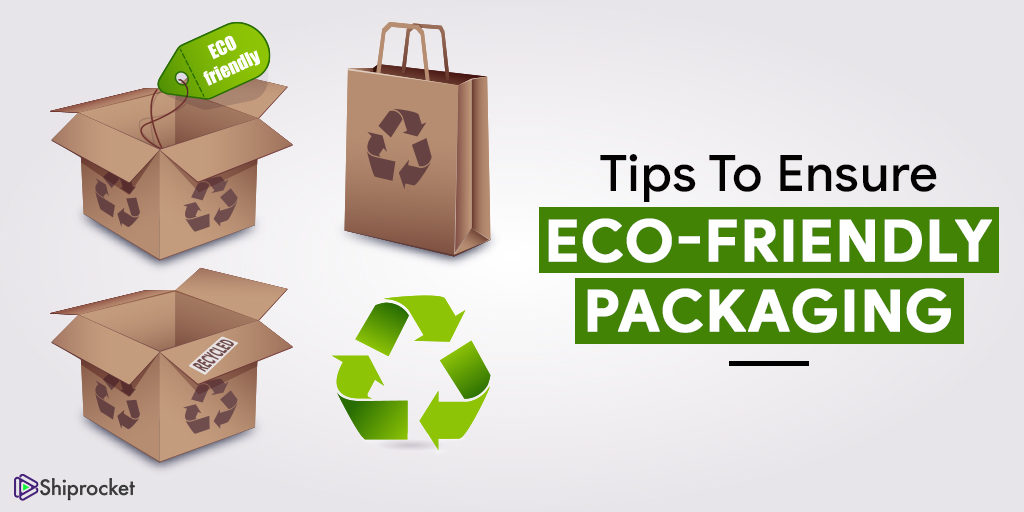 Reduce Waste From Packaging
Package your product appropriately. Most of the time, we receive the smallest products packed in huge boxes. This method leads to more considerable wastage of packaging material, and you also spend more.

Furthermore, it creates a lot of excess packaging waste that takes a long time to dispose of. Pack according to the size of the product and do not use materials like fillers, pellets, foam nuts, etc. in excess. Smaller the plastic, more difficult it is to recycle or dispose of it. Hence, be cautious in the amount you use.
Use A Shipping Software For Streamlined Packaging
There are various benefits of using shipping software like Shiprocket. But there is little you might have known about this advantage. A shipping software brings all your shipments in one place so that you can align your packaging accordingly. If you pack every order according to different channels, you tend to waste more material. Whereas, if you pack 10 orders from different channels together, you can do it effectively by saving a lot of packaging material. Moreover, you can also ship bulk orders with shipping software, thereby reducing your carbon footprint. A cumulative effort involves a more mindful action, and you can optimize as you pack the products as the process is streamlined.
Utilize Bio-Degradable Packaging
The best way to ensure eco-friendly packaging is by using bio-degradable packaging materials. Even though they are slightly more expensive than regular plastic, they do a huge favor to the environment. It is easier to reuse them, discard them, etc. They are not toxic and hence, do not cause any form of pollution in the environment. Different types of biodegradable packaging include:

Biodegradable foam peanuts
Cornstarch packaging
Corrugated bubble wraps
Paper and cardboard boxes
Biodegradable plastic wraps
Recycled Material To The Rescue
Another way to pack sustainably is to use recycled packaging material. Today, most packaging material vendors sell recycled content to sellers. This effort makes sure that no additional material is being wasted and packaging material is utilized to its full potential. Materials like plastic are durable and can easily be molded to be reused as packaging material.
Similarly, you can use recycled cardboard corrugated boxes. For your secondary and tertiary packaging, using recycled material can help you contribute positively toward greener packaging practices. Most businesses are opting for it and you must too!
Optimize Packaging
Last but not least, optimize your packaging. Focus on the design and size of the products to curate distinct packaging. Also, accurately analyze the kind of packaging required for every product you sell and then conclude which type of packaging will be appropriate for your shipments. By optimizing your packaging strategy, you can save on costs and reduce the packaging waste by a large number.
Why Eco-Friendly Packaging?
Eco-friendly packaging has many benefits. You not only contribute to safer packaging but also secure other aspects of your business. Let's have a look:
Save On Costs
Environment-friendly packaging practices help you become aware of how you package your products, and that enables you to plan effectively. Hence, you can save up on many additional costs by taking informed and practically formulated decisions. For example, you might be spending Rs. 10 on a corrugated box that might be too big for a product. So to fill the void, you would use fillers like foam peanuts. But, if you look for sustainable options and plan accordingly, you might spend Rs. 5 on a smaller box and less to no fillers.
Sustainable Packaging
Eco-friendly packaging benefits the environment. We reduce our carbon footprint, decrease waste production, and take positive steps toward sustainable packaging and shipping. With a more aware approach toward packaging and fulfillment, you can quickly formulate sustainable strategies and contribute toward greener initiatives.
Improve Brand Image
It is no secret that biodegradable packaging is the packaging trend these days. Therefore, if you invest in it, you increase your chances of leaving a good impression on your customer. In this age of social media and hyper-awareness, forming a positive notion in your buyer's mind is a must and actions like these go a long way in maintaining that.
Final Thoughts
Packaging forms an integral part of your eCommerce business strategy. With changing trends, make sure you evolve and adapt your initiatives accordingly. Eco-friendly could be a positive step ahead in the direction of growth and sustainability. Choose wisely!

Calculate Your Shipping Costs Now