A Closer Look at Hyperlocal Delivery & its Features
In a time when we are bound to our homes amidst a lockdown, we are all concerned about essential items. More often than not, we have contacted nearby pharmacies and grocery stores to deliver a few products to us.
Think about it, did you contact a grocery store 20 km away from your house or one that is close to your place? Perhaps, if you were too desperate for material, you would have contacted somebody a maximum of 10 km away also.
The delivery that you order within a small radius is precisely what hyperlocal delivery constitutes. The Indian hyperlocal market is currently disrupting eCommerce.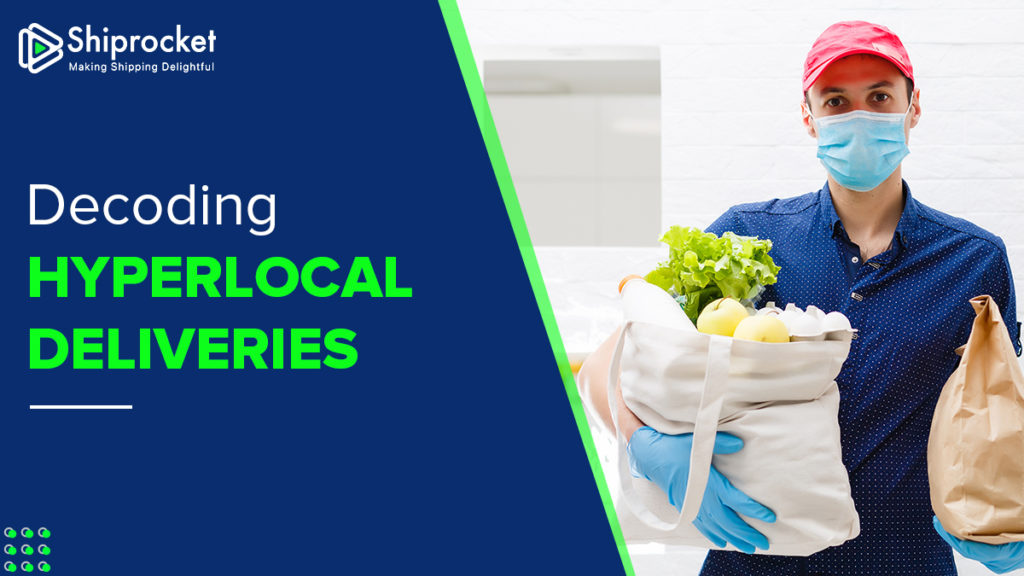 Let's dive right into the details of hyperlocal commerce and how hyperlocal deliveries are the next big thing in our eCommerce ecosystem.
What is Hyperlocal Commerce?
Hyperlocal commerce refers to the trade that takes place in a minimal geographic area. It could include grocery shops, chemist shops, flower shops, cafes, etc.
Usually, you do find the shops every 10 to 15 km. People who stay in the vicinity of these shops are regular customers.
From time immemorial, people have purchased daily essentials and other similar products from such shops.
As the lifestyle of people has evolved and technology has taken over our lives completely, we have shifted to ordering these products via phone calls or now even ordering them online.
Since these sellers who have always owned brick and mortar stores do not have an extensive fleet to deliver their products, they are never able to expand their customer base.
This is where hyperlocal delivery comes into play and can be a game-changer for their business.
What is Hyperlocal Delivery?
The Hyperlocal delivery meaning is a straightforward one. Hyperlocal delivery refers to the process of delivering goods and services in a small geographical area. Sellers who want to provide food items, stationery, pharmaceuticals, and grocery items like packaged foods, pulses, cereals, etc. are the prime users of this process. Their supply chain is restricted to a small area, and the transactions are personalized.
With time, hyperlocal sellers have adapted to the hyperlocal delivery model. They have either started delivering their products through a delivery agent or online marketplaces.
How Does Hyperlocal Delivery Work?
The concept of hyperlocal delivery is straightforward. If the seller has his fleet, he uses it to deliver the products his customers order over the phone, WhatsApp, or SMS.
If a seller is associated with an online marketplace that carries out hyperlocal delivery, the buyer places an order on the app, and the assigned delivery agent comes to the shop, picks the product, and delivers it to the buyer. The payment could be made online or via cash. The marketplace remits the amount to the seller after a fixed period.
Benefits of Hyperlocal Delivery
Reach Customers Faster
With hyperlocal deliveries, you can provide your buyers with the same day or next day deliveries. Also, if you have the stock, you can deliver products in a few hours too! Faster deliveries mean more customers in a day.
Personalized Transactions
Since the seller and buyer are nearby, there is a good chance that there has been physical interaction between them. Hence, both parties involved have trust in each other, and payment mode can be in one way or another.
Simplified Supply Chain
The supply chain of hyperlocal deliveries is short and direct. Sellers do not need to manage an elaborate inventory, schedule lengthy pickups, or heckle about the volumetric weight.
Quick Revenues
The returns are faster as it is equivalent to daily transactions. eCommerce demands a more abundant supply chain and various checkpoints. But hyperlocal delivery yields returns almost immediately.
Easier Communication
Since the buyer and seller would know each other, the communication channel is direct and hassle-free. The buyer does not need to think twice before contacting the seller, and even in case of exchanges or returns, and the parties can handle it easily.
Exploring the Hyperlocal Delivery Market in India
The hyperlocal delivery market in India is mainly unstructured and diverse. Since we have various markets operating in these hyperlocal commerce models, there is no streamlined system to monitor their deliveries.
The demand for hyperlocal delivery is growing in India, and according to a report by Ken Research, it is predicted that the market will exceed $343.6 Mn (INR 2,306 Cr) by 2020.
Various hyperlocal delivery applications & hyperlocal marketplaces have come into the picture. These make ration shopping very convenient for buyers. But, the story is not as lucrative for sellers. It is so because they have to pay a commission to these apps in addition to delivery charges.
Moreover, most hyperlocal delivery apps also have exclusive partnerships with stores and in-house brands that make it difficult for other brands to succeed.
Today, out of 345 million active internet users, only 30 million users use online marketplaces due to trust issues. This implies that the scope of hyperlocal deliveries is vast, and it cannot be reached with the help of just online marketplaces.
To make hyperlocal delivery active in every region, sellers will have to either hire their own feet or collaborate with delivery partners.
To make hyperlocal delivery easier for sellers, Shiprocket has launched its hyperlocal delivery initiative. Let's have a closer look at it.
Shiprocket – Hyperlocal Deliveries Made Easy!
With Shiprocket, you get the flexibility to ship your products directly to your customers within a 50 km radius. You can ship your orders with renowned hyperlocal delivery companies like Dunzo, Shadowfax, and Wefast.
Also, you do not need to associate your store with an online marketplace to do so.
The best part is, you can directly schedule pickups on a hyperlocal dedicated mobile application by Shiprocket — Saral. Using Saral, you can schedule pickups for your hyperlocal orders easily, handover the invoice to the delivery agent, and deliver your product to your customers' doorstep.
You do not need to follow the guidelines for volumetric weight in these shipments.
The only condition is that the product must be able to fit on a two-wheeler and, therefore, should not be higher than 12 kgs.
Apart from delivering hyperlocal orders to customers, Saral also offers you with a pick and drop service, using which you can send packages such as documents, food items, gifts, flowers, and many more to your friends and family.
Currently, Shiprocket's hyperlocal delivery service is active in 12 cities across India. Soon we will be expanding to many more.
You can prioritize your orders at your convenience and deliver them accordingly. Moreover, you do not have to worry about any additional fees, just the delivery rates, which start from as low as Rs. 37.
If you also want to ship your hyperlocal orders at your convenience, you must ship with Shiprocket for lightning-fast hyperlocal delivery.
To begin, just click here.
Conclusion
Hyperlocal delivery is an up-and-coming sector for the eCommerce industry. It can disrupt the current market and has a lot of scope for growth in the coming years.
Since it is a relatively new concept, there is a considerable audience still waiting to be taped.
If you also want to conduct hyperlocal deliveries and reach maximum buyers, you can do that easily and independently with Shiprocket.
FAQs (Frequently Asked Questions)
What is a hyperlocal delivery?
Hyperlocal delivery is a shipping model where the customers' needs are met through local offline stores. The shipping is done in a minimal geographical area.
Does Shiprocket offer hyperlocal delivery?
With Shiprocket's hyperlocal delivery, you can offer same-day delivery with courier partners like Shadowfax, Dunzo, and Wefast.
What are the benefits of hyperlocal delivery?
Hyperlocal delivery helps in reaching customers faster and it the simplest supply chain as well.
Calculate Your Shipping Costs Now