Why Is Ship From Store Essential For Brick And Mortar Stores?
As eCommerce is growing in the country, the retail business is slowly taking a backseat. Even though a significant part of the country still shops from brick and mortar stores, the rails have shifted toward online sales after the pandemic and lockdown. Today, most businesses that are thriving are other ones that have a strong offline and online presence.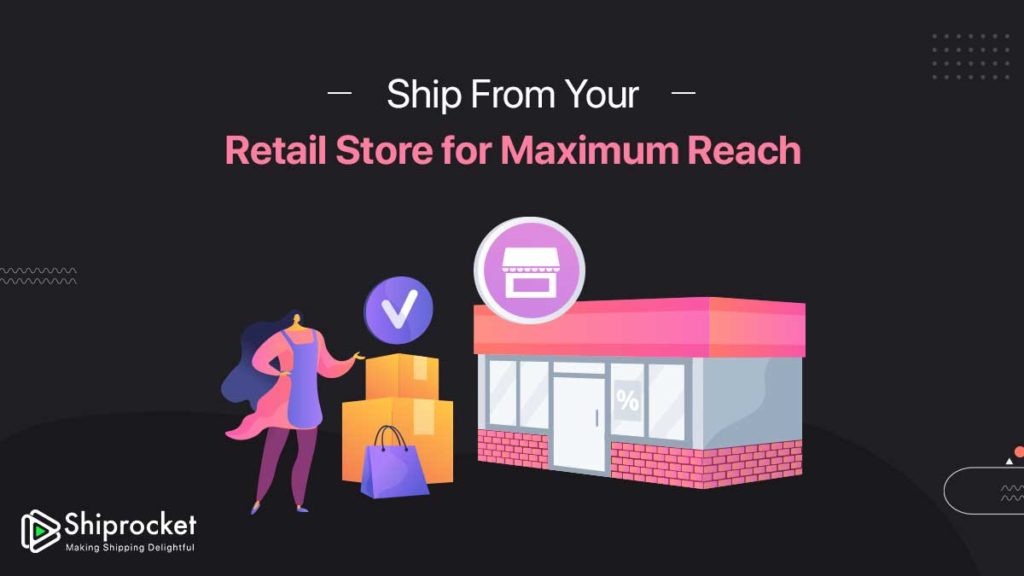 However, the increase in eCommerce and the rising demand have caused a significant bottleneck when fulfilling offline orders. With other concepts like buying online and picking up in-store coming into the picture, sellers are now trying to offer customers a more omnichannel experience uniform across platforms, be it offline or online.
If retail stores cannot fulfill online orders, they can fall back in the eCommerce scenario and quickly lose customers. Therefore, the concept of shipping from the store comes into the picture where you can ship products directly from the store you run. There can be various ways to do so. Let's dive in to see what they are and how you can achieve impeccable fulfillment for online orders with this model.
What is Ship From Store?
Ship from store refers to the concept of fulfilling orders directly from the brick and mortar store you run. With shipped from the store, you utilize the already present stock in your store and ship it whenever you get online order. Shipping from the store can run parallel with your offline sales, and you just need to maintain your order management to ensure that you do not keep any orders and deliver orders on time. This can help you thrive digitally as well as in an off-line competition.
Why is Ship From Store Important?
The world today is moving at a fast pace. Customers want their order within a few hours to the next day. Express shipping is the need of the hour, and a physical brick-and-mortar store could play to your advantage as you can deliver products faster to nearby customers.
Shipping from the store gives you a competitive edge in terms of delivery speed. An online store takes about 2 to 4 business days to ship and deliver an order. But with a brick-and-mortar store, you can deliver orders within a few hours or the next day and stay in competition with giants like Amazon.
More than 80% of people have decided to cancel a purchase because of shipping charges. Owning a brick-and-mortar store gives you a chance to save on shipping costs as the delivery area would not be very far.
Since many people do not prefer shopping in stores or do not have the time to do so, a ship from store policy will help you service this target audience and be their go-to shop for any essential needs.
If you run only a brick-and-mortar store, there are chances that you might end up with a lot of debt stock that is not relevant for your business and cost you extra for management. However, offering to ship from the store will help you get rid of the stock soon, and you will be able to target a larger consumer group outside your geographical location.
Let's have a look at a few of the best practices that can help you ship seamlessly from your brick-and-mortar store.
Ship From Store – Best Practices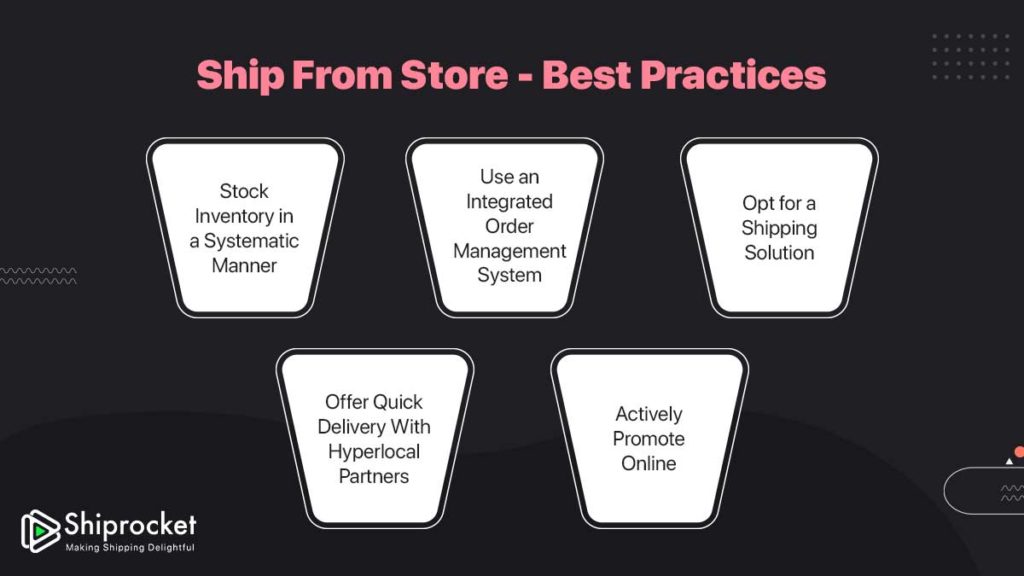 Stock Inventory in a Systematic Manner
The first and foremost requirement for shipping from a store is the stock inventory systematically. You will have the resources to take care of shipping the incoming online orders. If you don't have stock inventory in a systematic manner that is easy to locate, there will be a delay in processing online orders. Suppose you want to be successful in shipping from a store, you have to deliver orders on time not to face a negative delivery experience. Follow the same placement strategy that you follow regularly and train your staff to locate products from their original location. Ensure that you store products according to their category or alphabetically – whichever is suitable.
Use an Integrated Order Management System
Using an integrated order management system will help you keep a tab on both online and offline orders. This way, you will better synchronize your inventory and fulfill orders in a much more systematic manner.
If your product is out of stock, you will be able to mark so on your website and improve your customer's shopping experience. Most sellers cannot identify out-of-stock products as they do not maintain sync between their order and inventory management. With a ship from store concept, you will need to keep track of the offline orders, and an integrated order management system would give you a platform to maintain that.
Opt for a Shipping Solution
A shipping solution will give you much more comprehensive coverage as compared to a single courier partner. Moreover, you will get a fleet of courier partners as compared to a single shipping partner. Shipping solutions also offer you negotiated rates heavily discounted along with the automated platform that helps you integrate your website and store inventory and ship orders directly from a common forum.
Shiprocket is one such shipping solution that can help you deliver products across 27000+ pincodes in India at the lowest shipping rates. Along with this, you can also get the cheapest packaging material to ensure that you ship most safely. Not only this, but Shiprocket also offers a post-order tracking solution where you can provide customizable tracking pages to buyers along with regular email and SMS updates of the order.
Offer Quick Delivery With Hyperlocal Partners
Customers looking for delivery in a few hours can be satisfied with the hyperlocal delivery of their orders. Hyperlocal delivery is an up-and-coming concept in India. With the requirement for one demand services increasing, hyper-local delivery has become a favorite for perishable products like food, grocery, pharmaceuticals, etc. SARAL by Shiprocket is a hyperlocal delivery application that provides you with hyperlocal delivery within 50 km via delivery partners like Dunzo, Shadowfax, and Wefast at rates starting from Rs. 37. You get started right here.
Actively Promote Online
Finally, shipping from a store is an additional advantage and a unique offering for your store. Selling online increases your reach in your storage area, but it also helps you reach customers who live in different parts of the country. Make sure that you are actively promoted online on social media, your website, blogs, etc. If you sell perishable items like food or grocery, ensure that you use geo-location tagging and promote activities within the geographical area, which is marketing. Use influencer marketing, social media, local groups, or even Whatsapp to elevate your unique offering.
Conclusion
Shipping from the store can be a substantial advantage for your store, setting you apart from the competition. Not just this, you can fulfill orders in a much more sorted manner and avoid any stagnation in your brick-and-mortar store. Therefore, make sure you use this offering as an advantage and give your business the required boost to thriving in the digital and offline market.
Calculate Your Shipping Costs Now