What is Intelligent Courier Routing & How Is It Useful
One of the significant challenges with the courier delivery system is getting the parcel delivered from one point to another in the shortest time. When delivering goods from point A to point B, experienced and reliable couriers will do a lot more than merely finding a generic route to the relevant destination. The risks of choosing the incorrect route are potentially late deliveries, custom clearance issues, and more.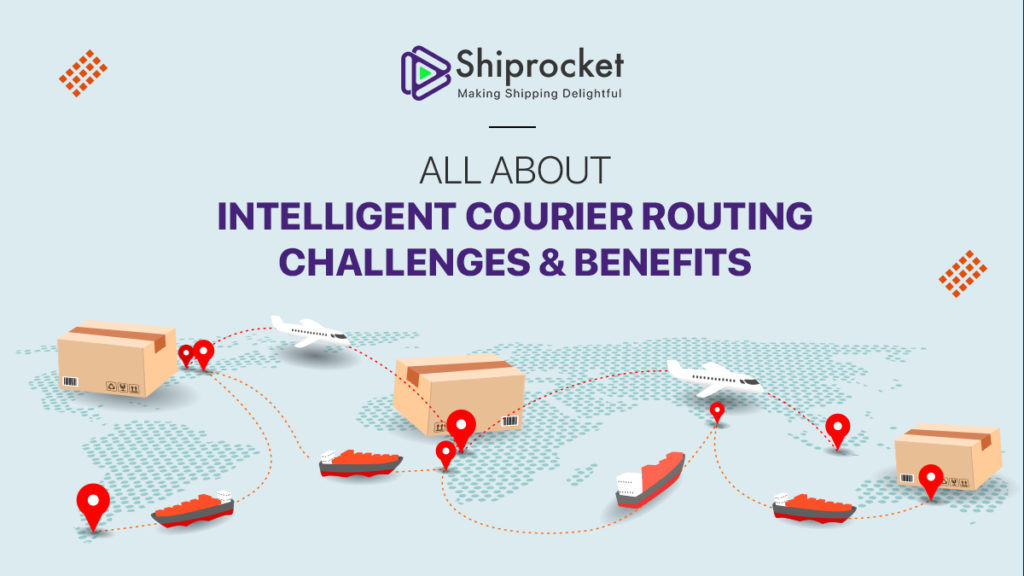 What is Intelligent Courier Routing?
Intelligent courier routing considers a handful of essential factors when deciding on a shipment route. Typically, courier services might choose a route that has been tried and tested before and choose the most successful route for courier delivery.
However, that's not always the case. With intelligent courier routing, factors like weather conditions, customs, geography, plays a major role. It's all about finding and choosing the optimal route for your shipments.
So, intelligent courier companies will consider these factors to find the best possible options for courier routing, and then choose between them. Intelligent routing also ensures that a client selects the right courier partners to work with throughout the shipping journey. So, only the most experienced ones are used, which is another critical benefit for eCommerce businesses.
Undoubtedly the intelligent courier routing system is proven to be the most efficient and successful way of shipping your goods parcels on time and without involving any risks. Let's take an example, a courier company that uses intelligent routing might suggest a tailored solution for a specific situation rather than a one-size-fits-all approach. It gives you the option of getting the best possible service to make sure you deliver courier on time without compromising.
Challenges of Courier Route Planning
Do you know that the average driver idling time in India is 16 minutes? And around 22% of courier vehicle crashes due to bad weather. Similarly, 3.8 million gallons of fuel are wasted each day by the delivery vehicles in India.
These are some of the challenges of courier routing. These challenges also include poor weather forecasting, driving idling time, traffic delays, and no-entry time windows. These factors must be considered when planning for courier routing to ensure the fastest, safest, and cost-efficient courier delivery.
Benefits of Intelligent Courier Routing For Businesses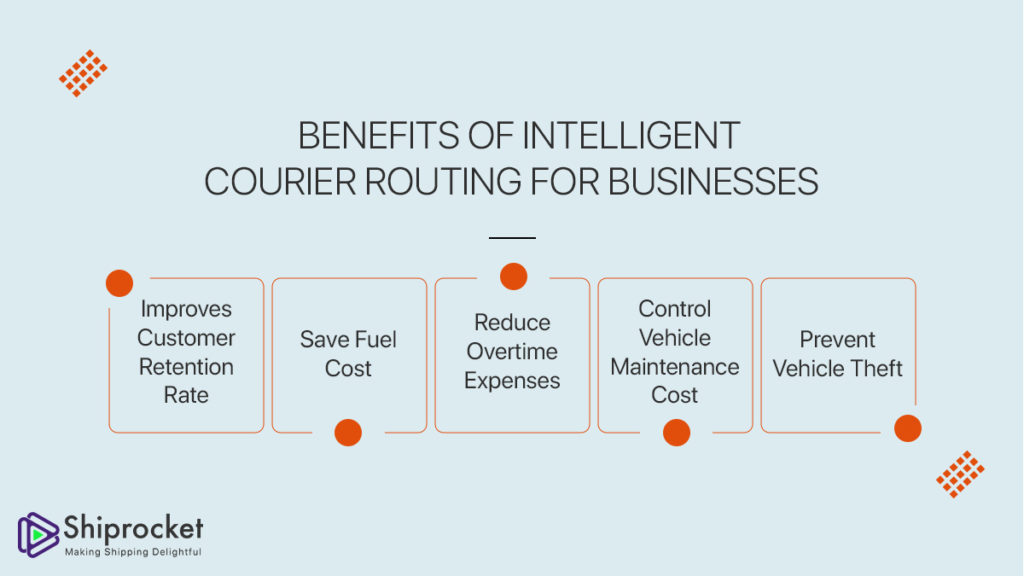 Improve Customer Retention
According to a survey, 67% of customers don't prefer to work with a courier services company if their delivery service is up to an hour delay. So, the role of timely deliveries is crucial for improving customer satisfaction rates. Using an advanced intelligence courier routing planner with a GPS tracking feature will help you plan and optimize routes along with the traffic updates, weather forecasting, and other constraints to help your drivers deliver on time.
Nearly 95% of businesses in India have implemented route optimization software with GPS tracking for improved punctuality and timely deliveries of goods. This will enhance your customer service and also help you ensure repeat business.
Save Fuel
This is probably the most significant advantage of intelligent courier routing. Choosing shorter and faster routes for courier delivery will reduce travel time and that means less fuel is consumed during the process. A survey report revealed that 89% of delivery vehicles used routing software to save fuel costs.
With fuel costs likely to increase in the coming years it is being the most significant expense that you need to maintain for a healthier bottom line.
Reduce Overtime Expenses
If you are paying overtime to drivers without any justification, then you need an advanced intelligence courier route planner to ensure that they claim overtime when they genuinely deserve it. With manual route planning, you can never have an idea of the vehicle's location nor the actual reasons behind the delayed deliveries. So, you'll never know if your courier is delayed because of traffic congestion, bad weather, vehicle breakdowns, or extended lunch or tea breaks.
Using an intelligence courier routing software allows you to monitor your drivers in real-time and ensure they don't take extended breaks during work hours. Basically, tracking your drivers in real-time will help them be more productive and genuine.
Control Vehicle Maintenance Costs
More fuel consumption during parcel delivery time results in more fuel costs and vehicle maintenance costs. A report by Fuel Economy indicates that car speeding, harsh driving, and frequent braking, can result in lower gas mileage by 15% to 30% on highways and 10% to 40% in the traffic. The unexpected repairs due to vehicle breakdowns can also cost you very high.
With intelligent courier routing software, you can have actionable data of your drivers about their on-road habits that can help you determine their bad driving habits and cutting down on fuel, and maintenance costs.
Reduce the Chances of Vehicle Theft
Ensuring timely deliveries and cutting costs are not the only benefits of using a route planner. The intelligent courier route planners also offer geofencing that often goes unnoticed. Geofencing is a powerful technology that creates virtual boundaries around a specific area on a map.
Such a feature limits the vehicle's movement to prevent vehicle theft, and it also triggers an alert when the vehicle enters or exits that particular area in the boundary. So we can say, this feature of geofencing is one of the most important aspects of intelligent courier routing as it helps prevents vehicle theft and reduces the chances of drivers using business vehicles for personal use.
In the End
When shipping goods, you can't afford to take time-sensitive risks. You should focus on selecting the cheapest and the best option for shipping. If you pick the incorrect route, you'll find that your shipment could be delayed. Intelligent courier routing can help you make your decision when picking the right courier partner to work with.
Shiprocket offers a great platform to eCommerce sellers and also helps them to send their products across India and other countries at any time of the day. Shiprocket has partnered with more than 17+ courier companies that help you ship seamlessly to not just in India but 220+ countries across the globe.
Calculate Your Shipping Costs Now