Top International Courier Services in Mumbai [2023] 
Introduction
Global competitiveness is the renewed focus of businesses in most sectors. New business models are connecting producers directly with consumers, and the 'experience' of seamless international shipping is measuring their competitiveness.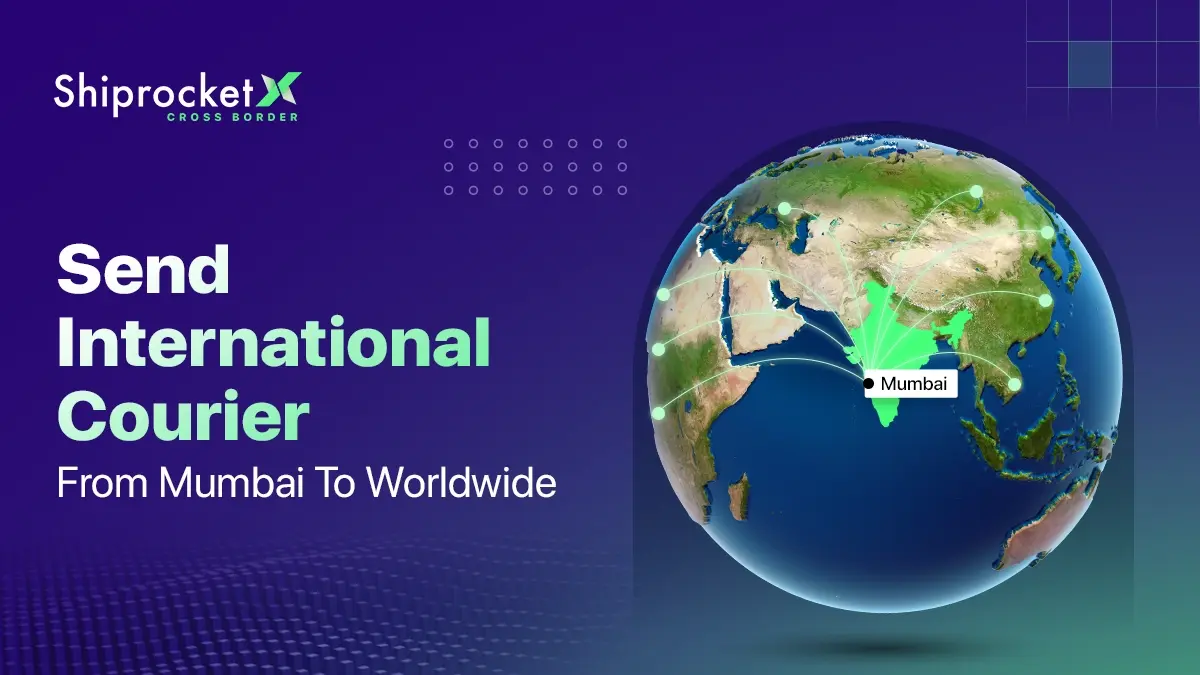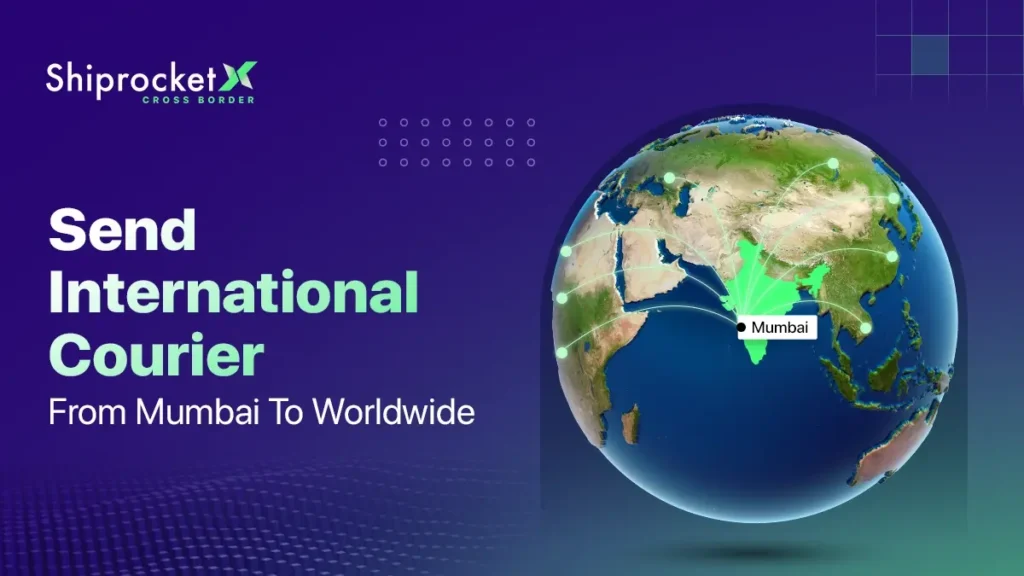 Mumbai, as the commercial capital of India, continues to be the gateway for overseas players as its strategic location and prolific sea, air, and internal surface networks beckon them. So, how does one ship from Mumbai to anywhere? Here is the ultimate guide to international courier services in Mumbai. We will explore Mumbai's role as a courier hub and how leading players in this domain, like Shiprocket X, are making it easy to deliver international couriers from Mumbai.
Top 10 Leading International Courier Services in Mumbai

The international courier services in the Mumbai market continue to expand and support the smooth movement of goods across continents systematically. Here are the top 10 players in the field that ensure top services that allow you to ship from Mumbai to anywhere in the world:
1. Maersk: One of the pioneers in sustainable logistics, this service provider offers a host of cross-border rail transportation and supply chain services. It offers 4PL logistics solutions, helping businesses in Mumbai with end-to-end services. These may include cold chain, eCommerce logistics and even international development.
2. DHL Global: Founded in 1969, DHL Global is a pioneer in the world of logistics. It serves over 220 countries and employs more than 600,000 people. Its services are spread across several divisions, like Post and Paket in Deutschland, DHL Global Forwarding, DHL eCommerce, DHL Freight, and Supply Chain. They extensively serve businesses in the automotive, energy, retail, engineering and manufacturing sectors.
3. FedEx: Established in 1973, FedEx is renowned for its international courier services, providing businesses in Mumbai with a dependable shipping partner. It has its exclusive FedEx Trade Networks to ease global logistics, freight forwarding, distribution and warehousing.
4. UPS: Calling itself the company that moves the world forward, this US-based service provider has been offering international shipping options, making it suitable for businesses of all sizes in Mumbai. It has over 500 thousand employees across 200+ countries and, on average, delivers 24.3 million packages in a day.
5. TNT Express: TNT Express is based out of the Netherlands and specialises in time-sensitive deliveries, ensuring that international shipments reach their destinations on time. The company offers a range of value-added services, including auxiliary services, storage, and special courier services for the pharmaceutical industry.
6. Blue Dart: Founded in 1983, this well-known name in the logistics industry, Blue Dart, provides international courier services with a focus on efficiency and reliability. Partnering with DHL services, this indigenous player has offered a wide range of value-added services, like the 1st parcel locker service and the post-eCommerce-Parcel services, since 2014.
7. Aramex: Founded in 1982, Aramex is a global logistics and transportation company with a strong presence in Mumbai, catering to diverse shipping needs.
8. DTDC: Operating since the 1990s, DTDC offers a comprehensive suite of international courier services with GeoPost. It serves over 10,000 locations across the globe and 240 countries. It has extensive warehousing facilities as well, making it a preferred choice for businesses in Mumbai.
9. Gati: Founded in 1989, this company offers trusted surface and air express services to 19,000 PIN codes. As a part of Allcargo Group, Gati services international supply chain, CFS-ICD and contract logistics. It is one of the leading international shipping solutions for Mumbai-based businesses.
10. Professional Couriers: Founded in 1987, this is a reliable courier and cargo company with a widespread network. Professional Couriers ensure your international shipments are handled with care and delivered promptly, since they follow the working principle of 'Time is of essence.' It has over four international gateways and two international hubs and serves seven thousand destinations.
If you want to ship from Mumbai to anywhere, you have an unlimited choice of service providers. There are top-of-the-line service providers like Shiprocket X that help you grow your cross-border business. It lets you reach over 2 billion buyers and grow your business in over 220 countries. If you need Express Courier services, Shiprocket's Priority and Premium services do that for you – they pick orders from across India to ship to anywhere in the world.
If you are an eCommerce player, then you can never miss an order from anywhere, be it Amazon US/UK or eBay's UK and US stores. Insightful analytics dashboard, this technology-driven platform allows you to make data-backed decisions. On Shiprocket's unified dashboard, you can view your shipping metrics, courier performance, country-wise distribution, bestsellers and buyer persona in one glance. Choose a shipping partner that helps your business grow cross-border with their timely and reliable eCommerce shipping solutions.
Significance of Connecting Mumbai to the World
Mumbai remains the financial capital of the country, as most international trade continues to be carried out from this port city. So, you are already in the right place if you want to discover the advantages of international courier services in Mumbai. Read the details below:
1. Economic Hub: Mumbai, being a global economic hub, continues to attract businesses to operate from this financial epicentre. In Mumbai, businesses have access to a robust ecosystem of financial services.
2. Diverse Industries: Mumbai is home to a wide range of industries, from finance and entertainment to manufacturing and technology. This diversity creates a demand for international courier services across various sectors.
3. Global Connectivity: The city boasts world-class connectivity to most continents, like Africa, America and Europe, with numerous flights and shipping routes. This ensures timely and reliable shipping options, making Mumbai the gateway to India.
Conclusion
In India, Mumbai is the traditional gateway to international trade, as it is strategically located and connects South Africa, the Middle East and Europe. Therefore, in the age of eCommerce, connecting Mumbai to the world through international courier services opens up a world of opportunities. Discover the world of international shipping from Mumbai and unlock endless possibilities for your business. Choose a reliable courier service and embark on a journey of global expansion today!
For businesses looking to expand their reach, tap into new markets, and deliver their products with efficiency, international courier service providers in Mumbai are the go-to platform. With top-notch courier companies like Shiprocket leading the way, Mumbai's role in global commerce is set to grow even further.
How do international courier services benefit Mumbai businesses?
International courier services offer Mumbai businesses quick and efficient access to global markets, facilitating international trade and expansion.
Why is Mumbai considered a strategic location for international shipping?
Mumbai's proximity to major ports and airports, coupled with its status as a financial and economic hub, makes it an ideal location for international shipping.
What sets Shiprocket apart in the field of international courier services?
Shiprocket stands out for its tech-driven solutions, simplifying international shipping for businesses and ensuring a seamless experience.
What classifies Mumbai as a global city?
The largest city in India and the fourth largest worldwide, Mumbai, is among India's fastest-growing cities. Because of its economic value, Mumbai is classified as an 'Alpha' world metropolis.
Calculate Your Shipping Costs Now