6 Best Ways for Logistics Operations Optimisation in 2023
With the continuous transformation in the logistics industry, optimising logistics operations and improving efficiency is crucial for businesses to level up their competitive game. The major technological advancements in 2023 have posed new opportunities for companies to streamline logistics processes.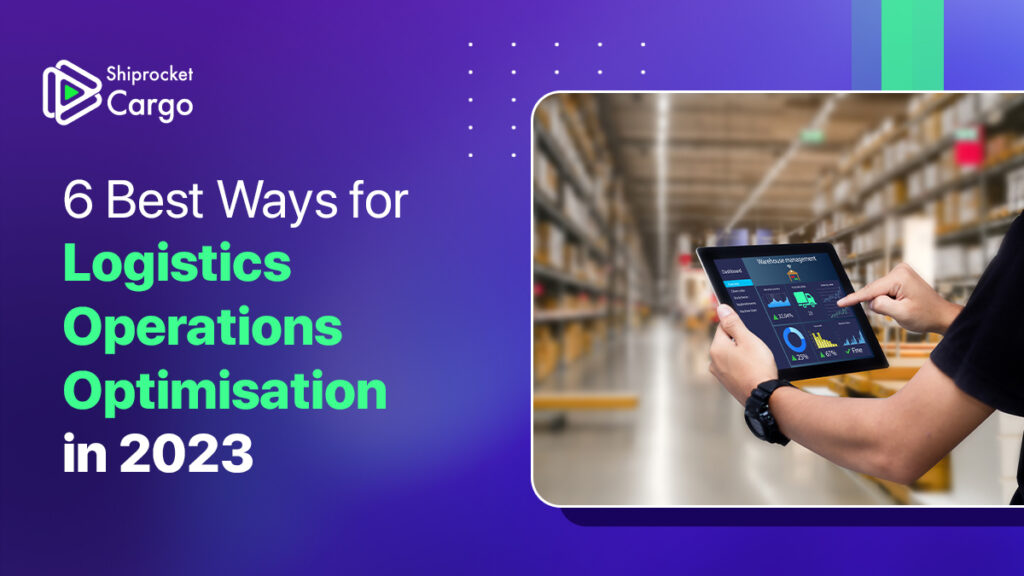 To cater to evolving customer demands, logistics companies must continue to seek ways to enhance efficiency, reduce costs and improve overall supply chain performance. This blog post will discuss the six best ways to optimise logistics operations in 2023, helping businesses reduce costs, increase customer satisfaction and improve efficiency.
Tips for Logistics Optimisation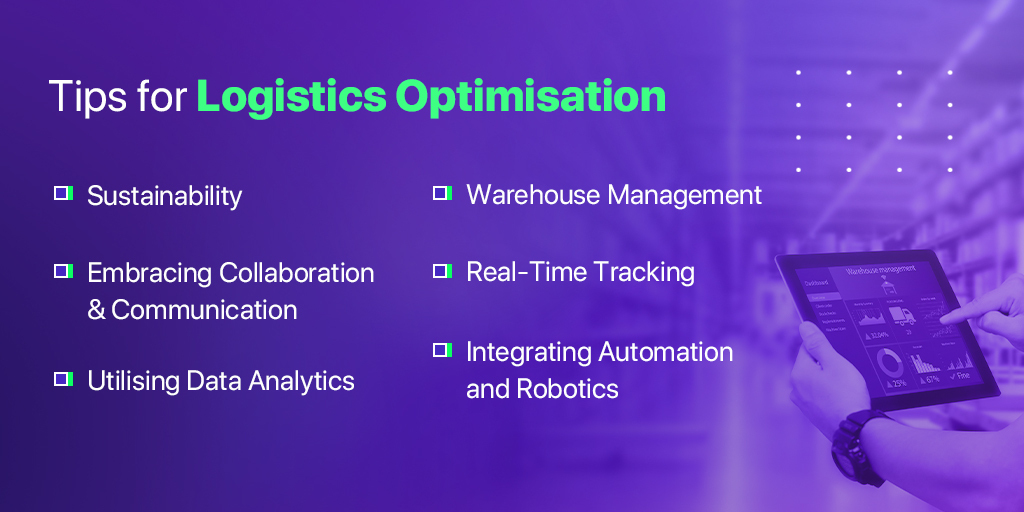 Sustainability
Sustainability is no longer a choice but a necessity for companies to embrace eco-friendly practices to minimise their carbon footprint, mitigate waste, and cater to the increasing demand for environmentally conscious supply chains.
By implementing green initiatives such as optimising transportation routes, adopting alternative fuels, and embracing packaging materials with a reduced environmental impact, businesses can achieve cost savings and cultivate a positive brand image.
Embracing Collaboration and Communication
Maintaining effective communication and collaboration is essential for seamless logistics operations. Businesses must encourage transparent communication with suppliers, carriers, and third-party logistics providers by promoting strategic partnerships. Collaborative planning and forecasting help in demand synchronisation and inventory optimisation.
Following this approach will help reduce lead times, enhance inventory management, and improve customer satisfaction. Embracing collaborative platforms, such as cloud-based solutions and supplier portals, facilitates real-time information sharing, fosters transparency, and strengthens relationships within the supply chain network. Businesses can achieve cost savings, operational excellence, and competitive advantage by working together.
Utilising Data Analytics
Adopting data analytics techniques and predictive modelling will provide valuable insights into logistics operations enabling businesses to make informed decisions that drive growth and success.
Leveraging data-driven insights allows businesses to minimise risks, reduce costs, and improve operational efficiency. Investing in advanced analytics tools and hiring data science engineers can provide a competitive edge in optimising logistics operations. Also, real-time analytics enables businesses to solve problems proactively and offer quick resolutions to disruptions.
Integrating Automation and Robotics
Automation and robotics have proved to be a game changer in the logistics industry. By implementing cutting-edge technologies like Robotic Process Automation (RPA), Machine Learning (ML) and Artificial Intelligence (AI), companies can automate manual tasks to streamline various aspects of logistics operations.
Integrating these technologies help businesses achieve faster turnaround time, reduced labour cost, and maximum productivity. Furthermore, the use of drones and autonomous vehicles carries the potential to revolutionise last-mile delivery by enabling efficient and swift deliveries.
Warehouse Management
Efficient warehouse management is crucial for optimising logistics operations. The integration of Warehouse Management Systems (WMS) automates essential tasks such as inventory management, order picking, and storage, resulting in reduced errors and enhanced efficiency.
By implementing techniques that optimise layout, businesses can effectively utilise warehouse space while minimising the time spent on travel within the facility. Furthermore, embracing cutting-edge technologies like Robotics and Automated Guided Vehicles (AGVs) simplifies material handling processes, leading to expedited order fulfillment.
Real-Time Tracking
By using advanced technologies such as the Internet of Things (IoT), businesses can monitor assets throughout the supply chain in real time. By implementing robust tracking systems, logistics managers gain complete visibility into inventory levels, shipment status, and potential bottlenecks. This level of transparency enables proactive decision-making, minimises disruptions, and enhances customer service. Investing in comprehensive tracking and visibility solutions empowers businesses to provide accurate delivery estimates, mitigate risks, and optimise their supply chain operations.
Conclusion
In the evolving logistics landscape, businesses can streamline processes, improve inventory accuracy, and enhance supply chain visibility by embracing automation and technology. Leveraging data analytics enables data-driven decision-making and empowers companies to identify potential bottlenecks, optimise routes, and improve overall efficiency.
With the six best ways discussed above, businesses can quickly get valuable insights and strategies for logistics operations optimisation. Staying agile and responsive to emerging trends will enable companies to successfully navigate through the dynamic logistics landscape of 2023 and beyond.
Frequently Asked Questions (FAQs)
What are the innovative solutions to streamline last-mile delivery?
The innovative approaches to optimise last-mile delivery are crowdsourced delivery, locker systems, and drones.
What advantages can be gained by prioritising sustainability and implementing green initiatives in logistics operations?
Prioritising sustainability and implementing green initiatives in logistics operations offer several advantages. By adopting practices such as optimising routes, using eco-friendly packaging, and employing energy-efficient transportation, businesses can actively contribute to reducing their environmental impact.
How does data analytics enhance last-mile delivery optimisation?
Data analytics plays a crucial role in logistics optimisation by providing valuable information on trends, optimising routes, forecasting demand, identifying maintenance requirements, managing inventory levels, and detecting potential disruptions in the supply chain.
Why are collaboration and communication essential in logistics operations?
Successful collaboration and communication promote better coordination between suppliers, carriers, and internal teams. Maintaining smooth communication will immediately identify bottlenecks and strengthen relationships within the supply chain network.
Calculate Your Shipping Costs Now