Mobile Commerce Best Practices For Success
With the advent of the mobile phone, eCommerce has taken a completely new turn. It has brought about a new era into the way people shop nowadays.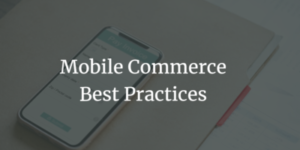 Forget computers, now it is possible to buy your favorite products on your phone. To cater to the ongoing demand, almost all eCommerce giants have introduced apps or mobile sites from where it is possible to buy.
Statistics suggest that mobile has a share of $1.4 trillion in an increase of eCommerce sales in the past year. By the year 2021, mobile eCommerce will become 21.2 % of total eCommerce.
For this reason, it is important for businesses to make their mobile store's web presence by following some best practices in this field. Develop and design your eCommerce mobile site and leads through Search Engine Optimization (SEO) and Search Engine Marketing (SEM) strategies.
So if you wish to make your presence felt in the mobile Commerce sphere, what are the ways that will make your site quite effective?
Have an Idea of the Mobile Commerce Best Practices and Strategies
Responsive Design
First things first, you would need to have a good site that is compatible with the latest mobile platforms. It should work seamlessly across iOS, Android and other mobile devices. For that, you need to develop the mobile site with advanced features.
Your site should have the latest PHP, web design template, logo design, banner design, flash, and other compatible features. You can take help from web experts who are adept in PHP, MySQL, JavaScript, Ajax, and WordPress. Also, have a team of Java developers who can develop web and mobile applications.
Mobile Marketing Strategy
Secondly, you should have a well-defined online marketing strategy to make your mobile site have the best reach and reception. You should popularize and brand your mobile shop through various promotional strategies for SEO and SEM, in accordance with your needs.
In order to live up to the customer's expectation, you need to develop advanced web applications, and digital marketing strategies like Search Engine Optimization (SEO) and Search Engine Marketing (SEM) to reinforce the sales, leads, and/or traffic from the Web 2.0 techniques.
Affiliate Marketing
Having an affiliate marketing program for your mobile Commerce helps you to increase your profits. By incorporating affiliate marketing tools like Google AdSense into your mobile eCommerce campaigns, you can easily enhance your scope of revenue. The Google AdSense program enables you to display ads on your mobile site and by making visitors click on them, you can earn.
Once you get an idea of the various tips and best practices for increasing passenger traffic to your M-commerce business, half of your job is done. The focus is the main key to get passenger traffic to your site and in turn, increase the scope of business.
Calculate Your Shipping Costs Now