How to Offer Premium Shipping in 2023 if You Choose Amazon Self-Ship?
Online shoppers have come to expect fast and affordable shipping. This is the reason why eCommerce companies should consider premium shipping to stay ahead of the competition. As more and more consumers continue to switch to online eCommerce stores, the demand for faster and affordable shipping has increasingly become the new normal.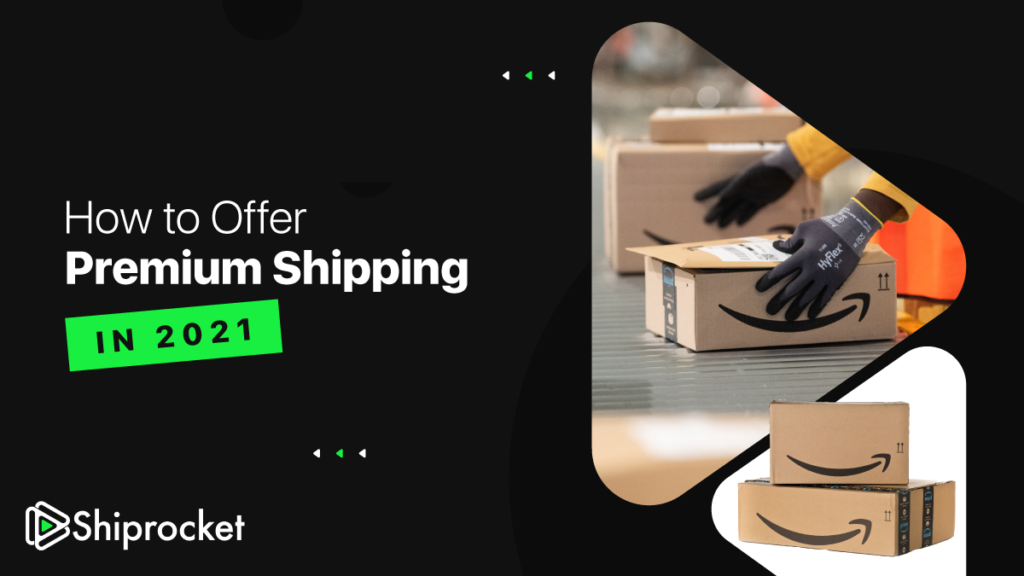 As eCommerce becomes more and more competitive, retailers have to find new ways to meet up customer demands and stay ahead of the curve. This growth has led to a rise in delivery options. For example, eCommerce giants like Amazon, Flipkart are leading the pack in this regard.
Amazon has several fulfillment options like Amazon easy-ship, self-shipping, and fulfillment by Amazon using which sellers can deliver their products to customers across India. For those who choose self-ship, premium fulfillment becomes a challenge.
If you are wondering how you can offer premium delivery for your products, Shiprocket can help. We offer you a network of 17+ cost-effective shipping courier partners. You can use our shipping rate calculator to determine how much you should be charging for premium delivery to show your buyers your premium delivery charges.
What Does Premium Shipping Mean?
Premium shipping is an option that enables eCommerce merchants to offer fast, and affordable shipping solutions. It offers fast delivery of packages, quality packaging, and automated tracking.
The premium shipping also helps improve customers' post-purchase experience and has become a popular delivery option among retailers. Some of the top premium shipping options available today are same-day delivery, next-day, and two-day delivery.
Amazon Premium Shipping
The option of Amazon premium shipping offers the fastest shipping options to retailers. This is the main reason why many retailers choose to sell on Amazon. For orders within the country, Amazon premium delivery supports one-day and two-day shipping.
Amazon premium delivery isn't available for everyone selling on Amazon. It is a special feature reserved for those who meet the following standards:
Must be selling on Amazon for more than 90 days.
Must have a tracking rate of 99% for 30 days.
Must have a score of 97% for on-time delivery.
Must have a cancellation rate of less than 0.5% for 30 days.
How Can eCommerce Merchants Offer Premium Shipping?
D2C eCommerce merchants can offer premium shipping to their customers. Here are the options that retailers can use for offering premium delivery in their stores.
Become an Amazon Seller
For Amazon premium shipping, you first need to become an amazon seller and meet all their criteria. You can also opt for Amazon FBA to become a seller and store your products in Amazon's warehouse. All the other tasks such as packaging, delivering the orders to customers, and product returns will be handled by Amazon's team.
Build your Fulfillment and Logistics Network
If you are willing to spend lakhs of rupees on building the eCommerce warehouse and infrastructure, this is a good option to go for.
Outsource Fulfillment to 3PL Providers
Outsourcing fulfillment and logistics to a 3PL provider is the best option for SMEs in the eCommerce sector. It gives you more control over the business and helps compete with other giant competitors in the market. Also, you get access to premium logistics and order fulfillment services at affordable rates, and your customers are offered a pleasant and fulfilling order delivery experience.
Benefits of Premium Shipping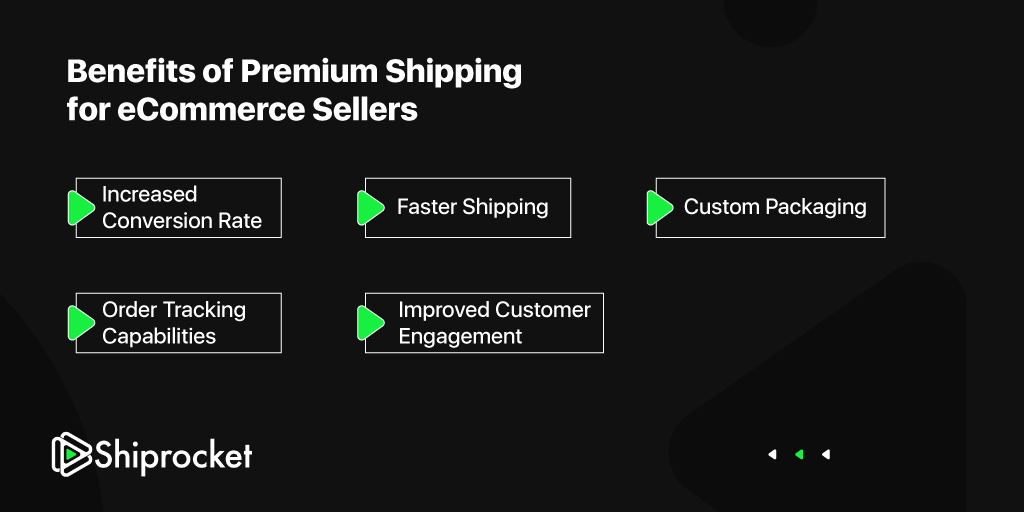 Premium shipping has a whole lot of benefits. Here are some of the top benefits of offering premium shipping in your eCommerce business.
Increased conversion rate at checkout due to less cart abandonment.
Faster shipping experience.
Improves brand identity with a great unboxing experience and custom packaging.
Automated order tracking capabilities which helps improve the whole shipping process.
Faster delivery of packages which drives customer satisfaction, and hence, encourages repeat purchases.
A great way to convert your last-minute consumers.
There are numerous benefits of offering premium shipping in your store. If you want to offer your customers faster delivery timelines, you need to start offering premium shipping. For D2C brands and SMEs in the eCommerce space, connecting with a reliable and well-connected eCommerce and logistics company that has the shipping, fulfillment infrastructure, and technology to help them offer premium shipping is the way to go.
Calculate Your Shipping Costs Now