Product Highlights from April 2023
In the modern era dominated by digital technology, businesses of all sizes rely on e-commerce as a vital platform to enhance their brand visibility and engage with consumers. Shiprocket acknowledges the importance of delivering a seamless and stress-free online experience for both Sellers and buyers.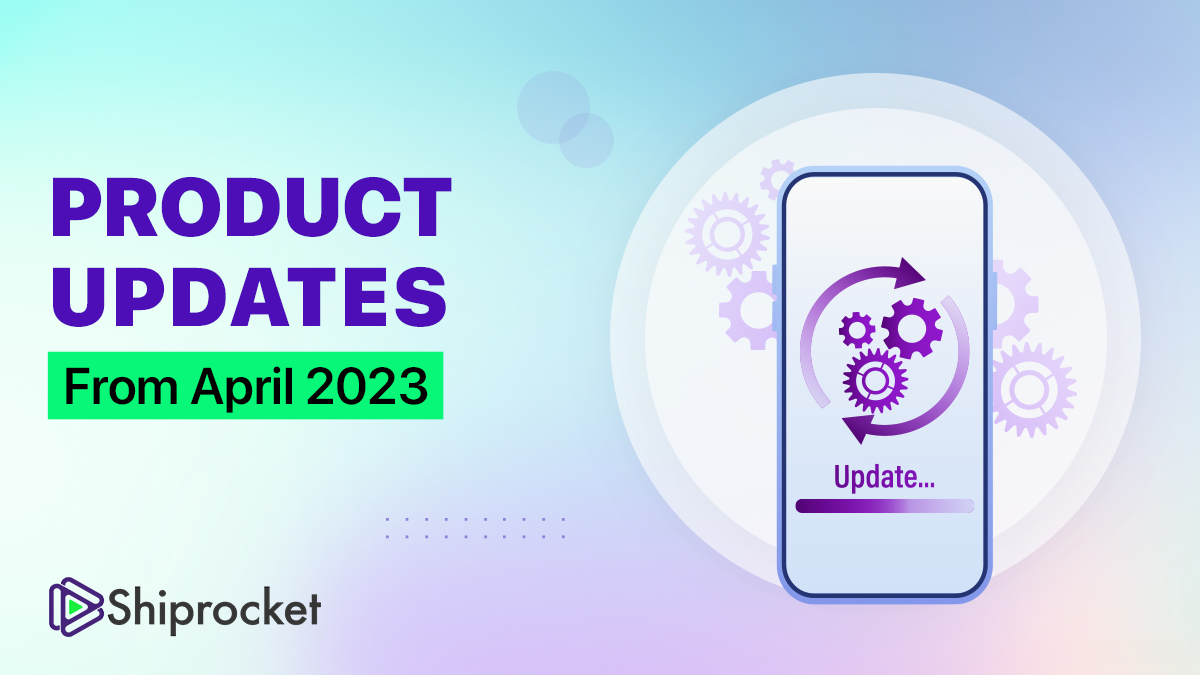 Hence, we are committed to enhancing our platform and services continually to deliver the best possible outcomes for you. Let's take a look at what improvements we have made this month to improve your overall shipping experience with us!
Introducing Delivery Boost
Delivery Boost is a feature offered by Shiprocket that helps you communicate with the buyer for order delivery confirmation. Once you enable this feature for your account, the AI-backed system will automatically send a delivery confirmation message to the buyer via WhatsApp. The message will seek confirmation from the buyer that they are available to receive the delivery or if they want the delivery to be reattempted at a later time. If the buyer confirms a reattempt, and the shipment is delivered successfully, it is considered a Delivery Boost shipment.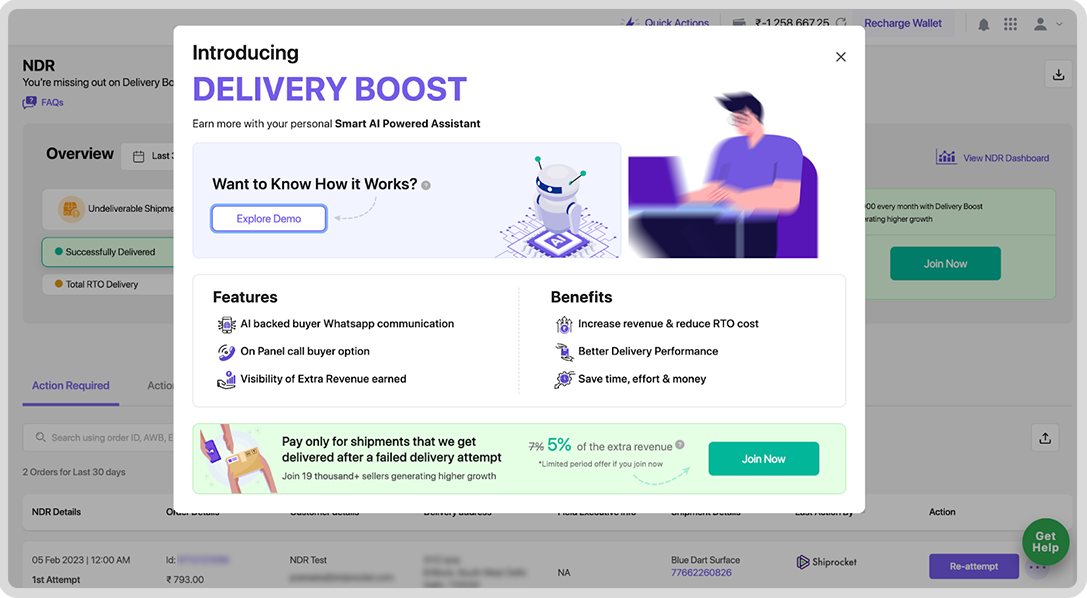 Features of Delivery Boost
AI-Backed Buyer Communication via WhatsApp
With Delivery Boost, you can take advantage of AI-powered communication to send delivery confirmation messages to buyers via WhatsApp. This feature ensures that the buyer receives the message in real time and can respond quickly, increasing the chances of successful delivery.
On-Panel Call Buyer Option
In cases where the buyer does not respond to the WhatsApp message, you can use the On-Panel Call Buyer option to call the buyer directly from your dashboard. This feature eliminates the need to search for the buyer's contact information and manually call them, saving you time and effort.
Visibility of Extra Revenue Earned
Delivery Boost also provides visibility into the extra revenue earned through successful reattempts. This information can help you track the success rate of your delivery attempts and make informed decisions to further improve your delivery success rate.
Multiple Channels for Delivery Validation from Buyers
Delivery Boost offers multiple channels through which buyers can confirm delivery, including WhatsApp, SMS, IVR, and manual calls. This flexibility ensures that buyers can confirm delivery through their preferred communication channel, increasing the likelihood of successful delivery.
Return Module Reinvented for a Better Return Management
The Return Management module of our platform has been upgraded with an improved user experience and a simplified Quality Check & Refund process.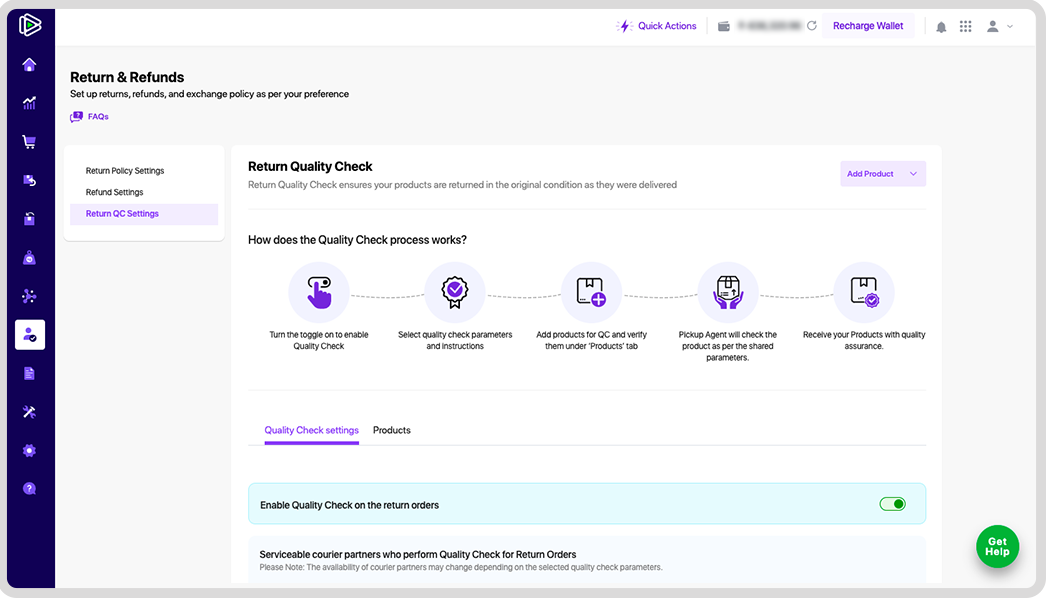 With this update, you'll enjoy the following features:
Manage all refunds from a single place: Manage all your Refunds, Track Status & Download Refund Report directly from the "Pending For Refund" tab.
Bulk search & cancellation of return orders for added convenience: Search & Cancel your Returns in bulk from the New Returns tab.
Streamlined onboarding process to activate QC: Check what parameters best suit your product category and enable Quality Check.
NPR Reasons now available in Return Report: NPR (Non-Pickup Reason) tab has been removed from Returns Dashboard. View all NPR reasons directly from the Return Report.
Introduced RTO Delay Escalation
Introducing the new RTO Delay Escalation feature that will solve the problem of RTO delayed deliveries and ensure that your business runs smoothly.
The RTO Delay Escalation feature has been implemented to address RTO Delay issues. Previously, there was no way to determine when RTO Shipments would arrive, but with the new feature, an estimated delivery date for RTO delivery is provided, offering a clear indication of when the shipment is expected to arrive.
So, If your shipment is in either RTO Initiated or RTO In Transit statuses and its RTO EDD (Estimated Delivery Date) is breached, you can escalate an RTO Delay.
RTO Delay Escalation feature will help you in the following ways:
Estimated Delivery Date: We will provide you with an estimated delivery date for your RTO delivery, giving you clear visibility of when your shipment is expected to arrive.
Timely Escalation: You can now escalate delays in RTO deliveries directly from your Shiprocket account, and our team will take immediate action to resolve the issue.
Re-escalation: If you are still facing delays even after the initial escalation, you can escalate again within 48 hours from the date of Escalation closure.
Enhanced User Experience: You can enjoy a hassle-free selling experience, as our team will ensure that your RTO orders are delivered to you on time, every time.
Steps to Raise RTO Delay Escalation:
Step 1: Log in to your Shiprocket Account.
Step 2: Click on the Orders option from the left-hand menu, and then select the RTO tab.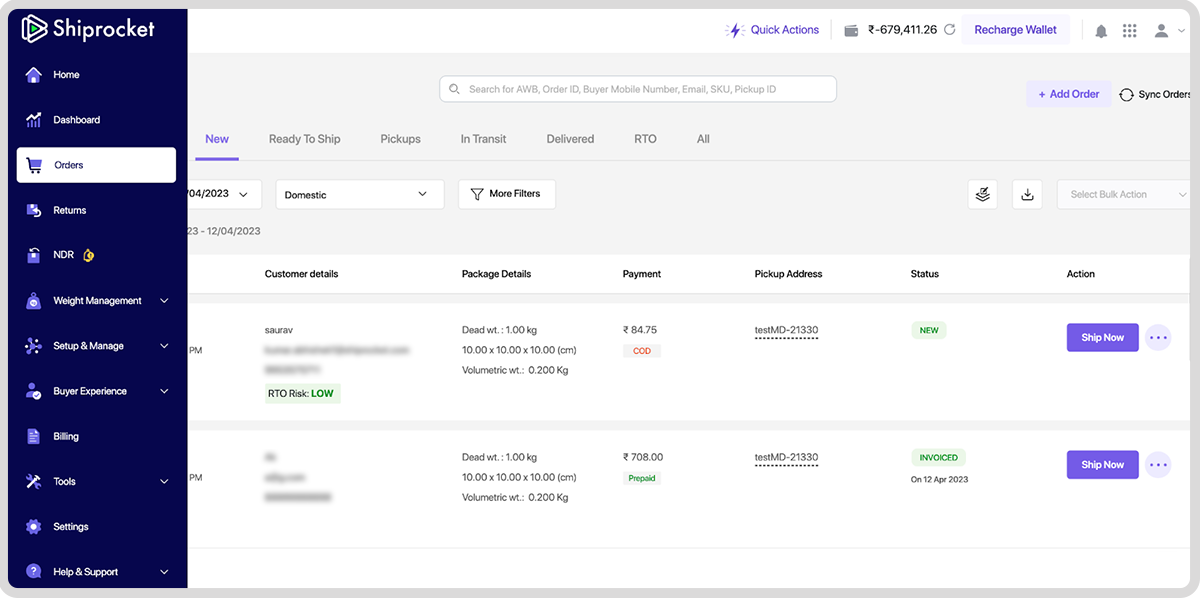 Step 3: Select the RTO tab from the header menu.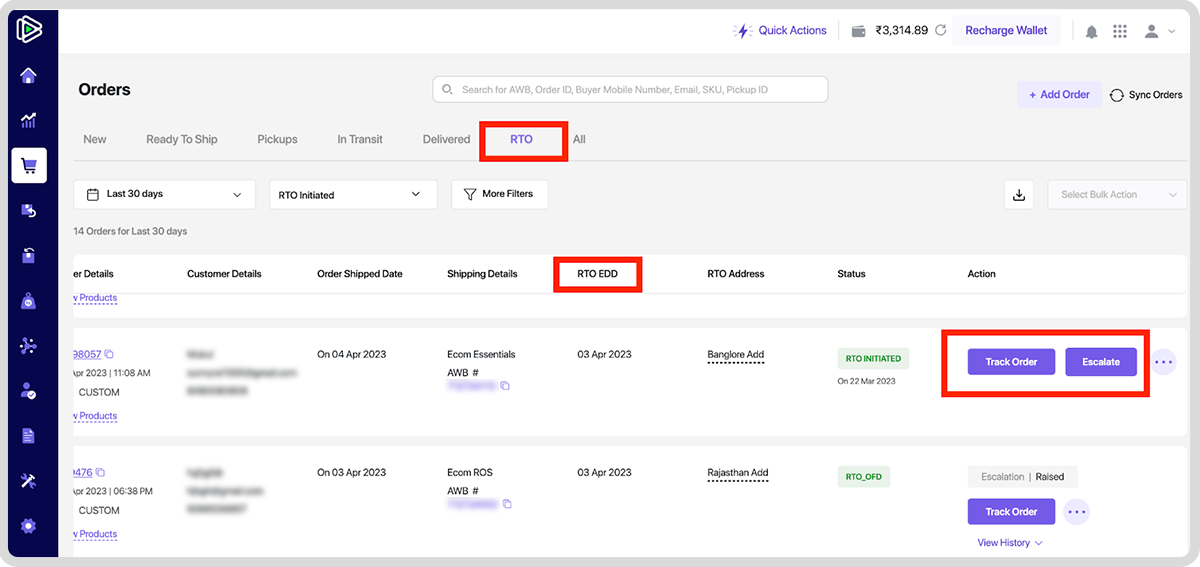 Step 4: If the RTO EDD has passed for your particular shipment, an "Escalate" button will appear on the right-hand side, Click on that.

Step 5: Enter your remarks and click on the Escalate button to submit your escalation.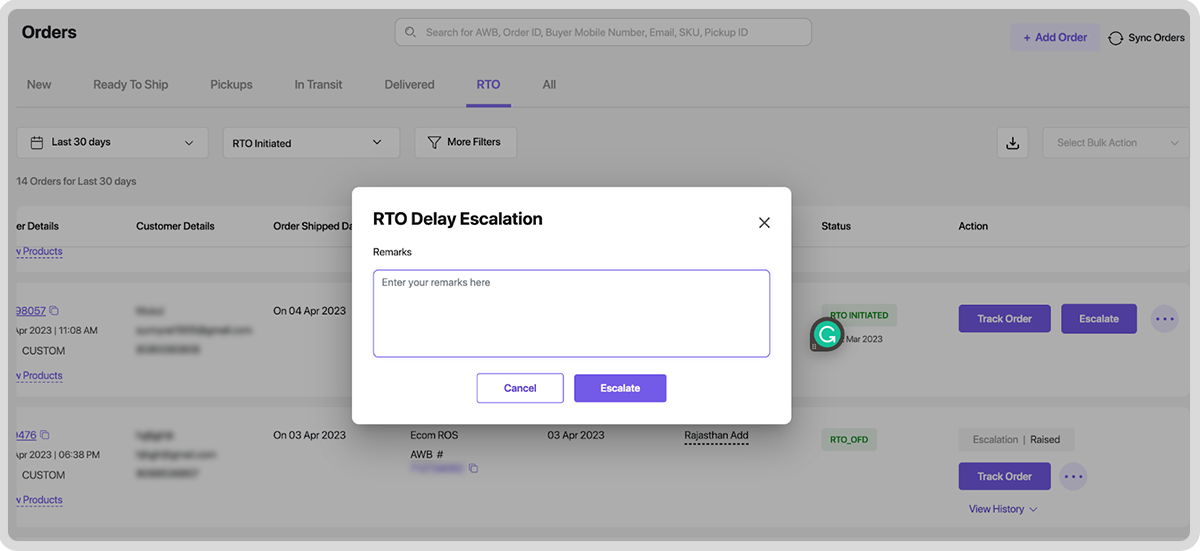 Step 6: After being escalated, you can also view your escalation history.
Step 7: You can also further write to us if you have any other concerns related to your RTO Shipment.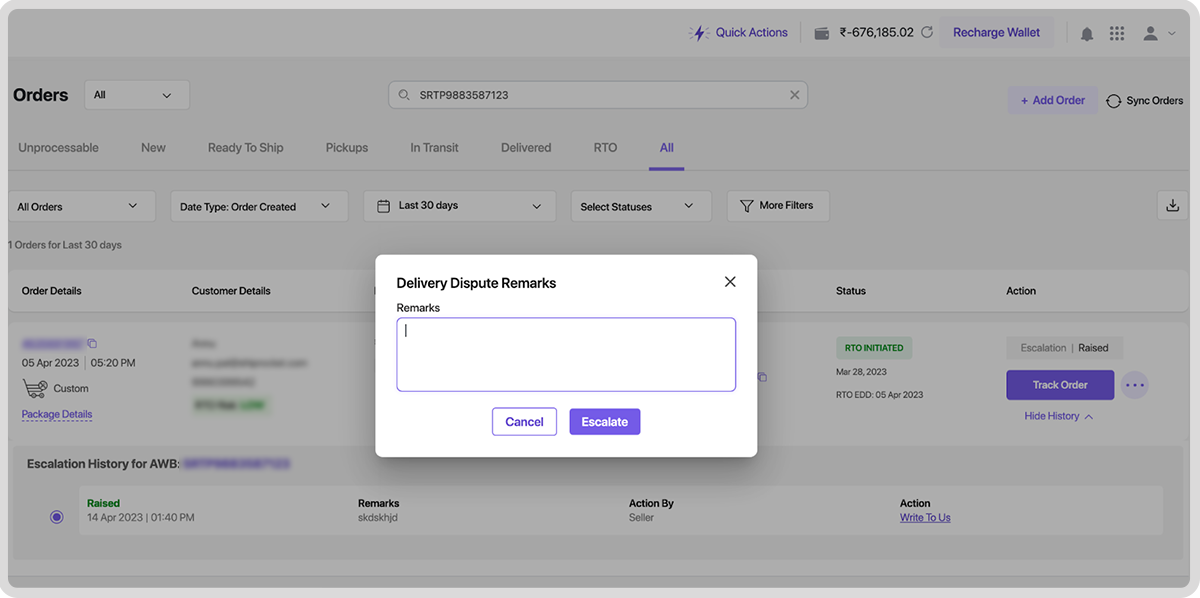 Note: You may escalate again within 48 hours from the date of Escalation closure.
Global Filter for All Orders
Implemented a global filter that allows you to filter out domestic and international shipments across all order tabs, saving you valuable time and effort. This means that you can quickly identify and prioritize the orders that require your immediate attention, without having to navigate through multiple tabs. It is useful for sellers like you who have a high volume of orders, as it streamlines their workflow and enables them to manage their orders more efficiently.

Final Takeaway!
At Shiprocket, we understand the significance of a smooth and efficient selling process for the prosperity and growth of your business. We are committed to continuously improving our platform and enhancing its user-friendliness to provide you with a hassle-free selling experience. Our foremost objective is to enable you to focus on the core aspects of your business while we take care of the logistics. We are constantly developing and adding new products and features to our platform to make your selling process even more seamless.
As we continue to innovate and enhance our platform, we will keep you updated with the latest improvements and announcements. We are grateful for your trust in Shiprocket as your partner in accomplishing your objectives. We value your business and strive to serve you better.
Calculate Your Shipping Costs Now