Product Highlights From August 2022
Every month, we do something new to enhance your user experience with shiprocket and this month was no different. Our goal is to provide you with a hassle-free shipping experience. In our endeavor to keep you informed of everything exciting, new and relevant at Shiprocket, we're back with our monthly roundup of our latest updates, improvements, announcements, and more. Let's have a look at the updates and improvements that we have made to bring a positive change in your experience!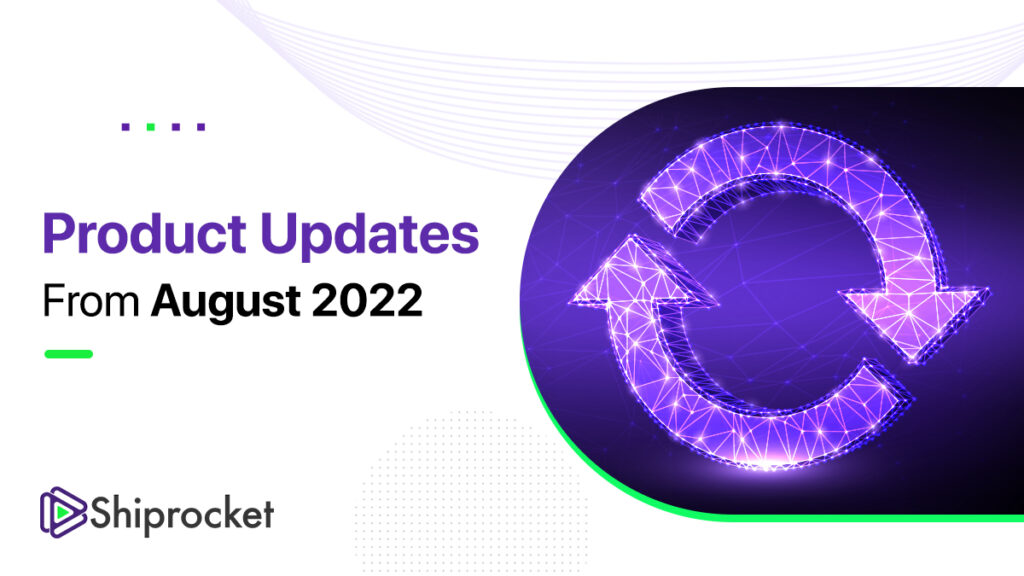 Raise Escalation Against Forward NPR via Whatsapp
Now, you can raise an escalation against Forward NPR (Non Pickup Reason) using whatsapp. This will enable you to raise escalation within real time to save your time in the process. Since communications are being sent to the phone number associated with the pick up address, you can escalate the shipment at any time and anywhere.
Auto Escalation: Shipments with courier dependent reasons like vehicle issues where the courier is at fault will be auto escalated for you.
There are three options on whats app in case of Pick up failure:

Escalate now: If you click on escalate now, it will escalate the pick up ID and same will be reflected on the panel
Reattempt Pickup: You Click on this button to reattempt your pickup by courier.
Cancel pickup Attempt: Clicking on this button will cancel your pick up attempt for the next day. It is to be noted, it will not cancel your shipment.
Reverse NPR Got Improved
We enhanced the Reverse NPR (Non-Pickup Reasons) feature of our panel to reduce the turnaround time of your buyers by enabling them to take action directly via Whatsapp. There are two options for them in case of Reverse Pick up failures. They can either choose to Reattempt Pick up or Cancel pick up Attempt.
Reattempt Pick up: Buyer clicks on this button to reattempt his pick up by courier.
Cancel pick up Attempt: Clicking on this button will cancel the buyer's pick up attempt for the next day. It is to be noted, it will not cancel his shipment.
We have also introduced a new tab for you to get a holistic view of all your failed reverse pick up exceptions. You can see the history of all your pick up attempts and the reason behind your pick up failures.
Refund Using UPI Mode
A new refund mode is added to the panel to offer your customers ease of refund during the process of return order. UPI Transfer, for refund against COD and Prepaid orders is available now. Adding this feature will help you offer easy refunds to your customers via UPI Mode for their return orders.
Step by Step Guide to Initiate a UPI Transaction
Step 1: Go to Settings>>Refund Settings.
Step 2: Tick the check box of "Allow users to opt for UPI Transfer" refund option in COD and Prepaid section to enable UPI Refund mode.
Step 3: Now you can offer UPI transfer as a refund option to your customers.
Step 4: Click on the "Refund" button against the order you want to process the refund.
Step 5: On the Refund popup you'll find "UPI Transfer" in the Available Refund Mode section.
Step 6: Enter the customer's UPI Id (if not pre-filled) and click on Refund.
Step 7: On the confirmation popup, check all your details and then click Confirm Payment.
A UPI transaction will be initiated from your linked RazorpayX account.
Address Edit Option in Pick up Address
Introducing a new option on the panel which will allow you to edit your pick up Address. All orders available on your panel where AWB is not assigned will be updated automatically. However, the orders where AWB is assigned will not be updated with a new address unless reassigned with a courier.
Steps to Edit Pickup Address:
Step 1: Log in to your Account.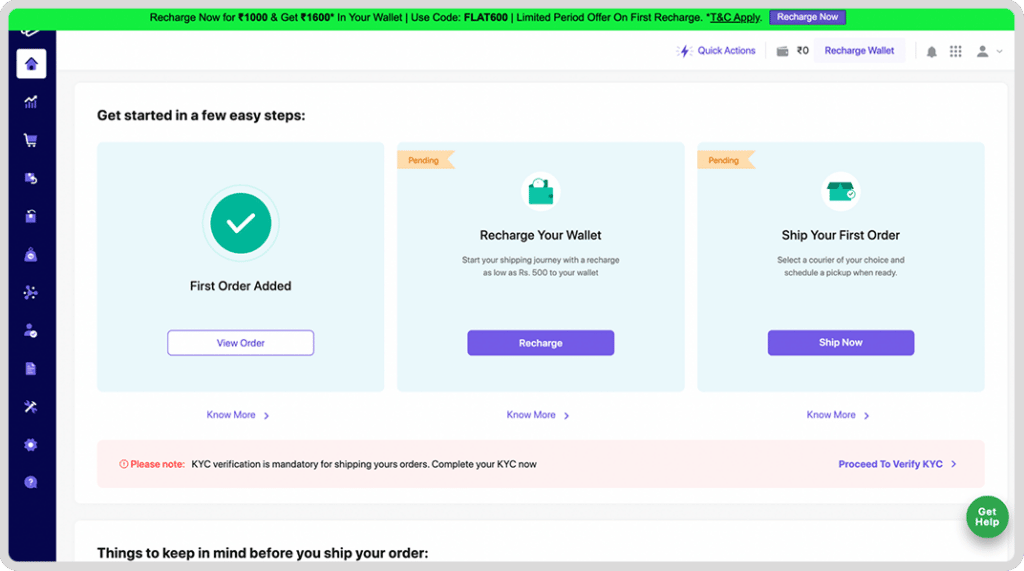 Step 2: Go to settings option.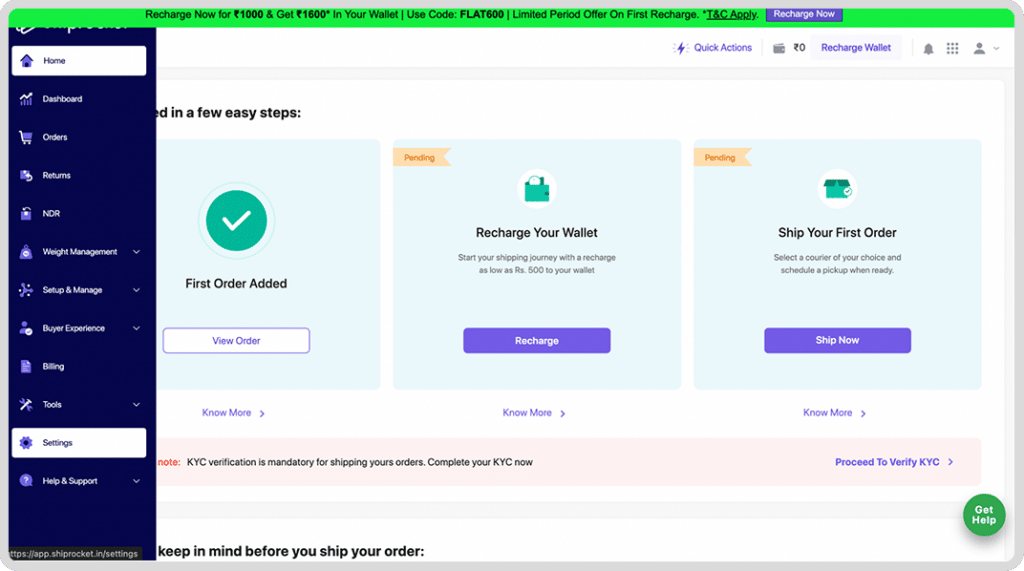 Step 3: Navigate to pickup address >> Manage Pickup Addresses.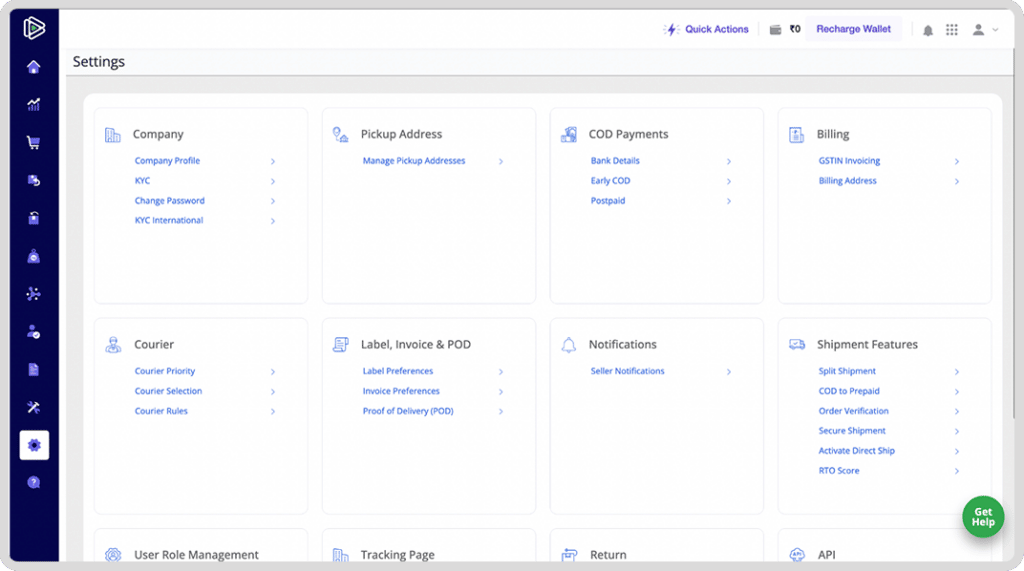 Step 4: Click on Edit Option.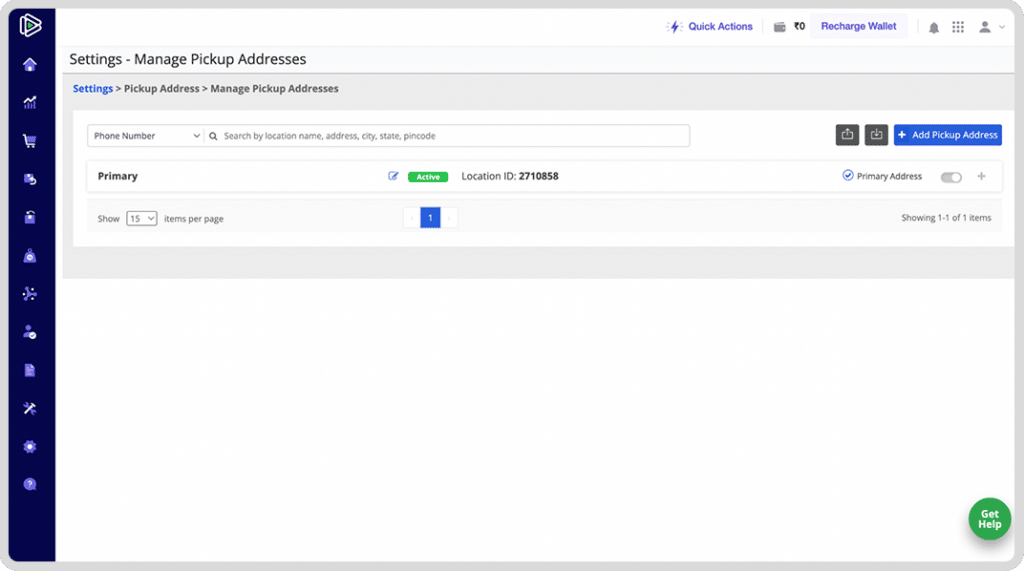 Step 5: Now, you can edit the Address Line 1 and 2 here.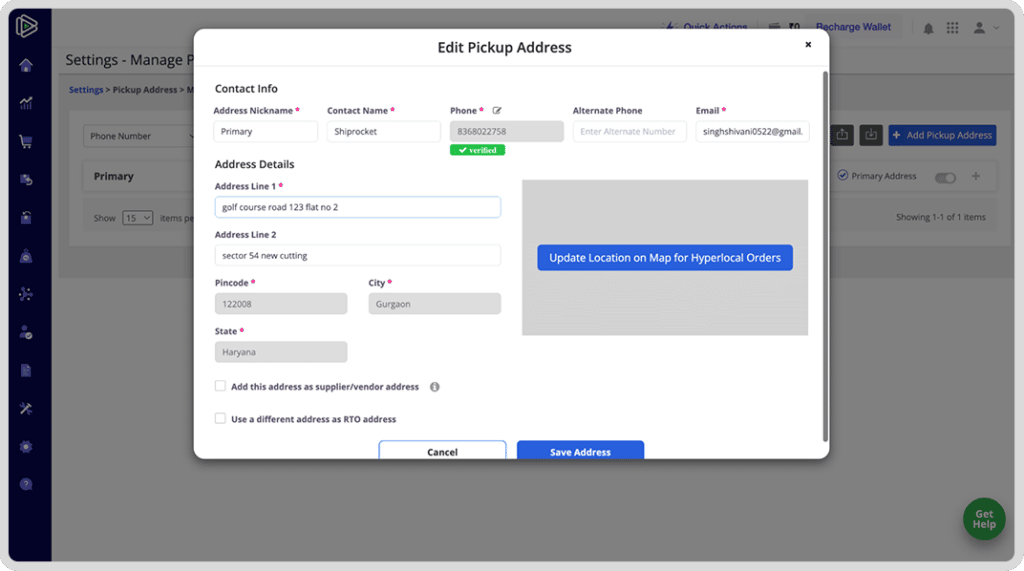 Check out what's new in your Shiprocket App
Schedule Pickup for Future
Now, you don't have to rush to schedule your pickup. If your pickup is already planned, you can easily select and schedule pickup for a future pickup date via your iOS & Android device itself.
TouchID based Authentication
In order to improve the security of your account, we introduced TouchID based authentication on App launch which you can now enable from mobile app (iOS).
Steps to enable TouchID based Authentication:
Step 1: Open the Shiprocket app on your device.
Step 2: Click on More Option.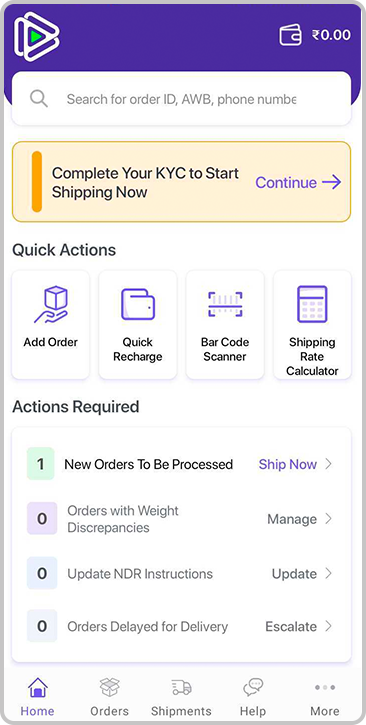 Step 3: Go to settings.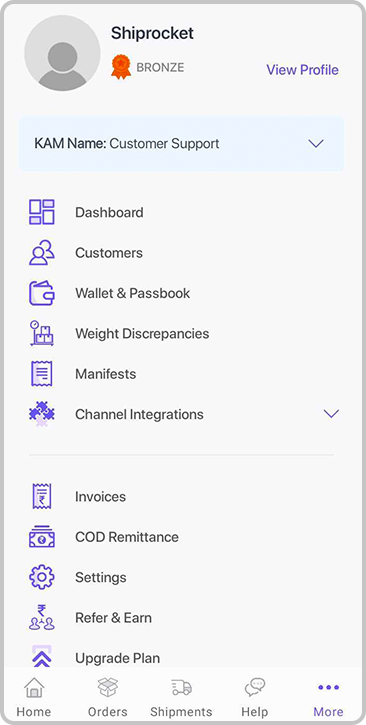 Step 4: Click On Profile.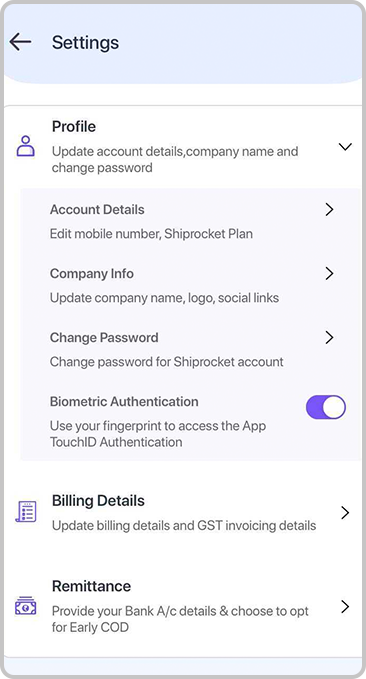 Step 5: Turn on the Toggle button to enable TouchID Authentication.
Update KYC Documents with Ease
We introduced the edit option in the international KYC section to make the process of updating documents easier for you. You can update your KYC anytime as per your convenience. If your KYC status is not activated yet, then no effect will occur to status. But if the status is active, then the status will go back to pending again and the KYC document verification process will start again.
No More International Shipment Delay
In order creation flow, we introduced a new field named IGST Amount on the panel. Now, there will be no more shipment hold and delay because of the IGST amount. You can easily find your IGST amount on the panel if your IGST is paid.
Complete Returns for Unicommerce
We have built an end to end integration for fetching all the return orders from Unicommerce. This automated process will help Fulfillment sellers to close their buyer returns in Unicommerce automatically as soon as they are inwarded in our Fulfillment Centers.
Negative Inventory Updates
To get real time updates on the increase and decrease of inventory, now you can leverage the opt-in feature to add an endpoint in the settings.
Path for Negative Inventory: Shiprocket Fulfillment Seller Panel > Settings > Inventory Adjustment URL
This will help you to keep an easy track of your inventory to avoid any hassles. If there is any negative inventory update, you will be informed via webhook. Inventory status change can occur due to a Purchase Order, Return order or a stock transfer. If your inventory is in negative status, we will be sending an update to you.
Final Takeaway!
In this post, we shared all our recent updates and improvements that we successfully implemented this month with a hope that we can help you make some significant changes in your order processing operations and make shipping an even more streamlined experience with these updates. We are very sure that you will love the improvements and your enhanced experience with Shiprocket. For more such updates, stay tuned with Shiprocket!
Calculate Your Shipping Costs Now