Product Highlights From October 2022
Here's hoping that in this festive month, your business sparkled as brightly as your home! As always, nothing makes us happier than being the enabling arm to your eCommerce gains. So, we are back with our monthly roundup of our latest updates, improvements, announcements, and more. Take a look at what we've done to enhance your overall experience with us!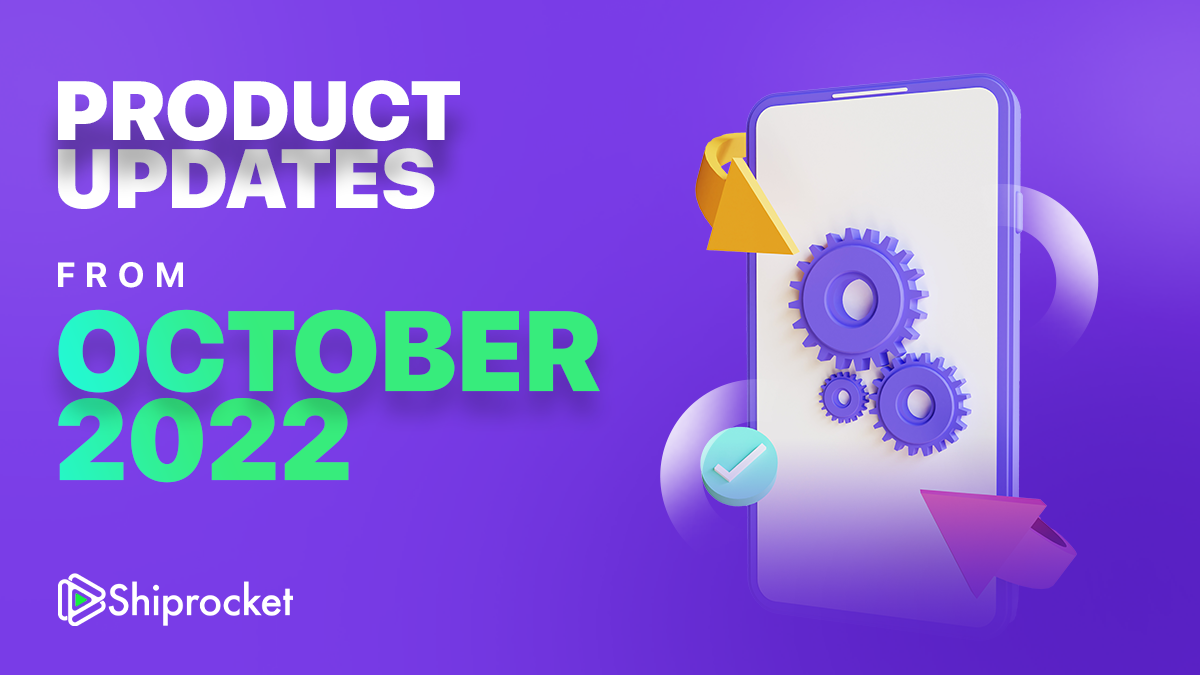 COD Remittance Change
We will be remitting the COD Remittance thrice in a week, i.e.Monday, Wednesday & Friday which means that you will receive your COD Remittance on the 9th working day from the delivery date of the shipments. In case, you wish to receive early remittance, You should activate Early COD.
What is Early COD?
Shiprocket's Early COD is a plan that enables you to receive your COD remittance within 2 days from the delivery date of your shipments. To enjoy the benefits of this Shiprocket service, you will have to activate Early COD by logging in to your Shiprocket panel and select your desired plan. Once you do so, you will get enrolled in the next Early COD remittance cycle. Once you are enrolled, when your orders are delivered successfully, you will get paid with the remittance according to your desired plan you have opted for.
How to Activate Early COD?
Step 1: Go to Billing → COD Remittance on your panel.
Step 2: Right from the COD Remittance option, go to the 'Early COD' section in the top right corner of the screen.
Step 3: A pop will appear on your screen displaying the various plans that are offered in Early COD service so that you can choose the right plan after considering your requirements.
Step 4: Choose your desired Early COD plan, agree to the terms and conditions, and activate your Early COD service instantly.
New Couriers Added in Shiprocket X
Good news for you! We have successfully launched two new couriers in Shiprocket Cross Border named SRX Premium and Aramex International. The purpose of this is to introduce a commendable cross border shipping solution to you that comes with a better service-level agreement (SLA).
Shiprocket X is a unique offering by Shiprocket that supports your business to ship your products abroad. It caters to 220+ countries and has top courier partners to serve you with the express shipping solutions.
Why consider Shiprocket X?
Wide Reach
Cheapest Rates
No Minimum Order Commitment
Top Marketplace Integration
End-To-End Tracking
Best Shipping Plans
AWB Number Available for Tracking
You can easily track your shipments on Amazon US as last mile AWB No. for US postal service is now available on the order details page for all USA orders. Tracking is not restricted to Amazon but you can track the same on other marketplaces as well.
Check out what's new in your Shiprocket iOS App
Recharge status of all your transactions will be visible for you to know if the recharge was successful/pending/failed. You can check the status in the 'transaction history' section of wallet and passbook in the mobile app.
Stay updated with your COD Remittance Status! Now, you can easily check the expected COD remittance date range & remittance status for your COD shipments at AWB level right from the shipment detail screen.
Buyer email is no longer a mandatory field. You will have the option to add the email address of your buyer or you can skip it if you want.
Final Takeaway!
In this post, we shared all our recent updates and improvements that we successfully implemented this month on our panel with a hope to make some significant changes in your order processing operations and make shipping an even more streamlined experience with these updates. We are very sure that you will love the improvements and your enhanced experience with Shiprocket. For more such updates, stay tuned with Shiprocket!
Calculate Your Shipping Costs Now