eCommerce Shipping
ShipRocket Revises Its Fair Use Policy; Introduces Security Deposit on All Plans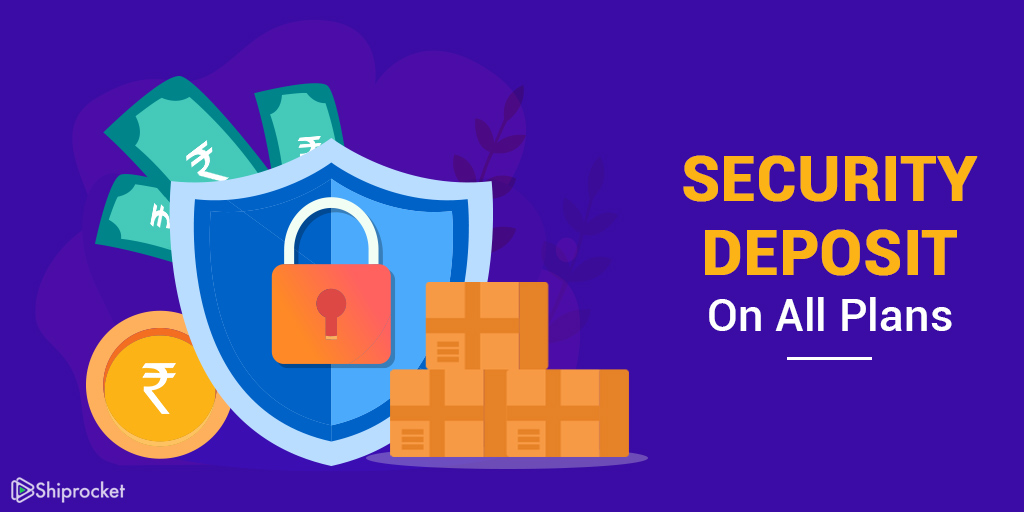 For the past 18 months, Shiprocket has been trying to provide you the best shipping services. Today, we have reached a customer base of 6000 merchants and still counting. In order to make our shipping system more secure against payment default and restrict unfair use of our services, Shiprocket has revised its shipping policy by introducing security deposit and shipping limit across all plans.
What Exactly Is Shiprocket's Fair Use Policy?
Since, the customer base of the Shiprocket has increased at a fast pace, it had become really important to make our business more viable for such large merchants. This is the reason that we have introduced security deposit on all our plans.
As per this new shipping policy, every new merchant of Shiprocket will have to make a security deposit of Rs. 3000 against a shipping limit of 25 kgs. For every additional 25kg limit, you can make another security deposit of Rs. 3000. However, there is no upper limit set for shipments. Please note that this security deposit is 100% REFUNDABLE and will be credited to merchant's account as soon as he/she leaves the platform.
For existing clients, we have tried to cover this policy in a very liberal manner. We have fixed a shipping limit, as per your previous credit history, which is much higher than your current usage. For this limit, you don't need to pay any security deposit. For any further clarification on your shipping limit, contact Shiprocket support.
How Can I Recharge My Shiprocket Account To Increase Shipping Limit?
With Shiprocket, you can either setup your shipping limit beforehand by making the desired amount of security deposit. For example, if you ship 80 kg in a month and want 100 kg limit, you need to pay Rs. 12000 as the security deposit (For 25 kg, the security deposit amount is Rs. 3000).
In case, you have exhausted your shipping limit and want to increase it, then you can easily do it from your Shiprocket admin panel. Just follow these steps:
• Login to your Shiprocket admin panel. Click on order. You will see "Buy Shipping Credit."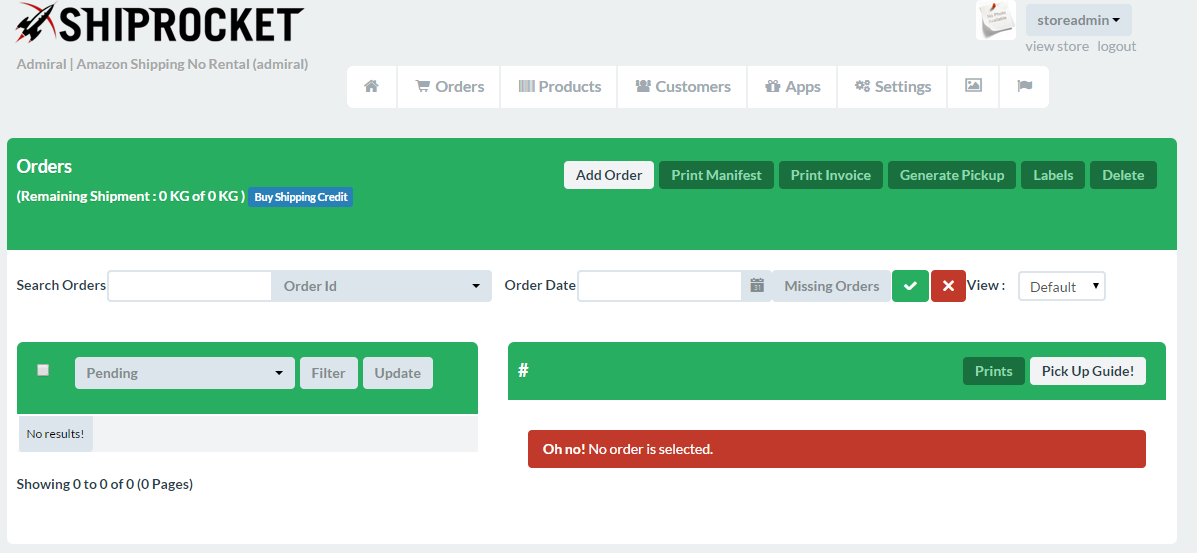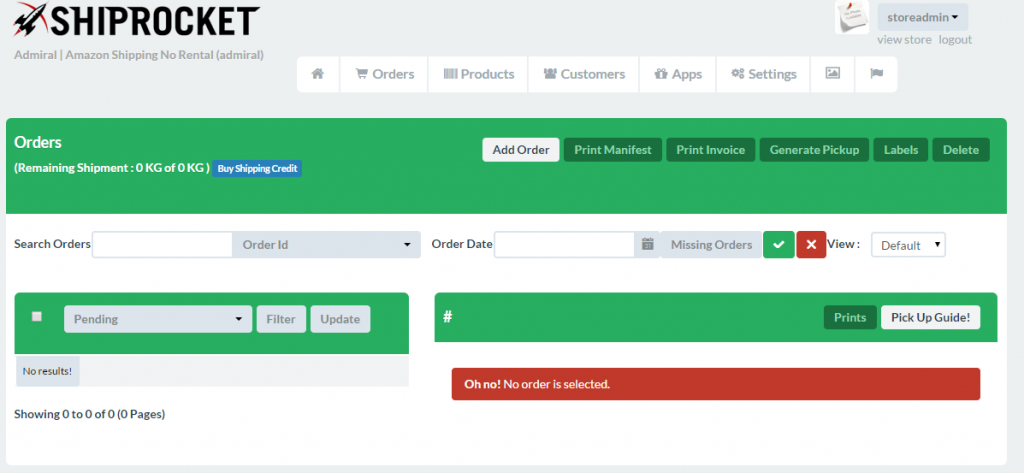 • Choose the security deposit amount and click on Pay Now.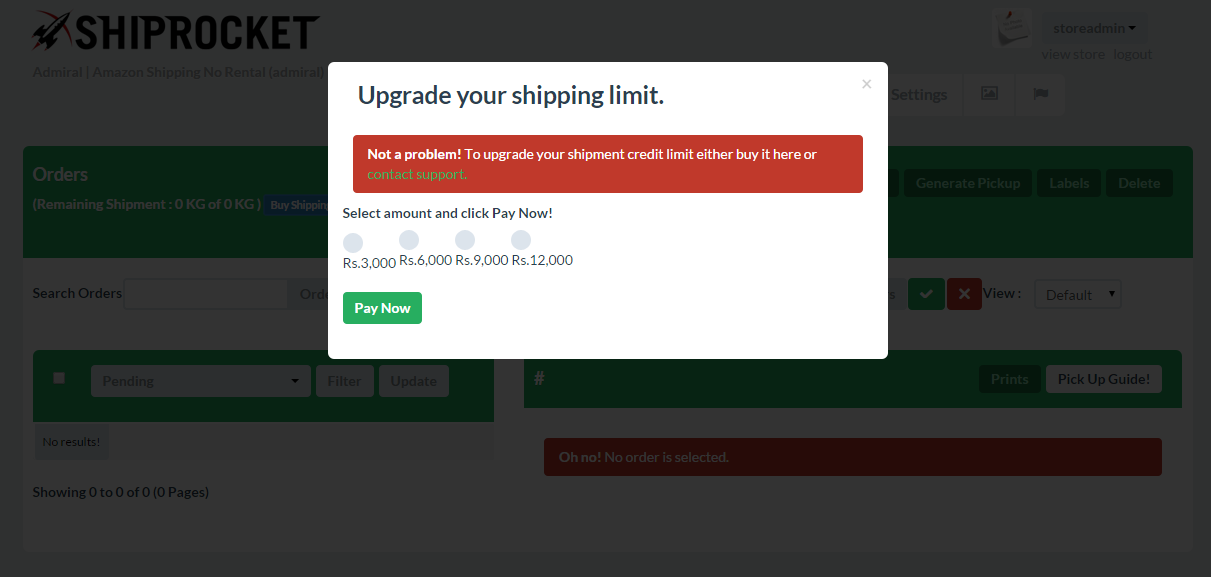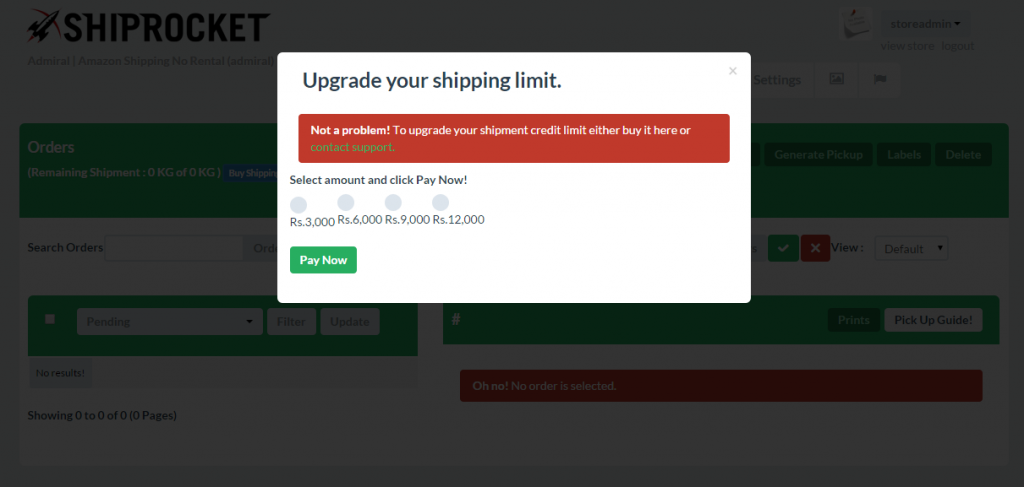 • Once, you click on Pay Now, you will be directed to EBS payment gateway and pay online. As soon as you made the payment, your account will be recharged to the corresponding shipping limit.
• You can easily check the remaining shipment limit on your Shiprocket admin panel after clicking on Orders.

Important Information About Our Security Deposit
Please note the following:
• Whatever amount you deposit as security is completely refundable. It will be credited to your account after 6 months, given that you haven't used it against order shipped and have paid all the pending bills in full.
• Whatever amount of security deposit you pay, its corresponding shipping limit gets renewed for every following month.
• This is just a security deposit amount and will not be adjusted in your monthly freight bill. They will be raised separately as per that month's shipments and has to be paid by the merchant as per terms of service.
• Also, this security amount is not an advance payment and will not be deducted against your shipping bill. It will only be deducted, if the merchant fails to pay the amount as per the terms of payment.
Still have some unanswered questions? Feel free to contact our support by writing an email at srs@kartrocket.com and we will get back to you as soon as possible.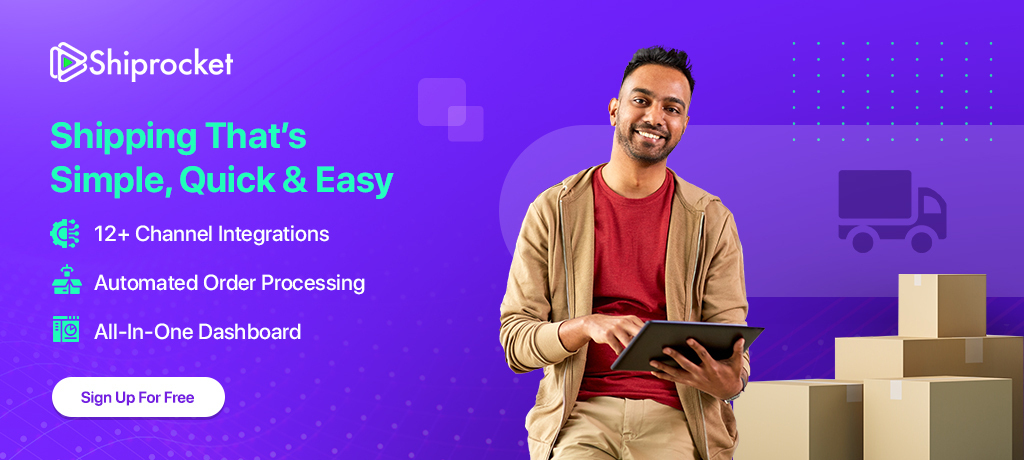 Calculate Your Shipping Costs Now