5 Tips For Streamlining eCommerce Workflow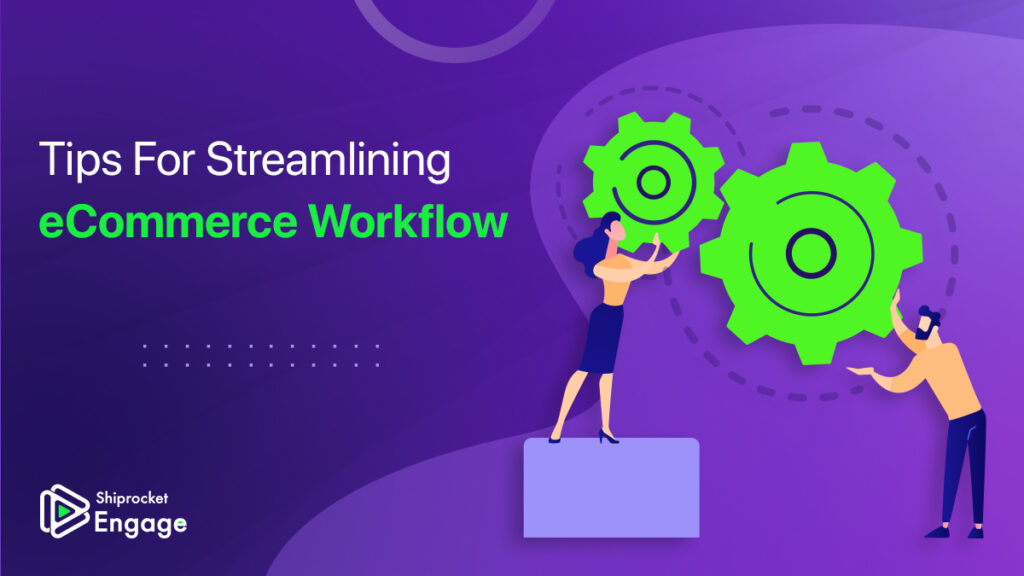 Every eCommerce business wants to streamline its operations and improve efficiency. There are various tools that online businesses can use to automate their processes and manage their eCommerce workflow efficiently.
eCommerce workflow management is an emerging need, and it is expected to grow rapidly in the coming years. In addition, eCommerce workflow management platforms can help businesses track their progress and identify bottlenecks in their operations. As a result, one can optimize its operations and improve its bottom line.
There are many benefits of implementing an eCommerce workflow management software in your business. It can help improve efficiency and productivity by automating repetitive tasks and optimizing your workflow. As a result, a business can see enhanced performance and competitiveness.
How To Streamline eCommerce Workflow?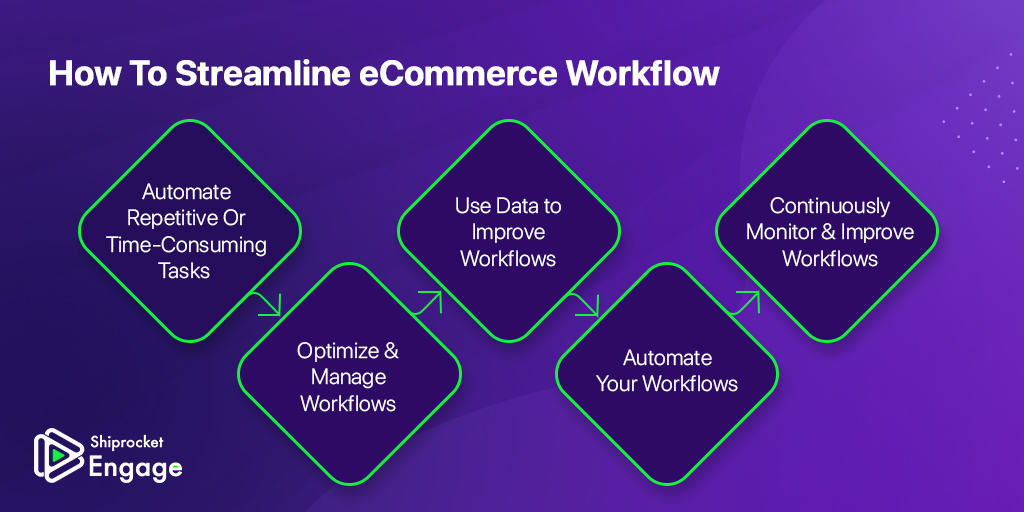 Here are five effective tips for streamlining your eCommerce workflow:
Automate Repetitive Or Time-Consuming Tasks
One of the main benefits of an eCommerce workflow management tool is that it can help automate repetitive or time-consuming tasks. This can help free up your employees' time to focus on more strategic tasks. Various workflow automation tools are available, so it is essential to choose the right one for your business's needs.
Optimize & Manage eCommerce Workflow
A good eCommerce workflow management platform can help you optimise and manage your workflows more efficiently. By streamlining your workflows, you can improve your business's overall productivity.
Use Data To Improve Workflow
Data is termed a powerful tool for improving your workflows. You can identify bottlenecks and inefficiencies in your workflows by collecting and analysing data. The information can then be used to make changes that will improve the efficiency of your eCommerce workflows.
Automate The eCommerce Workflow
Automation can help improve your business's efficiency. By automating repetitive tasks, your employees have free time to focus on more strategic and essential business tasks.
Continuously Monitor & Improve Workflows
Workflows should be continuously monitored and improved. By regularly reviewing your eCommerce workflows, you can identify areas that require improvement. Accordingly, you can make changes that will enhance the efficiency of your workflows.
How To Get Started With eCommerce Workflow Optimization?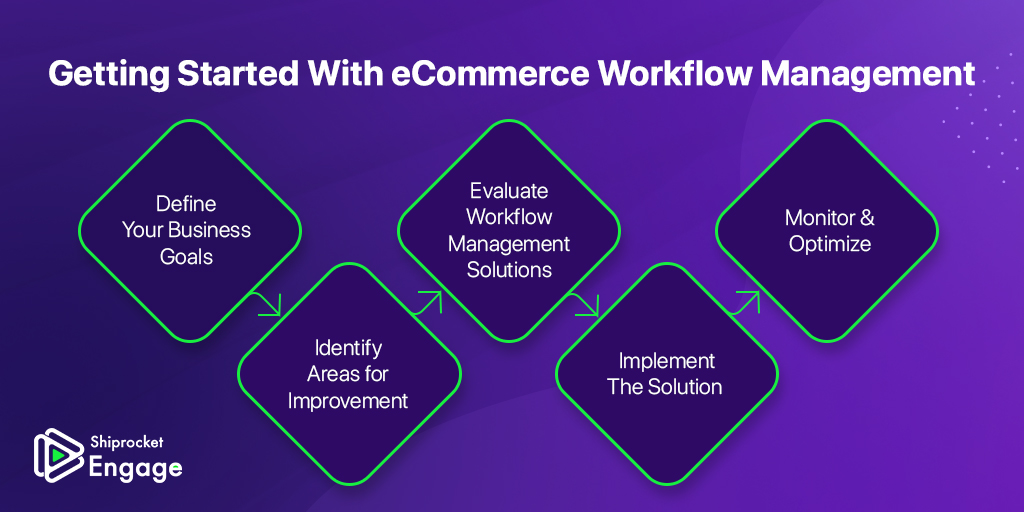 Want to get started with the optimization of eCommerce workflow in your business? Here are some steps which can surely help you:
Define Your Business Goals
The first step to getting started with optimising your workflow is to define your business goals. What are you trying to achieve with your workflows? Once you know the plans, you can identify areas where an eCommerce workflow management software can help you achieve those goals.
Identify Areas For Improvement
Once you know your business goals, you can identify the business areas where you need improvement. Do you have repetitive or time-consuming tasks that could be automated? Are there bottlenecks in your workflows that are causing delays? By identifying areas for improvement, you can start developing a plan for using an eCommerce workflow management tool to improve your workflows.
Evaluate eCommerce Workflow Management Solutions
There are several eCommerce workflow management platforms in the market. So it's essential to evaluate your options to find the right solution for your business. Consider your business goals and requirements, and zero in on several opportunities. Then compare different solutions to see which will help you achieve those goals.
Implementing An eCommerce Workflow Management Software
Once you've selected an eCommerce workflow management tool, it's time to implement it in your business. Work with your team to ensure that everyone understands how to use the new system and take advantage of its features. Notably, you will be able to take full advantage if your team can use the platform to its best capabilities.
Monitor & Optimize
After you've implemented an eCommerce workflow management software, keep an eye on your workflows to see how they perform. If you find that specific workflows are still inefficient, consider ways to optimize them further. Regular monitoring and optimization will help you get the most out of your investment.
These steps can be customised as per your business needs. However, you can consider them as the basic steps to be followed while you get started with optimising your eCommerce workflow.
Using the right eCommerce workflow management platform, online businesses of all sizes streamline their workflows and improve efficiency.

Considerations While Choosing eCommerce Workflow Management Solutions
eCommerce workflow management is a relatively new term that encompasses a variety of tools and software solutions designed to automate and streamline various business processes. As businesses strive to become more efficient and agile, such platforms have become increasingly popular. When choosing an eCommerce workflow management solution, there are a few key things to consider.
It is essential to choose a solution compatible with your existing systems and infrastructure.
You should consider the specific needs of your business and choose a solution that is customisable and scalable.
Select a reputable provider who can offer support and guidance as you implement and use the solution.
Always keep these factors in mind to choose the best solution for your business.
Wrapping Up
To sum it up, managing your eCommerce workflow properly can help you optimize the processes through which tasks are completed in your business, to improve efficiency and productivity. In many cases, eCommerce workflow management solutions are used to automate repetitive or time-consuming tasks so that your employees can focus on more strategic tasks.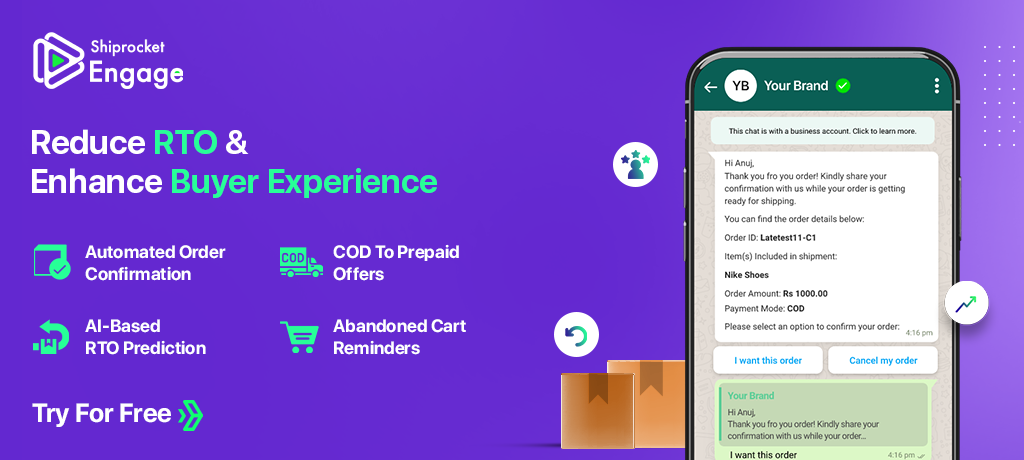 Calculate Your Shipping Costs Now