Warehouse Management
Supply Chain Management Process in eCommerce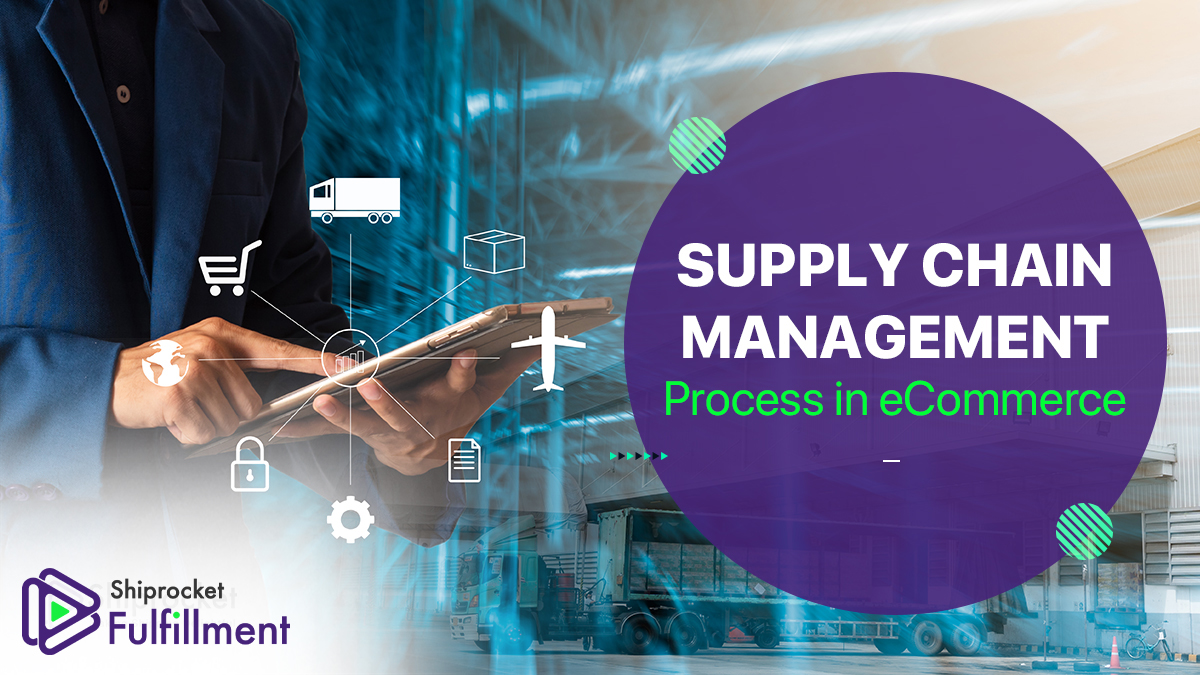 The world of eCommerce is accelerating like no other industry. Regardless of the industry, eCommerce is presenting an opportunity for all sellers to harness the best of digital platforms. This is helping all kinds of markets such as the business to business(B2B) and business to the customer(B2C) to maximize their reach to customers.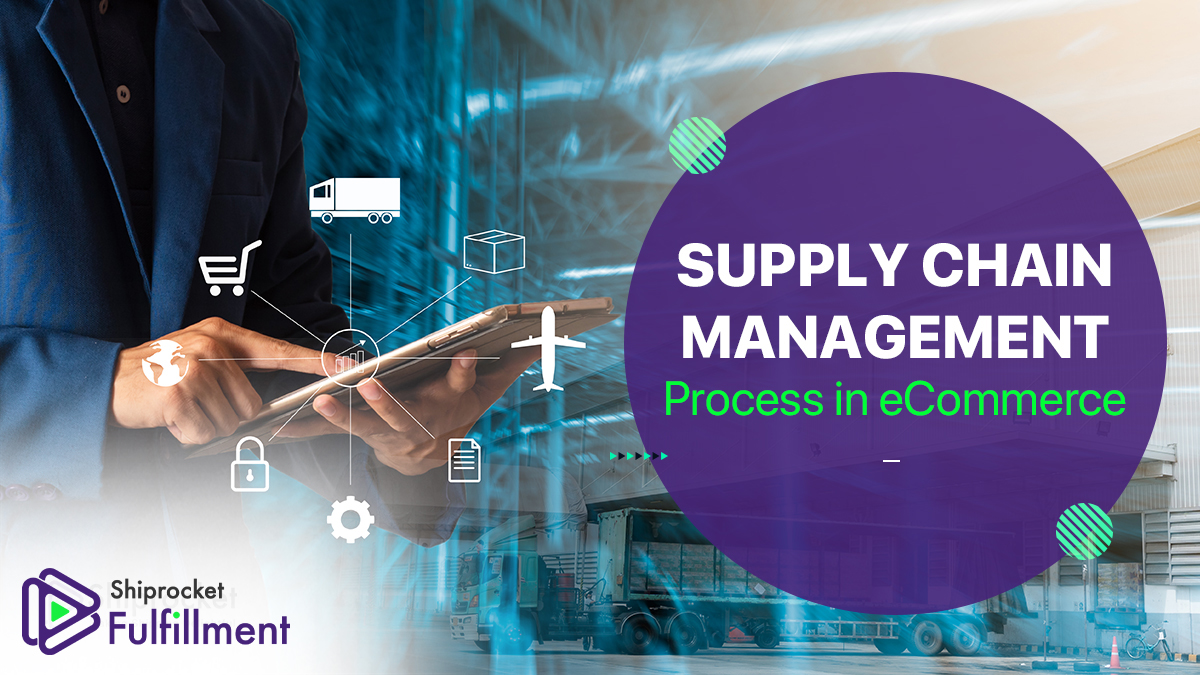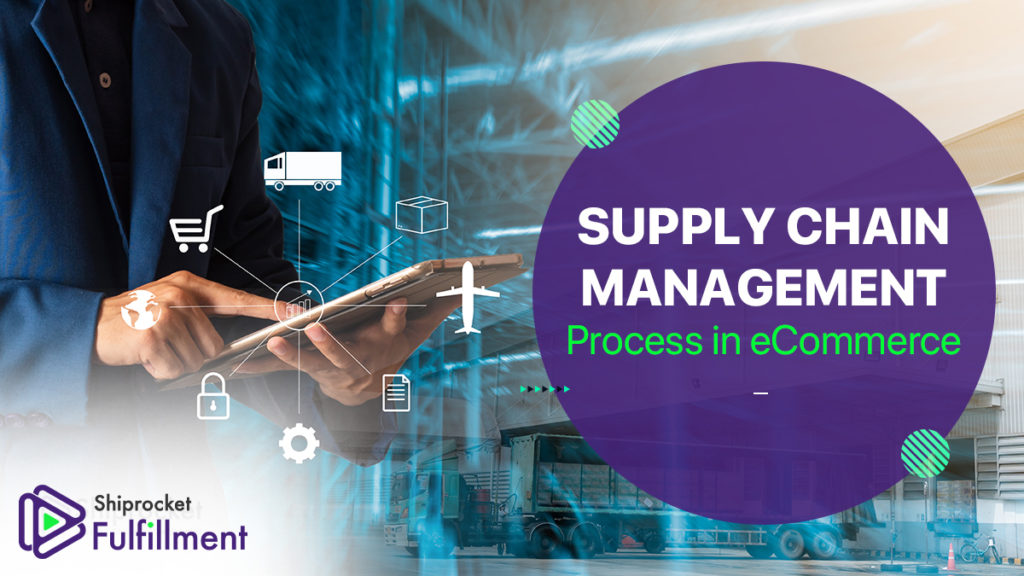 It is also helping them get out of the bubble and scale their existing business without the barriers of heavy investment.
To get started with selling, all one needs is a website and a plan for their order fulfillment. With the newest business models, eCommerce store owners don't even need to have an inventory with themselves. Through direct sourcing from the wholesaler, there couldn't have been an easier way to secure profits and expand the customer reach.
But, as enticing as eCommerce sounds, there are several perils associated with it. Those who manage to establish a credible name in the eyes of the customer are the ones who pay attention to an important factor of business. Undoubtedly it is supply chain management.
Supply chain management can make or break your business. One mistake in it and you can end up losing your customers and degrading your well-established position in the market. However, as daunting as it might sound, supply chain management can be hassle-free only if you have the right plan in place.
The process of supply chain management is fundamental for the existence of any business and helps in ensuring a smooth passage of goods from the supplier to the customer. However, if you don't know where to get started with managing your supply chain to ace order fulfillment, we're here for you. Read on to find out more about the supply chain management process in eCommerce.
What is Supply Chain Management?
Right from the production of goods to selling and their distribution, supply chain includes all activities that span through these major business factors. There are many reasons why sellers pay attention to their supply chain, and some of these include-
Streamlining costs
Faster and efficient product deliveries
Cost reductions in various tasks
Minimizing efficiencies
Better customer experience and moe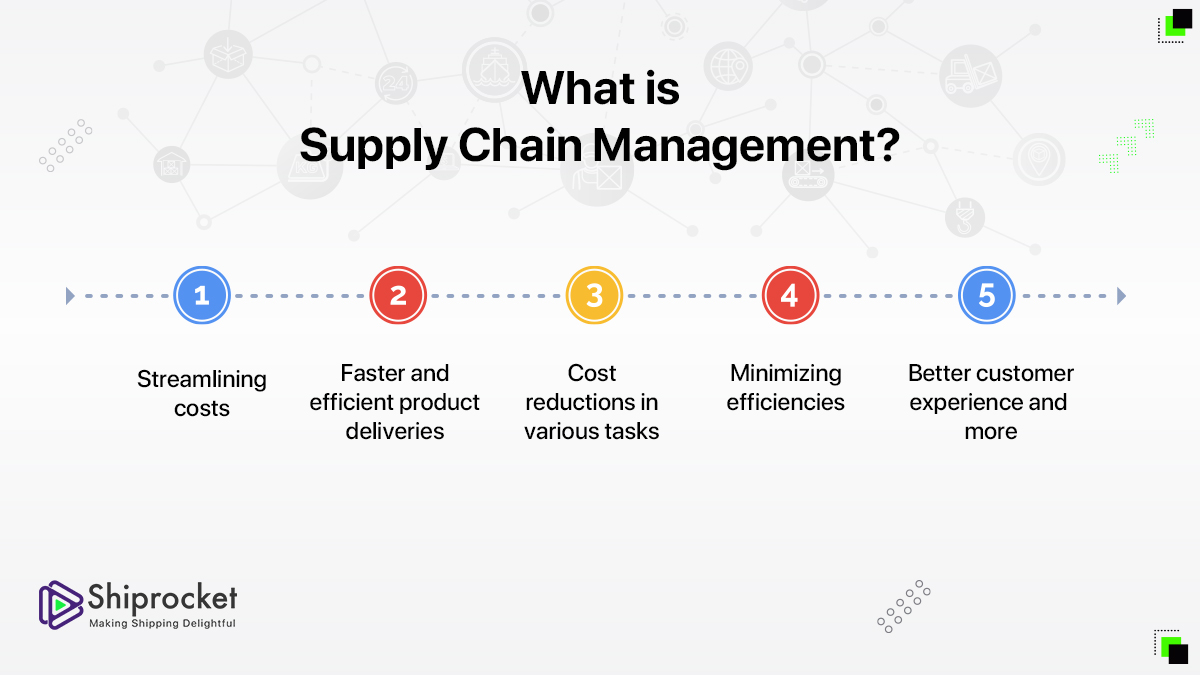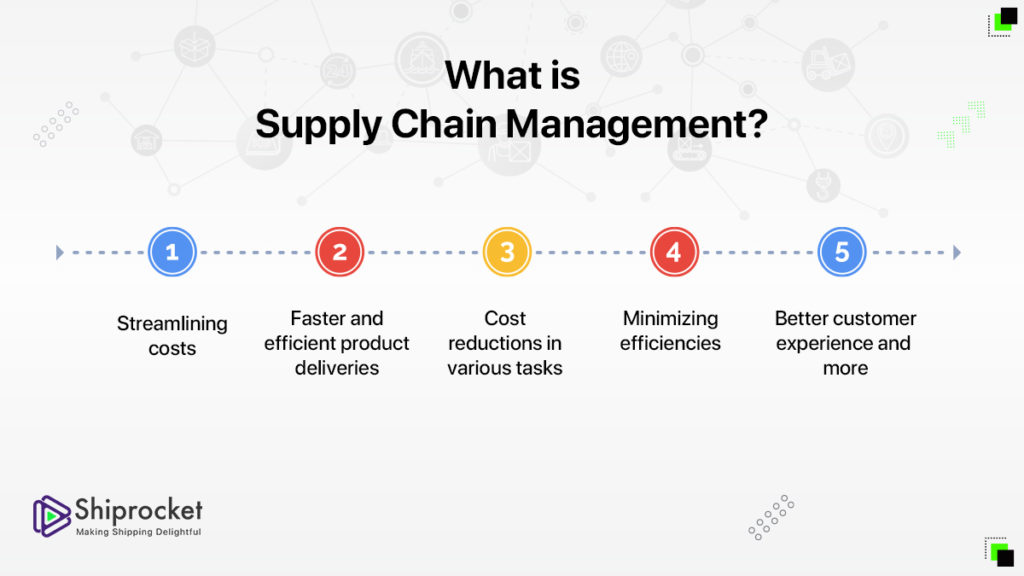 Supply chain management can be the key to staying competitive in the marketplace. And this is because every other business tries to make their supply chain better because of its direct link to customer satisfaction.
For example, in today's world, customers don't just want faster deliveries, but also want their products to be delivered as quickly as within two hours of placing an order. More to this, they want a seamless tracking experience with a wide variety of product choices under one store.
To cater to these demands of your customers and save costs in the process, you must focus on your supply chain. A proper strategy ensures that you have adequate levels of inventory to process an order and that you can deliver it at your customer's doorstep in the least amount of time.
5 Steps to Seamless Supply Chain Management Process in eCommerce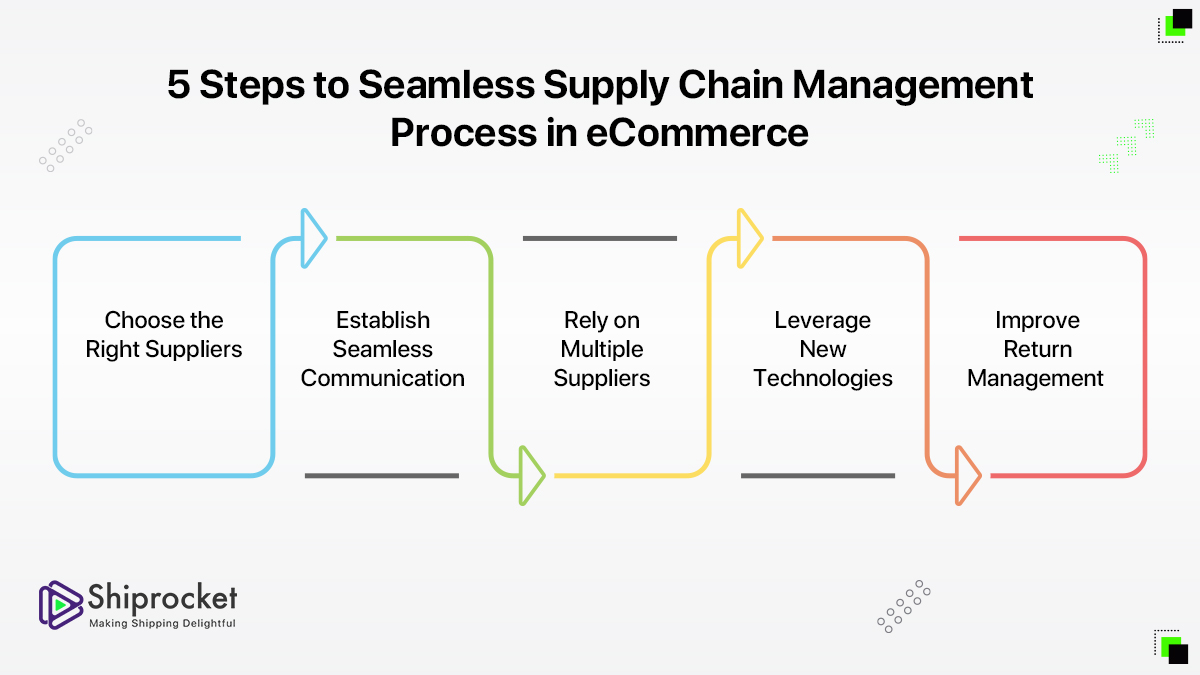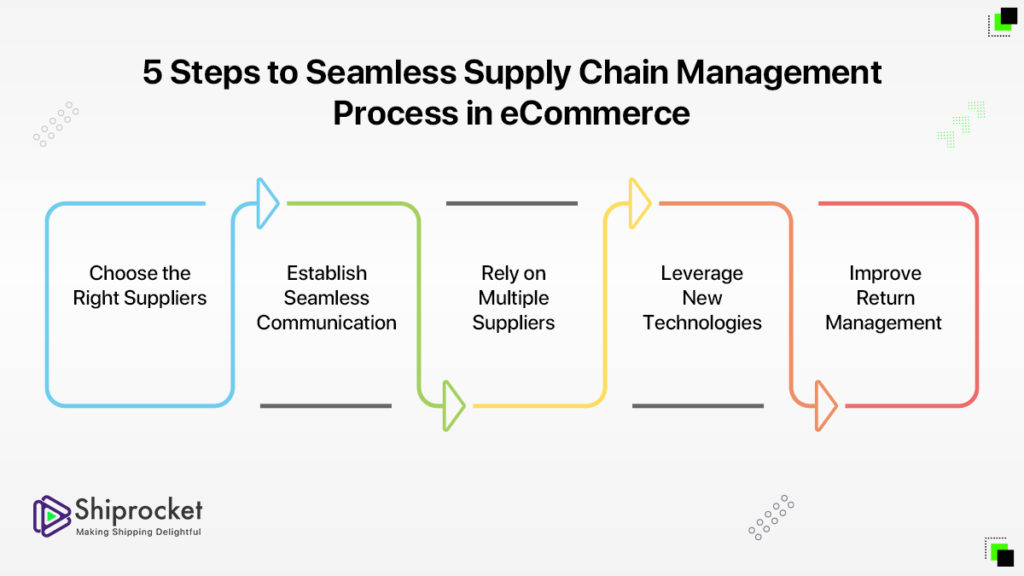 Choose the Right Suppliers
The foundation of a trustworthy customer relationship starters from your product. if your product isn't what your product description or image talks about, your customer is bound to get disappointed. To avoid such an issue, start by choosing the right suppliers. While cost is an important factor, it isn't the only factor to rely on. A supplier might give you products at unbelievable low costs, but might not regularly supply with new products. Such situations hamper the customer experience since customers might find products often listed as out of stock on your website. Choosing the right supplier, on the other hand, includes several parameters such as understanding the quality of products, the frequency that the supplier is willing to replenish the stocks along with the price.
Establish Seamless Communication
At all levels of your supply chain ensure seamless communication. This means not surprising your suppliers with sudden demand or asking your warehouse team to pack orders in bulk. Instead, keep in touch with your teams and keep them updated about where you want to take your business. Open dialogue not only builds trust in your supply chain but also promotes loyalty.
Rely on Multiple Suppliers
While you might have found your dream supplier who is ready to provide you with the A to Z of products, it is best if you don't completely give away your business's responsibility to them. In other words, having one supplier means creating a dependency that might shake up your business if anything goes wrong. It is always a good idea to rely on multiple suppliers for each product. Doing this ensures that if anything goes wrong with one of your suppliers, you don't have to worry about its effect on your business. You can easily source the products from a different supplier and maintain the experience of your customer. This way you are always prepaid for the worst-case scenario.
Leverage New Technologies
Supply chain management includes a variety of sub-tasks. These are raw material procurement, production, delivery, and returns. You can't manage everything manually even with a lot of resources. As the important human intervention is for quality checks, it also creates a room for errors at the nuanced level. To prevent this and speed up the management process without investing too much, it is best that you leverage technology. Big data, data analytics, warehouse management system, customer management system along with inventory and logistics management can help you bring efficiency to your supply chain. Alternatively, you can also pick a logistics platform, where you can do all these activities under one roof.
To improve your supply chain management process, you can also outsource your warehousing, inventory management, and logistics operations to third-party logistics providers like Shiprocket Fulfilment. This can be beneficial in terms of saving time, reducing errors, and also delivering orders faster to your customers with lesser chances of RTO requests.

Improve Return Management
Returns in eCommerce are difficult, but they have to be taken care of smoothly. Your customers expect free returns. This helps them make a purchase decision and at the same time trust your business more than ever. Most successful brands out there offer free returns, which is why customers are drawn towards purchasing their products. Improving your return management also ensures that the customer's money is processed on time and you receive your product in good condition.
Try to prevent returns by monitoring the A to Z of your supply chain. For example, receiving a complaint once in a while might be an honest mistake, but if you are receiving returns regularly for a particular product, there must be something wrong in your supply chain.
You must have in place a solution that can help you process returns with the lowest TAT. Using solutions like Shiprocket can help you automate the returns process and help you stay updated about the latest information.
Final Thoughts
Paying attention to the detailed tasks of your supply chain can make or break your business. You must keep a close eye on the supply chain activities and use technology to your aid. With management platforms by your side, you can monitor your supply chain and introduce effective practices required to bring efficiency.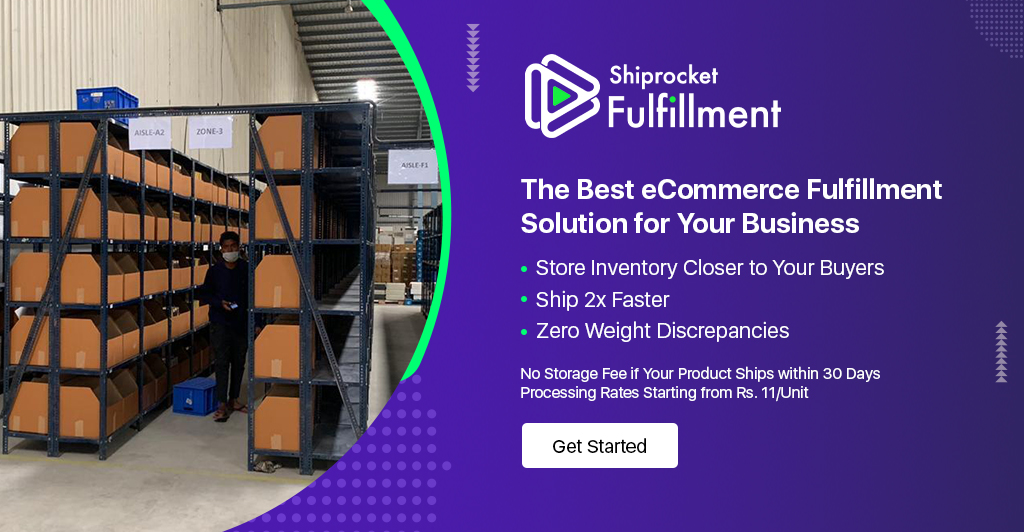 Calculate Your Shipping Costs Now