A Guide To eCommerce Supply Chain Management
Gone are the days when eCommerce just meant trading and shopping via the internet. The internet has enabled buyers and sellers to be much closer and connected. A large number of buyers and sellers have come together on dedicated market platforms like Amazon, eBay, etc.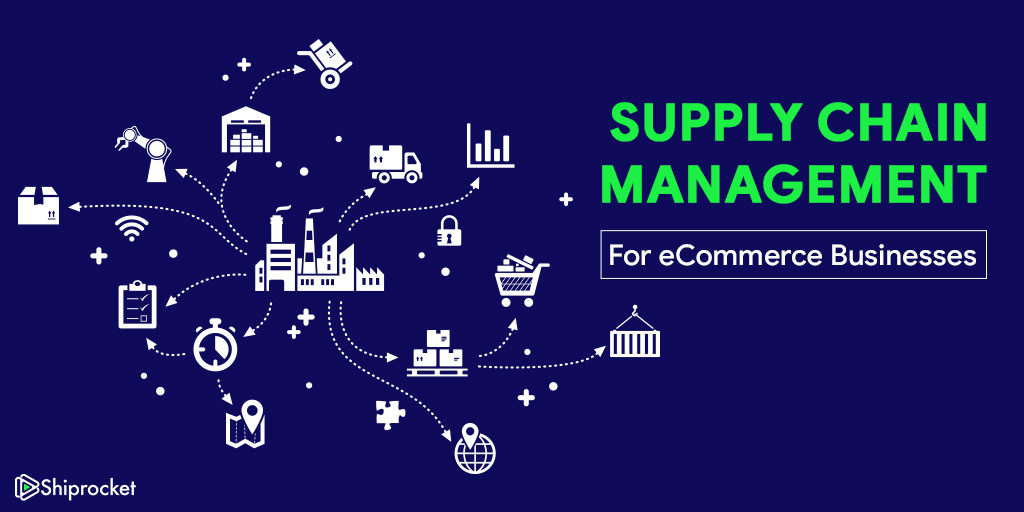 Today, anyone within a few clicks can buy almost everything from a manufacturer in India and have it delivered anywhere in the world. The growth of eCommerce has brought a lot of new opportunities and challenges to the traditional business models.
Business efficiency has become critical at all operational levels. Furthermore, the demands and expectations of the customers have evolved. Customers today want quick results.
According to a survey by Investp, 56% online consumers between the age of 18-34 years expect to have same-day delivery. And, 80% of the online shoppers expect same-day shipping. It is the movement of goods that needs to happen in a correct and timely manner. But, speed and efficiency cost money. And, at the same time, it's important that you strike a balance between being highly efficient and reducing costs, thereby the need for supply chain management arises.
What explains this phenomenal efficiency, speed, and cost reduction? Not surprisingly, Supply Chain Management.
What Is Supply Chain Management?
Supply Chain Management (SCM) is a range of activities needed to plan, coordinate, schedule and control the procurement, production, and deliveries of products to customers. SCM is the backbone of eCommerce and is a very crucial component in its growth. Supply Chain Efficiency ensures the right product reaches the right place at the right time. It ensures cost reduction and enhancement of cash utilization.
It is an expansive and complex undertaking which ensures that each partner i.e. from suppliers to manufacturers and beyond perform well. An effective supply chain management is a combination of change management, collaboration, and risk management which helps to create alignment and communication between all the entities.
Why Is Supply Chain Efficiency So Critical?
Supply Chain Management is undeniably the underpinning structure that governs a large portion of your business. SCM plays a vital role in your potential success. As a supply chain manager, your focus should always be on achieving the lowest costs and fastest production cycles. You need to manage all the activities related to purchasing of raw material, manufacturing, and distribution or a combination of all of them. You need to ensure the quality of the products that keep your customers coming back to you. Further, you need to check that your organization is producing enough to meet the demands of your customers. In short, you need to manage the entire journey of that product.
Key Takeaway: It is important that you form the right kind of partnership. Look for the reliable manufacturers and distributors- this is the key to sharpening your supply chain. Also, remember to value your flexibility. Remember it is crucial because your products are delivered to customers directly. The demands of customers are always paramount in the eCommerce world. Herein, supply chain management works as the ultimate cornerstone on which the fate of your business hangs!
Let's dig deeper to understand the advantages of supply chain management in eCommerce: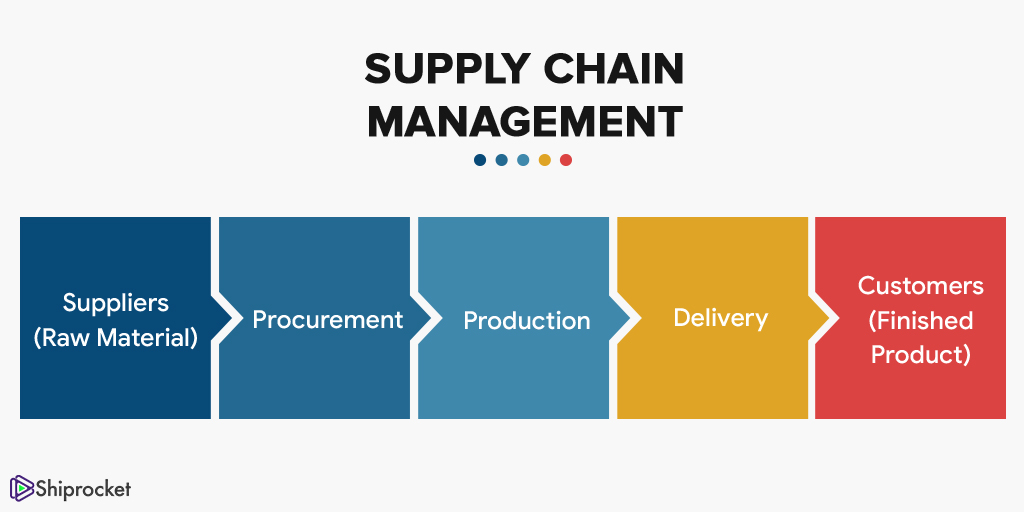 Advantages Of eCommerce Supply Chain Management:
The competitiveness among eCommerce businesses is rising day by day. Internet access has helped customers to easily access eCommerce sites and purchase. An effective and efficient eCommerce SCM provides connecting with customers and converting leads.
Transparency
SCM provides clear visibility across the entire network. It assists the users to invigilate the status of all the undergoing activities across supply, production, warehousing, and distribution. This ensures a more comprehensive tracking and management of all process from ordering to shipping of finished products.
Enhanced CRM
The merits of good CRM can't be overlooked! SCM ensures timely deliveries, which in turn keeps the customers happy. Also, it assists the business to keep an eye on the requirements of the customers. It makes sure that the business is attuned to changes in various demands of the products and services. With the help of an eCommerce integrated supply chain, businesses can get requirements and feedbacks about their products directly.
Minimized Delays
Delays in delivery can cause strained relationships and lost business. Late shipment from vendors, holdups during production, and logistic errors in distribution channels negatively affect a company's image amongst its customers. With an effective SCM, all activities can be coordinated and executed from top to bottom.
Cost Reduction
One of the principal reasons due to which the customers invest their time and money in eCommerce is reduced costs. Probably, there are a lot of areas where business invests more than required. Some of such areas could definitely be streamlined. It's worth taking a look at your supply chain to recognize areas where the costs could be cut down.
An eCommerce based SCM removes various stages of distribution, retailers, and more. This also means higher profits!
Adoption Of Omnichannel Practices
A well structured SCM facilitates omnichannel engagement which in turn, leads to further technological advancements leading to increasingly sophisticated customer engagement. And, this cycle continues.
Omnichannel and eCommerce are now selling and shipping paradigms with new touchpoints for customers. It's all about customer convenience and expectations. This ensures a very different dynamic that places power in the hands of the customers, resulting in greater CX.
Features Of An Effective Supply Chain Management
An effective SCM can be defined as the competence to boost on a portfolio of metrics. It should be a result of extensive research on how a supply chain behaves along with its chief concerns like diverse markets, risk management, dynamic customer demands, and technological advancements. A best in class will focus on the following:
Clarifying The strategy
Whether you want to achieve on-time accuracy or self-service customer tracking, traceability is something that every SCM strives for. An effective supply chain helps in clarifying the strategy which in turn goes hand in hand with reducing risks too. A clarified strategy is essential to minimize the impacts of product recalls.
Big Data
Proactive use of big data can help in identifying inefficiencies, creating solutions, and implementation. Furthermore, the use of such data can be effectively applied to the creation of verifiable forecasts for needs in inventory.
Customization
Customization refers to how supply chain processes can be implemented to provide customers with what they want. For instance, an order of newly launched laptops may need to be fulfilled within a day.
Furthermore, as the business grows supply chain will lead to a more diverse group of products. Thereby, an effective SCM should be able to adapt and create customized services to meet the growing demands.
Flexibility
As the global economy has become more interconnected, with the newer markets coming up, the number of corporate players have increased. So, how to capture more leads? This is where flexibility comes into action. Flexibility ensures that SCM adapts to the changes within the market, political spheres, and other important circumstances, which would otherwise affect the business.
The Bottom Line
Challenges and emerging markets are not new to eCommerce businesses. There are unique ways of doing and operating businesses. Old is out! Change is the only constant and hence no more an option.
What's more? An integrated and well-defined SCM needs to be in place to answer all the challenging situations. If such concepts are well integrated into product designs and development early on, you'll gain an edge over your competitors through the entire lifecycle of your product.
What does order fulfillment mean in supply chain management?
Order fulfillment is the process of taking an order and delivering the product to the customer's doorstep.
What are the major differences between supply chain and logistics?
Logistics is a term that most people are familiar with in the sense of the internal movement of a product. Supply chain management encompasses the entire process from sourcing to delivery; it includes logistics.
How can I automate eCommerce supply chain management?
A streamlined workflow will allow you to check where your orders are at and provide updates on the delivery of goods. You can use scanners in your warehouses or in transit to cut down on time spent identifying goods. Alternatively, automated ordering software will ensure that your order is handled quickly.
Calculate Your Shipping Costs Now