6 Reasons Why Warehousing is Critical for Supply Chain Management
According to a report by CBRE, eCommerce accounted for approximately 23% of overall warehousing space take-up in 2018 and its share is expected to grow to 31% by the end of 2021. This shows that warehousing plays a pivotal role in the entire eCommerce supply chain management process and its contribution is only expected to increase in the coming years.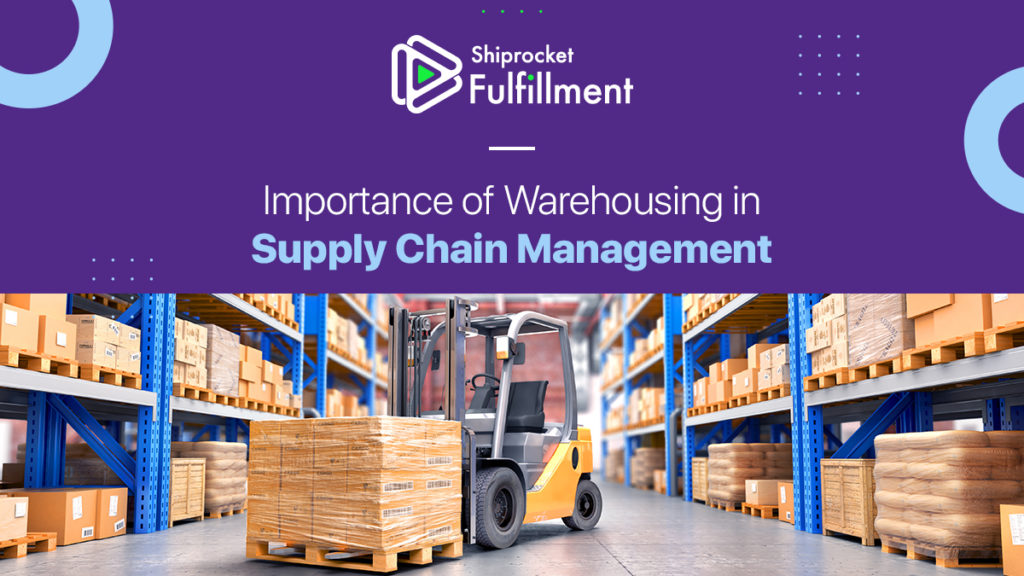 For sellers who are just starting out with their eCommerce business, warehousing may seem like an additional investment that does not bring them any valuable returns. However, warehousing contributes to your business and the entire supply chain in more ways than one.
Understanding Warehousing
Warehousing refers to the process of storing and organizing products in a large space and distributing them later when a requirement is raised.
A warehouse can be a different entity for different kinds of businesses. For example, for a home entrepreneur, their warehouse could be a bedroom from which day they take out products when they get a new model. Similarly, for SME or manufacturing businesses, a warehouse might be a 16000 sq. ft. facility where goods are stored.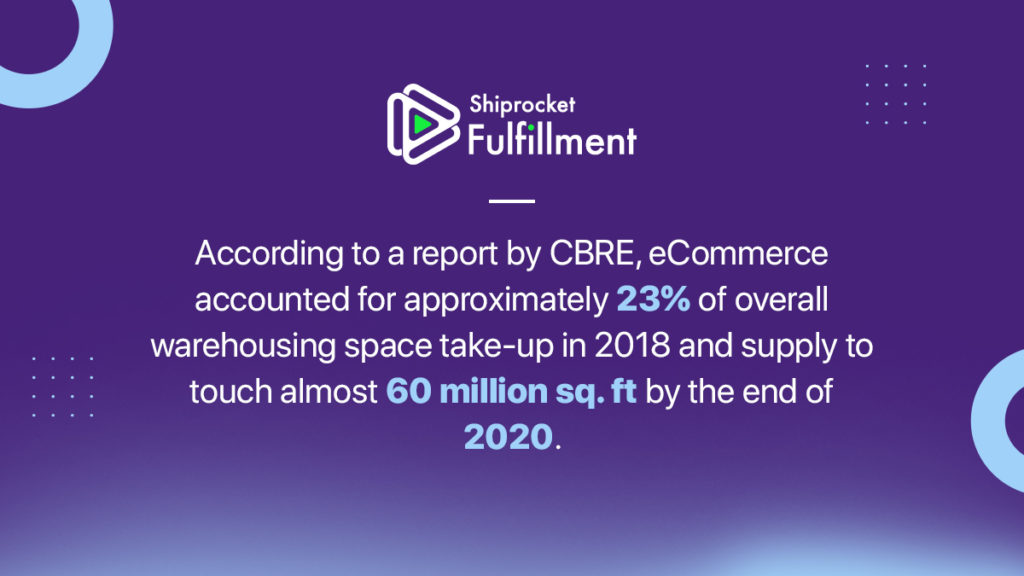 A warehouse contains several components like racks and bins set of a storage capacity, a climate control system for products that require temperature management, warehouse management software, and inventory control software to keep a synchronized check between the two, picking equipment to transport goods from one place to another, etc.
Ideally, a distribution center is different from a warehouse as a distribution center also incorporates components of picking, packing, and shipping along with storage. But today, almost all warehouses are designed to be equipped with the functionalities of a distribution center.
Therefore, due to these merging purposes, warehousing has played a major role in the supply management process.
The eCommerce supply management process includes planning, information gathering, product sourcing, inventory management, transportation & shipping, and return of goods.
A warehouse can help you tackle most of these processes seamlessly and optimize your business to incorporate maximum returns.

Why is Warehousing Important in the Supply Chain Process?
Warehousing forms an integral part of the supply chain process. Even though this is not a customer-facing operation and your buyers might never know about this aspect of your business, without it, their shopping experience will be hampered.
eCommerce sales are surging at an unprecedented rate. With the ongoing pandemic, people have now turned to online shopping for even the most basic needs.
This implies that your process needs to be optimized to an extent that you can avoid all errors, speed up the delivery process, maintain the regular inflow of inventory, and reduce returns at the same time. With the growing competition, it will be very difficult if you cannot provide a superlative service to your customer. A completely functional & properly organized warehouse with optimum resources can help you achieve this. Here is how –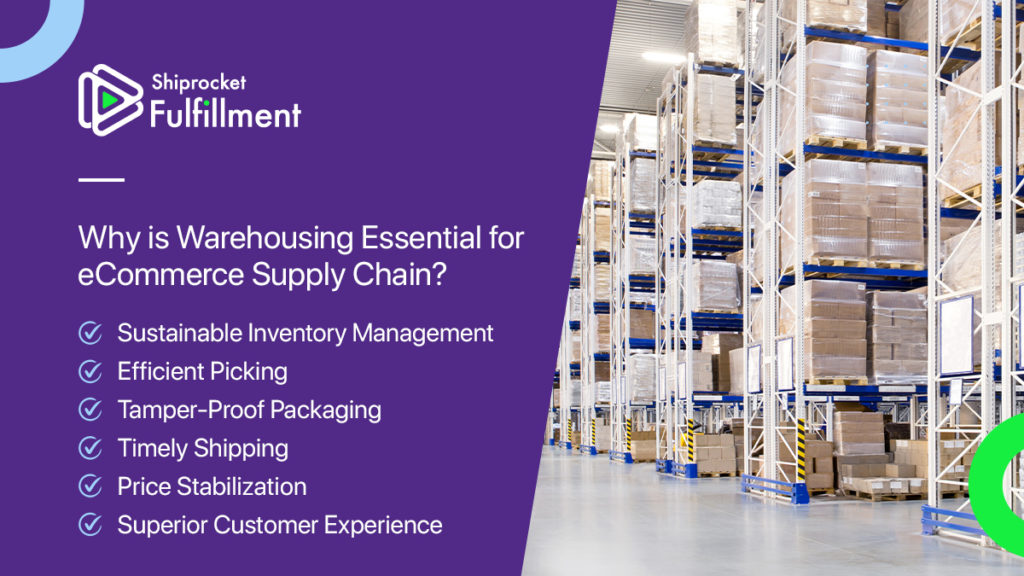 Sustainable Inventory Management
A thoroughly managed warehouse can provide you with a centralized tracking system for your inventory. You can store, ship, and distribute products much more efficiently and process all incoming orders faster.
According to a report, about 34% of businesses have shipped an order late because they sold products that were not in stock. Errors like these can send back your entire process in many folds. Not only this, it can also lead to a negative customer experience due to delayed deliveries. Proper inventory management clubbed with an advanced storage plan can give your business the edge it requires to deliver hassle-free! Therefore, with this system in place, you can always check your inventory, restock when you fall short of supplies, and always stay updated about which SKUs you have in the warehouse.
You can use specialized inventory management software to carry out this process better. But if you have all products stocked up in one place, you can easily track them without any trouble.
Efficient Picking
Picking is an activity that requires the utmost precision. If not done correctly, you can send across an incorrect package to your customer that can cause a lot of harm to your brand. Also, if you deal with fragile items, improper packing can damage the products leading to greater loss.
Therefore, you must always have products stocked in order. So you can easily locate them and pick them up from their stipulated position. For instance, if you sell electronic items with similar specifications like mobile phones, you can easily confuse an Apple iPhone SE 2020 with an Apple iPhone 8. This will leave a very negative remark on your service.
A warehouse that properly places racks and bins with automated software to locate products can be extremely useful to avoid such blunders.

Tamper-Proof Packaging
Next, tamper-proof packaging is absolutely essential if you want your supply chain to progress without damage on the road. Usually, companies that do not have warehouses have trouble storing enough packaging material for their products.
With a dedicated warehouse, you can specify regions for storing your packaging material according to your SKUs and never pack a product incorrectly.
Packaging forms a major part of your branding. It is the first impression of your brand to the buyer. Therefore it must always be tamper-proof so that the product reaches the customer safely without any damage.
Also, shipping companies charge you based on the volumetric weight. This involves the dimensions of the package. With the warehouse in place and stocked with packaging material, you can choose the most suitable packaging material for every SKU and reduce shipping costs and weight discrepancies. With an improper process in place, everything can go haywire.
Timely Shipping
A warehouse gives you the ability to streamline your shipping from one location. Once your products are stocked, picked, and packaged in one space, there is less room for confusion, and you can quickly reduce the TAT for your first mile operations.
Also, your warehouse location plays a significant role in the timely delivery of orders. If your warehouse is located close to your buyer's delivery location, you can deliver your product in very little time, reduce your shipping costs, and also avoid return orders due to late deliveries.
Thus, you can conveniently optimize the first and last-mile operations with an effective warehouse.
Price Stabilization
Warehouse helps you maintain consistent stock levels and maximize profits by storing your products for longer. Depending on the season and location, you can purchase products in bulk and sell them all along. For example, if you are an apparel seller, you can store winter clothing in your warehouse and sell it again next season instead of putting it on sale and bearing losses.
Often, government policies change, and you have opportunities to reprice your products. This can help you gain more profit as you will not have to repurchase inventory repeatedly.
Superior Customer Experience
Once your order is delivered to the customer on time, with tamper-proof packaging, and without additional costs, it will make your customer very happy. Thus, you can achieve maximum customer satisfaction by optimizing your operations if you have a warehouse.
Almost every seller online wants to know an expected delivery date for their order. A random fulfillment process cannot give you that. You need to have a carefully drafted supply chain to determine the end date for delivery depending on the time each operation takes. Therefore, if you have a warehouse that stocks everything and makes the process uniform, you can provide your buyer with a specific delivery date.
You can improve productivity, reduce errors, and optimize your fulfillment process with timely delivery and distribution.
How to Get Started With a Warehouse?
The next big question about warehouses is about how to get started? For any new seller, a warehouse can sound like an extremely intimidating fulfillment term that requires great expertise.
For starters, if your business is very small and you only have to say 5 to 10 orders a month, you can start shipping with a self-storage setup. Make sure you have the right storage techniques, follow a set inventory management pattern like first-in-first-out or just-in-time inventory. This will help you do things yourself to achieve your target immediately. But, this model is not sustainable when your business starts getting bigger.
Once you begin shipping more than 50 orders a month, it is time to look for a slightly larger solution. This means that you can either rent out the space to store your products or you can tie up with the third-party inventory and warehouse management provider. We would recommend going ahead with the third party for the following reasons –
No additional investment
Trained resources
Large warehouse space
Competitive rates
All operations like storage, inventory management, packing, and logistics are taken care of.
Look for a partner that is closer to your customer's location so that you can reduce shipping time, decrease weight diction discrepancies, and return.
To make it easier, you can go with Shiprocket Fulfillment that gives you expertise in packaging material, warehouse management, inventory management, and logistics. You can store your products in our warehouse and we will take care of the rest. We also offer free 30-day storage of items if they ship within 30 days and the rates start at only Rs. 11/unit!
Final Thoughts
Warehousing is the backbone of your supply chain management process. It is the space where all the major fulfillment operations take place. Therefore, you must be careful in choosing it and run all operations carefully from end to end. We are confident that with the right provider and streamlined supply chain, any eCommerce business can achieve success!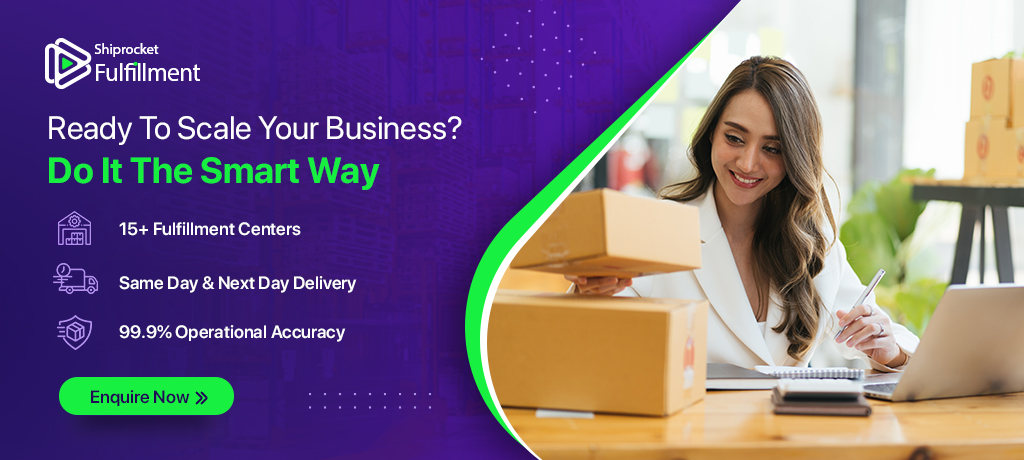 How are warehouse rates decided?
Warehouse prices are decided by the product type, how quickly it will be moving in and out of the warehouse, and any specific handling and shipping requirements required of an individual product.
What is a 3PL warehouse?
A 3PL warehouse also provides services like distribution, packaging, and return management alongside storage and inventory management.
What system or software is used to track inventory?
Warehouse management and inventory management systems track and record inventory in and across multiple warehouses.
Calculate Your Shipping Costs Now