The Ultimate Guide to 3PL for eCommerce
When you run an eCommerce business, there are several operations that you have to take care of. In order to maintain an error-free supply chain and deliver orders on time, it is essential that you accurately define the activities of every step in the order fulfillment chain.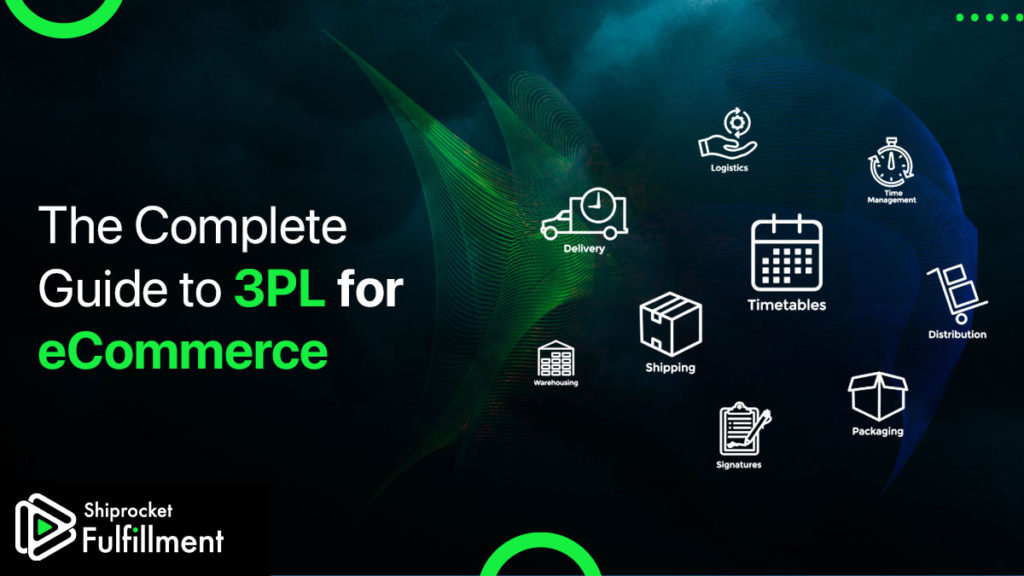 According to a recent report, 3PL is emerging as a critical driver of growth for eCommerce players. This means that more and more eCommerce players are opting for 3PL services for their businesses to step up and grow their business with expert resources.
3PL logistics are the future of fulfillment, and it's high time you hop onto this bandwagon too! With this article, let's look at 3PL warehousing, inventory, and logistics management to see how your business can benefit from it and why you must invest in it for enhanced growth.
What is a 3PL Provider?
3PL refers to third-party logistics. It is a provider that handles all aspects of your logistics supply chain to enable a seamless delivery and processing operation. Since these providers are not from your business and are a separate entity of fulfillment providers, they are known as 3PL or third-party Logistics Providers.
A 3PL provider uses its warehousing, inventory management, and logistics assets to fulfill the client's orders. A 3PL is a great option for eCommerce sellers who wish to entirely focus on getting more customers and offering them the best customer experience.
What are the Services Offered by 3PL Providers?
A third-party logistics provider takes care of almost all functions after order placement. These include transportation, storage, picking, packing, and delivery.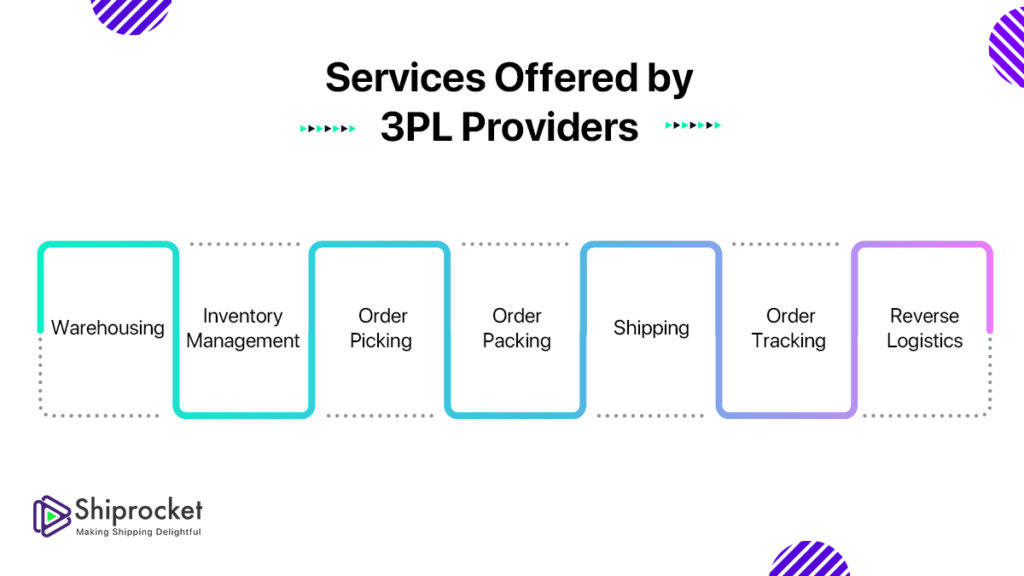 Let's have a detailed look at what these services include:
Warehousing
Warehousing refers to the storage of inventory in designated storage space. 3PL companies offer you the storage space where you can store all or parts of your inventory list. This is extremely efficient as you do not have to invest additional for expansion and reduce storage costs. The 3PL service providers like Shiprocket Fulfillment offer tech-enabled eCommerce fulfillment centers that are operated by experts. Thus, you do not just get access to warehousing services, but expert advice as well.
Inventory Management
Inventory management is the process of handling the stored product inventory efficiently. Usually, 3PL companies use inventory management software that helps to effectively track inventory and keep track of the same with an integrated centralized system. This is useful to forecast sales and avoid situations of product unavailability. With efficient inventory management, you can always meet your customer's requirements.
Order Picking
A 3PL company has adequate resources trained to pick out orders from the warehouse upon receiving a new order. 3PL companies follow strategic SOPs to reduce time and maximize operations with expert staff. Picking the correct order is crucial as incorrect picked and shipped products can harm your business's reputation in the market. The 3PL service providers have trained and expert staff to handle this task well.
Order Packing
Next, 3PL companies take care of the packaging of products scheduled to be shipped and delivered. The packaging material used by 3PL companies is industry standard, and the resources hired to conduct these operations are appropriately trained or have good experience in the field. They have dedicated resources for carrying out critical processes like packaging to ensure the least errors. Apart from packaging, the orders are appropriately labeled as well.

Shipping
3PL logistics and fulfillment companies take care of the shipping of products from the warehouse up to the customer's delivery location. This includes transporting goods to the courier hub or arranging pickups for the same. Logistics and delivery supply chain are also handled efficiently as mistakes are avoided & several quality checks are performed with advanced technology.
Order Tracking
You also get proper detailed tracking details for your orders, and the same is sent to your buyer for complete information & order tracking. Customers can track the information about their order through the information provided by the shipping company. This keeps you and the customers updated and all possible confusion or miscommunication is avoided.
Reverse Logistics
Lastly, eCommerce 3PL providers also take care of the reverse logistics that include handling undelivered and return orders from the customer's residence, back to the warehouse.
How is a 3PL Provider Beneficial for Your Business?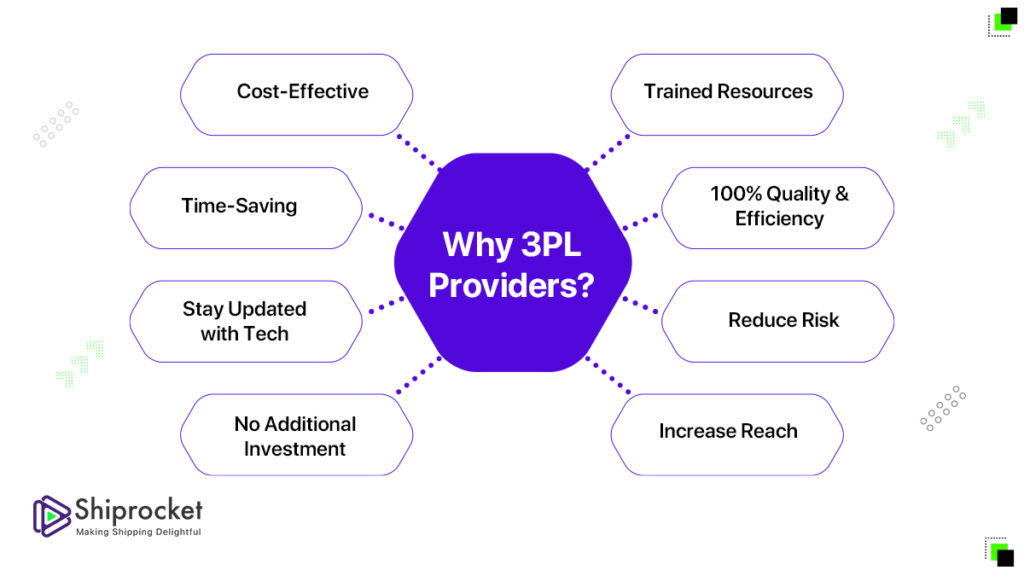 Cost-Effective
Partnering with 3PL companies can be extremely cost-effective for your business as they take care of all the significant operations like packaging, warehousing, inventory management, and shipping. This helps you eliminate the costs for new things, and you can lower your in-house expenses.
Time-Saving
Next, 3PL providers can help you save a lot of time and you can focus on other aspects of your business that include production, business management, marketing, sales, etc. By outsourcing operations like storage & inventory management, you can dedicate more time & resources to other facets of the business to grow.
Stay Updated with Tech
3PL companies typically have the latest inventory management, and warehouse management software for operation. Therefore, you can avoid investing in massive technology and simply outsource work to stay updated with the technology and fulfill orders seamlessly. Thus, you get access to the latest technology at cost-efficient rates.
No Additional Investment
Once you hire a 3PL company for taking care of all your fulfillment-related operations, you can let go of the need to additionally invest in warehouse space, inventory management, and export resources for carrying out these operations.
Trained Resources
All 3PL companies have dedicated and trained resources for every process. They follow strict SOPs so that you can avoid any errors when fulfilling your orders. These resources are adequately trained and skilled to master each process.

100% Quality & Efficiency
Since a 3PL company only takes care of particular operations, quality and efficiency are much higher. For example, if it takes you 20 minutes to pack a product, it might take them 5 to 10 minutes. This is where the difference in qualitative work comes out.
Reduce Risk
Since you would not be handling everything in-house, you reduce the risk of incorrect deliveries with trained resources, higher quality work, and efficient deliveries. You can fulfill orders much faster and efficiently with lower risk at stake.
Increase Reach
3PL companies give you a chance to widen your reach and sell to a broader target audience. 3PL companies have several warehouses in different locations; you can store your product at different places, closer to your buyer's location.
When Should You Partner With a 3PL Company?
There is no exact time or phase in your business when you should begin partnering with a 3PL company. But, many sellers don't know the right time to make a move. Here we have compiled a few scenarios to think of partnering with a 3PL company to enhance your fulfillment and logistics.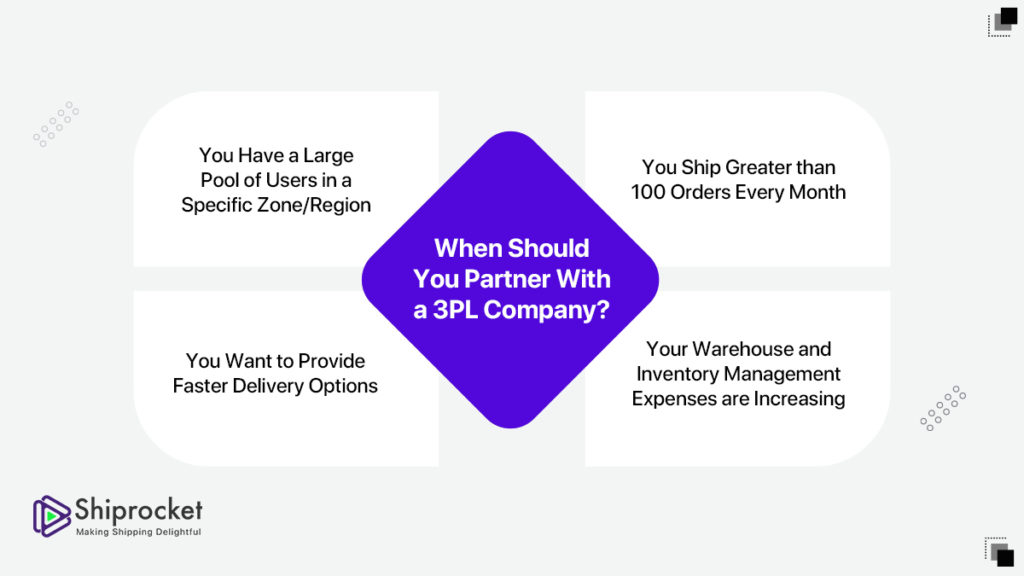 You Have a Large Pool of Users in a Specific Zone/Region
In this case, it makes sense to tie up with a 3PL company, as they will be able to give you a greater reach and help you reduce shipping costs for your business. Rather than having to do everything in-house and facing the brunt of returns, you can optimize your work and work with a 3PL company. You can keep your products in the specific zone/region and offer same-day or next-day delivery to your customers.
You Ship Greater than 100 Orders Every Month
When you practice self-storage or have your warehouse, the idea is to grow your business and get in as many orders as possible. But when you consistently start shipping a hundred or more orders every month, it can get cumbersome to provide the same quality level that you date with ten orders. On top of that, there is a requirement for expedited delivery. Therefore, tying up with a 3PL company is a viable solution in such cases.
You Want to Provide Faster Delivery Options
If you feel you are losing out on customers because you're not able to offer them with a fast delivery option like same-day or next-day delivery, it might be time that you partner with a 3PL company that has warehouses in the region where most of your buyers stay!
Your Warehouse and Inventory Management Expenses are Increasing
When you start receiving in more orders, it goes without saying that you will also need to stock adequate inventory. Thus, you will need to invest in additional storage space. If you feel you are spending much more than you are getting in return with your profits, you can start hunting for 3PL companies to give you a reasonable rate and do the tasks efficiently.
How to Get Started with a 3PL Provider
To get started with a 3PL provider, it is vital that you do a thorough background check and read about them in-depth. They must have an impeccable track record with logistics, and they should offer you competitive rates.
Here are a few questions that you must ask your 3PL provider before getting started with them.
What is the storage space offered
What fulfillment services do they offer
Which software do they use for inventory & warehouse management
Do they incorporate automation into their process?
How many warehouses do they have across the country
Is there an integrated system so that both parties can stay updated?
Do they offer expedited deliveries?
What is the TAT for deliveries within zone & intra-city
How many couriers do they ship with
What is their reach
These are a few questions that you must ask your 3PL providers to gain more perspective and clarity. Of course, depending on your business and its requirement, the questions will be more. For example, if you run a cosmetic store, you must ask if the 3PL company offers temperature-controlled storage as it will be necessary for your products.
The above questions can give you a starter push to get started with companies offering a 3PL service.
Read more about the questions you must ask your fulfillment provider before signing up with them!
Shiprocket Fulfillment – the Ideal 3PL Partner for Your Online Business
If you want to get started with a reliable 3PL solution for warehousing, inventory management, and logistics, Shiprocket Fulfillment is the one for you!
Shiprocket fulfillment offers you expertise in inventory management, warehousing, and logistics operations.
They can help you increase your delivery speed by up to 40% as they store products nearest to your customer's fulfillment center. Their packaging operations are error-free, and you can reduce packaging mishaps.
They offer you a flexible model wherein you can avoid additional warehouse investment, have quick onboarding with minimal paperwork, and accommodate a surge in your order volume always to have sufficient storage space for your inventory.
The best part about the Shiprocket fulfillment model is that you can reduce the cost and increase your profits by a considerable margin. With our warehouses closer to your customer's location, you can offer faster inter city and inter-state shipping. Moreover, it can reduce the shipping cost by up to 20% and decrease RTO by 2-5%.
Final Thoughts
A 3PL company can help you elevate your growth and give you the time and space to focus on other aspects of your business. To offer your customers quick delivery and impeccable delivery experience that is the need of the hour, it is essential that you tie-up with a 3PL company that is experienced and resourceful. Let us know if you have any other queries regarding 3PL companies, and we will be more than happy to sort them out for you!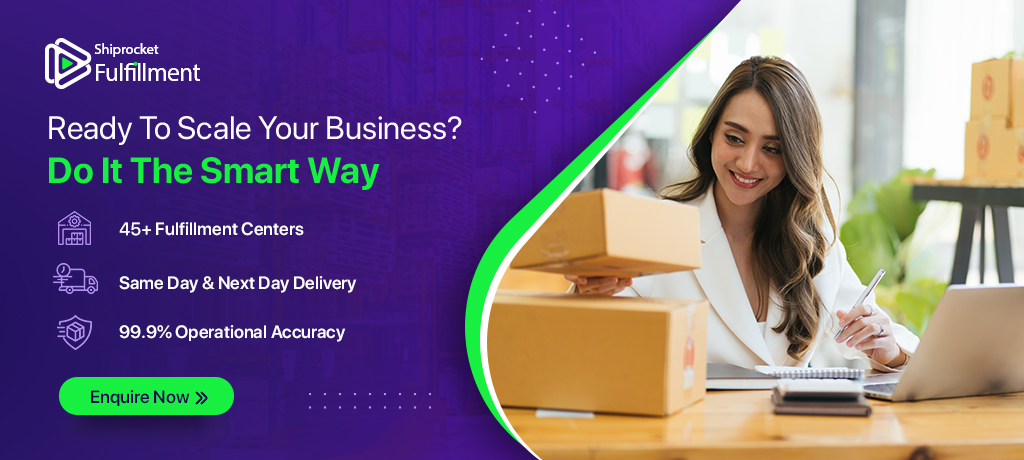 Calculate Your Shipping Costs Now