A Closer Look at Warehouse Inventory Management System & Process
When we talk about a seamless logistics supply chain, the first thing that comes to our mind is a streamlined order fulfillment process. This process includes product sourcing, inventory management, warehouse management, packaging, shipping, & return order management.
One of the key steps in this process is the warehouse and inventory management. These form the backbone of the process and if both these elements are not in order, the entire supply chain could collapse.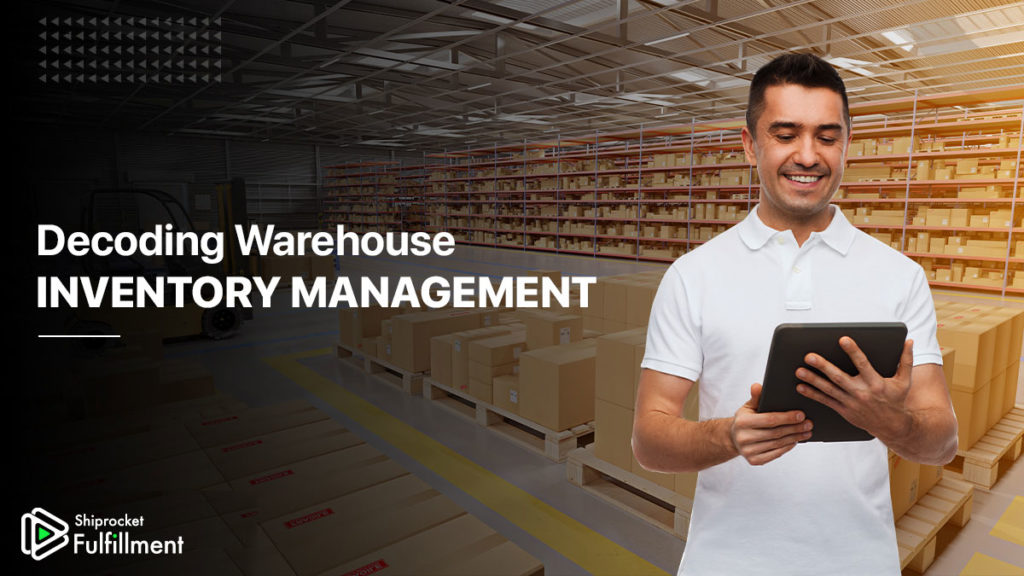 Inventory management is a critical aspect of the chain where you keep a track of the incoming and outgoing orders and map them with the availability and unavailability of products.
When you source products and load them in your warehouse, inventory management takes a completely different shape. Now, inventory management is done with respect to the warehouse.
There are several things you need to keep in mind to efficiently manage your warehouse inventory and ensure that the products are packed and shipped on time, without any delays.
Hence, here is a closer look at warehouse inventory management and steps to conduct if effectively.
What is a Warehouse Inventory Management System?
To understand warehouse inventory management, let's begin with understanding what exactly is warehouse inventory.
When you run an eCommerce business, it is not necessary that you have only one warehouse for all your products. You can have warehouses in different parts of the country, and conduct operations accordingly.
When we talk about inventory, we talk about a master database that contains details of all the products that have been sourced for the brand or store. But, when we talk about warehouse inventory, we talk about the inventory that is stored in a particular warehouse.
For example, you own an apparel store. It is obvious that you will source products from multiple vendors. Also, the categories will be distinct. For instance, you might be selling Women's Indian wear and men's formal wear. So, it might not be compulsory that Products from both categories are stored in the same warehouse. One warehouse could store women's Indian wear and the other could house men's formal wear.
How inventory is managed in both the respective warehouses, will form an effective warehouse inventory management system. Of course, there will be similarities in the management style but there will also be some differences that will be unique to each warehouse.
Therefore, it is important to establish a warehouse inventory management system that can help you eliminate any roadblocks and facilitate a fast-moving process for order fulfillment.

Why is Warehouse Inventory Management Important?
Warehouse inventory management is critical as the absence of it could cause disruptions in the supply chain of the company.
With warehouse inventory management, you will be able to ensure product availability depending on the customer demand and supply it accordingly.
For example, if you are running out of products of a particular category in the warehouse, you can easily restock them if you have the right information about your warehouse inventory.
Also, warehouse inventory management makes it easier to locate the products in the warehouse and helps improve the order fulfillment process by optimizing the first-mile operations.
Steps to Ensure Proper Warehouse Inventory Management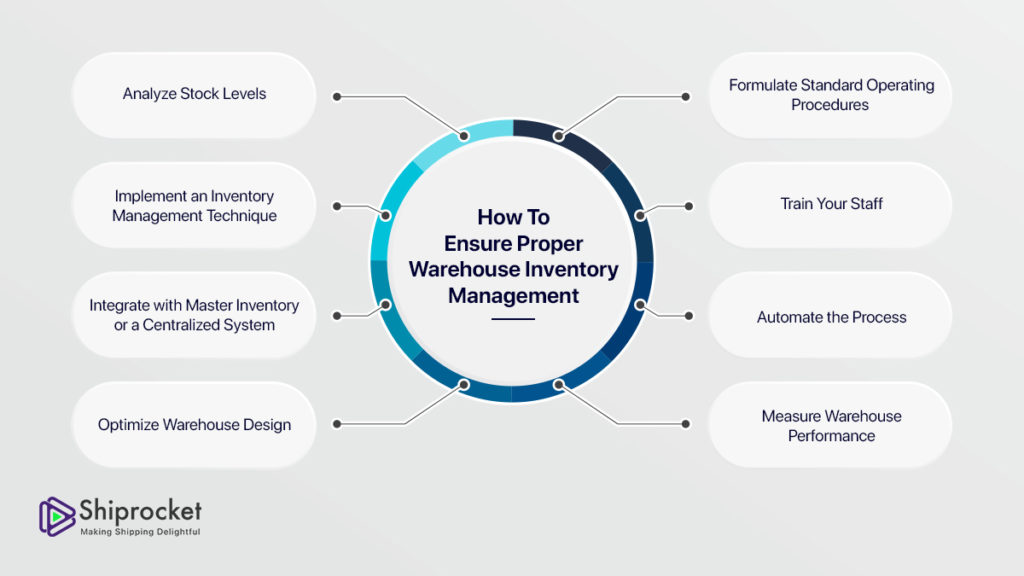 Analyze Stock Levels
Before you begin to establish an inventory management process for your warehouse, analyze the stock that you already have.
Understand the products and try to put them in groups and segregate these into categories and organize them according to your requirement. This includes understanding the type of the product, it's make, shelflife, specifications, etc.
For instance, if the products you're dealing with are fragile like glass, you will make provisions accordingly.
Once you go through the entire inventory and take a deeper look at the products, you will have a clear idea about what you are dealing with and how you need to take care of them. Thus, get acquainted with the products before starting.
Implement an Inventory Management Technique
There are many inventory management techniques like the just-in-time inventory, first-in-first-out, ABC inventory, last-in-first-out.
According to your products, implement a technique for inventory management. This will help you form a process and also help with inventory control.
An inventory management technique will optimize the eCommerce fulfillment process and ensure that no product is wasted. It will help you with the complete utilization of resources and products for your shop.
But, this must be decided based on the type of product and its features like the material, perishability, etc. The technique you choose to manage inventory will dictate the entire flow in your warehouse.
Integrate with Master Inventory or a Centralized System
To ensure that the process runs smoothly and inventory is handled efficiently in a warehouse, there has to be a reference point. Therefore it is important to map the current inventory with master inventory so that you can keep a check on the stock levels and order contents accordingly.
Also, this will help enhance visibility and give you more options for suitable contingency plans. If a product is available in a nearby warehouse, you can arrange items from there instead of listing a product as out of stock or unavailable.
Optimize Warehouse Design
Next, optimize your warehouse design and re-evaluate space allocation. The design must optimize the process and enhance the entire flow of logistics to make the process faster.
Based on the type of inventory and products, rethink the entire placement of products to utilize space efficiently, reduce any congestion, allocate enough room for individuals.
Ideally, the layout must be reviewed after fixed intervals to ensure the smooth functioning of operations in the warehouse to maximize productivity.
You can store your products with a 3PL company like Shiprocket Fulfillment that offers you additional storage space and advance technology for inventory management.

Formulate Standard Operating Procedures
Next, document the entire process and formulate standard operating procedures (SOPs) for your employees. As the name suggests, standard operating procedures standardize the functioning of every step in the warehouse so that any employee who works on it follows the same procedure.
These help in maintaining a single flow of operations so you can avoid any mistakes in the process. Therefore, the process of inventory management must be defined and documented. Even if your staff changes, it will be easier to train them with standard operating procedures.
Train Your Staff
Moving on, take the time and train your staff about all the recent updates and the changes that you make in the process. At the end of the day, your staff will be the ones working on the ground. Hence, there must be an adequate information transfer so that there are no mistakes on hand.
Share with them the SOPs and guide them about the changes in machinery and technology. Give them some time to adapt to the process.
Hold regular training sessions to ensure that everyone is acquainted with the ongoing processes and changes if any. Your staff must know about the location of every SKU and how they can locate them. Their efficiency will define the success of your warehouse inventory management process.
Automate the Process
Try to automate the warehouse inventory management process so that you do not have to depend much on manual labor. This will help reduce any manual errors that can lead to the delayed order fulfillment at your end.
Automate operations like data collection, barcoding, scanning, picking, packaging, label generation, manifest generation, and shipping.
Once you have implemented an automation strategy, ensure that you review it regularly so that it matches your business objectives.
Measure Warehouse Performance
Lastly, measure the warehouse performance regularly to see how your inventory management initiatives are working. Regular assessment will give you more insight into your operations and how you can improve them to generate maximum results.
You can track the success of your operations based on the booking process, the lead time, assessing the product returns, and the receiving process.
Final Thoughts
If done effectively, warehouse inventory management can play a major role in optimizing your overall inventory management and order fulfillment operations. It will give you an edge over your warehouse and inventory operations and you will be able to synchronize both and deliver faster. Follow the steps to get started and gradually optimize as you move forward.
Calculate Your Shipping Costs Now