Learn the Differences between Inventory & Warehouse Management
The two terms – inventory management and warehouse management – are often used interchangeably or synonymously by many of us. But in reality, both of these processes are quite different from each other. It is extremely important for anyone associated with running eCommerce businesses to know the differences between the two terms, especially when you are planning to purchase specific packages.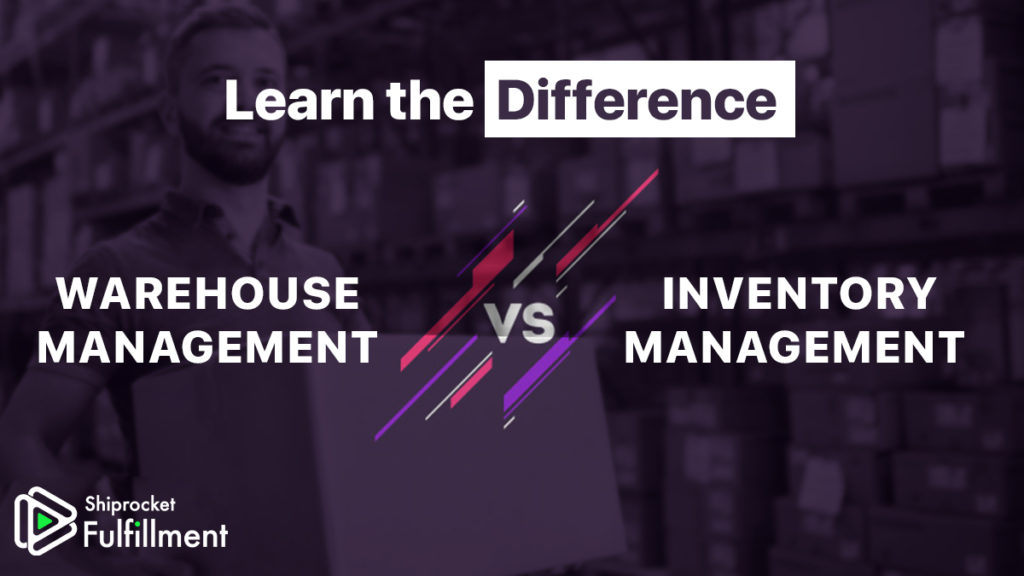 So, here we have listed all the important differences between inventory management and warehouse management for you to get a clear understanding-
What is Warehouse Management?
Warehouse Management is the process of maintaining and controlling the operations inside a warehouse, usually performed by warehouse managers. The process of warehouse management begins right from receiving the inventory from the seller, movement of goods inside the warehouse to allocating storage space for all the products inside the warehouse. It encompasses everything that takes place inside the warehouse.
Warehouse management includes all the below activities –
Managing inventory and equipment effectively
Training and educating employees at the warehouse
Maintaining relationships with courier companies for timely delivery of items to end customers
Demand forecasting
Obtaining certifications and licenses from concerned authorities
Scaling warehouse operations with business growth
Keep a track of daily inbound and outbound shipments and many more activities
To make warehouse operations easier, businesses often opt for a Warehouse Management System or WMS in their warehouse. A Warehouse Management System helps in maintaining the inventory levels, avoids stock out situations, therefore allowing you to get the best return on investment. It is much easier to keep a track of your inventory and your shipments with a dedicated WMS in place. It also helps in performing accurate demand forecasting by telling you which products are selling the most and which are not even moving from their shelves.
Warehouse Management is a crucial part of running a business. If a customer is unable to purchase the stock he needs or finds the order process difficult, there are high chances he might shift to another supplier. This is when effective warehouse management comes into play.
What is Inventory Management?
Inventory management is the process of keeping a track of a company's stocked inventory. It helps in channelizing the inventory accordingly and delivering to the end customers without any delay. This process also monitors the weight, dimensions, amounts of the inventory in stock.
Having an effective inventory management system in place helps eCommerce businesses to prevent any time lag in processing an order to the final delivery, as it will keep an accurate track of all the goods in the storage.
In today's competitive world, it's highly important that you always have the data of your inventory levels on your fingertips, because only then you will be able to provide your customers with a great shopping experience. Inventory Management System is an effective way to perform inventory checks for your business, without losing out on any potential sales.
Differences Between Inventory Management and Warehouse Management
Complexity
Inventory Management is a comparatively simpler process than warehouse management. While inventory management gives you the record of the total inventory you have in a specific storage location, warehouse management, on the other hand, is the process that businesses follow to manage storage systems within a warehouse. For example, if a single warehouse has multiple storage bins of the same product, warehouse management systems will help you manage all of the items, whereas an inventory management system can only tell you how many of the specific items you have.
Control
Inventory management will only tell you about the quantity of a specific item you have in your already stocked goods. However, the management of that inventory inside a warehouse will be done through warehouse management, which allows you to dedicate specific locations for the inventory. A Warehouse Management System provides a company with much more control over its operations, as it gives them much more information than an Inventory Management System to perform the other tasks in order fulfillment.
Integration
There is a difference between to what extent inventory management and warehouse management can be integrated into the entire order fulfillment process of a business. Typically, inventory management is the first thing that takes place in warehouse management. Warehouse management, on the other hand, is closely related to other aspects of order fulfillment, such as product supply, sales, distribution, etc. In simpler terms, warehouse management is much more critical to the day-to-day operations in the entire order fulfillment process as compared to inventory management.

Key Differences Between a Warehouse Management System (WMS) and Inventory Management System (IMS)
If we have to state the differences between the two solutions in a single statement, then we must say a Warehouse Management System tracks units of storage spaces inside a warehouse, forecasts demand whereas an Inventory Management System tracks counts of individual items. Let us get into the detailed understanding of the two solutions-
Warehouse Management System
A Warehouse Management System is a software that controls and automates various warehouse operations. The motive behind having a warehouse management system is to increase the efficiency of a business's warehousing operations. It facilitates the management in their day-to-day planning, organizing, staffing, directing, and controlling the use of available resources to move inventory inside the warehouse while supporting staff in the performance of movement and storage in the warehouse. This software can also monitor inventory across multiple sales channels.
It is typically purchased by businesses to satisfy high customer demand requirements and when the inventory and workload are larger than what can be handled manually.
Inventory Management Software
An inventory management software tracks the inventory levels, orders, sales, and deliveries for a business. This software works well for businesses that are looking for inventory software that is less complex and is focused on the handling of the physical product itself.
Inventory management software is ideal for small to midsize businesses that do not have a wide range of products. Although this software's features are limited to inventory, that is actually its greatest benefit. For a business that does not require a fancy and complex management system, inventory management software is ideal.
How are Warehouse & Inventory Management Related?
Inventory management is also considered as a part of warehouse management. Warehouse inventory management is a specific task for every warehouse associated with the business. Even the warehouse management and inventory management are separate operations, they are carried out in synchronization to make sure that the fulfilment supply chain is intact and no issues are faced from start to end.
Final Say
Now that we have jotted down the differences between warehouse management and inventory management for you, its time for you to decide which process works best for your business. While both the processes have been introduced to reduce manual efforts and increase efficiency, they do so in their own distinct ways.
Calculate Your Shipping Costs Now