Warehouse Management 101 for Small Scale Businesses
Warehouse is the driving force of every business. Whether you run a stationery store or an eCommerce shop, there is always a need for inventory to be stored and evaluated. It is highly significant for every seller to manage his inventory properly to avoid possible mishaps of out-of-stock or excess items. Read on to find out the significance of warehouse management and the best practices for small businesses to grow to the next level.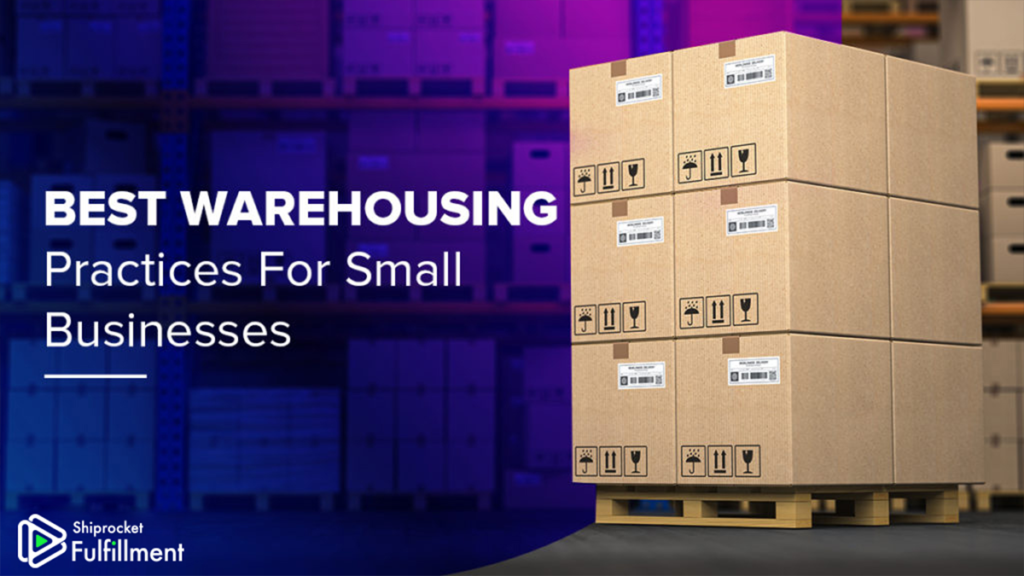 What is Warehouse Management?
Warehouse management is the process of optimising warehousing operations. It is achieved through a Warehouse Management System (WMS) that helps in maintaining inventory to the appropriate level for avoiding stock outs or excess stock, allowing you to get the best return on investment.
Through a dedicated WMS, it is easy to keep track of your inventory and your shipments. It simplifies the math of understanding which products are selling the most and which the least, enabling you to make accurate forecasting.
No seller wants to disappoint their end-customers with out-of-stock items during peak season or hurt their revenue by selling excess inventory at discounted rates for making room for new items. A Warehouse Management System ensures your warehousing operations remain seamless and contribute to cost reduction for maximum profits.

Best Warehousing Practices for Small Scale Businesses
Though a Warehouse Management System single-handedly makes the entire process seamless, below are some of the techniques for small scale businesses to precisely manage their inventory:
Do Better Forecasting
It is crucial to predict your inventory requirements accurately. It would be best if you count the past sales figures and the ongoing market trends for forecasting the products in demand.
Use the FIFO (First in, First out) System
Products must be sold in the same order as they were purchased. If you are a seller dealing in perishable items like snacks, dairy products, or flowers, it is of extreme importance for you to sell out your products in chronological order. It is an equally useful approach for sellers dealing in non-perishable products considering storing items for a long time can damage their quality.
Identify Slow-Selling Inventory
Products must not be stored if they haven't been sold for an extended amount of time. While perishable items come with an expiry date and have to be sold, non-perishable items must also be emptied within a specific time to avoid wastage of capital and the storage space.
Do Regular Tracking
It is useful to have a robust system in place for tracking your inventory and prioritising the most expensive products. Through regular tracking, you can save a lot of time and money.
Monitor Your Machinery
It is not necessary for your fixed assets to perpetually function properly. Defective machinery can be expensive and incur unwanted burden on you. Monitoring your machinery on a timely basis will help you in understanding its longevity, and you will be prepared in advance for an upcoming expenditure.
Do Quality Control
It is vital to ensure that all your products are in good condition and function suitably. It is best to prepare a checklist for signs of damage and let your employees do a quick review during inventory audits.
Prioritise Inventory with ABCs
Numerous sellers prefer to group their inventory items into A, B, C categories for having better control over higher-value items.

Do Manual Audit
Though it is fine to rely on a Warehouse Management System (WMS), it is advisable to evaluate your inventory manually for ensuring 100% accuracy and identifying possible flaws. Many businesses like to do a year-end manual audit, where every item is counted for devising the future inventory plans.
Opt for Dropshipping
Dropshipping allows you to get rid of the warehousing and order fulfilment completely. A wholesaler or manufacturer is accountable for both managing the inventory and taking care of logistics, allowing you to focus on your core business goals. You can read more about dropshipping here.
Use a Warehouse Management System
A Warehouse Management System is a one-stop solution for all your warehousing woes. It is a software that controls and automates various warehouse operations, increasing the efficiency of your business. Shiprocket Fulfillment is an excellent warehousing solution for small sellers. If you are a seller processing 20+ orders in a day, you can benefit significantly with shiprocket fulfillment – an end-to-end warehousing and order fulfillment solution catered to connect you to multiple warehouses in several locations across India.
With FBS, you can save freight costs by stocking your products near to your buyers, increasing the turn-around-time (TAT). Besides, you benefit with Shiprocket's lowest shipping charges and proper order handling, ensuring your end-customers receive undamaged products on time.
You can track your orders from a dedicated seller panel and enjoy a hassle-free experience. Regardless of operating on a small scale, Shiprocket Fulfillment is meant to simplify warehousing management and provide world-class logistics solutions for the optimal growth of your business. Instead of investing separately on a warehouse management system and shipping partner, get the best of both worlds with FBS. Click here to know more and stay tuned for more useful updates.
Calculate Your Shipping Costs Now