Warehouse Management System (WMS) in India – Pros and Cons
With the start of any business that requires stocking up of inventory, comes the requirement of efficient warehouse management. Nobody has ever mentioned warehouse management to be an easy task to perform. Tasks ranging from inventory control to analyzing incoming freight, warehouse management is a key aspect for any retail business.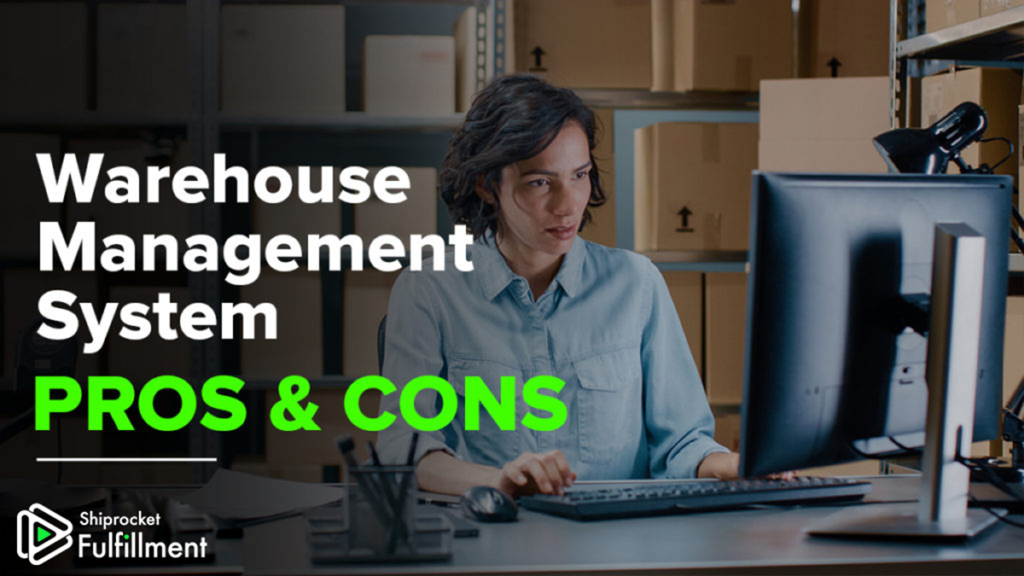 By definition, warehouse management refers to the various processes related to maintaining and controlling a business's warehouse, usually looked after by designated managers. Performing any task that consists of a plethora of small and large key components is bound to be a time-consuming process. In the case of warehouse management, these components are mainly the fundamental day-to-day operations that include receiving products, inventory movement, shipping, safe working conditions and so on.
To simplify and automate this entire process of warehouse management, where most of the work is done manually, the concept of a warehouse management system has been brought in to action.
What is a Warehouse Management System?
A Warehouse Management System is a software that controls and automates various warehouse operations. The motive behind having a warehouse management system is to increase the efficiency of a business's warehousing operations. It facilitates the management in their day-to-day planning, organizing, staffing, directing and controlling the use of available resources to move inventory inside the warehouse while supporting staff in the performance of movement and storage in the warehouse.
It is typically purchased by businesses to satisfy high customer demand requirements and when the inventory and workload are larger than what can be handled manually. These solutions can be standalone systems, part of supply chain execution suites or modules of an Enterprise Resource Planning (ERP) system.
Warehouse Management System in India
The Indian Warehouse Management System market is comparatively newer than many other countries, mainly because of a lack of awareness and demand for quick Return on Investment. However, Indian businesses are now picking up pace in terms of WMS adoption, with logistics, industrial and retail businesses having the highest adoption.
Future growth of this market is expected to be driven mainly by the eCommerce industry, as more and more eCommerce business owners are adopting the omnichannel strategy of selling. In case you don't have an online store yet and looking for a platform that can help you in website development and omnichannel retail solutions, you can blindly trust Shiprocket 360 in taking the lead.
The more you spread your verticals of selling, the more customer demand you will witness. To satisfy high demand and address increased workload, manual handling of operations in warehouses will be reduced exponentially.
According to a report, India's warehouse management systems market size is expected to grow from $231 million in 2019 to $488 million by 2024, at a Compound Annual Growth Rate (CAGR) of 16.2% during the forecast period. Major growth drivers for the market include the rapid growth of eCommerce in India, easement of FDI policies, and launch of initiatives, such as "Make in India."
Benefits of Having a Warehouse Management System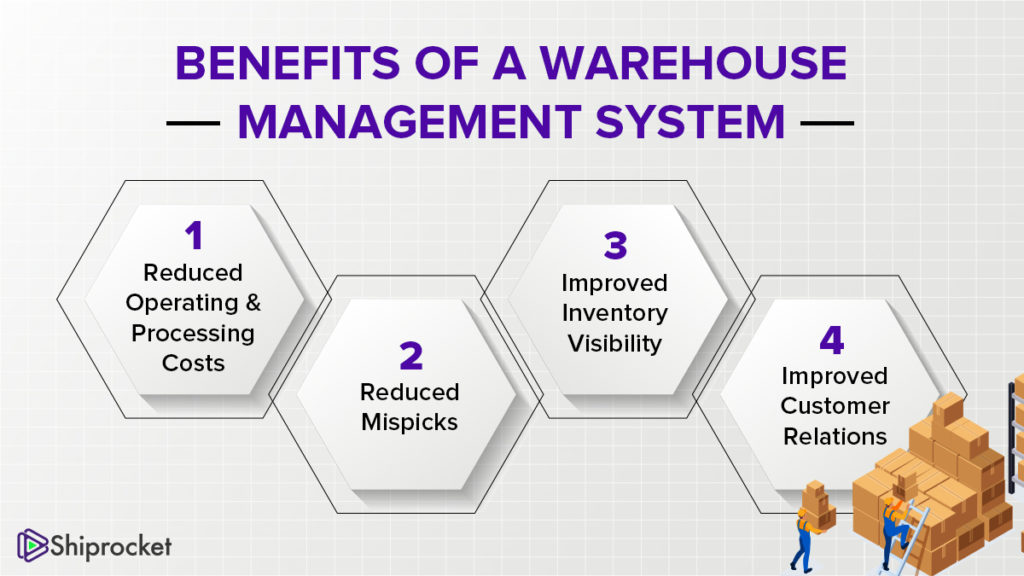 Implementing a Warehouse Management System to your business can prove to be extremely beneficial, as it has the power to integrate with inventory management, order fulfillment, and accounting to ensure an efficient way of working. Once these things are taken care of, you can invest more of your time in reducing errors, improving customer service, cost savings and many more.
Reduced Operating & Processing Expenses
One of the most important benefits of having a warehouse management system in place is that it has the ability to reduce your operating expenses to a great extent. Since its an automated process, manual labor costs will be highly reduced. The warehouse manager doesn't have to spend time handling documents, keying in data or thinking about where they need to go next.
Processing costs can also be drastically brought down on the implementation of a well-designed warehouse management system. Thanks to barcode scanning and robust integrations, processing orders and receiving deliveries will take much lesser time, products will be picked and packed much quicker, which means your processing expenses are bound to come down.
Reduced Mispicks
When everything in a process is automated, starting from picking of goods to shipping them, the risk of mispicks of products reduces to a great extent. Your employees won't be required to enter the barcode number or SKUs manually. A warehouse management system also ensures your staff is notified immediately if they happen to scan a wrong item so that they have enough time in hand to rectify the error.
Improved Inventory Visibility
Having a warehouse management system for your business can improve your inventory visibility, as the software provides real-time data through barcoding, serial numbers, etc. These features enable the users to take note of each item as it enters the warehouse, its movements inside the warehouse and its movements during transportation from one location to the other. The visibility helps business owners to create demand forecasts, which ultimately assists them in understanding which products to invest in and which ones are no more important in the market.
Improved Customer Relations
It's not just the business that benefits from a warehouse management system, it extends to the customers as well. When a business has high inventory visibility, it automatically forecasts customer demands, which in turn ensures sufficient availability of items for the customer. With a warehouse management system in place, customers enjoy improved order fulfillment, fewer product and delivery inaccuracies and so on. Your business's reputation is bound to improve among your customers with such a system.

Disadvantages of a Warehouse Management System
High Initial Investment
The biggest disadvantage of a Warehouse Management System is the initial investment required. The devices used in this system for an automated workflow are slightly expensive. Moreover, the training required to operate these devices along with the cost of the software together can easily exceed the price of the devices.
Requires Expert Knowledge
Such a system demands expert knowledge to handle the devices well, which can be a challenging task as finding aptly skilled resources can be tough. You cannot run such a high-end system with people who don't have knowledge about this field.
Requires Tight Security
Last but not least, you need to implement tight security and controls to run a warehouse management system effectivity. This can cost you a lot of money, as security devices are expensive.
Conclusion
It must be very clear that the benefits of having a warehouse management system (WMS) for your business outweigh the disadvantages. If you want to scale your business quickly and improve profitability, you should definitely opt for a well-designed warehouse management platform. Since it requires a certain amount of capital investment, it's important you take the time to find the perfect platform for your business that can meet your company's demands. However, the sooner you invest in one, the faster your business will start witnessing rapid growth.
Calculate Your Shipping Costs Now