Top Warehouse Management Trends for 2022
As we are all set to bid goodbye to 2021 and welcome 2022, it is also time to gear up for the upcoming year with new ideas and strategies that can enhance your business productivity and efficiency. While we all know how crucial a role warehouse management plays in the supply chain of any eCommerce business, sellers often overlook staying up-to-date with the latest warehousing trends that can help them stay ahead of the game.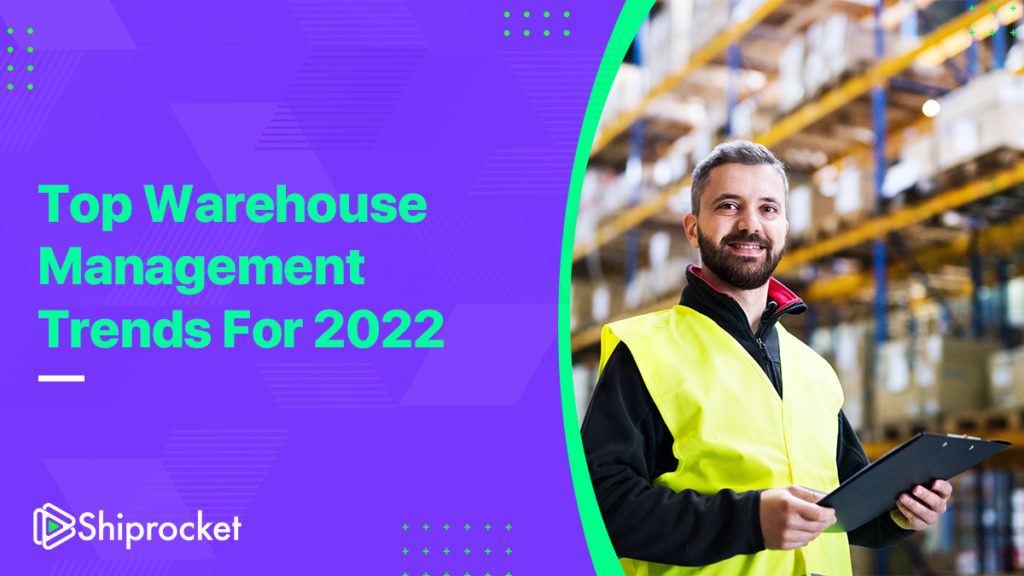 Customers, these days, demand a seamless shopping experience with facilities like one-day delivery and shorter lead times. This kind of immense pressure on eCommerce business owners to fulfill orders faster is going to urge warehouse managers to reinvent warehouse management practices in 2022 so that they can optimize picking, packing, and shipping effectively.
Implementing technology into warehouse management is going to be the most cost-effective and quickest way to increase the efficiency of warehouse operations. As we progress into 2022, warehouse management technologies are likely to grow by leaps and bounds. Let's take a look at some of the top warehouse management trends 2022 that are going to rule in the next year:
Automation (AI & Machine Learning)
As the Indian warehousing industry has entered into an era of consolidation, more and more advanced technologies such as robotics, machine learning, and artificial intelligence are likely to be integrated in 2022. Although in labor-intensive countries like India, implementing full-scale robotics is a little difficult, as certain tasks will always be cheaper if undertaken by humans, warehouse managers are trying to find ways to implement robotics, machine learning, and AI into the back-end to improve operations. With such technologies, the Indian warehousing industry will witness almost 2X growth in the next 2 years.
What are the implementations of these solutions that will dominate 2022?
Automation of labor-intensive activities such as self-managing inventory systems, self-driving forklifts, autonomous ground vehicles, and other tasks that reduce manual dependency.
Real-time tracking of warehouse operations and shipping through business intelligence, which will ultimately transform warehouse management. The process will mainly consist of AI-powered inspections, packaging, and more.
Forecast demand through warehousing solutions. Though this trend is already being followed at some places, it will be adopted tremendously the following year.
Sustainable Warehousing
With an increased number of people willing to reduce their carbon footprints, 2022 will witness a sea change in warehousing management techniques. More and more business owners will be looking for sustainable warehousing in the coming year. It will not only reduce your utility bills but also provide your employees with an eco-friendly business they are proud to be a part of.
What are the different ways you can opt for Sustainable Warehousing?
Invest in Energy-efficient Equipment
Changing your lighting is one of the most effective ways to make any warehouse more environmentally friendly. Opt for eco-friendly options such as LED lighting. While they may cost a little higher than the traditional bulbs, they will definitely last longer as well as conserve energy in the long run.
Use Less Packaging
Efficient packaging weighs less and costs less to ship. Switch from traditional packing materials to products that are biodegradable. While packing materials made from synthetic plastics can take hundreds of years to break down in landfills, biodegradable materials degrade within a couple of years. Many biodegradable materials are also compostable. All in all, making your packing more efficient and switching to biodegradable packing materials significantly reduces waste and decreases your carbon footprint.
Insulate your Warehouse Properly
Poor insulation disrupts the temperature control you set up for your warehouse building. This drives up your heating and cooling bills and increases your warehouse's impact on the environment. Make sure your warehouse is properly insulated to help keep climate-controlled air inside where it belongs. In addition to keeping your employees comfortable, doing so reduces wear and tear on your warehouse management system and reduces energy bills.
Block-Chain Technology
There are a number of stakeholders involved when it comes to efficient warehouse management. Manufacturers, suppliers, customers, auditors, warehouse managers, and many more create a successful warehouse. In such a scenario, 2022 will witness the rise of Blockchain Technology in warehousing which will help in creating an efficient system for recording multiple transactions, tracking assets, and easy accessibility of document management.
In case you want to understand all about Blockchain Technology, click here.

Proficient Last-mile Deliveries
Thanks to eCommerce, there is a growing need of last-mile deliveries occupying a critical position. eCommerce sales and demand for quick delivery continue to increase every year. In 2019 alone, global e-commerce sales grew nearly 21.5 percent, according to Statista. In 2022, more and more business owners will be looking to provide an Amazon-Esque shopping experience to customers by working out logistics in a way that would offer same-day delivery. This kind of demand from customers will automatically increase the need for modern last-mile facilities in order to deliver easily and frequently.
How can you implement last-mile facilities in your supply chain?
The Right Warehouse Location
Warehouses situated near major highways and bridges can deliver to more destinations.
Building Quality
Most warehouses are 50-plus years old, and some are even older than 100. Their structural and electrical capabilities are strained and limited. They are designed for businesses of the past. Today, high volumes of goods need to be shipped daily. Retailers should look for properties that have the features that allow for efficient throughput.
Substantial Ceiling Heights
High ceilings can accommodate modern vertical racking systems, an important consideration for the last mile. Consider how goods flow in and out of the warehouse. Wider column spacing allows for modern efficient racking system installation.
Cross-dock Capacities
To address one of the biggest challenges facing the food and beverage industry, last-mile facilities will optimize their cross-dock capacities. Cross-docking, the practice of receiving goods at one door of a facility and shipping out through another almost immediately, allows for the successful transportation of perishable goods and eliminates the need for storage of food and beverages.
Sustainable Warehousing
Sustainable features such as electric charging stations will be an important part of last-mile facilities in the coming year. Since over 30 percent of the cost of delivery happens in the last mile — most of which includes labor and gas — cutting gas costs and providing an eco-friendly solution will give users a winning advantage.
Introduction of Drones
The year 2022 is likely to witness drone technology in warehousing. Large retail companies such as Amazon have successfully used drones in their warehouses for inventory management. Smaller retailers will probably be following their example and enjoy the benefits of drone technology. For example:
Two drones are able to do the job of about 100 humans and do it more accurately.
Aerial drones equipped with special cameras with optical sensors can find items and scan respective barcodes from 10 meters away with a close to 100% accuracy rate.
Now that you're fully aware of all the upcoming warehouse management trends, it's time for you to gear up your eCommerce game and follow the right techniques to stay ahead of the game.
FAQs (Frequently Asked Questions)
How can storing my inventory in warehouses be beneficial for my business?
By storing your inventory in warehouses across the country, you can ship your products faster to your customers and save on shipping costs as well.
Can a warehouse help me with inventory management?
Yes, if you store your inventory in our fulfillment centers, we manage your inventory and pick, pack, and ship your orders with your preferred courier partner.
How can I sign up for Shiprocket?
You can visit our website or download our mobile application. Sign up by providing us your details like name, company name, email id, and password.
Can I trust Shiprocket?
Yes, 1 lakh+ online sellers trust us and ship their orders with us. You can also trust us with cost-effective and timely order delivery.
Calculate Your Shipping Costs Now