eCommerce Warehousing: An All-Inclusive Guide For Managers
Warehousing is one of the most important aspects of running an eCommerce business. No matter how small or big your business is, you will always come across the need for keeping your inventory safe and secure in storage. This is exactly what warehousing is. In this article, we will take you through the details of ecommerce warehousing and distribution, and why they are extremely beneficial for your eCommerce business.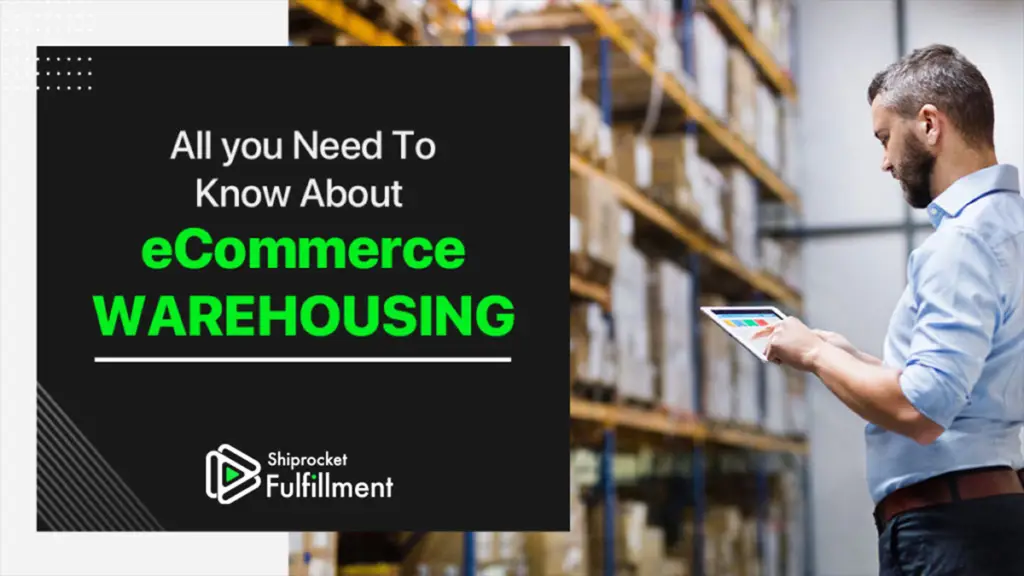 What Is eCommerce Warehousing?
Ecommerce warehousing can be referred to as the process of storing goods or inventory that are yet to be sold or distributed to potential customers. The size and type of the eCommerce warehouse varies from business to business. While small-scale businesses that are operated from homes or on social media typically house their inventory in a spare room, basement, or garage, larger businesses, on the other hand, mostly own or rent an area in a building or a plot that is specifically meant for storing inventory.
You might have heard the terms 'warehouse' and 'distribution center' interchangeably.
A warehouse is only meant to store inventory, but a distribution center takes care of storage along with fulfilling the orders. An order fulfillment process consists of everything starting from picking up the product from the seller to shipping it to the end customer on time. Read more about order fulfillment here.
What Does An eCommerce Warehouse Consist Of?
eCommerce Warehouses consist of specific elements that help manufacturers and distributors ensure that the inventory is stored safely. Let us take a look at what these specific elements to look for while choosing a warehouse for eCommerce:
Spacious shelves and racks to ensure maximum storage of products
Security systems to ensure safe storage of inventory
A climate controlled storage system in case of temperature-sensitive products such as food items, medicines, etc.
An inventory management software that tells the seller (who isn't necessarily the warehouse owner) the whereabouts of his product–such as where it is kept in the warehouse when it left the warehouse for shipping and so on
Equipment that makes the movement of products inside the warehouse easier, such as forklifts, pallet jacks, conveyor belts etc.
Pickers or people who load products in the warehouse after collecting them from the seller
Now, let us further understand what warehouse management is.
How to Handle eCommerce Warehouse Management?
Warehouse management is a vital aspect of ecommerce fulfillment. If done the right way, it can take your business to new heights altogether. Ecommerce warehouse management refers to day-to-day warehouse operations that include:
Managing inventory and equipment effectively, ensuring the safety of each item
Training and educating employees at the warehouse
Maintaining relationships with courier companies for timely delivery of items to end customers
Demand forecasting
Obtaining certifications and licenses from concerned authorities
Scaling warehouse operations with business growth
Keep a track of daily inbound and outbound shipments
And many more activities
Warehouse management is the aspect of your business that is directly related to customer satisfaction. While companies are innovating new ways to boost customer satisfaction, the basics are often overlooked. If a customer is unable to purchase the stock he needs or finds the order process difficult, there are high chances he might shift to another supplier. This is when effective warehouse management comes into play.
Many times you might think of opting for in-house warehousing. But at a time when you should focus on growing your business, do you think it would be wise to keep worrying about making space at your in-house godown to store products? If your answer is no, then you must consider giving away your warehousing department to a third party.
Let us take a look at few of the benefits of warehousing-

Benefits Of Warehousing
Fast Shipping
Customers, nowadays, seek fast delivery. Going by the Amazon-esque experience, online shoppers expect to receive their orders in a day or two. When choosing where to store your inventory, consider distributing it to multiple warehouses across the country. This can help place your inventory closer to more of your customers, meaning it takes less time (and money) for their online orders to reach them.
Better Inventory Management
Warehouses are designed to store products. Your living room, garage, and guest room aren't. eCommerce warehousing can improve the accuracy of inventory tracking and prevent items from any sort of damage. With the right warehouse management system in place, this can help you track inventory turnover rates and proactively reorder inventory.

Time savings
For eCommerce merchants, time is a precious resource. Freeing up the time spent on searching through piles of products allows you to focus instead on growing your business.
Challenges Faced In eCommerce Warehousing & Fulfillment
Heavy Investment
If you run your warehouse and ship from there, it is really expensive to expand in additional warehouse investment. This can be a big challenge if your business is expanding and you are acquiring more inventory.
Inflexibility
It can get very difficult to expand to different parts of the country with a single warehouse. Investing in your own warehouse can be an expensive affair as you will need to invest in multiple elements.
A 3PL fulfillment provider can help you solve these issues. Here is why you must partner with one –
Why Should One Partner With A 3PL For Their Warehousing Needs?
You can streamline your eCommerce supply chain by outsourcing your ecommerce warehousing needs to a third-party logistics provider. A 3PL lets you automate and manage your eCommerce logistics processes, including warehousing, order fulfillment, inventory management and so on, through one single partner.
Shiprocket Fulfillment is an end-to-end order fulfillment solution that allows sellers and brands to fulfill their orders and offer same-day and next-day delivery to their customers. Everything starting from picking of your products till the post-purchase experience of your end-customers will be taken care of by experts at Shiprocket Fulfillment.
Here are some of the benefits of outsourcing eCommerce warehousing and fulfillment to a 3PL.
Benefits Of Outsourcing eCommerce Warehousing & Fulfillment
Easy Integration
Many 3PLs integrate directly with major eCommerce platforms like Shiprocket. As soon as an order is placed on your online store, the details are passed on to a 3PL's warehouse or fulfillment center. Then, the order is picked, packed, and shipped to the customer from the warehouse.
Ship On Marketplaces
In addition to eCommerce platforms, some 3PLs also integrate with major online marketplaces. If you sell on Amazon, eBay, etc you can automatically sync your orders and inventory. This is especially useful if you sell on multiple platforms — store, manage, and track your inventory all through one provider and software.
Order Tracking
Once your 3PL ships an order, tracking info is pushed back to your eCommerce store and shared with the customer. This helps keep your customers in the loop from the moment they place an order through when it arrives on their doorstep.
Inventory Management
Since they store and ship your products for you, a 3PL can take inventory management off your plate. This includes tracking inventory levels, ordering and restocking inventory, and forecasting future demand. Many 3PLs offer built-in inventory management software to streamline and automate the process. Good inventory management software allows you to prepare for various levels of demand and sales by monitoring trends and historical patterns.
Faster Order Fulfillment
Customers want their orders delivered fast and free wherever they shop online. If you're shipping from home or a rural fulfillment center, fast shipping can be expensive. You either have to eat those costs or choose to pass them onto your customers. It's kind of a lose-lose.
Distribution Center VS eCommerce Warehousing
While both the distribution center and warehouses are identical, their working is completely different.
Ecommerce Warehousing is a process of storing and managing goods in the inventory for sale online. It is where a manufacturer stores their products. However, it can be used by wholesalers and even transport businesses. An eCommerce warehouse also has a dock to load and unload inventory. So, an ecommerce warehouse can store products directly from an airport, seaport, and railway.
On the other hand, distribution center stores products and distributes them and ships them to the end consumer. A distribution center is a vital part of the entire order fulfillment process. The manufacturers or retailers ship the products to a distribution center. The distribution center then ships the products to the end consumers.
Conclusion
In all the excitement of running an online store, ecommerce warehousing can get forgotten. But remember good inventory and warehouse management can help you save money and time while meeting customer expectations. Whether you go for in-house ecommerce warehousing or outsource it to a 3PL, keep a note of these tips and tricks to grow your business.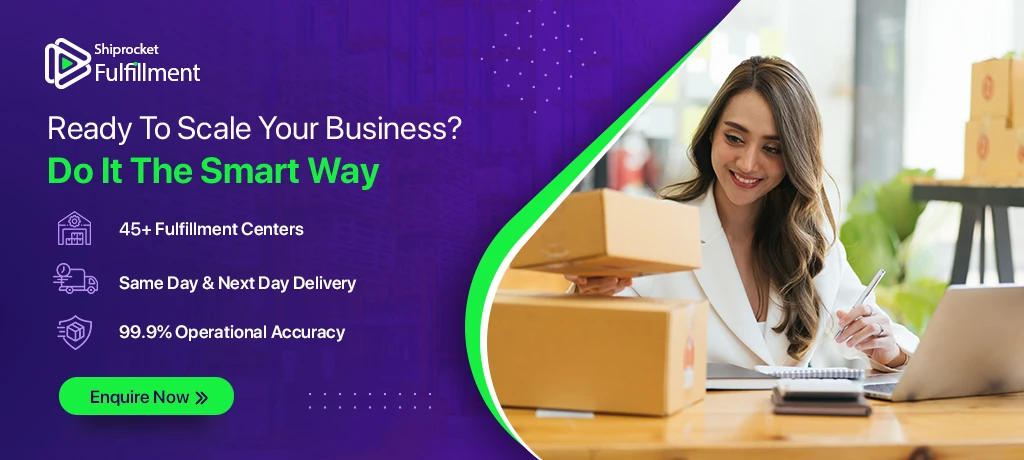 Calculate Your Shipping Costs Now