A-Z of Climate-Controlled Warehousing: Why do you Need it for your eCommerce Business
If you're an eCommerce business that sells temperature-sensitive products, finding the right storage space or warehouse can be a challenging task. Fortunately, there are third-party logistics companies that offer temperature-controlled warehousing services. These temperature-controlled warehouses keep inventory safe from extreme temperature conditions and humidity before it gets shipped to the customer's residence.
Let us take a look at a few pointers to consider when selling temperature-sensitive items and what to look for in temperature-controlled warehousing/storage.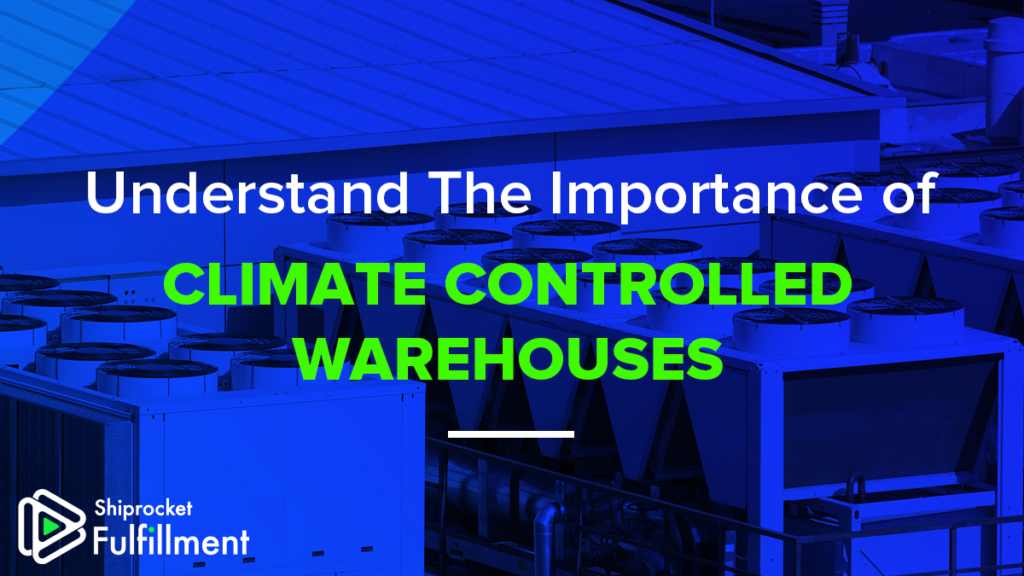 What is climate-controlled Warehousing?
So, what does temperature-controlled storage or climate-controlled storage mean? It's a storage area where the temperature and humidity are or can be carefully controlled, or set to remain within certain parameters so that these factors are consistent all the time. The temperature range can vary depending on the fulfillment provider and the location of the center. This kind of storage is ideal for products that may not require refrigeration, but are still sensitive to fluctuations in temperatures. Exposure of these kinds of products to extreme temperatures may result in reduced shelf life, spoilage, or permanent damage.
Types of Products that Need Temperature-controlled Warehousing
At times, it can be hard for you to figure out whether the product you're selling needs temperature-controlled warehousing or not. There are certain products that may also require a temperature range above or below room temperature. Before opting for a temperature-controlled warehousing system, you must fully understand what your products are made of and the storage conditions they require.
Here are some of the most common products that require temperature-controlled warehousing:
Food and Beverage
The food and beverage industry is one of the biggest industries in the world and they are heavily dependent on climate-controlled storage. Food and beverage products that don't require refrigeration are not necessarily immune to other temperatures (for e.g., chocolates can melt in hot temperatures and liquids can freeze in cold temperatures). If perishable at all, non-refrigerated products are still prone to shelf-life reduction or can get spoilt if exposed to extreme hot and cold temperatures.
Understanding each ingredient found in your product and how it will respond to certain temperatures will help you decide what type of environment it needs to be stored in. Notably, it is crucial to deliver the food and beverage products to the consumers in consumable form only.
Supplements
Depending on the ingredients, most health vitamins and supplements have a storage life of up to two years. But storing supplements in higher temperatures or in an environment with high levels of humidity can shorten their shelf life down to less than six months, which causes the product to go bad in advance of its initial expiration date.
Makeup Products
There are certain makeup products that last longer if stored at a comfortable, ambient temperature. The shelf life of makeup can vary depending on the cosmetics type. For instance, some mascara can last up to three years while lipsticks can last up to five. However, if makeup is stored in a hot environment for too long, especially solid lipsticks that are prone to melting, it may cause irreversible damage to the products.
Electronics and medical devices
You must have noticed that your smartphone's battery drains faster when exposed to extreme cold. Electronics and medical devices can be sensitive to extreme temperatures. Some medical devices also require colder temperatures to keep them sterile.
Services Offered by a Temperature-controlled storage
There are fulfillment providers that offer temperature-controlled warehousing, and also additionally offer inventory management and order fulfillment services that can help prevent damage or spoilage of temperature-sensitive products. Shiprocket Fulfillment is an end-to-end fulfillment solution that is handled by experts in the field of warehousing. It provides services starting right from picking up your product to shipping the package absolutely damage-free to your end-customer. Check out all about Shiprocket Fulfillment here.
Now let us look at the three services worth considering when choosing a temperature-controlled storage for your business:
Maintaining Internal Temperature
The primary service of a temperature-controlled warehouse is storing products in an environment that maintains a consistent temperature. The warehouse is heated or cooled depending on the outdoor temperature, which guarantees protection from fluctuating temperatures that could cause product damage.
For example, a warehouse in Jodhpur in the summer or a warehouse in Dehradun in the winter would not be ideal for temperature-sensitive products unless their internal temperatures were maintained with temperature control.
Climate Control
The terms 'temperature control' and 'climate control' are often used interchangeably, but there is a key difference worth noting. 'Temperature control' refers to maintaining a consistent temperature range, while 'climate control' refers to maintaining a consistent temperature and controlling humidity levels inside.
Although many warehouses provide both services, if your product requires protection from moisture and high humidity levels, then be sure to ask specifically about climate control capabilities.
FIFO (First In, First Out)
Making sure inventory isn't stored for too long can help prevent products from being exposed to ongoing temperature changes, damage, or being shipped out beyond their expiration date. 'First-in, first-out' (FIFO) is an inventory management method that makes sure the inventory that's been on the shelves the longest gets shipped out before inventory that's arrived more recently.
Along with temperature controlling, many 3PLs follow the FIFO approach to make sure the oldest products are being shipped out first.

3 Things to Consider When Shipping Temperature-sensitive Products
Storing your products in a temperature-controlled warehouse is one thing, but what about shipping them to your customer's address? Here are three things to consider when shipping temperature-sensitive products.
Choose Appropriate Packaging
To maintain a consistent temperature during the shipping process, you may want to consider insulated packaging options that will help protect your shipments from getting too hot or too cold while in transit. Two common types of products that may require insulated packaging are perishable food items and pharmaceutical products that may be harmful if delivered spoiled.
Fast Shipping
Some 3PLs also offer affordable, fast shipping options. Many eCommerce businesses that sell temperature-sensitive products benefit highly from fast shipping options. Not only does it keep customers happy, but it can significantly reduce the time a package spends in transit, which ultimately helps prevent products from extended exposure to fluctuating temperatures.
Shiprocket Fulfillment: The Perfect eCommerce Fulfillment Solution for your Business
Shiprocket Fulfillment is a tech-enabled fulfillment solution that offers you technologically advanced warehouses to store all your products. We also offer affordable next-day delivery options that allow orders to be shipped quickly to their destination.
Calculate Your Shipping Costs Now