eCommerce Business Plan: Ways To Maintain Continuity & Grow Your Business Post Lockdown
The COVID-19 outbreak has gripped the global economy tightly. Most businesses are affected, and operations are halted or reduced in almost every sector. With norms for social distancing, work from home policies, and other precautionary measures, it has become challenging to operate as we did before.
In his address to the nation, our Prime Minister, Shri Narendra Modi, mentioned that even after the coronavirus pandemic ends, things will not be the same. There will be a pre-corona and a post-corona time.
What does this mean for eCommerce and retail businesses? Will operations and sales remain the same after the lockdown is lifted and the restrictions are eased?
After the lockdown was imposed in India on March 24, 2020, eCommerce sales saw a steep rise. Though the categories were not the same as before, we can say that eCommerce is here to stay.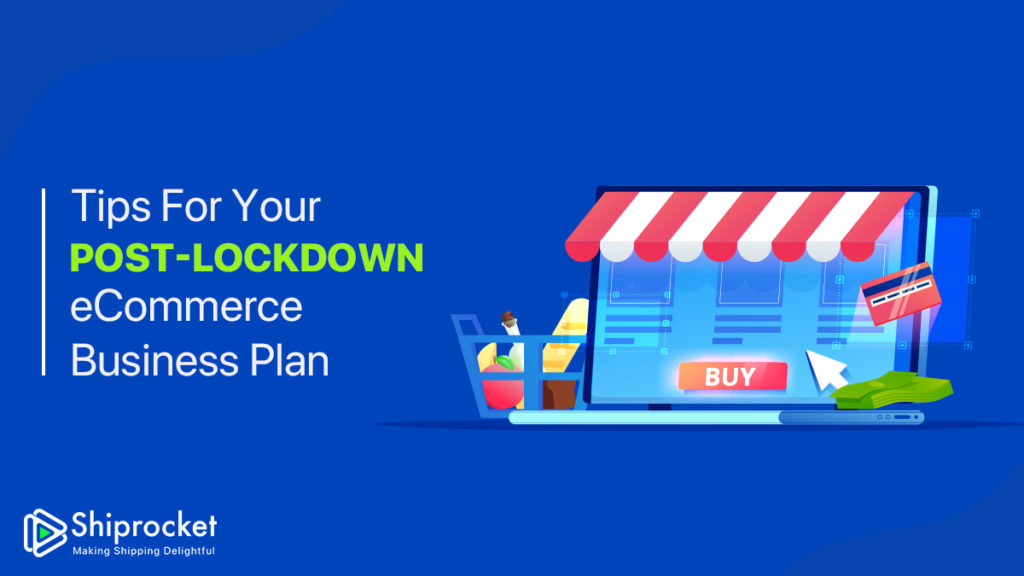 We can, therefore, conclude that to maintain continuity in your eCommerce business, you need to change the epicenter of your business plan. Tough times call for strict measures. Hence, you will need to adjust sails and adapt your business with the need of the hour.
As the lockdown has been lifted and you can resume selling and shipping of non-essential items, you can easily say that eCommerce is going to be a major contributor to retail sales in the future. Therefore, your post lockdown business plan must reflect the same.
Here is what you can expect in the coming time and how you need to refocus your eCommerce business plan after the lockdown is lifted.
Setup Your Online Store
If you've been contemplating whether you must set up shop online, now is the best time. Since most of the population in the country is shifting to purchase items online, the lockdown has proved that online shopping will be the new normal in the coming years.
According to Capgemini research, the Indian consumers' requirement and choice for online shopping are expected to increase from 46% in the current scenario to 64% over the next six to nine months.
We understand that making a shift to online retail is a huge step for any business. The supply chain is completely different and it can take you a while to understand the process of building your store, listing your product, marketing your ideas, and shipping the orders.
But if you look closely, there are various solutions available to provide a simple solution to build your website and begin selling your products in an instant.
Furthermore, you can always rely on industry experts from Shopify, Unicommerce, and others to answer your questions about growing your business online. You can do this at SHIVIR 2020. Read more about it further.
Focus on Fulfillment
Your fulfillment model is going to be an absolute game-changer. Since most large retailers are making a shift to eCommerce, the competition is only going to get tougher. Therefore, if you want to build loyal customers, you will need to have a factor that differentiates you from the rest.
Having the right logistics and fulfillment strategy can help you reach out to people faster. Moreover, the direct-to-commerce or D2C market is going to grow exponentially in the tier-2 and tier-3 cities in India. As this audience is only starting to turn to eCommerce for their needs, you can influence their purchase behavior in many ways!
So, if you can deliver to them on time, there is a good chance they are going to turn to your business for their shopping needs.
To deliver seamlessly across all pin codes of India, you can ship with solutions like Shiprocket. This can have many benefits in this challenging scenario. First, you can ship from multiple pickup locations.
Therefore, if you have warehouses across the country, you can schedule pickups and deliver on time. Next, you can ship with 17+ courier partners. This can help you get a wide reach of courier partners without having to reach out to anyone or go to any office physically.
Small businesses that want to deliver products to different zones can opt for Shiprocket fulfillment. You will need to store your inventory in Shiprocket's fulfillment centre, and we will pick, pack, and process the orders for you.
With Shiprocket fulfillment, you will be able to reach customers faster across India. For instance, if you're running your business in Delhi, you will be able to run your business in Bangalore, sitting in Delhi.
With a shift to eCommerce, focussing on logistics and fulfillment can help you run your business smoothly on the ground level.
Hyperlocal Deliveries are Making a Comeback
With the demand for essential items increasing, we can see that brick and mortar stores are taking a hit. People are now more interested in ordering online and are looking for deliveries as quickly as two hours or three hours.
"Vipul Parekh, the co-founder of Big Basket, said that they had seen a 20 to 30% increase in orders in March-April as compared to February."
This implies that the demand for food and grocery, along with other essential items, is at an all-time high. Thus, you need to focus on techniques to get these faster to your buyers.
Even after the restrictions are eased, people are going to rely on hyperlocal delivery from their neighborhood to get their essentials as it is more convenient and faster.
Moreover, if businesses integrate an eCommerce strategy into their hyperlocal business, they can reach out to several buyers in their neighborhood.
To make hyperlocal delivery accessible to all, you can ship with aggregators like Shiprocket. They enable you to deliver with the help of leading hyperlocal service providers like Shadowfax, Dunzo, and Wefast. This can help you gain more accessibility within a 50 km radius of your store. As a robust technical infrastructure backs these solutions, you can expect to see a delightful customer experience with efficient operation management for your business.
Even large retailers like Paytm mall are resorting to strategic partnerships with hyperlocal delivery service providers. Primarily, to expand their reach and optimize delivery.
The New Essentials
With the lockdown in place and the dwindling economy, the need for non-essentials has gone down among shoppers. In India, 93% of all eCommerce sales are non-essential items.
Post lockdown, we can expect to see a category of new essentials. These would include products that help individuals stay comfortable at home. These would include:
Home appliances
Hobby Products
Fitness equipment
Home improvement products
Toys
The fashion and luxury eCommerce industry, that is the worst-hit, can expect to see a shift in demand. Now, consumers will look for more utility-based products.
As some people are now witnessing distressing consequences like salary cuts or job losses, it will be difficult before the sales come back to what they were before.
If you adapt to changing consumer needs and modify your inventory accordingly, you can still maintain continuity in business. This can help you grow a fair share in the industry.
With the ease of restrictions in the orange and green zones, these items are going to be high in demand as the lockdown is extended. Also, since the virus has still not been cured, most people are going to stay home for a long period of time. Hence, optimize your inventory to fit these products for your buyers.
Shipping essentials right now, in the time of need, is also a major task. To do so, you can tie up with shipping solutions like Shiprocket. They can help ship products like personal care, PPE, medical equipment, medicines, groceries, pet supplies, baby care products, stationery, etc.
Safer Deliveries
You can expect the delivery norms to change post lockdown completely. Deliveries will no longer be just a part of the process. They will have to be monitored and scrutinized at all times.
This means, post lockdown, you will have to focus immensely on the sanitization of your inventory and warehouse. Also, it will be vital to conduct safety training programs for your staff. This will be necessary to ensure they deliver hygienically and follow safety protocols.
Contactless delivery is a concept that has bloomed in the long term period and shall continue to grow post lockdown. It is a great technique to avoid contact, and you must follow it to deliver your products.
The primary focus of the supply chain industry post lockdown is going to be safe deliveries and hygienic operations. 75% of Indian consumers who participated in Capgemini research said they would purchase with retailers adopting safety practices in stores.
Therefore, having supply chain transparency will be helpful for SMEs, D2C brands, and retailers.
A Boom in Digital Payments
Finally, there will be an increase in online payments post the lockdown. As the government and other retailers are pushing toward the utilization of digital payment modes like UPI payments, mobile wallets, net banking, etc. we can expect to see a growth in the use of these post lockdown too!
According to a report by Statista, nearly 33% of online shoppers prefer digital payments as they have to utilize less cash.
This trend can see an upward growth even after the lockdown is lifted. Even in the offline retail markets, people will prefer paying via contactless delivery options.
Hence, it will be suitable for your business to get on with a payment gateway. Collecting online payments will be the next normal for your business. You can expect a decrease in cash on delivery orders as safety standards are going to become much more strict.
Discuss These Strategies with Industry Experts at SHIVIR 2020
It can often get confusing when we have never encountered a similar business challenge before. To help you find practical solutions and understand these problems better, Shiprocket brings to you SHIVIR 2020, a 3 day virtual eCommerce summit. This summit will help you become aware of the key aspects of financing a business, the evolving nature of eCommerce, and logistics in the times of a COVID-19 induced national lockdown and more.
You will get a chance to interact with industry experts from Shiprocket, Shopify, Unicommerce, Facebook, Zoho Commerce, PayU, AdYogi, Payoneer, and many more and understand closely how you can evolve every aspect of your business to adapt with changing consumer behaviour and purchase dynamics.
Futhermore, you can ask questions and find answers to your queries and learn from the experience of the eminent experts. Do not forget to register today!
Final Thoughts
Even though times are uncertain now, there is hope that the industry will soon rise to greater heights. Right now, eCommerce businesses need to align their business plan to accommodate changing needs. The evolution of key focus areas is essential for their business growth. How much ever bleak the sales may seem, now is an excellent time to gain knowledge in business and leap in the post-corona era.
Calculate Your Shipping Costs Now