COVID-19 & eCommerce – Latest Updates on Shipping Non-Essential Items & More
India is currently facing challenging times owing to the spread of the new COVID-19 variant Omicron. People are mostly staying indoors and trying to procure necessities, while there is a lot of speculation about the services that are active and restricted.
The eCommerce industry has seen a lot of twists and turns with regard to the operational updates during the previous two waves.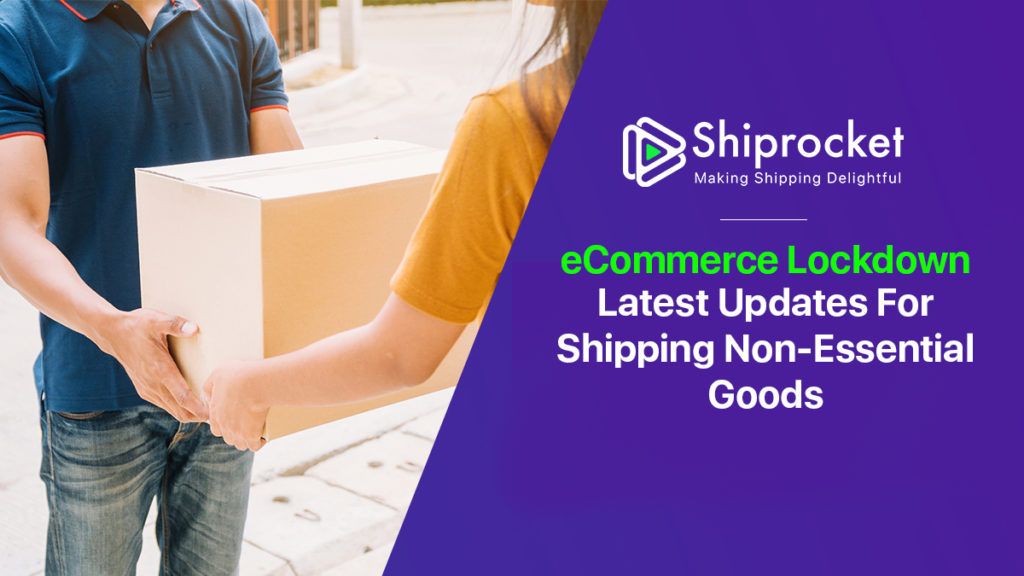 While there were several restrictions in shipping non-essential items during the second wave of COVID-19, so far there is no such restriction imposed by the government of any state.
This comes as a relief for many small and medium eCommerce businesses that were not able to ship non-essentials during the previous two waves. We hope that they will be able to reach consumers faster and deliver better.
Recent Update and Division of Zones
The government has specified these zones based on the COVID-19 cases and their severity in various districts.
However, when delivering orders, it is important that the delivery executives must follow a strict protocol for hygiene and safety. They must make use of masks, gloves, sanitizers, etc when delivering products. Also, social distancing needs to be followed wherever required.
Before moving further to how you can deliver non-essential items to your customers, here is a brief recap of the timeline of how the lockdown impacted the eCommerce sector.
eCommerce Lockdown – A Brief Timeline
On 24 March 2020, our Prime Minister ordered a nationwide lockdown for 21 days. Following this, all eCommerce services were asked to stop and guidelines were issued for the movement of only essential items.
Most factories and services were shut down in the first phase of the lockdown.
There were a few operational challenges in the beginning but state governments issued orders to allow the movement of essential goods in the nation.
After the first phase of the lockdown was about to end on April 14, 2020, the Prime Minister announced a second phase of the lockdown till May 3, 2020.
New guidelines were released that allowed local standalone shops to operate for essential & non-essential items. eCommerce companies were also given a green signal to deliver non-essential goods starting April 20.
Soon after, a government notification was released on 19th April, that rolled back the shipping of non-essential goods and companies could only ship essential goods till May 3.
On May 1, the Ministry of Home Affairs announced that eCommerce companies could deliver non-essential goods in the government-specified orange and green zones. However, only essential items can be shipped in the Red zones.
On May 17, after announcing about lockdown 4.0, the ministry of home affairs offered considerable relaxation for eCommerce. Sellers can now deliver non-essential products to red, orange, and green zones. This comes as a breather for eCommerce businesses as they can deliver products and resume business. But, only essential items can be delivered to containment zones.
As the situation eased in India, several restrictions were removed. However, with the second wave of COVID-19 with the delta variant, the restrictions were once again imposed. This time as well, only essential goods were delivered.
But with the third wave of COVID-19 with the Omicron variant, the government has not imposed any restrictions on the delivery of non-essential goods.
List of Non-Essential Goods for Shipping
Non-essential goods include the following items, which can be delivered during this third wave of COVID-19:
Mobile Phones
Computers
Televisions
Refrigerator
Women's Apparel
Kid's Apparel
Men's Apparel
Pens
Books
Notebooks
Registers
Office Staples
Furniture
Kitchen Appliances
Home Furnishing Products
Sewing & Craft Supplies
Fitness Equipment
Sports Equipment
Toys
Baby Products
Bags
Fashion Accessories
These, and all other products that were easily bought or sold online before the first two lockdowns were imposed, can be delivered all across India.
Earlier, only a few essential products like groceries, medicines, personal care, etc. were allowed to be delivered. Everything else was termed as a non-essential item and was not allowed to be shipped and delivered.
How Can You Ship Non-Essential Goods?
The next big question is how can you get non-essential items delivered to your customer's doorstep. You can ship and deliver your products with various courier companies. You can tie-up with courier companies and arrange for pickups so that your orders can be delivered on time.
Also, you can tie up with shipping solutions like Shiprocket, that help you ship with multiple courier partners. This gives you a greater pin code reach to more than 29,000 pin codes and you can resume your services quicker.
To ship non-essential items with Shiprocket, read more here.
Final Thoughts
Update about eCommerce companies shipping non-essential items comes as a breather for various websites and marketplaces. This will help sellers resume their businesses. We hope with these relaxations, the operations of all businesses will resume as before and we will be able to get things delivered seamlessly without any roadblocks.
Calculate Your Shipping Costs Now