5 Mistakes You Need to Avoid For Reducing Logistics Costs
For the growth of any company, there are certain operations that should be given top priority in order to gain positive results. You need to manage costs and expenditures to maintain a higher profit margin.
Logistics management deals with activities related to the storage of goods along with procurement and transport. Do you think the reduction of logistics expenses is a good way to manage costs? Many companies do follow this notion and even work on it. In reality, it is one of the biggest mistakes which should be understood and corrected. The actual logistics cost is hidden in the fuel surcharges that are fixed and cannot be amended.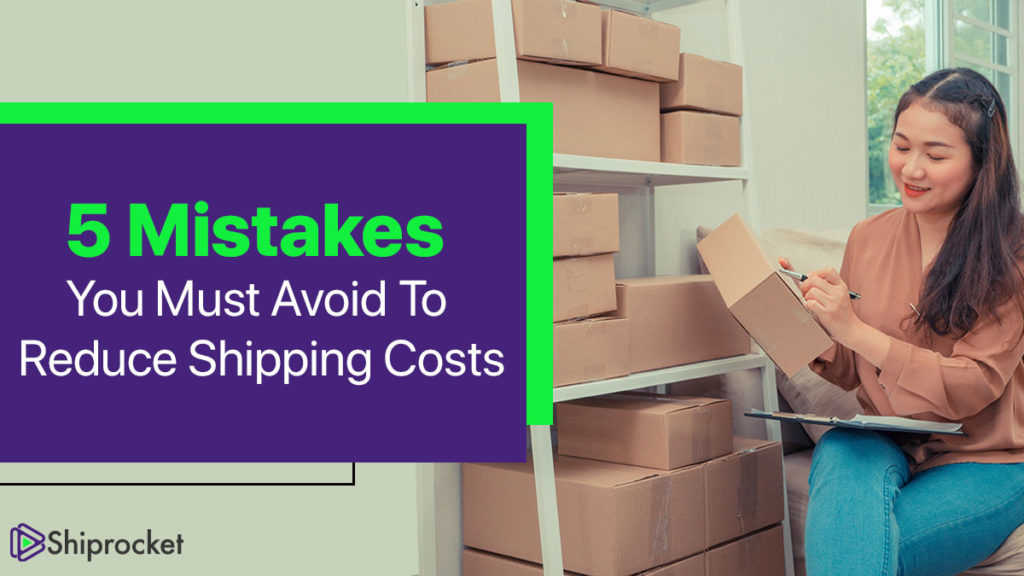 But, there are solutions to go around this problem which can definitely help in reducing logistics cost. Similarly, there are several mistakes surrounding the logistics process that should be avoided.
In-House Logistics
Mistake: If you are running a small business and handling your logistics and delivery operations by yourself, it's a good idea to opt for in-house logistics. But, if you ship upto 50-100 orders a day, you might be wasting a lot of time & resources on logistics management.
Similarly, for a company that is handling international trade, the movement of goods across borders does count as expensive. This is a problem which is faced by numerous companies that are part of the international market. If your company consists of in-house logistics, then there are huge chances of higher costs.
Solution: The most effective cost-saving technique is to outsource logistics to a supply chain and eCommerce logistics expert like Shiprocket. There is a certain need for an expert in international logistics who is well aware of the basic norms. Under the logistics department, there can be certain issues which can arise due to various reasons. An in-house logistics approach might not be sufficient to tackle such issues alone without any support. This additional stress can be very well managed by the experts at a supply chain management facility or by a shipping solution under a controlled cost.
Overcharging by Customs
Mistake: This mistake is not highlighted a lot but is made by several companies. The classification of goods isn't done correctly on the commercial invoice which leads to unnecessary taxes that directly increase the cost of the shipment. Since you cannot overcharge the seller post shipping, you will need to pay these charges yourself.
If some company complains about import duties and tariffs, then they must surely go through all the stated terms related to it.
Solution: To avoid overcharging and bringing your logistics cost down you must manage the goods according to the custom standards. This will ensure the clearance of your goods in a cost-effective way. If your company deals in large-scale imports, then such measures are required so as to save a lot of cost.
Incorrect Procurement
Mistake: The cost of logistics increases when carelessness at the storage centers is prominent. Suppose your products are packaged, shipped, and received at the exact location. But it is later found out that the paperwork isn't correct. Another case when some parts of the order are different or missing from the consignment. All of this is counted under processing errors which can lead to higher logistics costs as the parcel might be sent back and everything will proceed from level one.
Solution: Correct procurement of goods is important which can reduce this additional logistics cost. You can fix a particular group of experts who can carefully check the products along with the paperwork that is involved. One can also take the help of a logistics partner in order to prevent such issues.
Non-Involvement of Automated Compliance Processes
Mistake: If your company is not using software solutions for trade compliance issues, then it can surely affect the logistics cost. Manual preparation of documents can take a lot of time that can delay delivery time along with lesser inventory levels.
Solution: The companies that have successfully implemented software solutions experience speedy outputs. On-time delivery along with the quick elimination of logistics errors is ensured through the inclusion of automated compliance procedures. Increased customer satisfaction is another aspect that is highlighted through this important addition.
Single Platform Availability
Mistake: If the key stakeholders aren't managed through a common platform, then the supply chain techniques might not come into effect. Companies that are not operating on a single platform might be wasting their resources. No integration leads to a vulnerable system due to the transfer of information through various channels. This process is time-consuming and leads to an increase in logistics costs.
Solution: Data intelligence is necessary here. It can function on a single platform for positive results. Trying to curb duplication in order to secure the system is an important step. Time is saved by transferring information onto the common platform so as to reach all the connected stakeholders.
Final Say
The above-stated points are some of the common mistakes which can be avoided to reduce logistic costs. These mistakes might not appear that prominent but have a major effect on the overall logistics costs. You need to be alert and aware in order to prevent such situations. Always remember that for every problem there is a viable solution that is available through patient analysis and research.
Calculate Your Shipping Costs Now