Top ONDC Apps in India 2023: A Complete Guide for Sellers and Buyers
Introduction
In India, only 15,000 out of 1.2 million sellers have enabled eCommerce to sell their products and services. Digital selling seemed out of reach for small businesses, particularly in rural and remote areas. That's until ONDC was introduced!
ONDC, Open Network for Digital Commerce, is an association of companies, merchants, and brands with a well-defined interconnected digital commerce platform. The Department for the Promotion of Industry and Internal Trade in our country has launched this tech-based initiative to develop open commerce. It's an initiative that can transform eCommerce through an open protocol-based platform.
Let's explore ONDC in detail, different seller and buyer ONDC apps, ONDC's impact on small businesses, and more.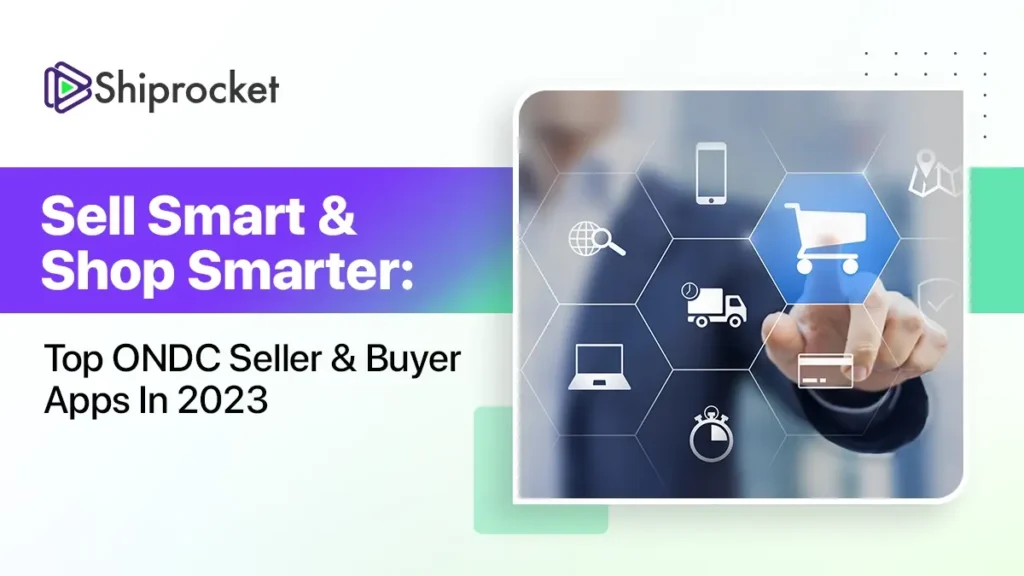 What is ONDC?
In December 2021, ONDC was incorporated as a Section 8 company. The founding members of ONDC include the Quality Council of India and Protean eGov Technologies Limited.
It is an initiative that strives to promote open networks for all aspects of trading, like exchanging goods and services over digital or virtual networks. ONDC is based on an open-sourced framework. It uses open network protocols and specifications and does not depend on a specific platform. Think of open-source as software that is free for anyone to use and modify.
The open protocols of ONDC will be used to set up digital public infrastructure. This infrastructure will be in the form of network gateways and open registries. It will allow two-way exchange of information between sellers and buyers. Buyers and sellers can use different ONDC apps best suited to their needs to exchange information and carry out transactions.
ONDC is based on the BeckN protocol. It standardises inventory management, cataloguing, and order fulfillment processes. Hence, any small business will be able to use the ONDC platform, unlike other networks that are governed by their rigid policies. Thus, buyers can discover smaller businesses over the network.
There are several institutions that have invested in ONDC. These include NSE Investments Ltd, BSE Investments Ltd, Axis Bank, HDFC Bank, Bank of Baroda, UCO Bank, Punjab National Bank, Central Depository Services (India) Limited, National Securities Depositories Limited (NSDL), and more.
Top 5 ONDC Seller Apps in 2023
Reaching new customers and getting discovered by your target audience has always been a challenge for small businesses. Establishing a strong online presence is no longer a far-fetched dream. You can establish your presence through seller ONDC apps. It has been designed to democratise eCommerce markets by allowing businesses of all sizes to go online without hassle.
Here are the top five ONDC seller applications in 2023:
StoreHippo launched the Mystore application, an ONDC network-connected marketplace that allows SMEs nationwide to sell their goods in the Indian eCommerce market. This application offers several built-in tools rich with features like an admin dashboard to help manage day-to-day business activities. The platform has a user-friendly interface that even people unfamiliar with it can easily master in no time.
Sellers can also have a problem-free online journey with Mystore's seamless payment gateway integrations. Several ONDC network-approved logistics and SMS partners are connected to this application. It also offers migration solutions to those sellers using different platforms. It has adopted all the latest technologies, and sellers can start an eCommerce store at zero subscription cost.
The eSamudaay application was created to encourage local economies nationwide that are planning to adopt the ONDC network seller registration. It provides solutions to make order processing and managing grocery products easier for retailers from the food and beverage industry.
Several businesses have been on-boarded from the south, east, and north parts of the country on the eSamudaay application. It enables businesses to easily accept orders and manage catalogues and stock statuses via the ONDC network seller application. It also enables sellers to fulfill orders via the eSamuday ONDC app.
YES Bank and SellerApp have collaborated to offer their corporate consumers an ONDC application. They can use this ONDC app to sell their products on the open network. It caters to businesses dealing with home decor, grocery, and other categories. It also gives them options for inventory, consumer orders, report processes, and catalogue functionalities. It is available on the ONDC network in the north-central region and east of the country.
ITC Limited licenses the ITC store to allow small and medium businesses to do business online. It is available for businesses selling groceries, stationary items, and personal care for consumers in more than 11 cities across India. Businesses in these 11 cities can sell their products across 1,000 pin codes.
Digiit is an ONDC network application that allows its users to serve their consumers. Simultaneously, it enables the platform owner to earn some additional money without any extra investment. This ONDC app deals with sellers from the food and beverage, grocery, and home and decor industries. It is extremely popular among the southern states of the country and the other metropolitan cities. You can easily make purchases using the Digiit ONDC application.
Top 5 ONDC Buyer Apps in 2023
Several buyer ONDC apps have optimised the buying process within the eCommerce landscape. These applications have revolutionised how sellers make their products discoverable to potential consumers nationwide.
Here are the top five ONDC apps for buyers in 2023:
This application is the most common household name in India. What's more? It is the first application that went live on the ONDC platform in Bangalore in 2022. Paytm has already recorded the highest number of ONDC orders, making it one of the best buyer ONDC apps. In the future, Paytm aims to expand to different domains in addition to home decor, grocery, and food. Lastly, Paytm has also enabled users to look for multiple product options from different sellers, make quick payments, and track orders using this app.
This application allows its users to shop from a large selection of sellers, including smaller retailers and startups, all on a single platform. It is a local delivery app that provides exclusive cashback and vouchers to buyers. It enhances the entire shopping experience with options to choose from top food brands, try different categories, and enjoy special offers. Other features include cuisine selection, specially curated collections, and more.
PhonePe launched this incredible hyperlocal eCommerce application that connects users with retailers in their neighbourhood. It is one of the first ONDC infinity stores, generating great public demand for digitally enabled sellers. Pincode features over 20,000 items, including farm dress products like grain, meat, fish, and oil at affordable prices. They can also make secure payments for their orders through PhonePe's trusted integrated gateways.
Meesho is our country's new-age eCommerce platform. This app is powered by government-backed ONDC. It serves two critical purposes. First, it enables buyers to connect with hyperlocal local sellers. Second, Meesho supports India's vision to establish a diverse ecosystem in the eCommerce world. Meesho also strives to democratise eCommerce for the country while also empowering smaller retailers and merchants.
Mystore is one of those network participants of the ONDC Network, which offers Buyer and Seller apps. Mystore offers buyers access to a great variety of products and services across all industries. Consumers can also choose their preferred logistic solutions and payment methods on this application. Furthermore, buyers can make secure payments and track their orders. This ONDC app also enables buyers to directly communicate with sellers, cancel their orders, and rate their shopping experience.
Other Aspects of ONDC
Here are some of the best ONDC features that can help you bring your business online effortlessly:
Enhanced choices and competition: The ONDC platform helps bring together different eCommerce sellers while also offering customers a wide range of options at reasonable prices.
Price reduction: ONDC provides reduced prices compared to other sellers and delivery options. The affordability feature they provide can help buyers save substantially on their orders, making it a brilliant option for people who live on a budget.
Discounts and offers: Applications like Paytm on the ONDC platform offer promotional deals and cashback offers on purchases to all of its users.
Government-backed initiative: As all the applications on the ONDC platform are supported by the department for the promotion of industry and interbank trade, consumers easily trust their applications, and hence, they have greater credibility.
Customer support: This feature is integrated within the application as the ONDC provides dedicated consumer support and quickly addresses users' concerns. Hence, users can reach out anytime, making the application more friendly.
ONDC's Impact on Small Businesses
The ONDC network has a very positive impact on small and medium-scale businesses. Here are some of the major benefits:
Easy and quick business digitisation: Small and medium-scale businesses do not possess the capacity to adopt all of these technical abilities and transformations to take their businesses online. Hence, ONDC's protocols help them to adopt these hassle-free methods in a standardised manner.
Exploring the untapped markets: The rural sections of the country are untouched territories by the eCommerce markets. ONDC aims to bridge this gap in these regions and offer robust infrastructure, allowing eCommerce platforms to explore these markets.
Innovation opportunities: ONDC is more likely to add technologies like artificial intelligence and machine learning, the Internet of Things, blockchain, etc., to stay ahead of the competition. It ensures that the buyer and seller ONDC apps will keep up with technology and advancement at all times.
Secure and quick payment: Fast and efficient payments can be one of the greatest challenges the ONDC has tackled by integrating safe and secure payment gateways.
Better consumer experience: Better revenues directly result from better buying experiences. The ONDC platform ensures a seamless shopping experience for buyers, only allowing authentic and verified sellers.
Government Regulations and Compliance
The ONDC has now revised the structure of its incentive scheme to enable and provide its users with greater flexibility to the buyer-side applications on how they can provide discounts and other incentives. They also provide lower subsidiaries that boost the density of merchants on the network in non-metro districts.
The alert about the fifth revision of the incentive scheme was sent to network users and was effective after the Moneycontrol group reviewed the circular. The ONDC has achieved major milestones, including onboarding about 37 different network participants, including market leaders to startups, along with over 260000 merchants with more than 27 lakh worth of products.
ONDC's Potential Future Developments
The ONDC is one of the greatest innovations in India to revolutionise the eCommerce world. The issues that the ONDC encounters can easily be global. Despite the rise in internet connectivity worldwide, many organisations are still beyond reach for digital commerce. Here's how the ONDC can significantly influence the global trade market:
Improving regulatory compliance: ONDC has established itself as a standardised and transparent platform. In addition to helping small businesses go online, it also helps them to adhere to international trade regulations. The compliance costs will vary depending on the overall costs of products businesses trade globally. The ONDC platform can substantially minimise costs by making it easier for small businesses to comply with trade regulations.
Streamlining and optimising cross-border transactions: This network has a very interoperable framework, making cross-border transactions more efficient. It also minimises complexities and costs associated with international trade. It promotes organisations to engage in global eCommerce.
Conclusion
The open network digital commerce (ONDC) platform has certainly transformed the existing eCommerce infrastructure. It has also opened up untouched business markets and provided small-scale retailers with new growth opportunities. However, creating extremely advanced eCommerce websites and applications needs special attention and technical expertise. The ONDC has standardised all these processes, making it extremely simple for small and medium-scale businesses to tap into a digital world. Today, several seller and buyer ONDC apps have created records and revolutionised the eCommerce scenario in India and will continue to do so in the future.
Frequently Asked Questions (FAQs)
What are the four objectives of ONDC?
The four objectives of ONDC include decentralisation and democratisation, access and inclusivity, more independence and choices, and more affordable products and services.
What is the difference between seller and buyer ONDC apps?
The ONDC platform connects sellers and buyers. Buyers ONDC apps are responsible for the search and discovery of products, orders, etc. Seller ONDC apps are responsible for onboarding sellers, managing product catalogues, etc.
What are the challenges of ONDC?
ONDC presents several challenges. These include complexity, data privacy, interoperability, onboarding sellers, delay in delivery of orders, and more.
Calculate Your Shipping Costs Now