List of Top Free Video Editing Software for eCommerce Videos
Videos have become the most recent form of expression for all social media platforms. Be it Facebook, Instagram, or Snapchat; every brand is doing something or the other with videos to ensure they get the maximum attention from their users. Ever since TikTok entered India, users have been hooked to their phones and enjoying short-form videos for a significant time.
This is enough testimony to justify the need for videos for your e-commerce brand. Let's have a look at the top video editing software for e-commerce videos that can help you create engaging and attractive videos for your audience.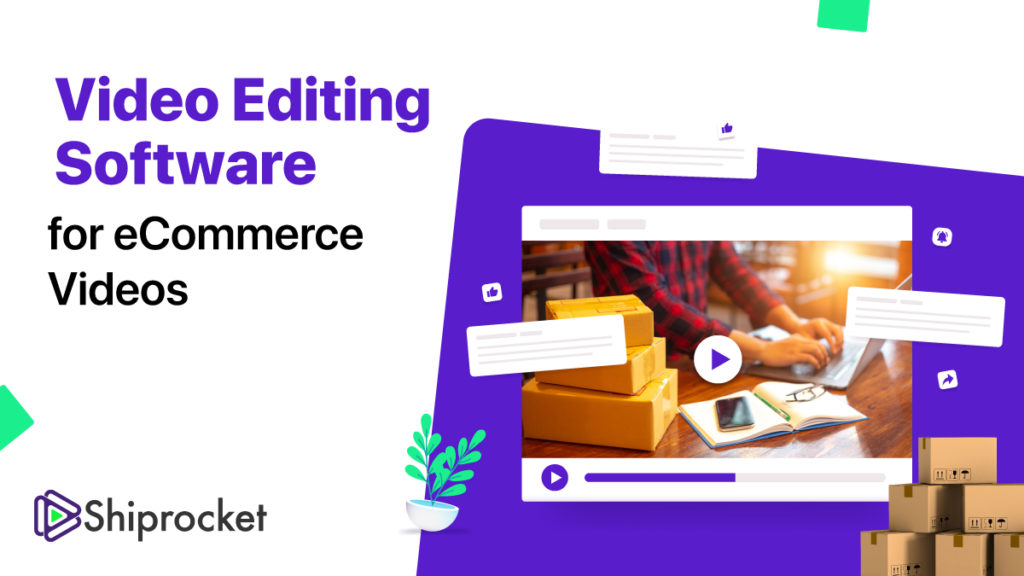 The Rising Need for eCommerce Videos
Ever since the advent of digital media, the attention span of humans has been divided. Today, people are using more than one device at a time. Therefore, if somebody is watching a YouTube video on their iPad or laptop, they are also simultaneously going through their Email or WhatsApp messages on their phone.
This means that you need to establish your brand's presence on multiple channels at once, so you have their attention. Brands are more focused on engaging videos as they hold the customer's attention for a longer duration.
Also, since it is an audiovisual format, the user feels more engrossed. The whole feel of a video helps decide the outcome for the brand. Your video must contain good graphics, a storyline, and an engaging background score for the user to stay hooked to their screen. This is where video editing comes into the picture.
Video Marketing – The Future of eCommerce Marketing?
India is a video-first market. Almost 70-80% of all data is video, and brands are progressing towards this format more and more aggressively. First, it was TikTok, and now it is Instagram Reels. Users are actively engaged and consuming video content majorly. Several small sellers are taking advantage of reels and sharing their original content on trending music or even sharing their product videos that are edited amazingly. If you can excitingly showcase your products on reels or a similar platform, you can improve your sales by leading more customers to your website or social media page.
Since making videos is not an easy job, many software available can help you edit videos seamlessly. Let's have a look at a few of the top video editing software that you can work on at absolutely no investment.
Top Video Editing Software for eCommerce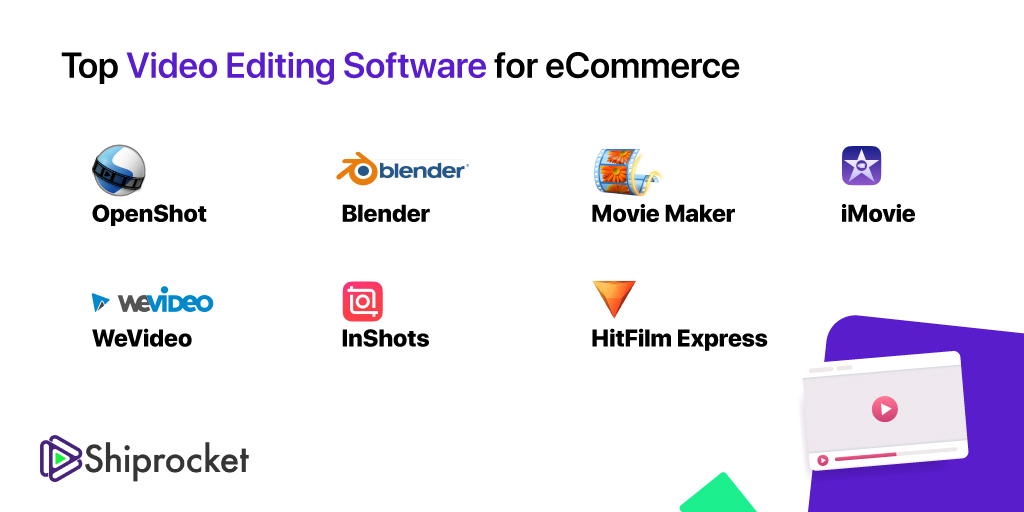 OpenShot
OpenShot is an open-source video editing software that can trim videos, animations, add audio and other video effects. It has a simple user interface, and you can even add effects like slow motion and time-lapse.
It is an efficient option for small businesses and can be used for several videos to create product videos or even Q&A ones.
It is currently available for Linux, Windows, and Mac.
Blender
Blender is an open-source 3D creation sweet. It is suitable for the whole 3D pipeline that includes modeling, rigging, animation, simulation, rendering, compositing, and motion tracking. It can also be used for video editing and 2-D animation.
With so many features available for free, you can utilize Blender to create terrific product videos with superb animations and transitions. The products can be displayed in a new light, and you can also share prototypes and designs using the software.
It is currently available for Mac, Windows, and Linux.
Movie Maker
Movie Maker is the most commonly used video editing software in Windows. It is a conventional video editing software and takes into account all the basics. It is an excellent way to make quick small videos with minimal editing. IThe movieMaker lets you add captions with font and colors in the free version and creates seamless transitions between frames.
iMovie
Just like Movie Maker, iMovie is Apple's proprietary video editing software that helps you add transitions, text, etc.
It has a smooth interface and lets you also work on the audio, tones, individual frames, etc. Many creators use iMovie also to edit their YouTube videos. You can also do the same to boost your efforts.
WeVideo
The video is an easy, fast, and flexible online video editor that helps you store everything on the cloud. You can access these videos anywhere. You can add features like a green screen without additional cost and edit videos with zero upload wait time.
Not just this, you can also choose from multiple formats like social media, web, and mobile to customize videos for the respective channels.
InShots
InShots is a top-rated app used by several creators to develop and edit stunning videos. It has a complete mobile user interface and makes the recording and editing process much more manageable.
You can add music to the videos, merge videos, add transitions, use effects like slo-mo, time-lapse, etc., to make your videos stand out.
HitFilm Express
This is a slightly advanced video editor, but it is excellent for producing Hollywood-style graphics and videos. You can edit trailers, videos, create animations, etc.
It has features like video editing with motion tracking, color because, and cropping. Also, with the auto stabilizer, you can make shaky footage smooth and mix audio to create appealing background scores.
Conclusion
Since the trend for e-commerce videos is catching up, you must place your day to see your brand as a video-first brand that delivers quality content to its customers. Engage with your customers on the platform that they are most active and create engaging videos with the help of the free video editing software available online. We hope this list has helped you make the right choice for the correct editing software that may be suitable for your business.
Calculate Your Shipping Costs Now