How to Use YouTube for Marketing Your eCommerce Store?
With the growing landscape of e-commerce in India, you need to be omnipresent to promote your product. When your commerce had just started, you could promote your product on select social media channels like Facebook and Instagram to gain enough traction and increase sales. However, with the changing dynamics of digital growth in India, you need to promote your product wherever your audience is present. YouTube is one such platform.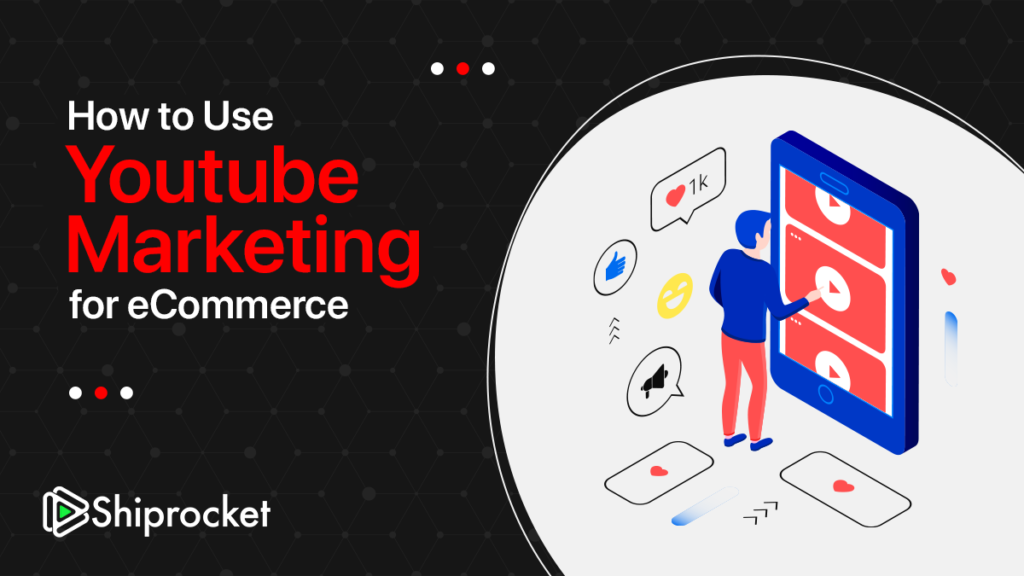 YouTube has been present in the digital space for a very long time. Earlier, it was used by individuals to see videos for information or entertainment. But today, it plays a more significant role in anyone's life. People use YouTube to raise awareness, sell products, give information, and also provide entertainment.
Let's look at why you shall use YouTube as an effective channel for marketing your store in 2021. Also, let's dive deeper into how you can use YouTube for selling your products.
Why is Youtube an Effective Channel for Marketing Your Products?
According to statistics, YouTube has over 2 billion users worldwide. Users watch over 1 billion hours of video on the platform every day and generate billions of views. Every minute, 400 hours of video are uploaded to YouTube worldwide.
Over 62% of businesses use YouTube as a channel to post video content. It has been a valuable tool for businesses.
Over 90% of people say that they discover new brands of products on YouTube.
Over the years, YouTube has gained a substantial user base. Individuals use YouTube as their only channel to view content and make shopping decisions. Many online influencers use YouTube as a primary medium to communicate reviews, experiences, etc.
This is why we feel that YouTube is an excellent platform to promote your products and grow your eCommerce brand presence in the digital space.
Several B2C brands are now coming to YouTube to target their audience and gather traction on their products. Be it YouTube ads or influencer videos – YouTube is the best place for promoting your e-commerce brand. Let us look at techniques to do it efficiently and generate maximum results.
How to Use Youtube for Marketing Your Products?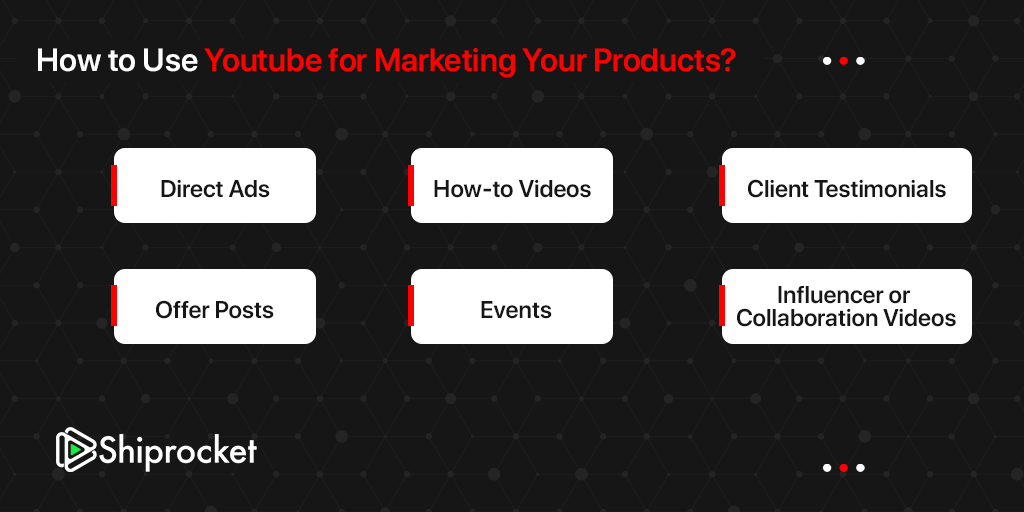 Direct Ads
Direct ads are videos that you view before the beginning of any YouTube video or in the middle of one. They can be five seconds or even 2 to 3 minutes long. These ads are direct and can talk about your brand with any specific product you would like to promote. These ads can also talk about any offers that you might be promoting. Nivea utilizes Anushka Sharma as their brand ambassador to promote the Nivea products before YouTube videos. Similarly, Shilpa Shetty does the same for mama earth.
Directors get you a considerable amount of traction as some of these ads are also non-skippable. However, your ads need to be engaging in content and messaging to attract clicks. Since ads are associated with intrusion, customers will not learn more about the product if your content is not good.
How-to Videos
How-to videos talk about the different ways in which your e-commerce offering can be used. For example, if you sell a neck massager, you can utilize YouTube to share a tutorial video of how the massager works and the different ways in which you can use it. You can find several product demos and tutorials on YouTube and refer to them for creating your own. They can either be step-by-step how-to videos, or they can be different ways in which you can use a particular product.
These types of videos give the buyer an insight into the product and tap on to their needs. Such videos also have the power to create a desire to purchase the product by creating a need-based utility in the buyer's mind.
Client Testimonials
Client testimonials are the most effective form of user-generated content, and these videos help develop trust among buyers. They can be short videos or case studies that talk about the client's journey with the product. Such videos are great tools to create a community and inculcate trust among new buyers.
Offer Posts
The next type of video that you can post is offer posts. These are usually related to any ongoing offers that you may have. You can include the process about availing of the offer, or they could be promotional videos regarding any products.
Events
Another sought-after form of videos and events. You might be conducting events offline to generate eyeballs for your product. Covering these products and sharing them online can also be a great way to engage with buyers on YouTube. Also, events are actual types of videos that users can connect with faster. Try to make these as organic as possible without any scripting to ensure that the real sense of the video is captured.
Influencer or Collaboration Videos
Influencer or collaboration video is another technique to tap on to the audience of two channels on YouTube. The influencer who is promoting your product also has a significant following, and you can utilize this following to generate more leads. For example, The beauty brand Nykaa regularly posts videos with beauty influencers to promote their products. The influencers review the products and share honest feedback with their audience. This helps you generate sales much faster, and you can expand to a wider audience quickly.
Final Thoughts
YouTube videos are a great technique to target the millennial and Jensy audience. Unlike other social media platforms, YouTube is used equally by all age groups. Therefore, it must be on your list if you want to promote your product actively. Even though you cannot directly acquire customers like on Facebook or Instagram, you can use it to raise brand awareness and bring your product into your customer's eyes. We hope these tips were helpful, and you will be able to promote your e-commerce brand on YouTube quicker with these ideas.
Calculate Your Shipping Costs Now