Step-by-Step Guide on How to Create a YouTube Channel
The Google-owned video network, YouTube is one of the most used websites in the world. The networking site has the best audience network, and every minute, 300 hours of videos are uploaded on YouTube. Millions of people watch millions of hours of content on YouTube and generate billions of views every day.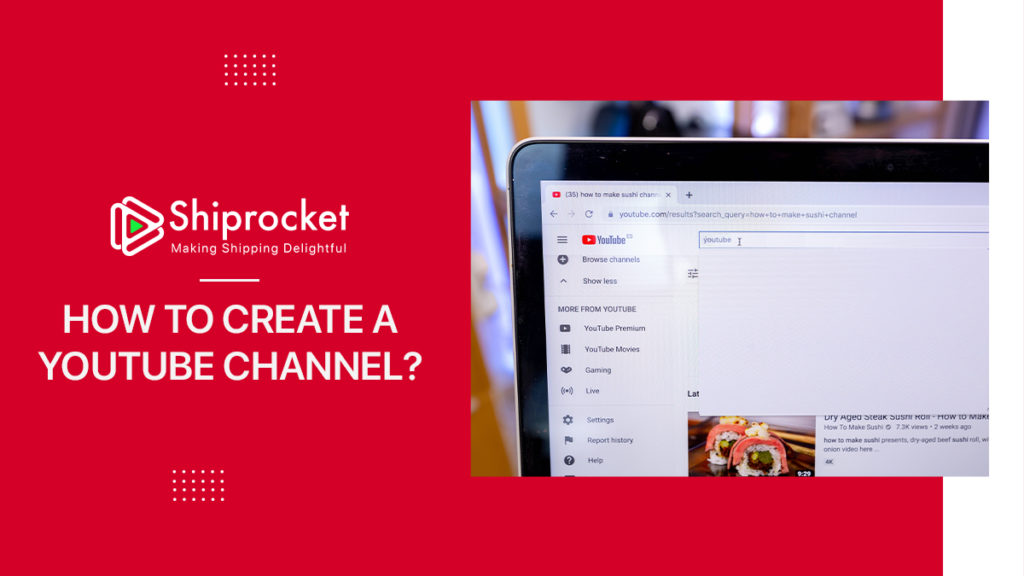 In such a scenario, if you don't know how to create a YouTube channel for your online business, now is the time to learn the same.
In this blog, we shall discuss how you can start a YouTube channel.
How to Start a YouTube Channel?
The following are the steps to start a YouTube channel for your business: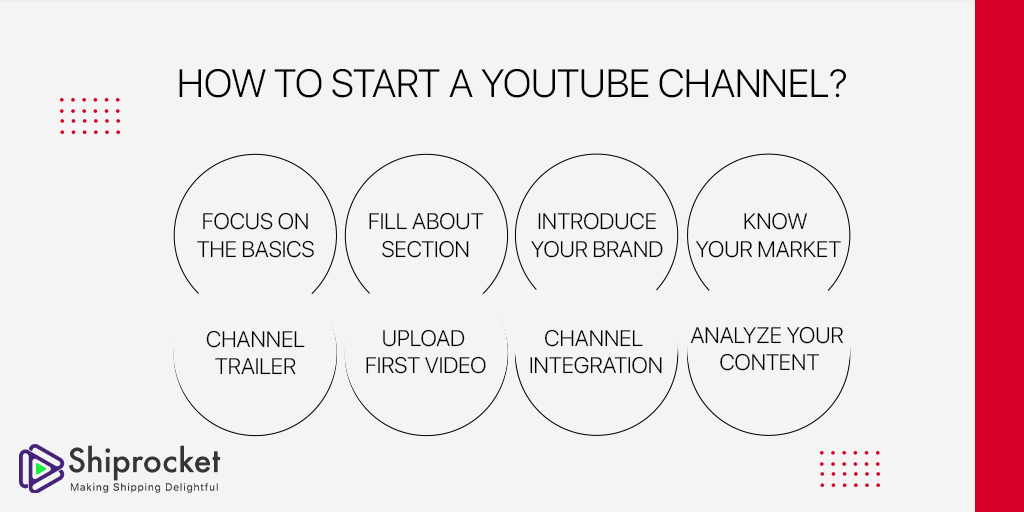 Focus on the Basics
The first and foremost thing you need to do is create a YouTube channel for your business. With just a few clicks, you can set up a new YouTube channel:
Sign in to YouTube with your Gmail account.
Click on the user icon on the top right side of the screen.
Click on the gear icon to go account's YouTube settings and create a new channel.
Then choose – Business Name or Other Name
Add your Brand name to the YouTube channel and create your account.
Fill About Section
The next step is to fill your profile and channel description. It is the information about your business and products, and it helps you draw your audience's attention towards your brand.
Once you have created a channel, this is the first option that you will have to fill. Here, you can describe your brand, business, and what viewers can expect from your channel. You can also add links to your website or other social media handles. So, be sure that you only talk best about yourself.
Introduce your Brand
You will witness a large banner displaying your channel name on your YouTube channel. The cover photo above your brand name is very important in introducing your brand to the audience.
You can choose to make your cover photo minimal or extravagant as you like. But ensure that your brand is in the focal point of the image. Remember your cover photo is going to be the first impression of your brand. You can also take the help of a graphic designer to come up with a catchy photo for your YouTube channel.
Notably, YouTube recommends uploading the cover photo of a maximum file size of 4MB (2560 x 1440 pixels).
Know Your Market
Since you are starting your business YouTube channel, you should have quality content to work on. You can work on your video strategy in different ways.
If you have a complex product, you can make tutorial videos to help your customers learn about your product. If you wish to build trust among your customers about your product, you can make product review videos. Testimonials videos are also a good option here. If you go for both – even better. This will also lead to your YouTube channel has a variety of content on offer; this will help serve different users.
Also, create content that is aimed at your target demographics. This is a useful marketing technique that will help draw your customer's attention towards your brand. The more content you cater to your target customers, the more your customers will likely look into your business's services.
Channel Trailer
Hook them with your YouTube channel trailer! Create a short and sweet channel trailer. It is an introduction to the new visitors on your channel. Through a YouTube channel trailer, you can tell your audience who you are, what your business is, and what content your audience can expect from your channel. A channel trailer can also be good practice for your first video.
Upload First Video
Do some research on your first video. And if you have already prepared a channel trailer, you have done some practice as well. Now its time to take your YouTube channel to the next level and publish your new video. Film and edit your video to make it perfect.
Next, upload it. Log into your YouTube account. The upload option is at the top right of your screen. But uploading a video is not the last step.
Optimize your Videos
When you upload a video, you will be asked to fill in a video title, description, and tags. All these are essential components, and they will help your video be easily discoverable when someone searches in the YouTube search bar.
Much like SEO for your website, YouTube has several parameters that can help you optimize videos for search. Fill these sections to the best of your ability using the most searched keywords that best describe your video, products, and business. A keyword-optimized title and video description can help your video appear in the search. As you go ahead, you can also change title and descriptions later.
If your video is optimized, it can help your videos appear on other search engines as well. If you do it right, your videos will rank high on YouTube as well as Google.
Stay Consistent
Don't expect instant success from your YouTube channel. Never upload a video and neglect it completely. Creating a YouTube channel requires a lot of time and effort. And provide your viewers with consistent content to encourage them to subscribe to your channel. Once you publish your first video, have a plan for a few videos ahead of time.
If you don't have time to shoot video every day or week, you can take a day out and shoot more than one video and then release them as per the schedule.
Channel Integration
Now you have a YouTube channel along with your website. Now is the time to share videos outside of your YouTube channel, and your website is the first option. You can showcase your videos in:
The home page of your website.
You can embed the videos in your blog posts.
Send the video link to the website subscribers.
Embed YouTube playlist directly on the website.
Sync website and YouTube channel.
Share your YouTube content on the other social media sites as well.
Analyze your Content
Even the best of your videos can do better. Once you have started getting some viewers on your channel, check how many views you are getting and how your videos perform. YouTube Analytics will be helpful here. It will guide you on how to optimize your future videos.
Analytics will provide you with an insight into your viewers. With this data's help, you can manage your demographics. It will also provide you with information on why your videos have not performed well.
The Final Say
Generally, audiences find videos interesting, and they help a business get more traffic. They are a win-win situation if the content is good, and they are aptly optimized. Your marketing strategy is incomplete without YouTube videos. If you don't yet have a YouTube channel, create one now with the help of our guide on how to create a YouTube channel.
Calculate Your Shipping Costs Now